Herzog & de Meuron and HDR design terracotta-clad hospital at UCSF's Parnassus Heights campus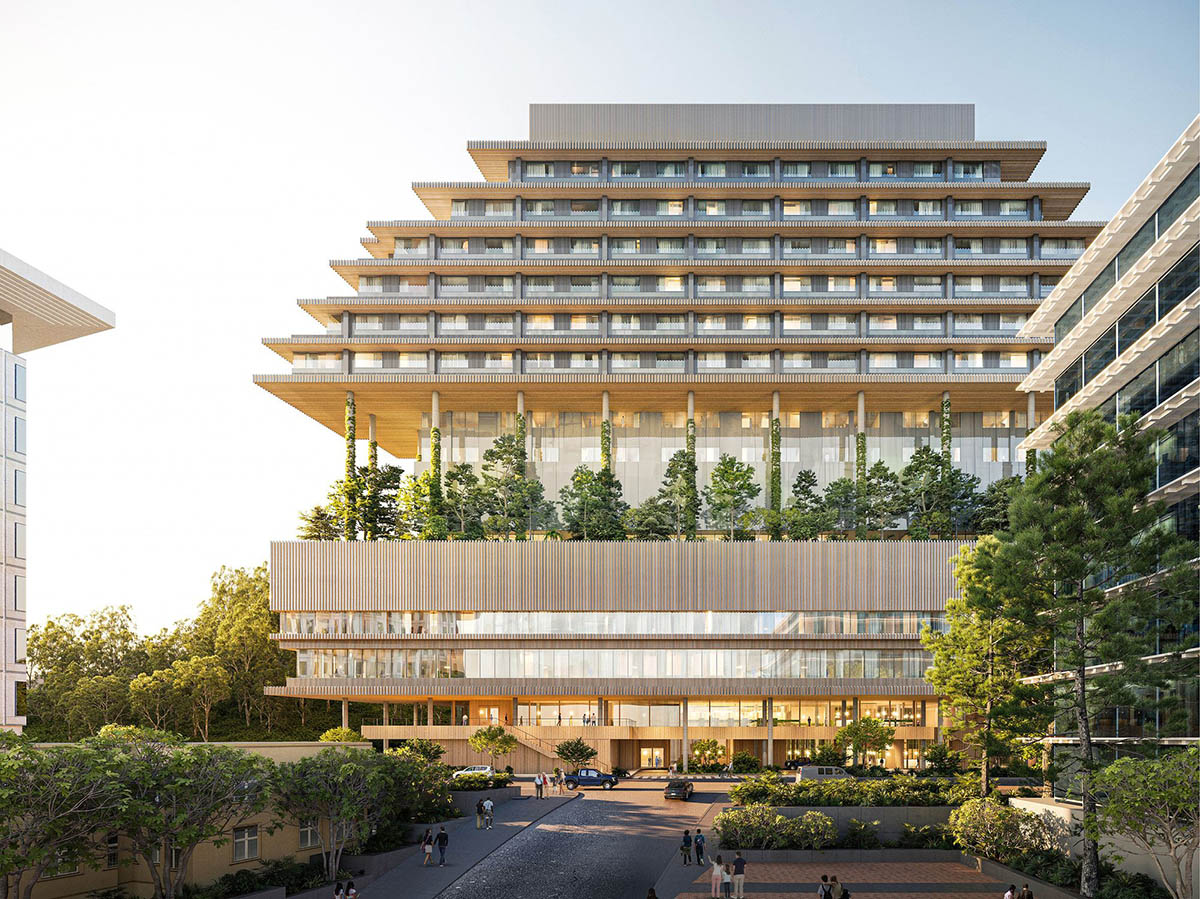 Swiss architecture practice Herzog & de Meuron and HDR Architecture have revealed new renderings of a new hospital which will be built at the University of California San Francisco (UCSF)'s Parnassus Heights campus in San Francisco, United States.
The project, named Helen Diller Medical Center, the 15-story building, featuring cascading flow plates, is clad in terracotta and surrounded by an extensive landscape aiming to create a "Healing Habitat" for the future of the hospital.
Developed as part of a comprehensive plan to transform the entire campus, the new hospital will have over 330 inpatient beds, as well as including other services such as diagnostic and treatment services, clinical support services and public areas spread across the 84,000-square-metre (900,000-square-foot) facility. The hospital will be new a home to both inpatient and outpatient services.
Since Herzog & de Meuron is not licensed to practice architecture in the state of California, while Herzog & de Meuron serves a design consultant in the project, HDR Architecture serves as Architect of Record.
The design team aims to create a vision for the hospital of the future by proposing a "Healing Habitat", challenging to the traditional hospital designs.
Adopting a holistic health care environment, the new hospital fosters wellness and recovery by combining efficient facilities with human experiences, connected to nature and the community.
Besides a new construction of the new hospital, the plans also include the renovation of the existing Moffitt and Long hospitals at Parnassus Heights to increase bed capacity to meet projected demand.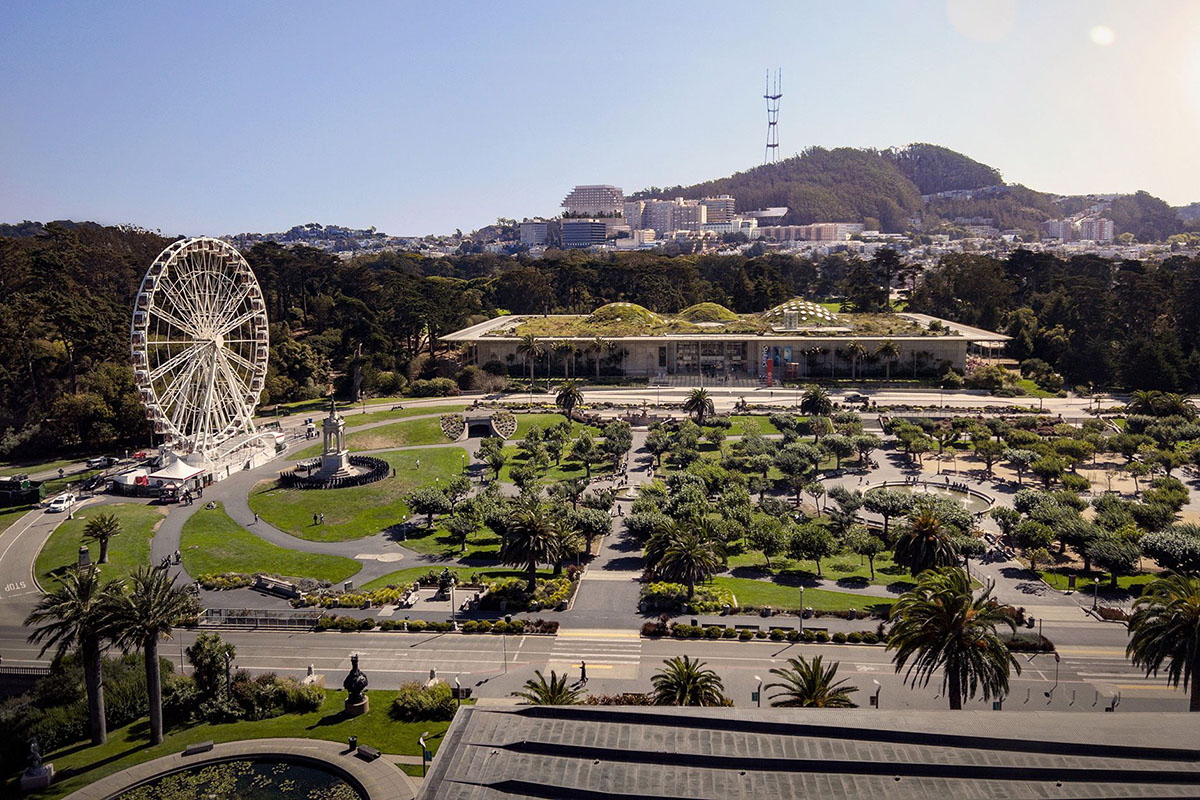 "Located prominently between Mount Sutro and Golden Gate Park, the new hospital at UCSF Helen Diller Medical Center will play an important role in the city and surrounding community," said Herzog & de Meuron.
The project is described as "a gateway between nature and the urban context around it", the new hospital is a facility that encourages people to rethink the role of the hospital within their daily lives and the community.
"Every year, UCSF turns away patients seeking care because of limited capacity at its Parnassus Heights hospital," said UCSF in its press release.
"In 2019 alone, some 3,000 patients were unable to be transferred to UCSF for lack of beds – a challenge that is anticipated to increase with the Bay Area's projected growing and aging population."
With these new plans, UCSF will increase its overall bed capacity from 475 beds in 2020 to 682 beds in 2030 by building the new hospital.
UCSF, Herzog & de Meuron and HDR target to have the minimum impact in the environment and neighbourhood, that's why, the project has been conceived according to an extensive community feedback received over the past two years. As UCSF emphasized, the team also develop strategies that are specifically designed to contextual factors, addressing wind, construction noise and other factors.
UCSF also will be implementing several improvements to support pedestrian and vehicular circulation, loading, utilities and landscaping around the campus. Since San Francisco has a active geologic faults, a major 1906 earthquake was one of them, all three buildings are designed in accordance with earthquake safety codes in the area.
The design team uses glazed façades on the structure's upper levels and clad them in terracotta material. On the other hand, the ground floor of the building is wrapped by timber panels and features concrete columns.
Bringing nature inside, the hospital will have an extensive landscaping on the street level and upper levels. The building will also contain a publicly accessible outdoor terrace and proximity to surrounding nature of the Mount Sutro Open Space Reserve.
"UCSF has deep roots in the City of San Francisco and has grown symbiotically with the community in a neighborhood located between Golden Gate Park and Mount Sutro," said Senior Partner Jason Frantzen of Herzog & de Meuron.
"In designing this hospital, we are re-imagining the space around it, connecting park to peak to make a positive impact in people's lives."
Image courtesy of HDR
As UCSF stated that the project includes a comprehensive environmental sustainability in line with improvement efforts that are focusing on air quality, carbon emissions, water use, resources, biodiversity and open space, human health, and community well-being, as stated in the DEIR.
UCSF added that "The new hospital will comply with applicable University of California Policy on Sustainable Practices and will set a target to achieve a minimum level of LEED Gold Certification."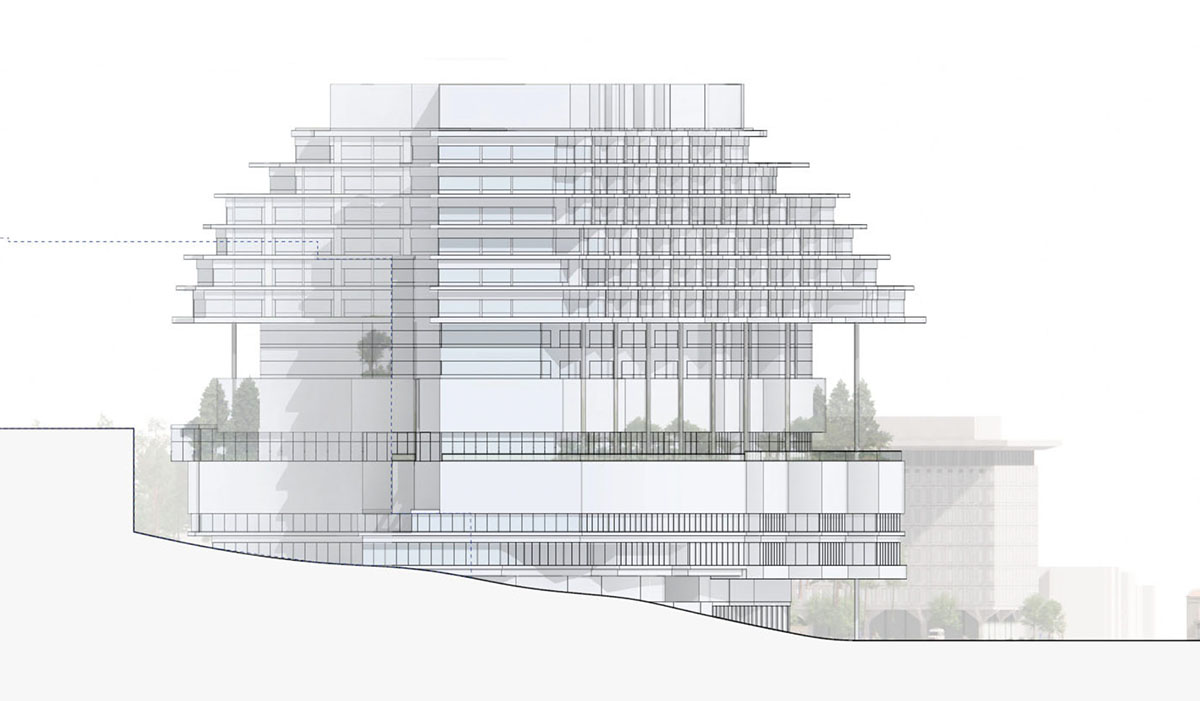 If everything goes on a plan, UCSF expects to seek approval of the project by the UC Board of Regents in 2022, and construction is expected to begin in 2023.
Herzog & De Meuron is also designing a new hospital building in Basel. Besides, the firm completed an extension of REHAB Clinic in Basel.
All images courtesy of Herzog & de Meuron unless otherwise stated.
> via Herzog & de Meuron