BAU built sinuous pedestrian bridge with sculptural pavilion overlooking the Yuandang Lake
Melbourne and Shanghai-based practice BAU Brearley Architects + Urbanists (BAU) has built a sinuous pedestrian bridge overlooking the Yuandang Lake in Qingpu, Shanghai, Suzhou Jiangsu, China.
Named Yuandang Bridge, the 586-metre-long bridge was designed as a hybrid structure incorporating landscape, infrastructure, and architecture. The bridge is located in a key location where the two jurisdictions meet.
While the shape of the bridge continuous in a fluid way, the space where the bridge widens the most is home to a sculptural pavilion creating a porous wall. The intervention functions both sculpture and playground.
The figure of the bridge resembles a ribbon and echoes water ripples on the Yuandang Lake below. Trees and shrubs are incorporated in the bridge, giving the appearance of a floating garden connecting the two banks.
The six-meter-wide bridge deck is divided into three bands: cycling path, vegetation band and walking path. The winding bridge has three widened sections for resting and enjoying the lake view.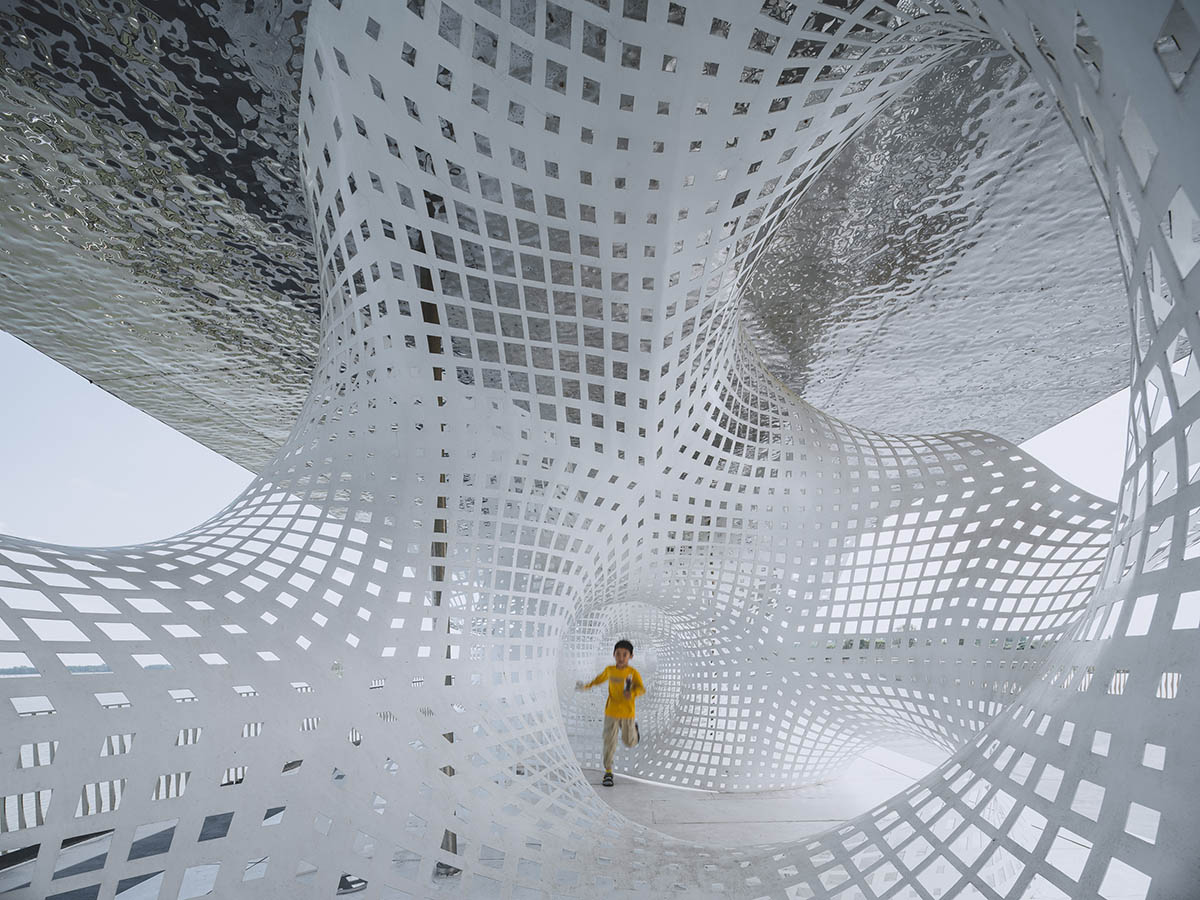 To achieve this geometry, the studio takes inspiration from local sculptural traditions, the bridge's pavilion explores contemporary mathematics modeling, while becoming a playful part of the bridge for its users.
The bridge is a dynamic ensemble, integrating ecology, transportation, landscape, and culture.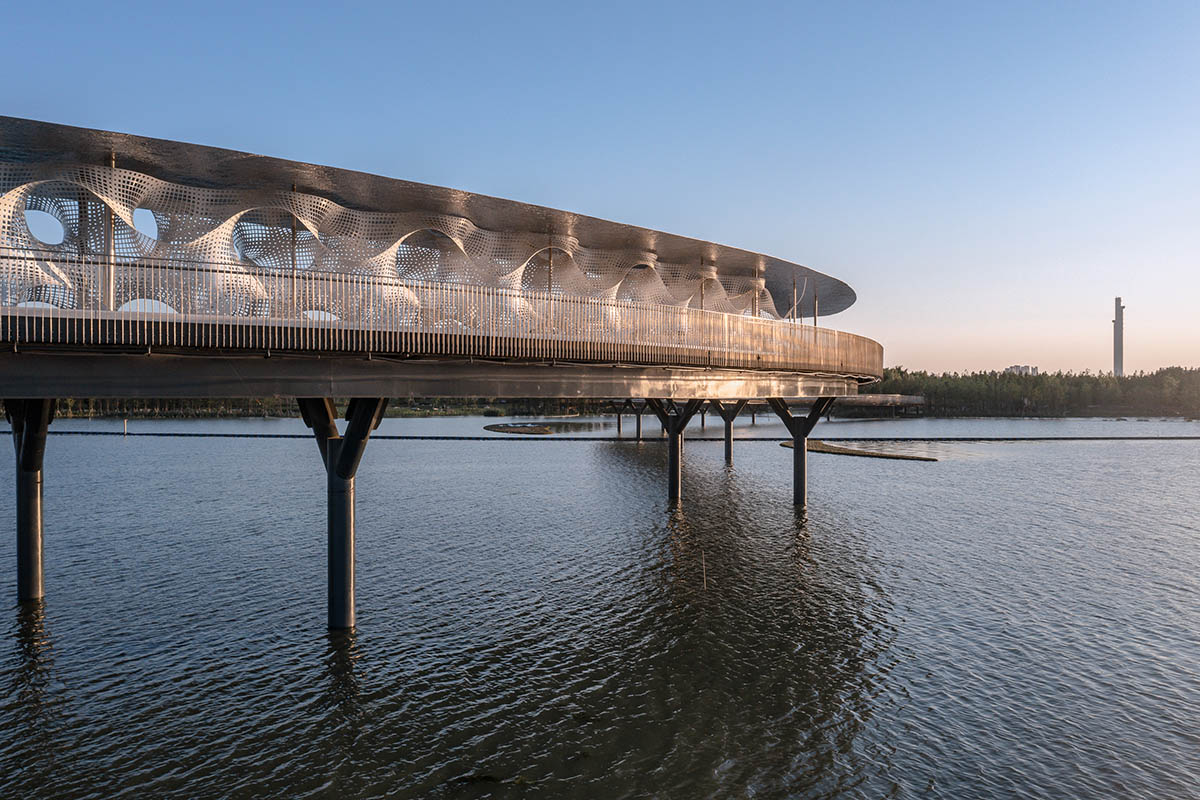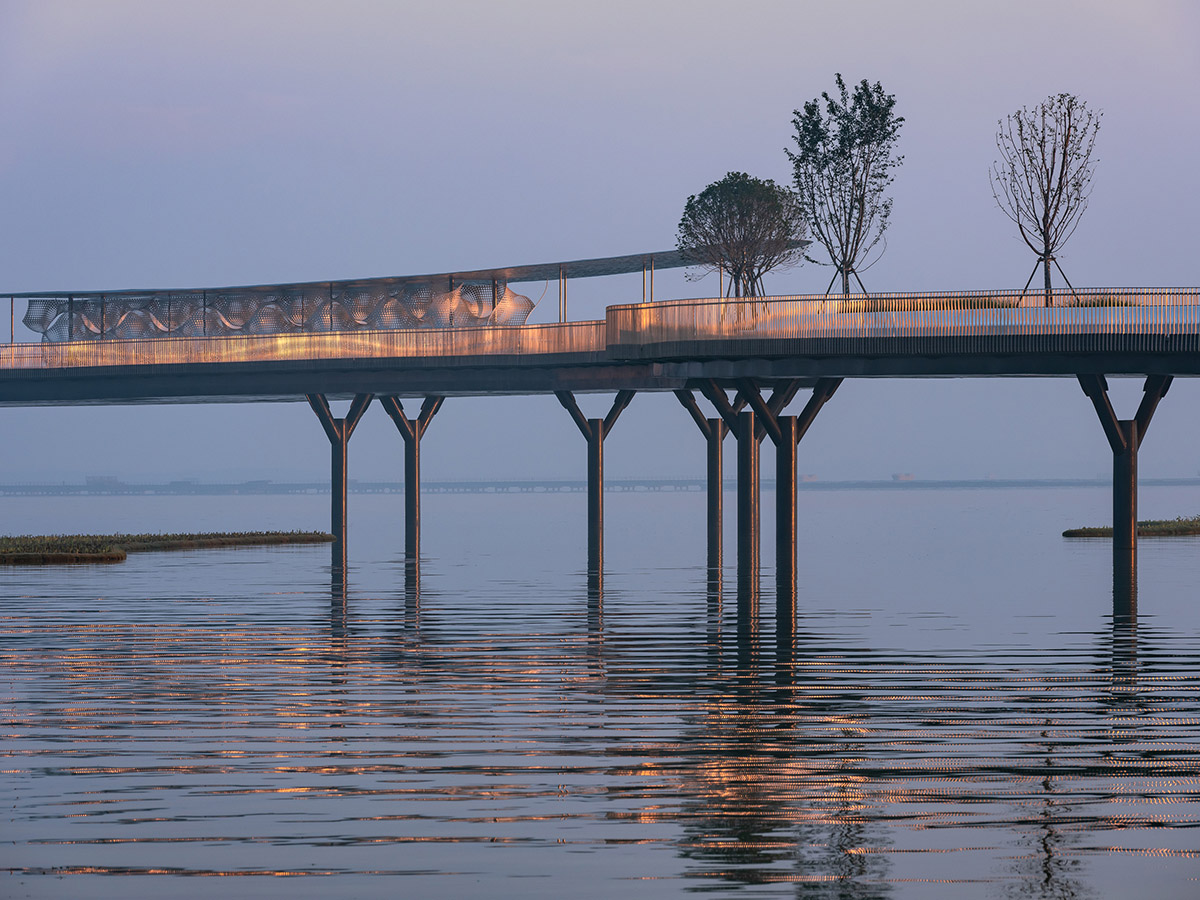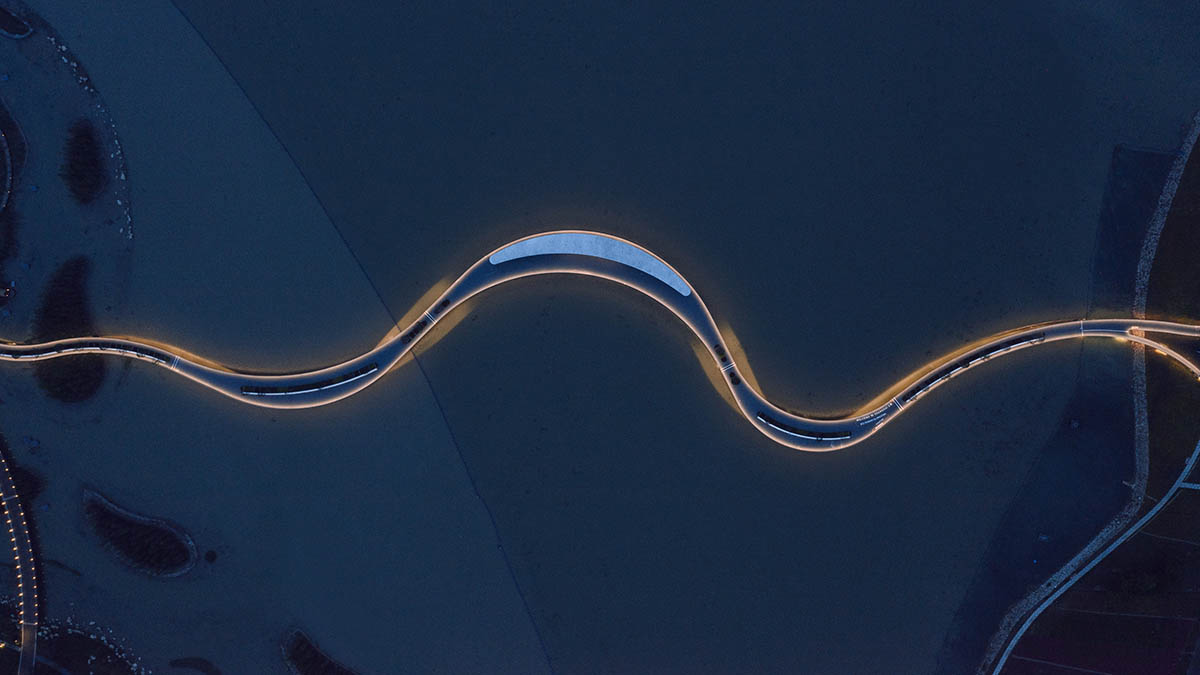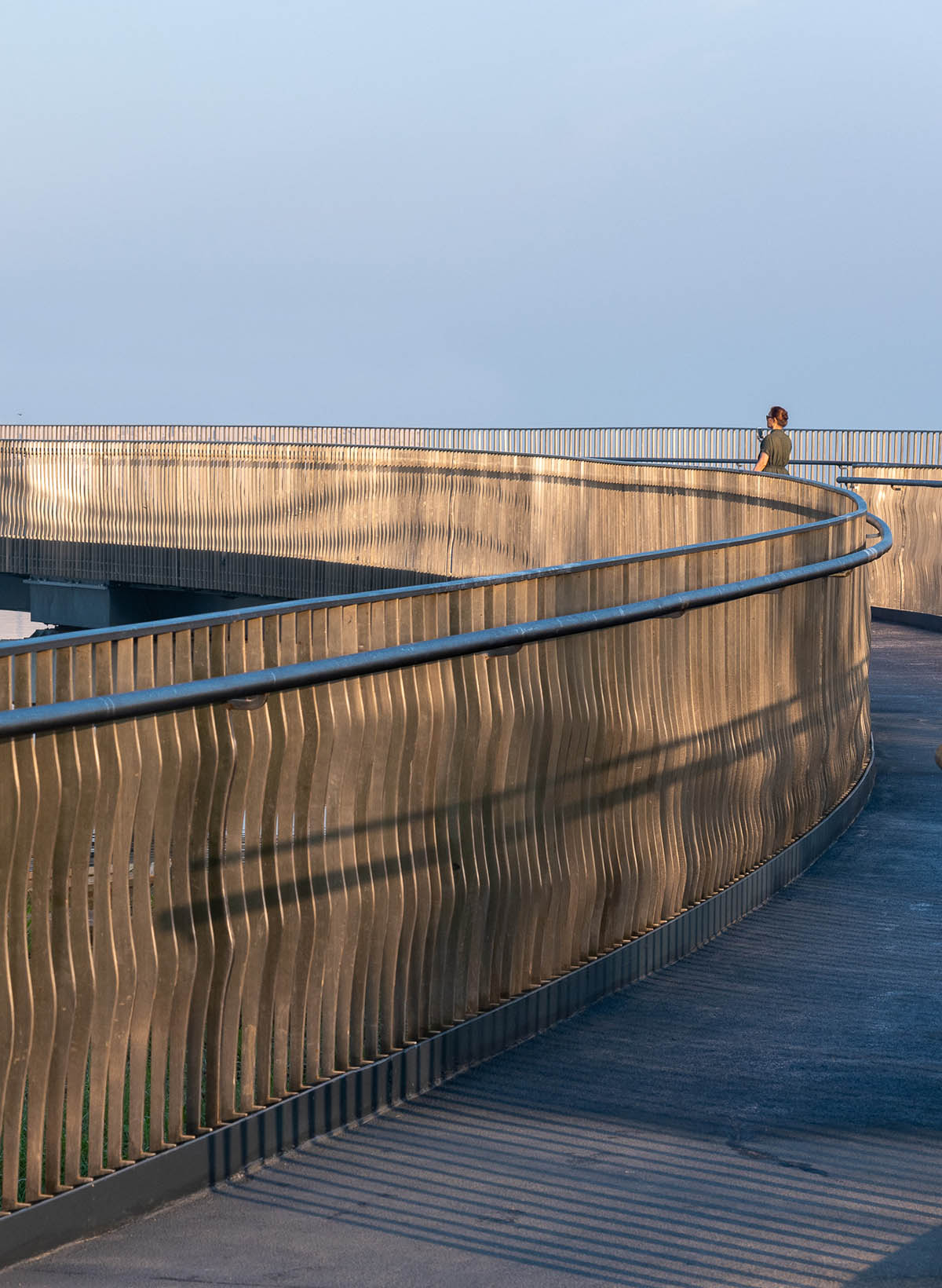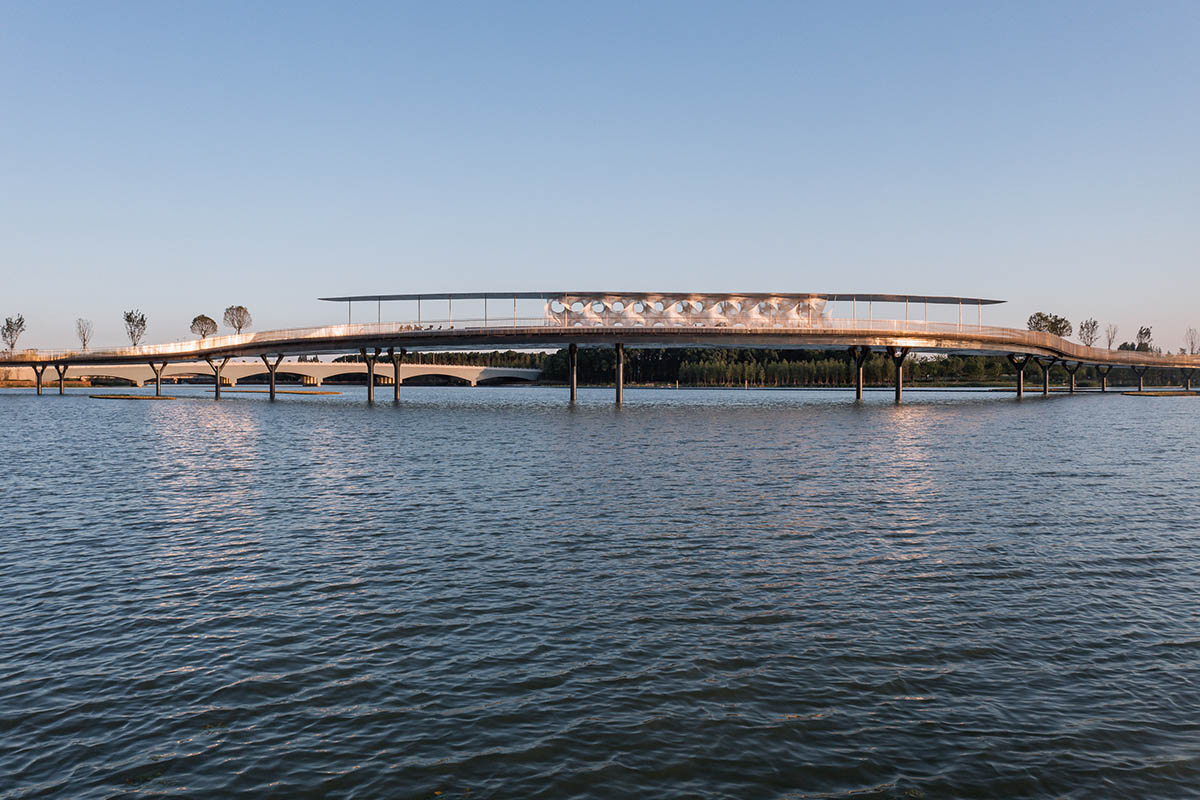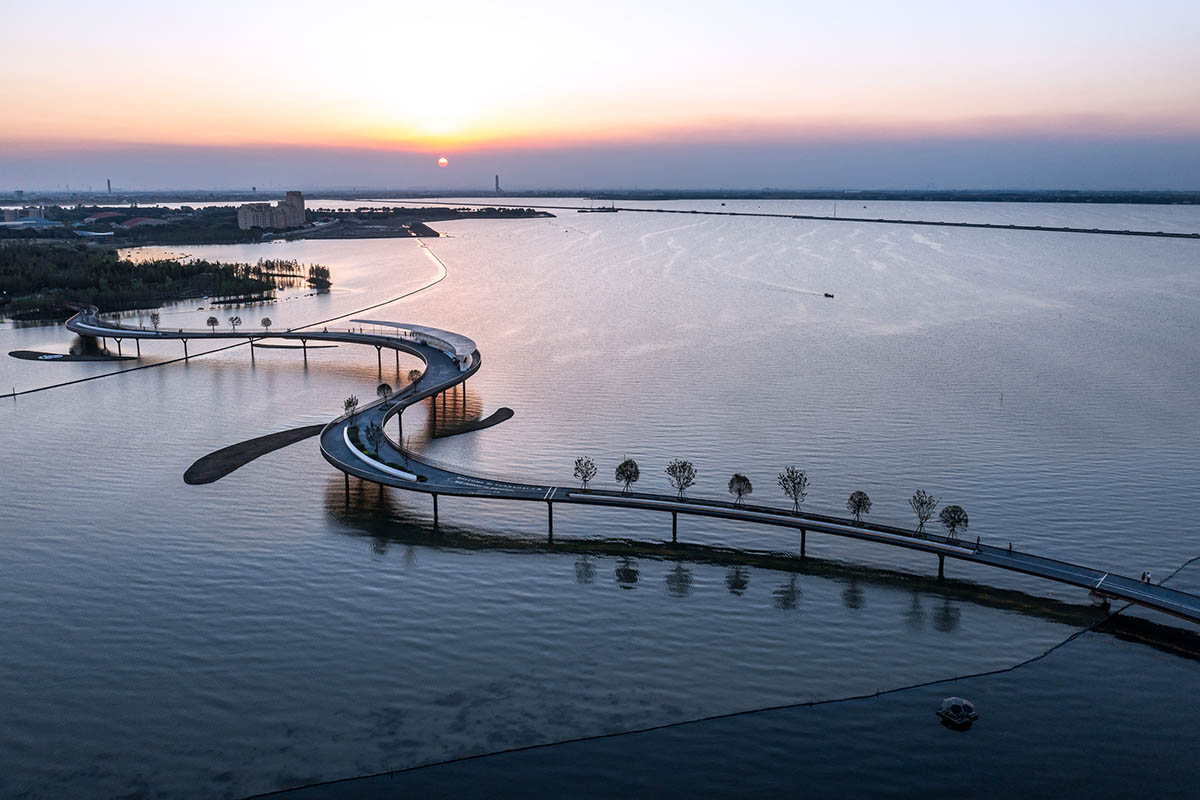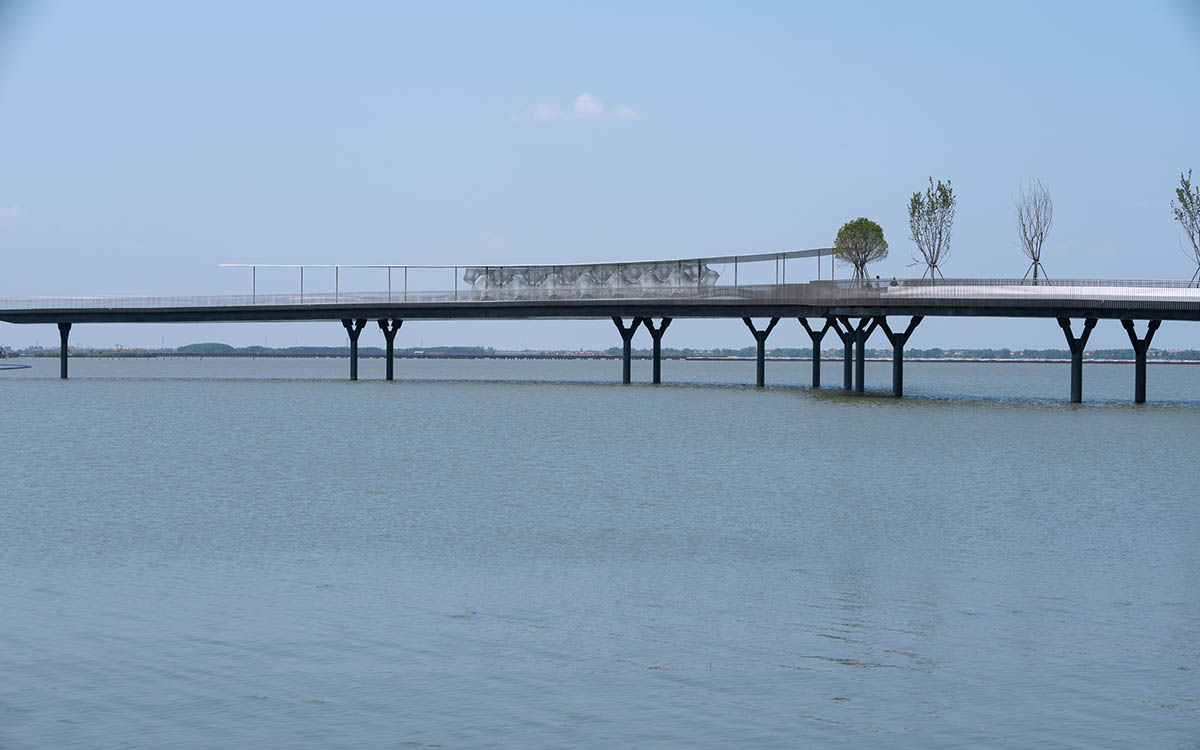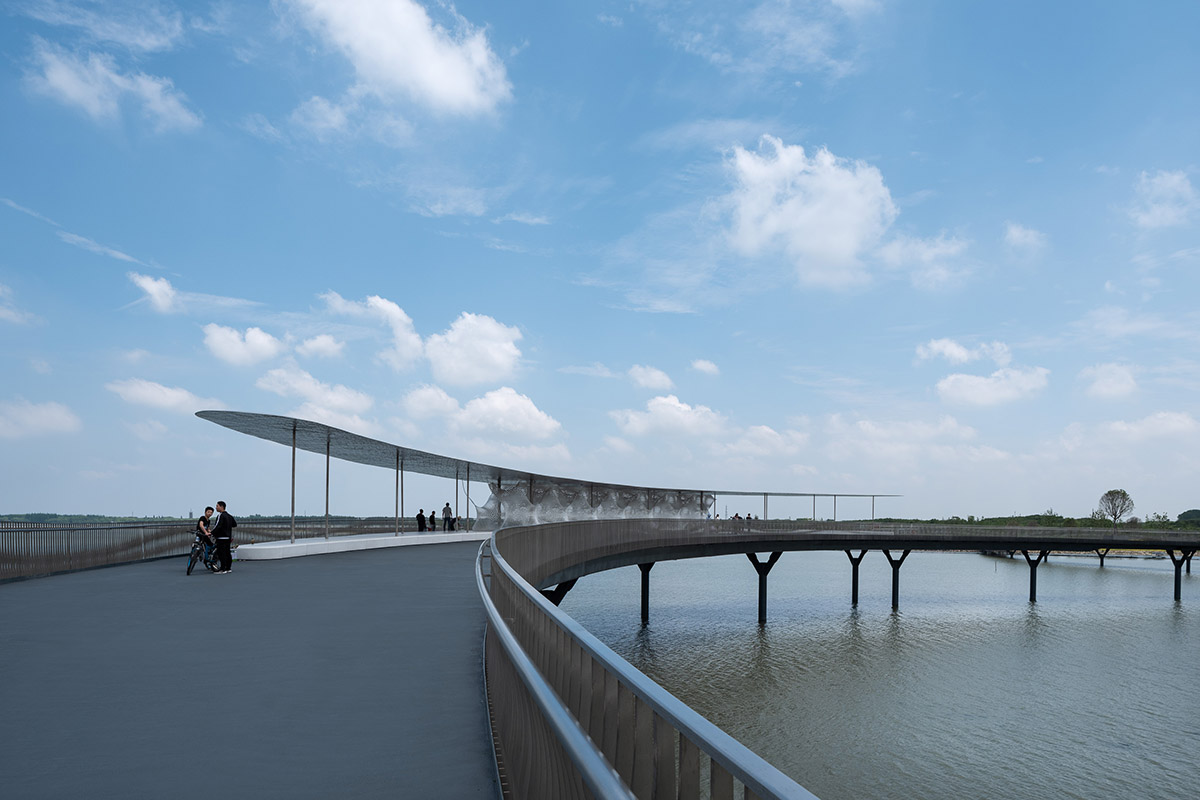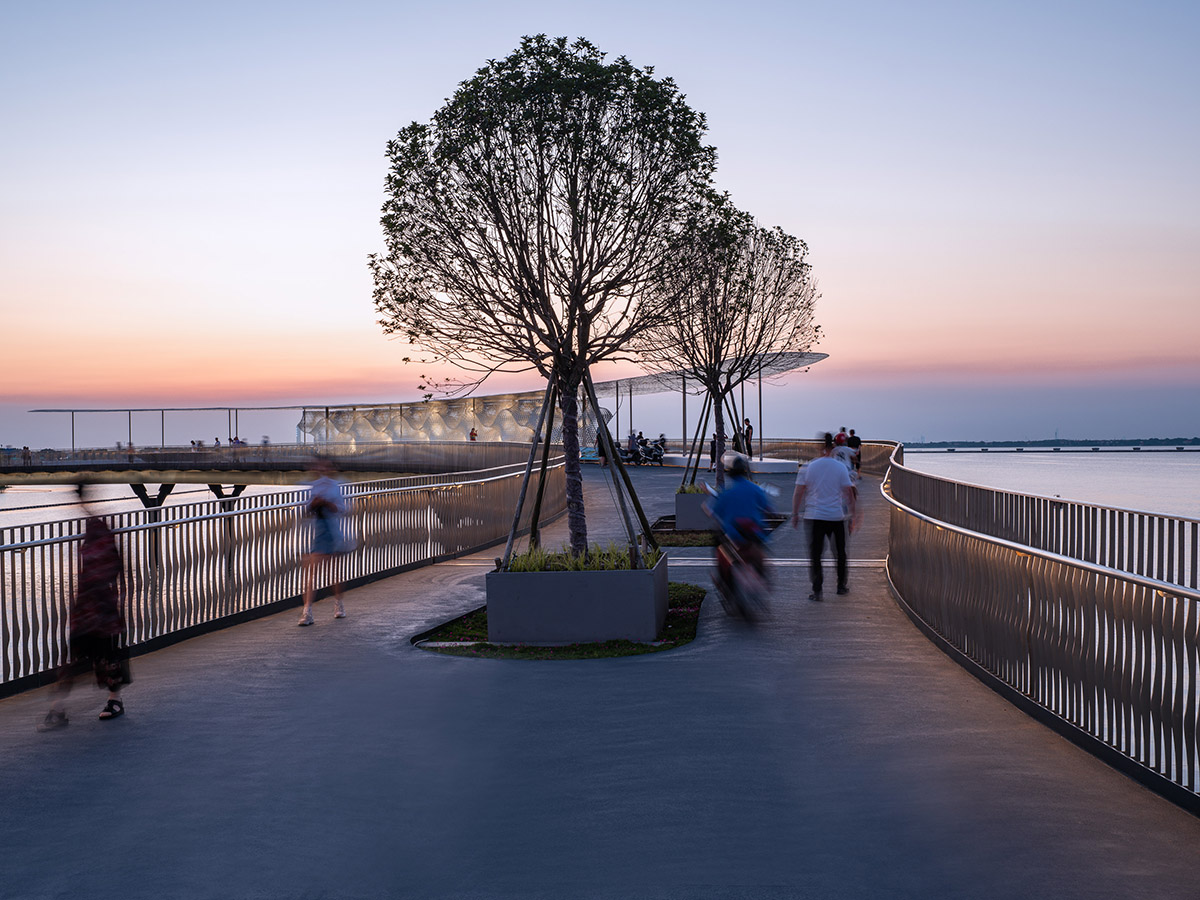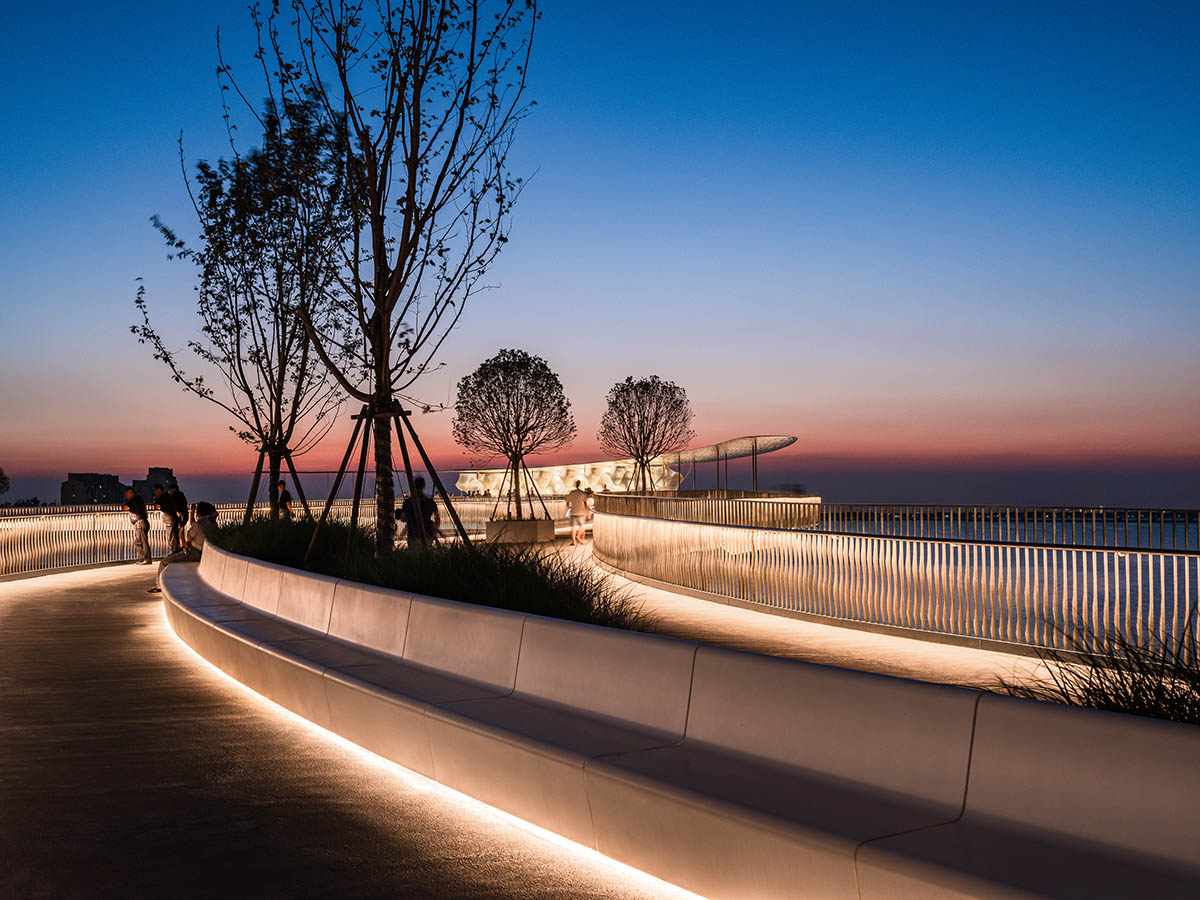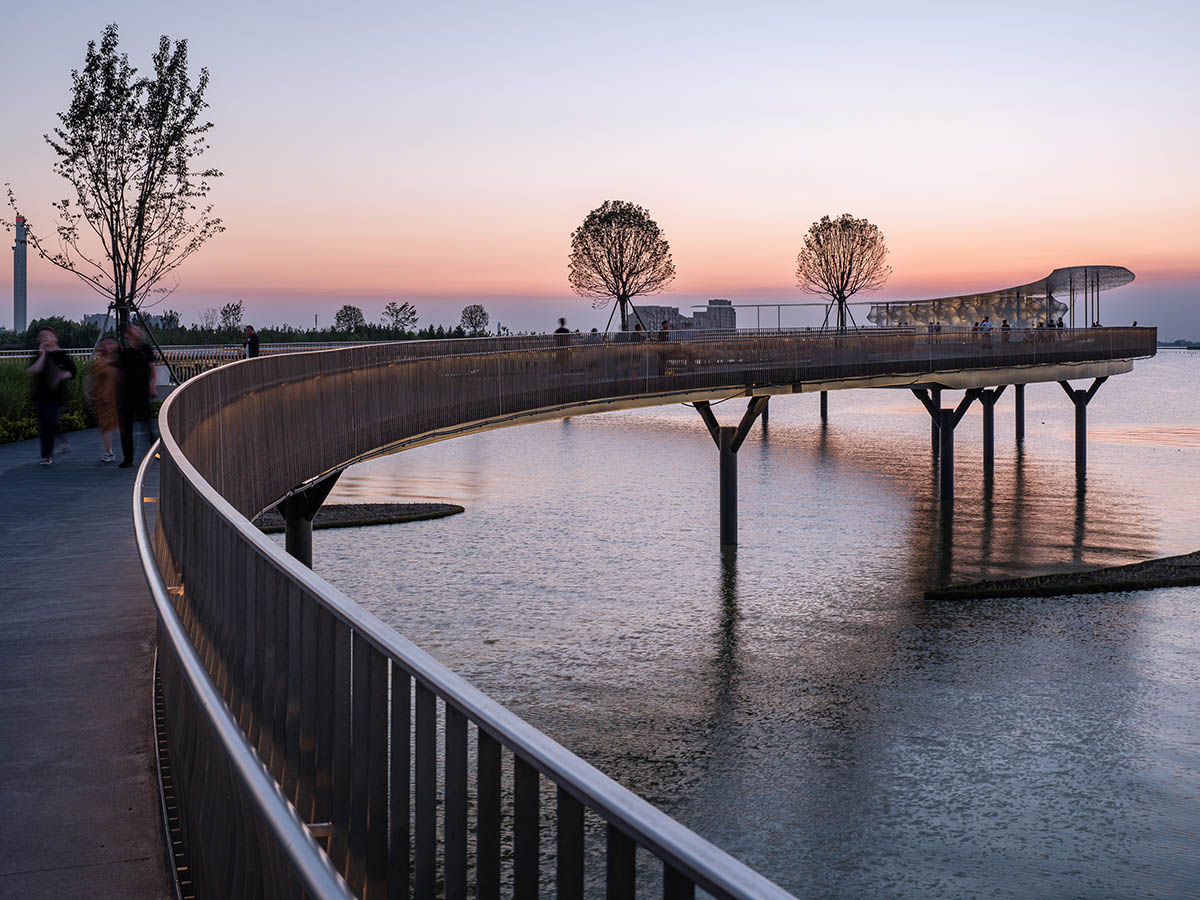 Masterplan
Sections and elevations
BAU, led by partners James Brearley and Fang Qun, is an architecture, urban design, urban planning and landscape architecture practice driven by values embedded in progressive eastern and western philosophies.
Project facts
Project name: Yuandang Bridge
Architects: BAU
Project Status: Completed 2020­­
Location: Qingpu, Shanghai, Suzhou Jiangsu, China
Year: 2020
Construction Cost: CNY 86,000,000
Typology: Urban design, public landscape
Program: Pedestrian bridge, pavilion, bicycle path
Project Leader: Huang Fang
Team: Berry Pan Linlu , Zhu Qizhen , Yan Xiaoxi , Guo Liexia, Shi Zhengting, Sheng Bailu, Zhao Zheng
Invested by: China Three Gorges Corporation
Client: Construction Bureau of Fen Lake High-tech Industrial Development Zone, Jiangsu Province, Shanghai Qingpu District Water Conservancy Management Institute
General coordinator: Yangtze River Delta Ecological Integration Development Demonstration Zone Executive Committee
Engineering: Shanghai Investigation, Design and Research Institute Co., Ltd
Contractor: CCCC Shanghai Dredging Co., Ltd.
Video © Dera (Construction footage provided by CCCC Shanghai Dredging Co., Ltd.)
All images © Zhu Runzi
All drawings © BAU
> via BAU