Adjaye Associates designs rose-pigmented cultural center made of three pavilions in Florida
Adjaye Associates has completed a new cultural complex in Florida, housing a new library and events center located on the northwest corner of a reinvigorated Martin Luther King Jr. Park in Florida, United States.
Called Winter Park Library & Events Center, the £31 million cultural center has replaced the existing library and civic center buildings on a site, a very close to the Martin Luther King Jr. Park.
Adjayes' design forms a distinctive building profile with rose-pigmented concrete structure that make up the three pavilions, creating a "micro-village" for its local community. While each pavilion is designed in different scale and function, all of them share a common formal language.
The 5,184-square-metre complex was developed as part of a revitalization plans to form a library and events center, which was approved by the Winter Park City Commission in 2017.
The complex contains a 3,260-square-metre library, an 1,690-square-metre events centre and a 228-square-metre Porte Cochère, a portico-style canopy.
Giving importance to a unique tropical ecology of the site, the studio is inspired by both by local fauna and the region's vernacular architecture to form the architectural language of the pavilions, creating arches, vaulted rooflines and sweeping windows.
Based on this contextual approach, the scheme creates a porous relationship between interior and exterior, drawing natural light deep into the buildings.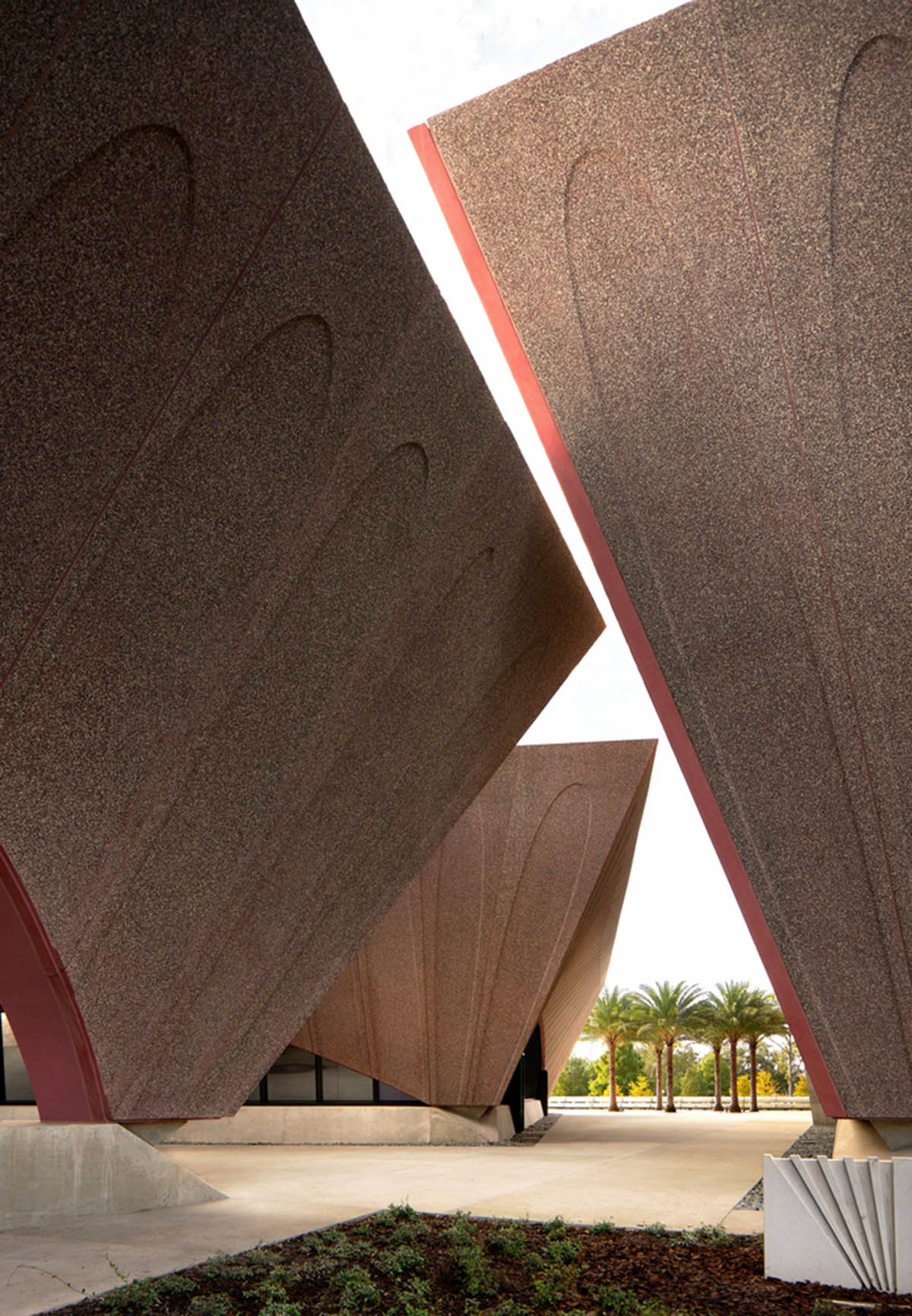 The overall project is guided by biophilic design principles, all three pavilions are made of rose-pigmented concretes that rest on a raised belvedere that provides idyllic views onto Lake Mendsen, increasing connectivity to the park's wellness offerings and supporting a new network of exterior green community spaces that run between the three structures.
The building's diverse program comprises flexible floor plates for both the library and events center, encouraging cross-pollination and maximizing adaptability for each.
Image © Chad Baumer
While the library's open-plan accommodates collection spaces which are accessible to all ages and abilities, the complex is enhanced with other spaces for interactive youth and children areas, an indoor auditorium, maker spaces and technology portals, an entrepreneurship center, and continuing education spaces, extending the means by which the entire community can interact, learn and gather.
The studio frames these open spaces with four timber-lined cores that contain Winter Park's historical and archival collection spaces, support zones, and private reading rooms.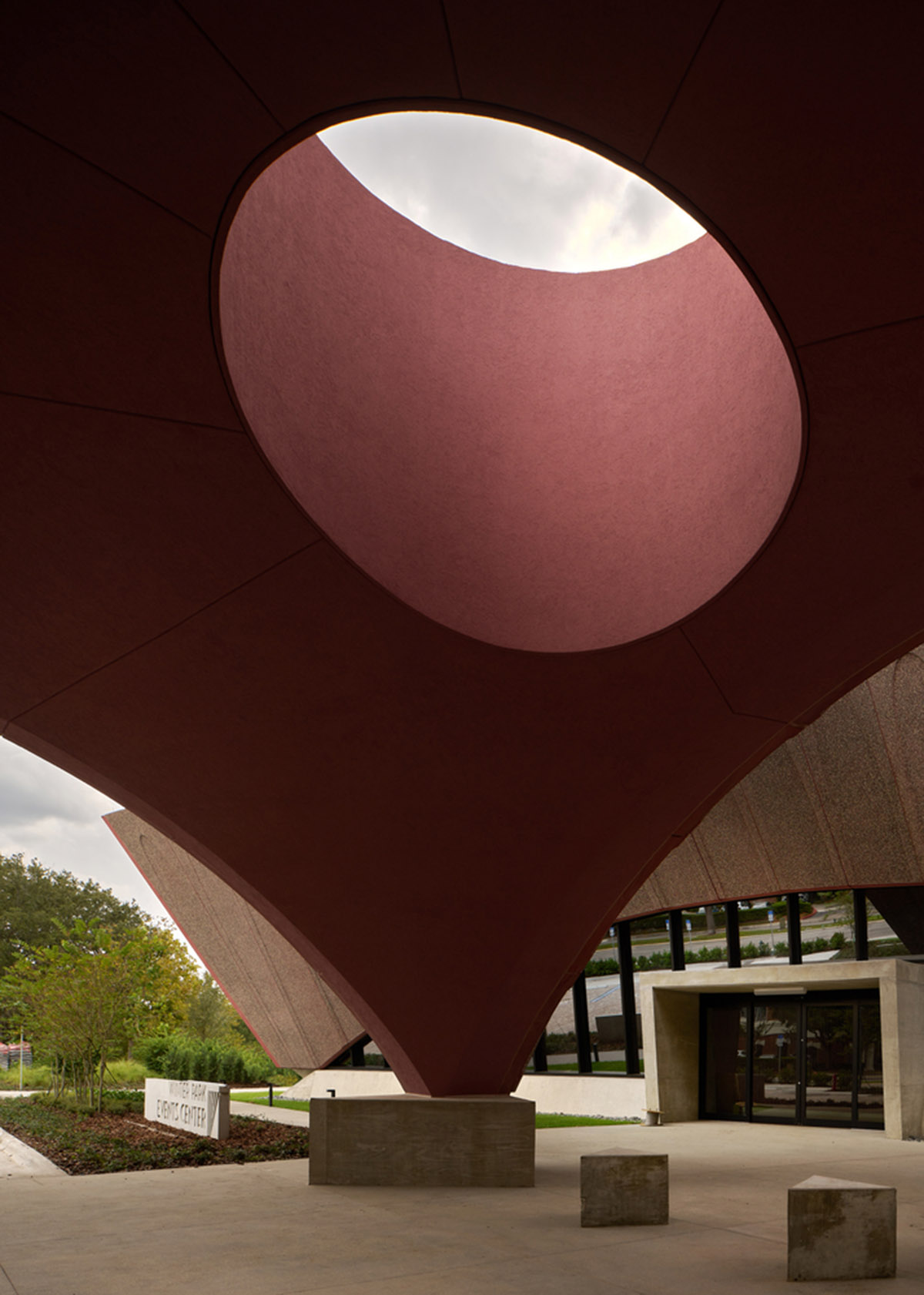 The events center features a flexible auditorium space and a rooftop terrace that offers mesmerizing views of the lakeside park setting. Creating parity between the civic library space and the commercially focused event center, both buildings feature a signature sculptural stair.
"As an ensemble, the Winter Park Library & Events Center comes together as a space of social gathering, intellectual nourishment, and enhanced connection to its natural tropical context," said Adjaye Associates.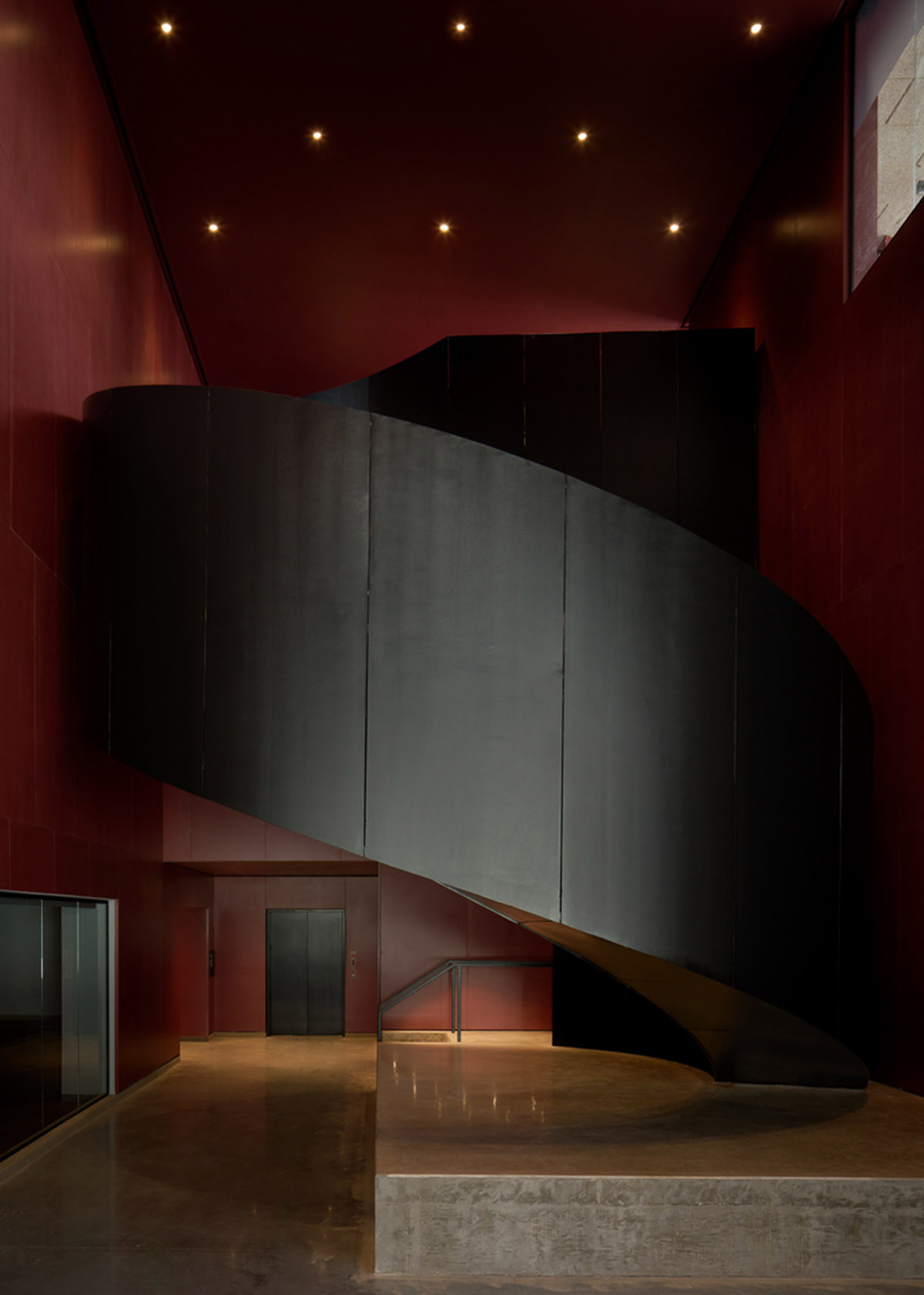 Adjaye adds two black-painted spiral staircases to library building and events center, which is a common language in Adjaye's projects - showcasing the bold character of the buildings. While providing a sculptural appearance to inside, they connect upper floors of the buildings.
Image © Chad Baumer
A third square-plan small structure, called Porte Cochère Pavilion, is situated next to the events center and library and made of the same rose-pigment structure that complements a visual coherence.
"Our goal is to create a vibrant community village that engages the beauty of the park, maximizes social interactive spaces and holds collaborative learning and education at its core," Adjaye said in a project description.
Image © Chad Baumer
Site plan
Ground floor plan
Second ground floor plan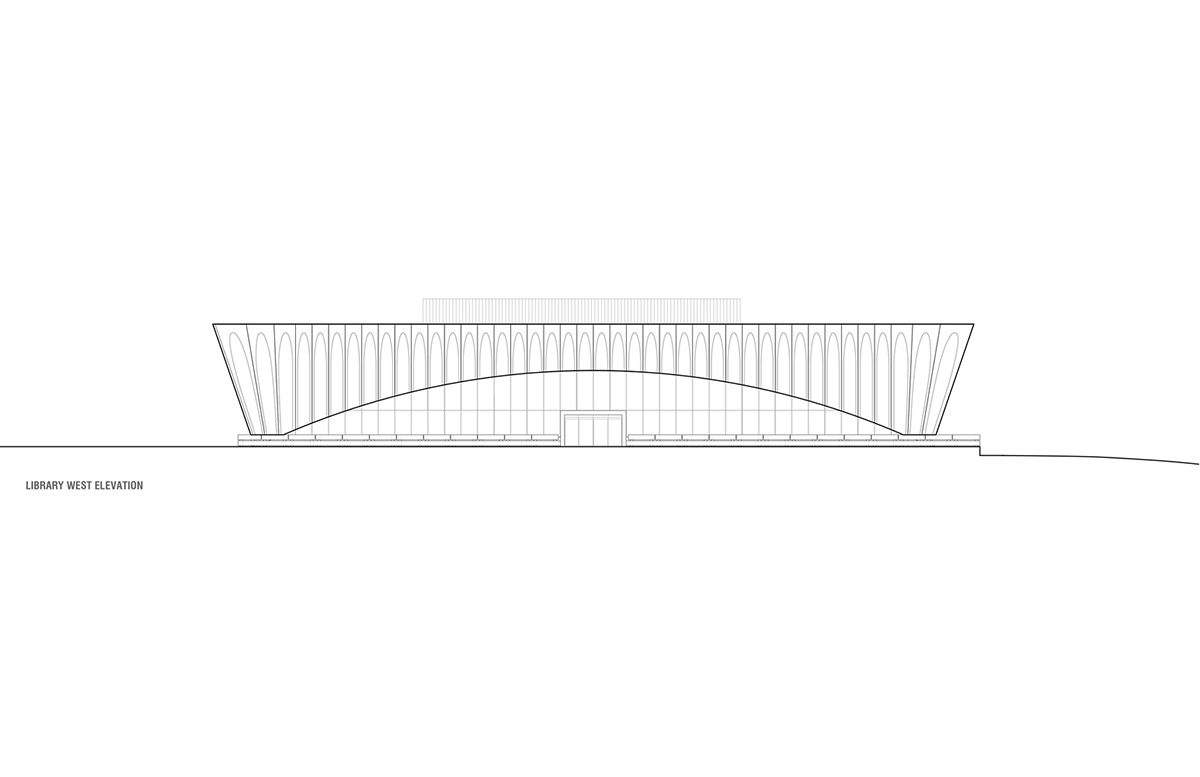 Library West elevation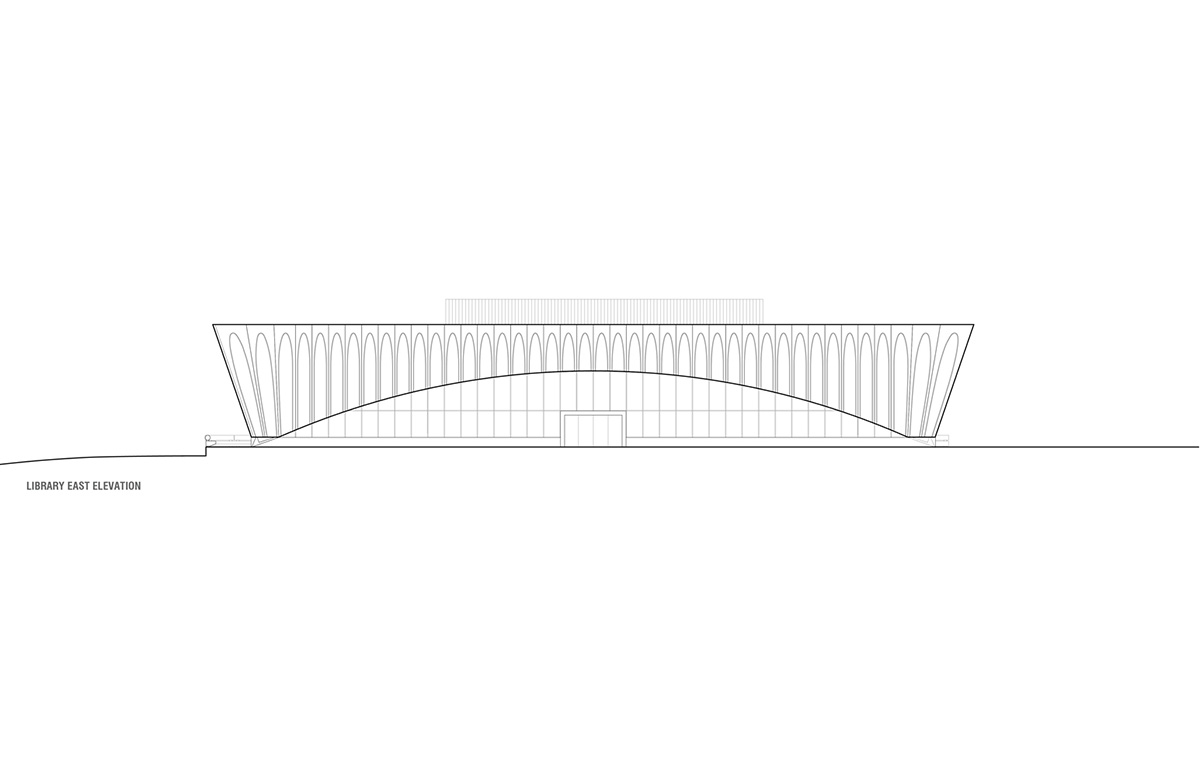 Library East elevation
South elevation
Winter Park Library longitudinal section
Site section East-West
Site section North-South
Solar studies
Events Center East-West elevation
This is not the first red-pigmented project of Adjaye Associates, the firm is also designing a cylindirical Thabo Mbeki Presidential Library in Johannesburg, South Africa and a red-pigmented Africa Institute Campus in Sharjah, United Arab Emirates.
Adjaye Associates recently revealed its tallest skyscraper in New York's Hudson Yards.
Project facts
Project name: Winter Park Library & Events Center
Architects: Adjaye Associates
Architect of record: HuntonBrady Architects
Location: Winter Park, Florida, USA
Size: 5,184m2
Acoustical design: Gary Seibein
Civil engineer and landscape architect: Land Design
Envelope consultant: Thornton Tomasetti
Food service design: Phil Bean
General contractor: Brasfield & Gorrie
Owner's representative: The Pizzutti Companies
Signage consultant: Poblocki
Structural, mechanical, electrical, plumbing, fire protection engineer + audio visual and security: TLC Engineering
Top image © Ivane Katamashvili
All images © Dror Baldinger unless otherwise stated.
All drawings © Adjaye Associates
> via Adjaye Associates