Snøhetta builds China's first self-supporting glass library supported by ginkgo forest-like canopy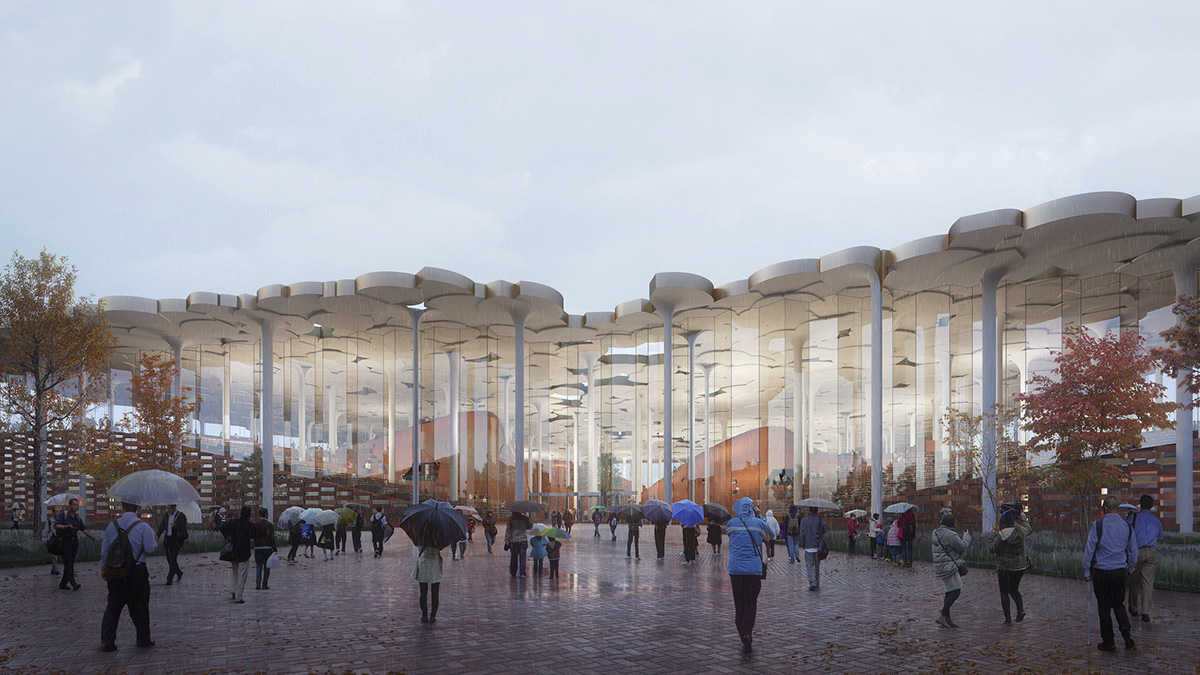 Norwegian practice Snøhetta is building a new library that features a ginkgo forest-like canopy supporting 16-metre-height glass façade in Beijing, China.
The project, called Beijing Sub-Center Library, will be a contemporary yet timeless space for learning, knowledge sharing and open discussions, as well as celebrating the cultural richness of Beijing and China at large.
The structure is currently under construction and is slated to be completed in the end of 2022.
Once complete, Beijing Sub-Center Library will be "China's first self-supporting glass facade project", as Snøhetta stated.
Following an international design competition win in 2018, Snøhetta was commissioned to design the new sub-center library in the Chinese capital and has developed the architectural, landscape, and interior design in partnership with local partner ECADI.
Snøhetta's new design aims to bring new standards for sustainable library design, challenging to traditional library typologies. Utilizing advanced technology, smart design and local resources, the Beijing sub-center library is expected to become distinctly different comported to conventional libraries.
The sculptural roof and the 16-metre-tall glass façade are the key design components of the project, which define the overall aesthetic and function of the library since it opens up itself to the public.
"The library was designed and created to celebrate a public space for learning, information exchange and open discussions, as well as celebrating Beijing's heritage and rich cultural history of science, art and performance," said Snøhetta.
"This has been emphasized by creating a common space as the center of the library, highlighted by a prominent sculpted learning landscape that covers and permeates throughout the whole library."
At the heart of the library, the team designed a big open space, aiming to bring people together – spatially but also intellectually. A topographic-like large terraced reading platforms, which is entirely visible from outside, promotes distribution and access to knowledge. "It creates an experience that is distinctly different to conventional sections of libraries," Snøhetta continued.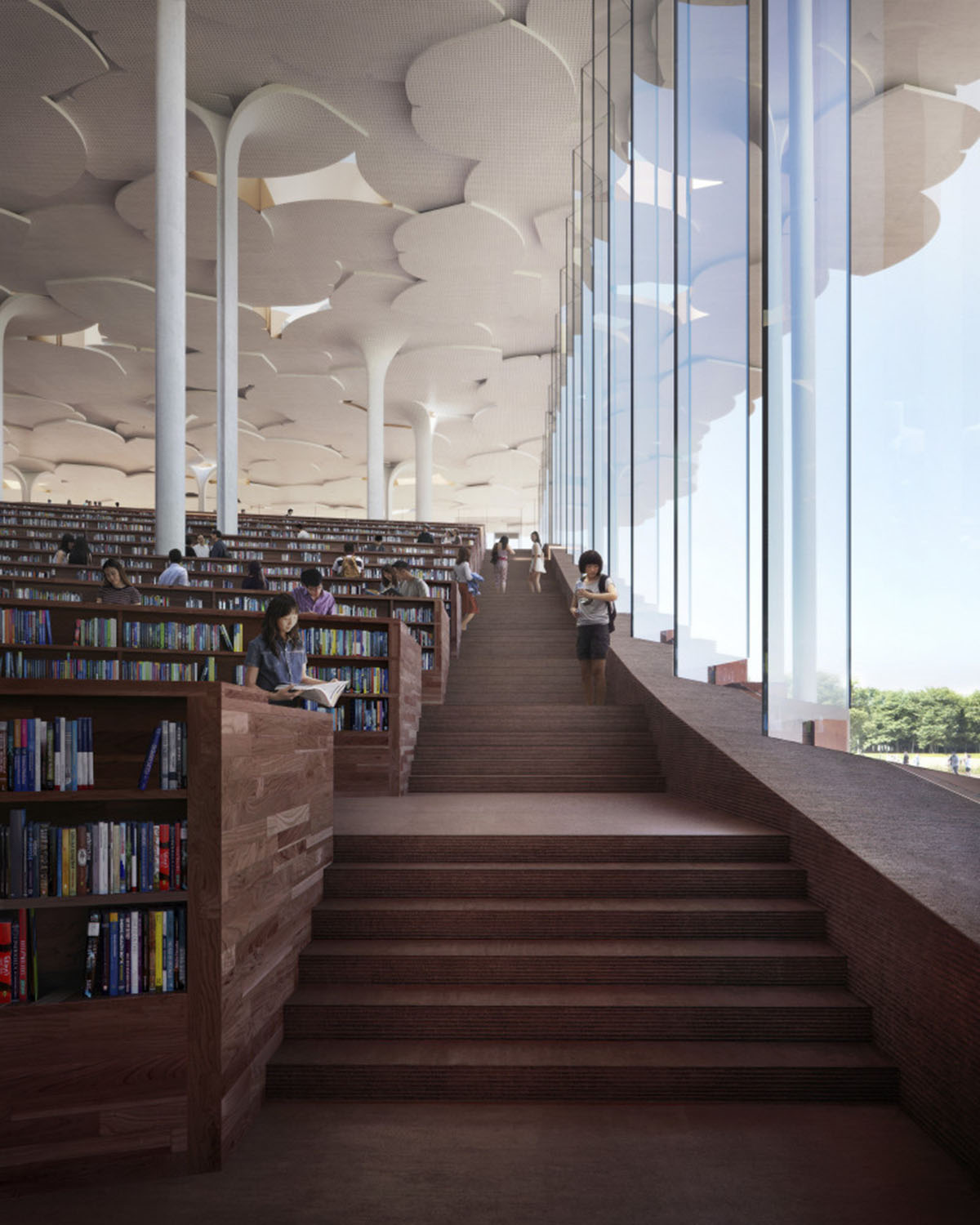 Thanks to the library's openness and amphitheater-like structure, it gives people of all ages the opportunity to meet and interact on one surface. Similar open spaces are designed to promote interaction and exchange of knowledge can be found at different locations throughout the whole building.
Due to the library's highly transparent façade, the library opens up itself and its inner activities to passers-by, inviting them into this generous space.
On the inside of the building, the central valley forms the backbone of the library. Besides serving as the main circulation space from the north side of the building to the south side, it links people to all relevant spaces on top of and under the reading landscape.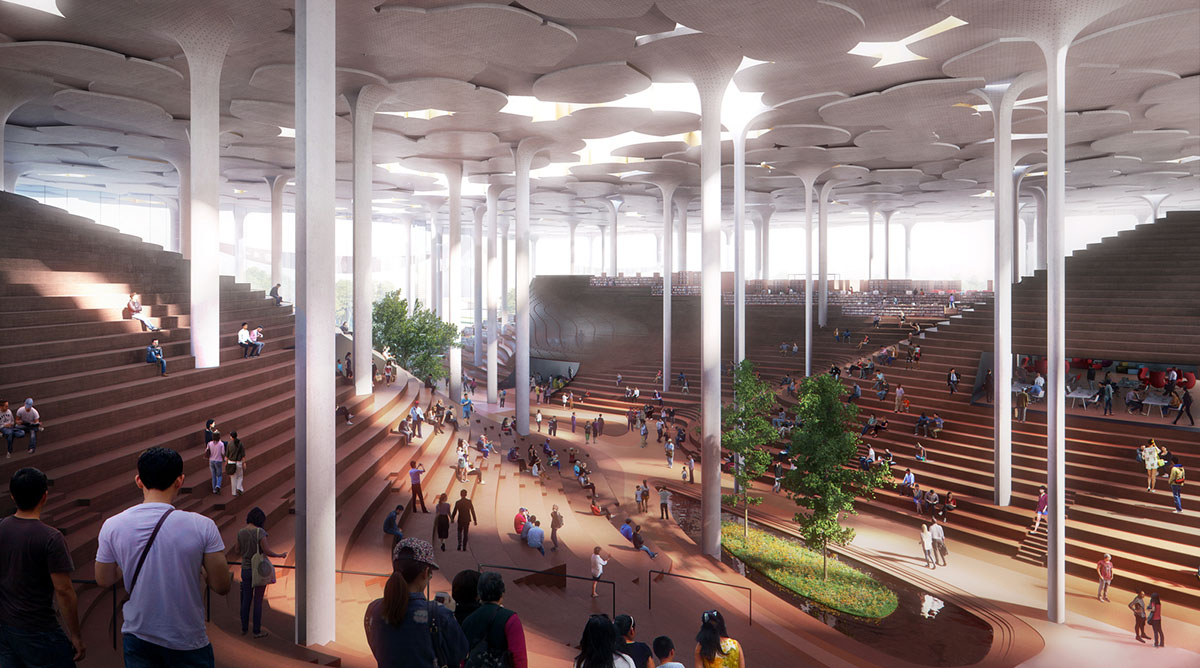 Beijing Sub-Center Library will be "A forest of knowledge"
Another significant features of the building are tree-like columns that support the roof, creating a ginkgo forest-like canopy.
Besides their aesthetic visual appeal, each tree column contains a technology component, resulting in a distributed technology system that tackles climate control, lighting, acoustic comfort, and rainwater disposal.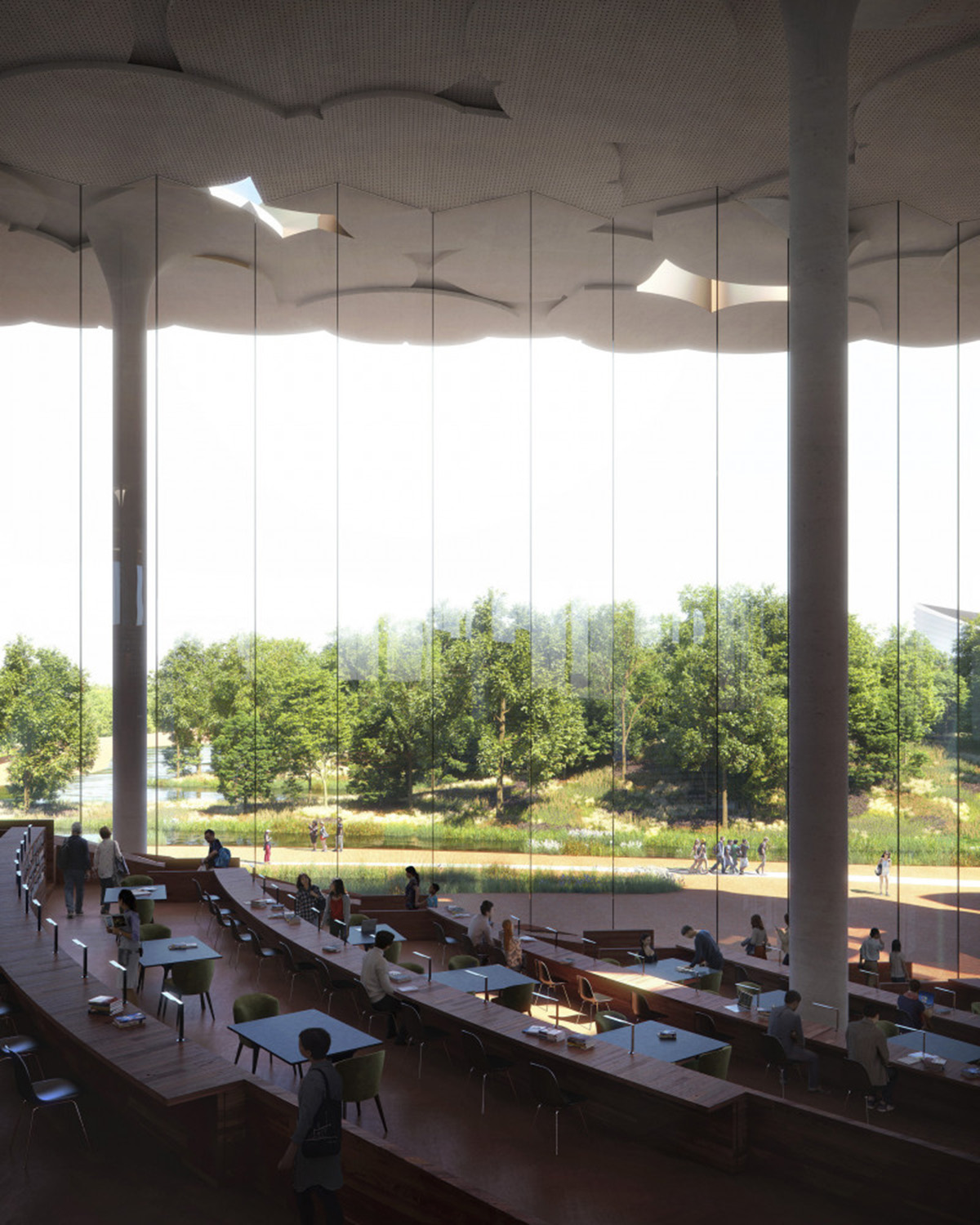 "The stepped landscape areas with the tree-like surroundings invite people to sit down and take a break at any time on their journey through the building – creating an informal zone and the notion of sitting under a tree reading your favorite book", the studio added.
As Snøhetta states, "Beijing Sub-Center Library aims to set a new benchmark for future library design in many aspects – from building and enclosure technology, social and environmental sustainability, to public ownership in cultural spaces."
Snøhetta and its partners have strived to meet the highest standards possible when it comes to sustainability.
Its special roof integrates photovoltaic (BIPV) construction elements that replace the conventional roofing and facade materials, utilizing the prime exposure of the rooftop to sunlight for renewable energy production and creating one of the most environmentally friendly roofs possible.
The roof also has an overhang to reduce solar gain. The team reduced glass height on the walls facing east and west and added an active sun-shading device facing the south and west façade.
The glass is made of an insulated glass unit having Low-E- performance. The design team used locally-sourced materials and modular components with a rationalized structural grid to reduce the need for customization for both the columns and the roof.
Snøhetta and Hassell are transforming Sydney's Harbourside into a new sustainable precinct. Snøhetta is working on a new Opera House in Düsseldorf with a pair of iconic dancing towers.
All images © Plomp/Snøhetta
> via Snøhetta