WAF 2021 Special Prize winners celebrate exceptional architectural merit
The World Architecture Festival has announced the six 2021 Special Prize winners, exploring exceptional architectural merit in five categories.
The WAF, the world's largest international architectural event, is taking place virtually from 1-3rd December.
Special Prize winners are selected from across the WAF Awards shortlist to shine a light on the projects that exhibit an outstanding use of Engineering, Colour, Natural Light, Certified Timber and building Visualisation, plus the best Small Project of the Year Prize.
Specialist judging panels select projects from across the WAF Awards categories showcasing these exceptional architectural qualities.
World Architecture Community is official Media Partner of WAF and INSIDE and will be bringing you the latest news about the festivals' speaker line-up and sessions. WAC readers will receive a 20% discount over regular festival prices. Book your digital festival pass from here by entering this promo code online: WAC2020.
See the 2021 Special Prize winners with their short descriptions at the WAF 2021 below:
---
Majara Residency by ZAV architects. Image © Tahmineh Monzavi
Best Use of Colour: Majara Residency by ZAV Architects has won Best Use of Colour Prize, a holiday community of 200 brightly coloured domed residences on an Iranian island overlooking the Persian Gulf.
The judges commented: "The colour and form are beautifully integrated in these simple and stunning domes with their references back to Persian culture and to the immediate natural environment'. They added: "They bring harmony and a peace, providing an impressive visual treat to an otherwise quite desolate area."
The Prize celebrates the creative use of colour in architecture, both inside and out.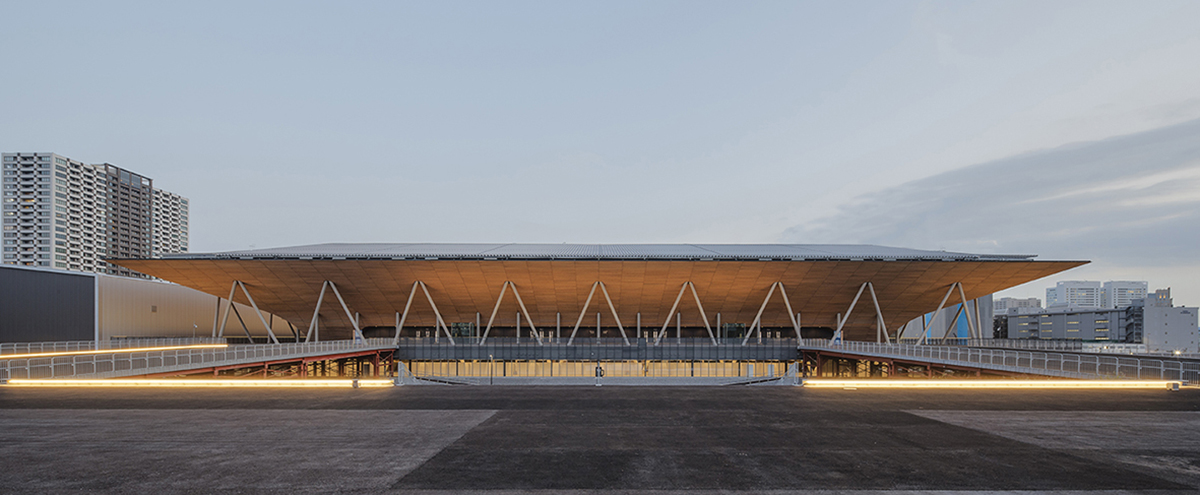 Ariake Gymnastics Centre by Nikken Sekkei Ltd + Shimizu Corporation. Image © Ken'ichi Suzuki
Engineering Prize: The Engineering Prize has been won by Nikken Sekkei for Ariake Gymnastics Centre, a 12,000-capacity timber structure building designed for the Tokyo Olympic and Paralympic Games. The judges admired the structural use of timber on a heroic scale over a span of 90m, with elegantly resolved geometry and detailing.
They commented: "The design and construction process demonstrate an intelligent interrogation of technical considerations." It was noted that, importantly for an Olympic venue, the building is also designed for a second life as an exhibition hall. The esteemed Engineering Prize is awarded by a specialist jury.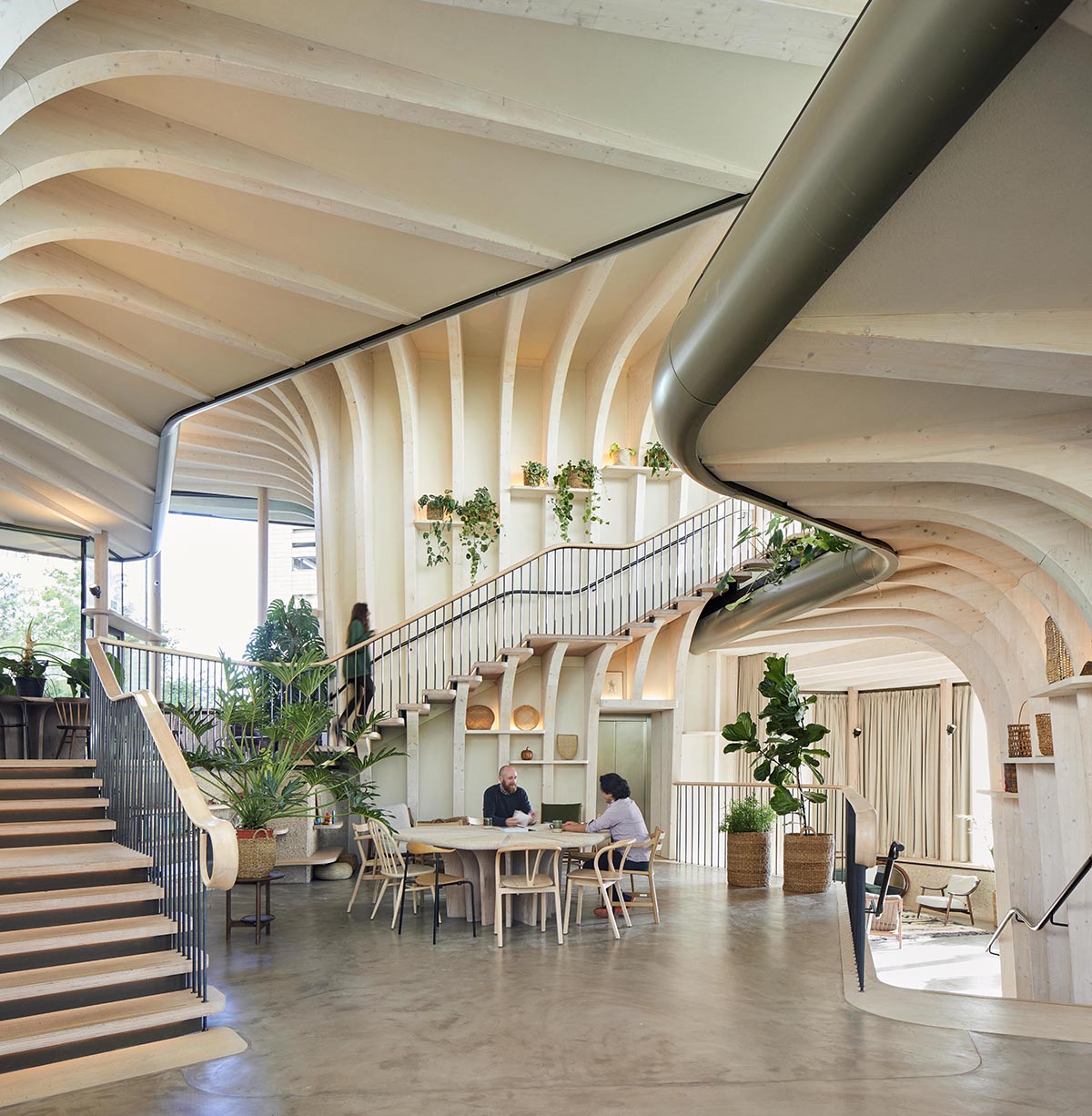 Maggie's Leeds by Heatherwick Studio. Image © Hufton + Crow
Best Use of Natural Light Prize: Maggie's Leeds by Heatherwick Studio has won the Best Use of Natural Light Prize, supported by VELUX, a UK centre providing support for people affected by cancer.
Judges commented: "The biophilic design, combining vegetation and wood, creates a unique experience, and the scarcity of natural light pushes the architects to do more with less, turning restrictive conditions into opportunities."
They added: "The skilful use of manmade and natural materials together with a calculated strategy for views and daylight delivers an unusual project that connects with its users."
The Prize recognises the best use of natural light in completed buildings with special emphasis on projects that impact on human well-being, performance and joy.
Alto Douro Winery and Hotel by Atelier Sergio Rebelo. Image © MIR
Visualisation Prize: Atelier Sérgio Rebelo is winner of the Visualisation Prize, supported by Lumion, for its presentation of Alto Douro Winery and Hotel, a future project celebrating Port Wine production in Portugal's Douro Valley.
Judges commented: "The video offers an extremely serene visualization that explores the buildings, their locations and their spaces with highly professional editing and content."
They added: "The seamless insertion of drone footage with the CGI gives a calm, but hyper realistic ambience which evokes the Portuguese warmth of the winery."
The Prize celebrates the best architectural project rendering videos, celebrating both in-house visualisation teams and agency collaborations.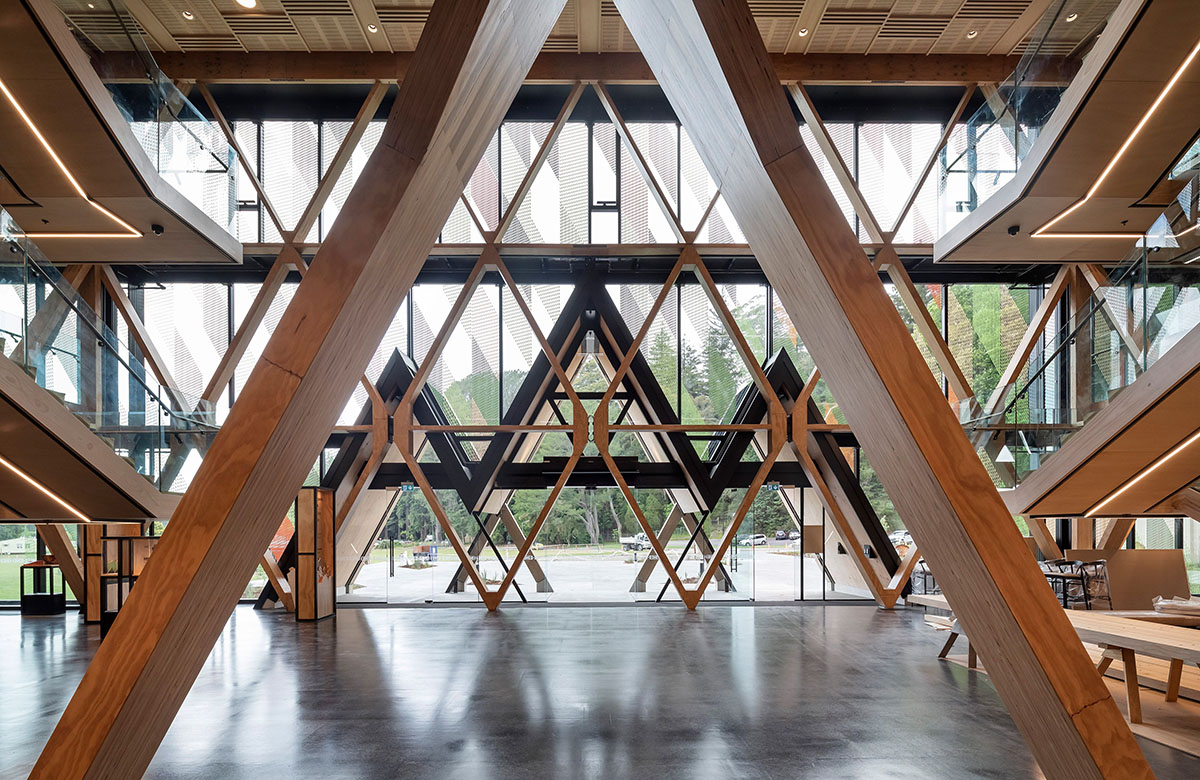 Scion Innovation Hub. Image © Patrick Reynolds
Best use of Certified Timber Prize: RTA Studio and Irving Smith Architects have won Best Use of Certified Timber Prize, supported by the Programme for Endorsement of Forest Certification (PEFC), for Scion Innovation Hub, Te Whare Nui o Tuteata – a workplace located on the edge of the redwood forest in Whakarewarewa Forest Park, New Zealand.
The judges commented: "The project proudly showcases locally sourced timber in a unique diagrid structure requiring less material than traditional mass engineered timber buildings."
They noted "the building achieved embodied carbon zero at the time of completion and showcases dovetail node joints which slot together in an expression of 'craftsmanship and beauty." The Prize celebrates the use of certified timber in innovative, educational and artistic ways within architecture.
Temporary Housing Pavilion for Health Workers by Revolution. Image © Luis Gallardo
Small Project of the Year Prize: Temporary Housing Pavilion for Health Workers by Revolution has won Small Project of the Year, a modular temporary housing solution by the Mexican practice in response to Covid-19. The judges were impressed by the elegant means to design this minimal structure and found the utilization of poly-aluminium boards made from re-cycled bottles and drinks packs 'resourceful and innovative'.
They added: "The temporary shelter for stressed health workers demonstrates community responsibility and a worthy architectural innovation in the face of the pandemic." The Prize celebrates projects small in scale but big on innovation.
> via WAF