Heatherwick Studio hides new Maggie's Centre under plants and trees in Leeds
Heatherwick Studio has completed the new Maggie's Centre hidden under plants and trees within the campus of St. James's University Hospital in Leeds.
Maggie's Centre is a charity and provides free practical and emotional support for people with cancer. The British designer Thomas Heatherwick's firm Heatherwick Studio has designed the 26th centre in the United Kingdom, which marks the studio's first healthcare project until now.
Named Maggie's Leeds Centre, the 462-square-metre building was conceived as a group of three large-scale planters, built on a sloped site, that each encloses a counselling room. The volumes seem interconnected from afar and they carry the plants and plenty of greenery on their rooftop.
"These surround the 'heart' of the centre - the kitchen - as well as more social spaces for group activities including a library and exercise room," said Heatherwick Studio.
Heatherwick takes inspiration from the philosophy of Maggie's and "the belief that great design can help people feel better, Maggie's Leeds uses several 'healthy' materials and energy-saving techniques," according to the studio.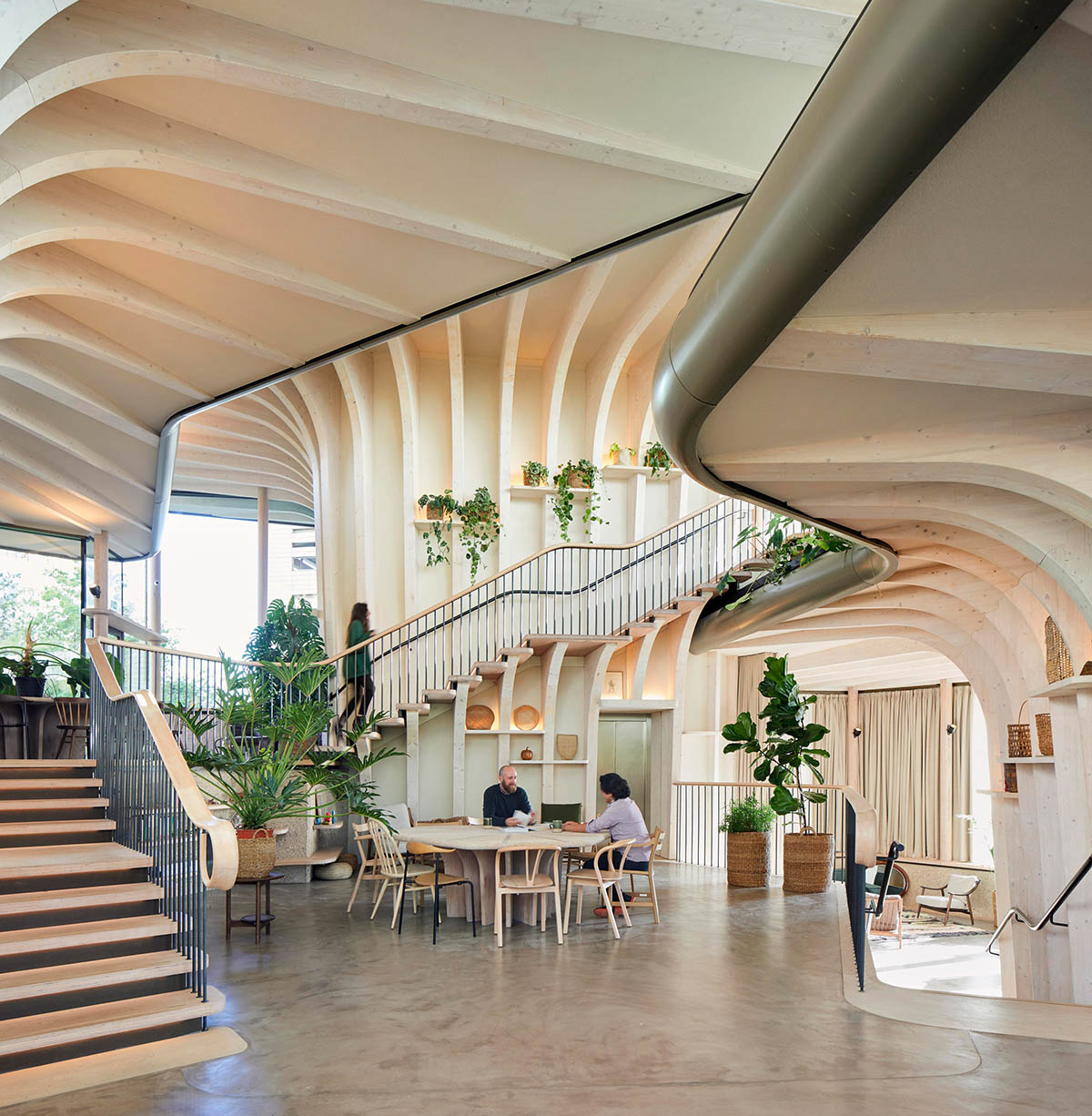 The building's structure is made from a prefabricated and sustainably-sourced spruce timber system. The studio used porous materials such as lime plaster help to maintain the internal humidity of the naturally- ventilated building, which has been achieved through careful consideration of the building's form and orientation.
The rooftop garden, designed by award-winning landscape designers Balston Agius, is inspired by Yorkshire woodlands and features native English species of plants, alongside areas of evergreen to provide warmth in the winter months.
"Inspired by Maggie Keswick Jencks' love of gardening, visitors are encouraged to participate in the care of the 23,000 bulbs and 17,000 plants on site," added Heatherwick Studio.
The interior of the centre explores everything that is often missed in healing environments: natural and tactile materials, soft lighting, and a variety of spaces designed to encourage social opportunities as well as quiet contemplation.
Window sills and shelves are intended for visitors to fill with their own objects to create a sense of home. The studio has also designed two tables, inspired by the building's timber fins and built from cork and engineered beech timber, which reside in the heart of the centre.
Site plan
Ground floor plan
Mezzanine plan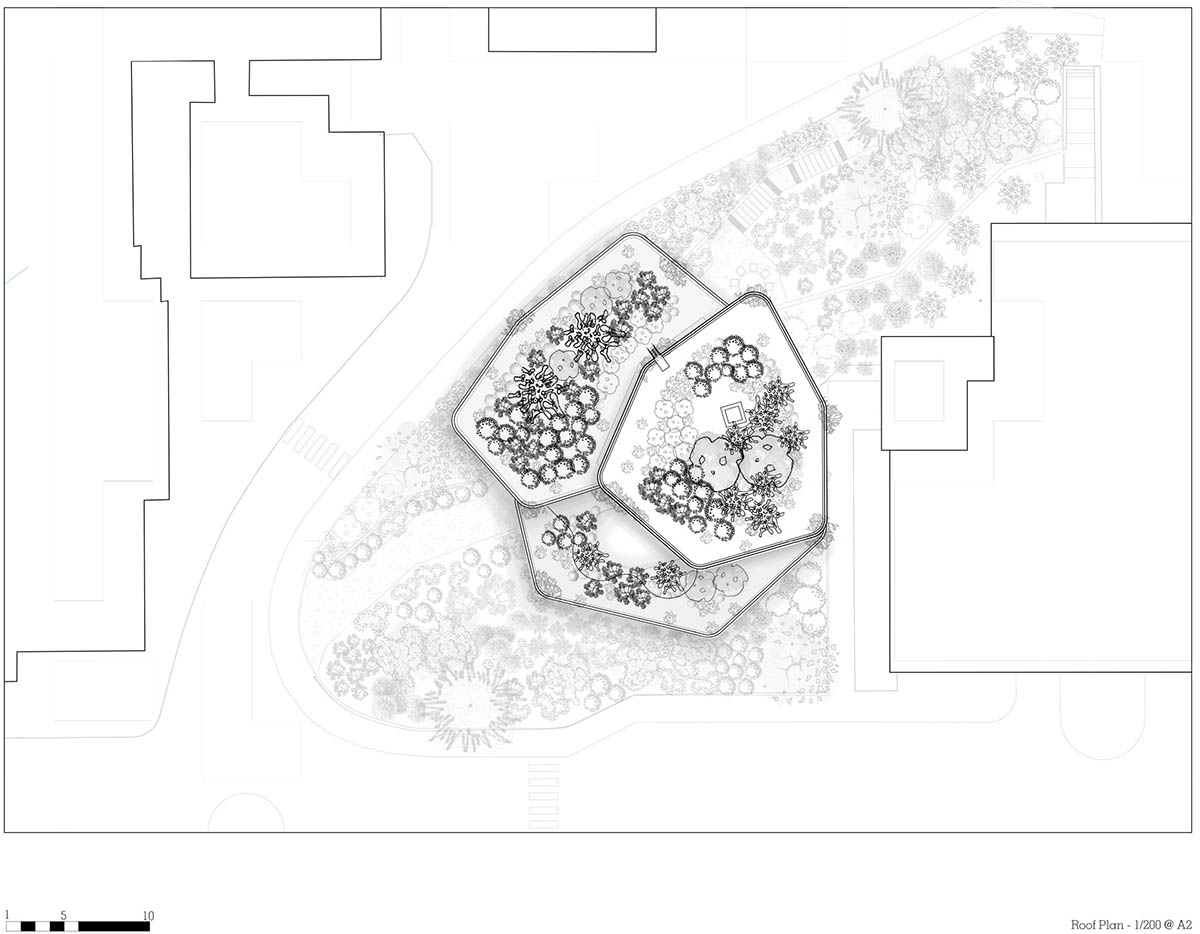 Roof floor plan
Several architects and designers completed a Maggie's Centre for the charity, including Foster+Partners-designed Maggie's Cancer Centre in Manchester, Benedetta Tagliabue – Miralles Tagliabue EMBT Architects' a Maggie's center in a UNESCO World Heritage site in Barcelona, Spain and Steven Holl's Maggie's Centre Barts in the heart of London.
Project facts
Design: Heatherwick Studio
Founder: Thomas Heatherwick
Group Leader: Mat Cash
Project Leaders: Neil Hubbard, Rebeca Ramos, Angel Tenorio
Project team: Peter Ayres, Alyaa Azhar, Mark Bagguely, Einar Blixhavn, Charlotte Bovis, Erich Breuer, Mark Burrows, Darragh Casey, Francesco Cavaliere, Michael Chomette, Ben Dudek, Antoine van Erp, Alex Flood, Matthew Gilbert, Andrew Green, Hayley Henry, James Hepper, Etain Ho, Kong Hoang, Catherine Jones, Peter King, Nilufer Kocabas, Gergely Kovacs, Hyein Lee, Nick Ling, Freddie Lomas, John Minford, Sayaka Namba, Charmaine Ng, Juan Oyarbide, Monika Patel, Hannah Parker, Tayra Pinto, Luke Plumbley, Gabriel Piovanetti, Ivan Ucros Polley, Enrique Pujana, Manuel Ramos, Silvia Rueda, Deyan Saev, Luis Samanez, Gabriel Sanchiz, Ahira Sanjeet, Wendy Smith, Skye Sun, Cliff Tan, Ruth Vatcher, Brandon Whitwell-Mak, Meera Yadave, Aysha Zahid, Artur Zakrzewski, Pablo Zamorano, Chen Zhan.
All images © Hufton + Crow
All drawings © Heatherwick Studio
> via Heatherwick Studio