NYC Coastal Resiliency to gain momentum; announces its FiDi & Seaport Climate Resilience Master Plan
On Dec 29, 2021, the New York City Economic Development Corporation (NYCEDC) and Mayor's Office of Climate Resiliency (MOCR) announced the Financial District & Seaport Climate Resilience Master Plan as a part of their extensive flood defense plan to prevent Lower Manhattan from the potential yet seriously hazardous threats of Climate change.
The prospective infrastructure is crucial for supporting New York City's overall coastal resilience strategies. Estimated to cost around $5 to $7 billion, the project re-envisions the Lower Manhattan shoreline. It intends to develop a waterfront that stands against testing coastal storms along with escalating sea levels. In light of the waterfront being the city's busiest transit hub as well as a prime business district that hosts many visitors from around the country, it is projected that by the year 2050, the Financial District and Seaport is anticipated to be flooded by the rising tides, making the Master plan imperative.
Image: Maiden Cove-Birdseye, Image Courtesy of NYCEDC
"NYCEDC and MOCR have envisioned a 21st-Century resilient waterfront that stands to be a model for other major cities," said NYCEDC President and CEO Rachel Loeb in a statement. "We've done years of work, and we have the innovation. There's no doubt climate change is here. Sea levels are rising, and stronger, more devastating storms will only continue, which is why we must protect our coastline and safeguard our vulnerable historic Seaport area and Financial District. If we do not take action now, residents, businesses, and critical infrastructure are put in jeopardy. We must rely on strong partnerships at all levels of government to help implement this plan."
Image: Fulton Street Waterfront Entrance, Image Courtesy of NYCEDC
Image: Peck Slip with Looking Toward the East River, Image Courtesy of NYCEDC
Previously hit by Hurricane Sandy in 2012, to ensure protection, the master plan includes a multilevel waterfront that lengthens beyond the shoreline of the East River by up to 200 feet from its existing location. Elevated upper level by 15 (4.5m) to 18 ft (5.5m) will ensure protection from prospective storms as well as provide picturesque public spaces that face the harbor & city. The lower level will be an esplanade raised 3 ft (0.9m) to 5 ft (1.5m) to prevent sea-level rise while offering connection to the Waterfront edge. A projected loss of $20 billion is expected due to flooding if no action is taken between now and 2100.
As per the Statement issued by the NYCEDC, the proposed master plan includes notable features like:
Floodwalls buried in the landscape that create a line of ridges along this waterfront, permanently protecting Lower Manhattan from coastal storms and creating new open spaces with expansive views of the harbor
Resilient stormwater infrastructure, including a new pump station along with green infrastructure
Resilient ferry terminals for Staten Island, Governors Island, and NYC Ferries, among other operators
Universally accessible entrances and pathways, designed to ensure people of all ages and abilities can get to and move around the waterfront
New public open spaces with playgrounds, plazas, lawns, seating, and cafes
Coves that promote habitat restoration and provide opportunities to learn about the ecology of the East River
Resilient piers for historic docking ships, bolstering the landmark character of South Street Seaport
The city is expected to move forward with the subsequent design and engineering phases necessary to apply for federal funding and acquire the respective permits. The Fidi and Seaport Climate Resilience Master Plan is supported by over $900 million city investment and includes prominent projects like Battery Park City, The Battery, etc.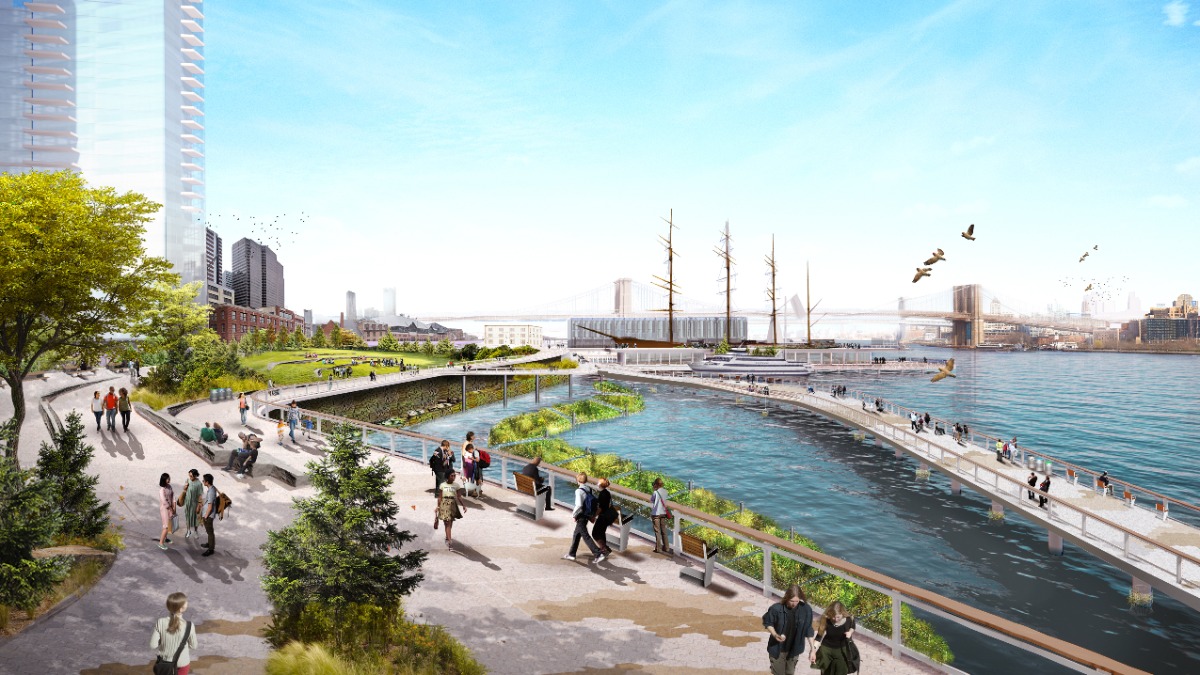 Image: Pine Street Cove Looking North, Image Courtesy of NYCEDC
Image: View Looking North near Vietnam Memorial Plaza, Image Courtesy of NYCEDC
Image: View Looking North toward Old Slip, Image Courtesy of NYCEDC
Top Image: Maiden Cove-Birdseye during Storm.
> via NYCEDC