WAC's Most-Read Interior Design News In 2021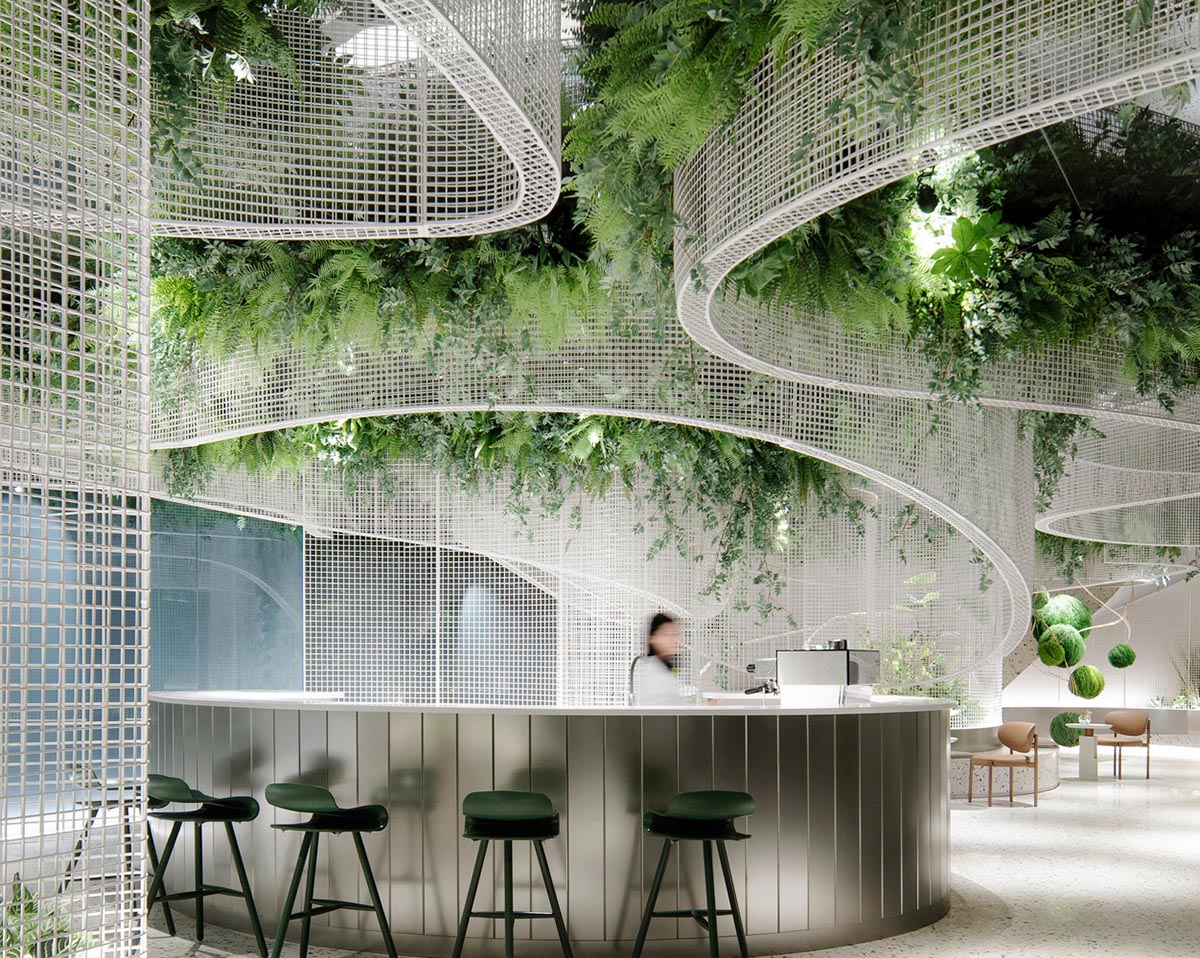 As we are continuing our annual review, we have compiled top 10 most-read interior design news of 2021, their view numbers show our readers highly interested to those stories.
While Karvone Design's surreal white garden for a coffee shop in Guangzhou hits our list, fluid interiors of a Melbourne home by Jolson Architecture and Interiors, a renovation of a historic restaurant building with copper bridge by YOD Group in Kyiv, the interiors of Satori Harbor Library by Wutopia Lab in Guangzhou are among the top 10 interior design news of WAC in 2021.
Read WAC's most-read interior design stories in 2021 (listed by the number of views):
---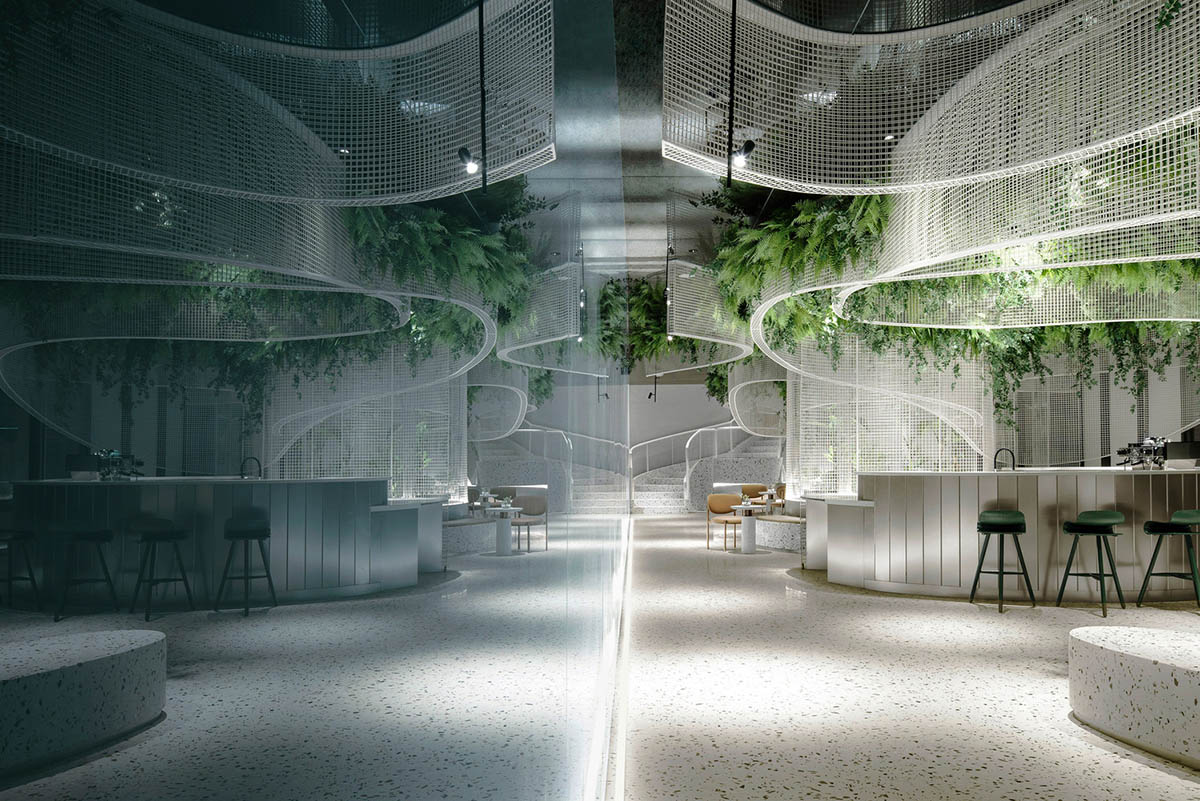 Image © King Ou, Jimmy He
Vista Coffee Shop in Guangzhou by Karvone Design
Named Vista Coffee Shop, the coffee shop, themed as "The Floating White Garden", features white undulating metal sculptures suspended from the ceiling to create a surreal white garden.
Offering a cinematic view inside, circular-shaped all-white metal sculptures carry the planters and the same circular shapes also define other seating areas made of terrazzo alongside separate tables for serving.
The story received over 5,800 views.
Read more about Vista Coffee Shop by Karvone Design.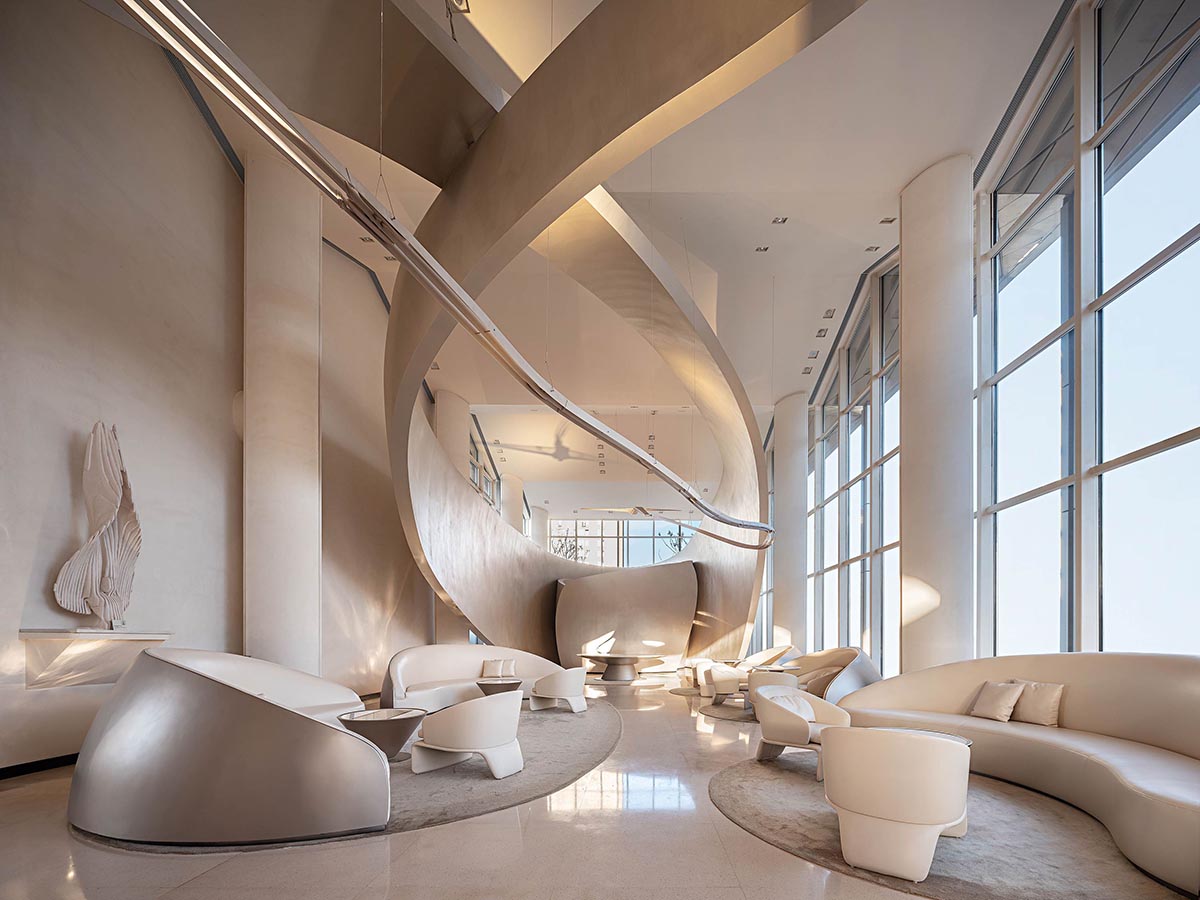 Image © BenMo Studio
Clubhouse in Shijiazhuang by GBD Design
The clubhouse's interiors, designed by GBD Design, features fluid and dynamic sculptures shaped in pastel-toned colors and patterns. Aiming to bring people warm and smoothly-flowing space, the space aims to pay homage to the heritage of a city, the place where the best fabrics in the country are produced: the "Fifth Cotton Mill."
The designer draws inspiration from nature and memory and "twists them into threads that weave an architectural brocade, using flexible curves to provide artistic tension to the surrounding environment, combining memories with physical space."
The story received over 5,400 views.
Read more about Clubhouse by GBD Design.
Image © Lucas Allen
Arc Side in Melbourne by Jolson Architecture and Interiors
Jolson Architecture and Interiors created fluid interiors for a Melbourne home, called Arc Side. The interiors of the home comprises smooth surfaces, sculpted walls which aims to translate a sleek aesthetic and luxury feeling.
Converted from two self-contained apartments into a three-level home, the home contains a monumental void, reaching at 7-metre height, which becomes a key feature in this substantial renovation with its dramatic curvaceous steel staircase.
The story received over 4,800 views.
Read more about Arc Side by Jolson Architecture and Interiors.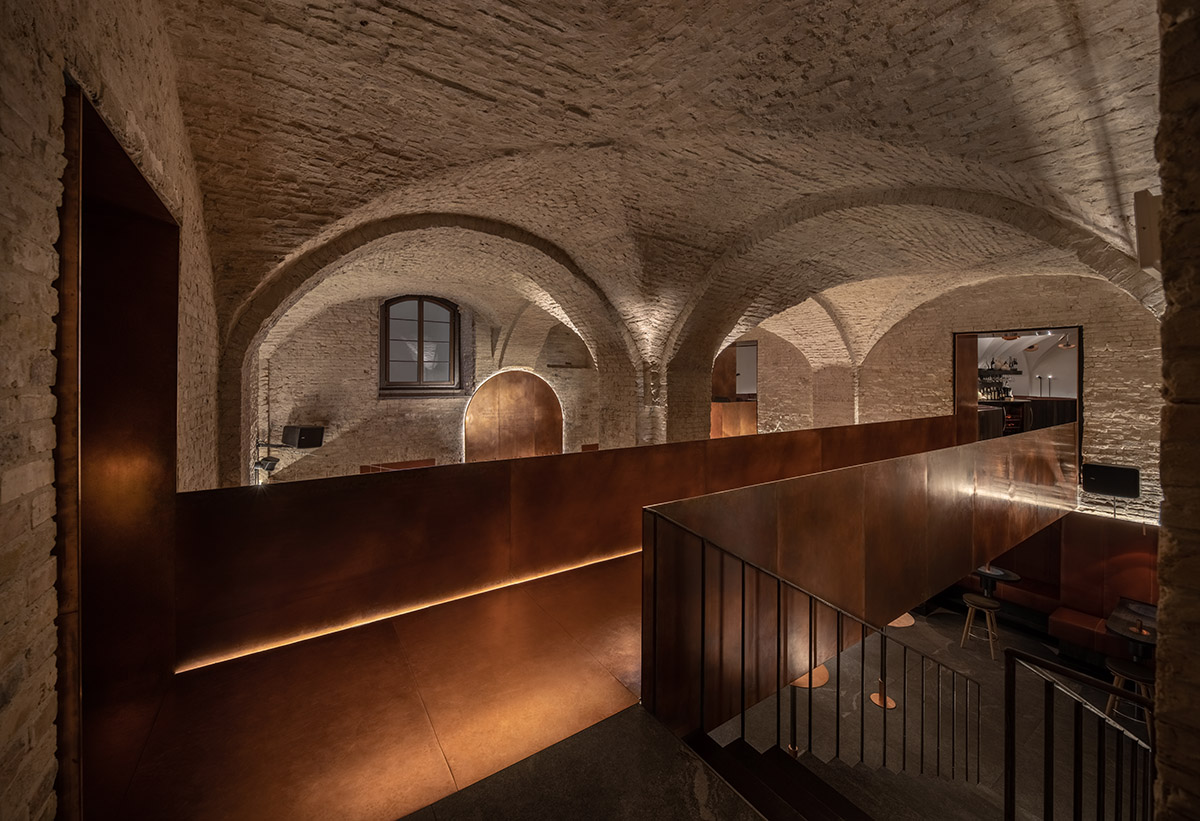 Image © Andriy Bezuglov
Samna Restaurant in Kyiv by YOD Group
Samna Restaurant emerges as a transformation of an old mansion into a restaurant incorporating a copper bridge that complements the history of the building in Kyiv, Ukraine.
The architects used solid brick walls and arc domes defining the aesthetics of the interiors. The design team emphasized some authentic elements and created on their basis a new contemporary interior.
The story received over 4,500 views.
Read more about Samna Restaurant by YOD Group.
Image © CreatAR Images
The Satori Harbor in Guangzhou by Wutopia Lab
Wutopia Lab creates surprising interior spaces for The Satori Harbor in Guangzhou. Situated on the 18th and 19th floor of VIPshop's headquarters building, the project is envisioned as "a culturally symbolic library" situated in VIPshop's new headquarters.
The library features carved-out forms, colors, curved seating spaces, cave-like niches where aesthetic and the reading function become a singly entity. According to Yu Ting, the Founder & Chief Architect of Wutopia Lab, "the library materializes the complex mechanism of the world – an abstract harbor city where the readers can wander through books and experience their moments of enlightenment and deliverance."
The story received over 4,400 views.
Read more about The Satori Harbor by Wutopia Lab.
Image © marriott international
The interiors of W Hotel Osaka feature colorful interiors in which the studio is inspired by the many facets of the city, welcoming guests to experience Osaka, which was designed for its specific location in the city.
Situated on Midosuji Boulevard, W Hotel Osaka is a new 27-story landmark high-rise building which was designed by Nikken Sekkei and with a façade design Tadao Ando - which is Japan's first W Hotel.
For instance, when guests arrive to the hotel, they encounter with the "wow" experience as they tasing though the long arrival tunnel from the main Midōsuji Boulevard entrance made of more than 3000 laser-cut circles and painted with pink color.
The story received over 4,230 views.
Read more about W Hotel Osaka by concrete.
Image © Ketsiree Wongwan
Bvlgari Bangkok designed by MVRDV is one of our innovative interior design news that hits our annual 2021 list. Completed in earlier January 2021, MVRDV's Bvlgari Store has strong references to Roman art with a golden and patterned façade for the Italian luxury brand Bvlgari.
Located in the IconSiam department store – one of the largest malls in Asia, the store is inspired by the timeless beauty of Roman art. the façade is made of high-quality materials such as natural stone, tinted glass, copper, and gold as a basis.
The story received over 4,200 views.
Read more about Bvlgari Bangkok by MVRDV.
Image © Dirk Weiblen, Yichen Ding
Absolute Flower Shop in Shanghai by More Design Office
Absolute Flower Shop, located in Anfu Road, Xuhui District, comprises a series of cellular spaces with flower arrangements featuring an all-white backdrop.
The interior space is divided the space into three volumes, containing a Street Gallery, Artificial Landscape and a Secret Garden. A larger room, named Artificial Landscape, presenting the flowers in surreal yet magical displays, is opened up a large garden at the rear.
In this project, the studio aims to create a sharp contrast with plants, to show how a neutral background becomes an essential element in the presentation.
The story received over 4,100 views.
Read more about Absolute Flower Shop by More Design Office.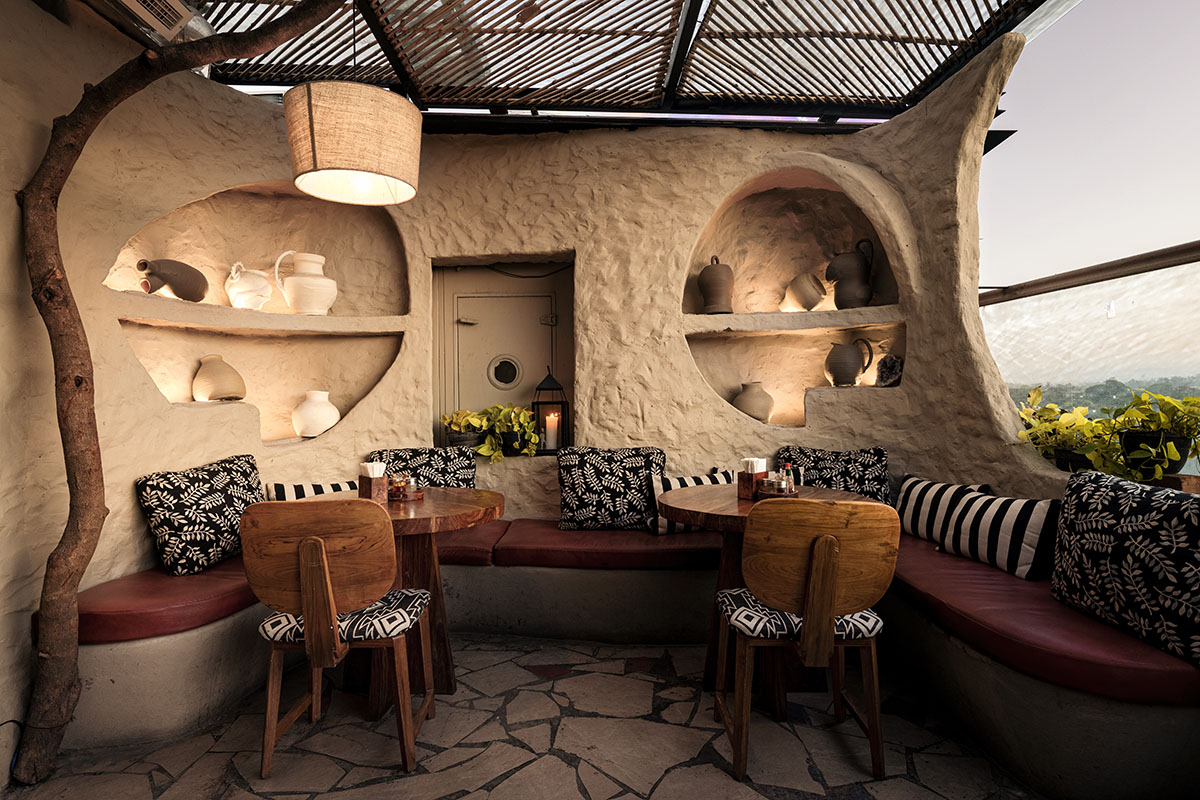 Image © Purnesh Dev Nikhanj
Tulum-Jungle Rooftop Restaurant in Chandigarh by Loop Design Studio
Loop Design Studio's Tulum-Jungle Rooftop Restaurant, located in Chandigarh, India, is a rooftop restaurant taking inspiration from the Mexican getaway destination: Tulum, the city is known as a superfluous, green and vernacular oasis.
Offering panoramic views towards the city skyline, the restaurant features cavernous walls, created in mud plaster, presenting earthenware pots. Reflecting a natural and an earthy tones, the color and textured palette come together in a systematic fashion using natural stone, bamboo, terrazzo, wood, cane, plaster and greens.
The story received over 4,140 views.
Read more about Tulum-Jungle Rooftop Restaurant by Loop Design Studio.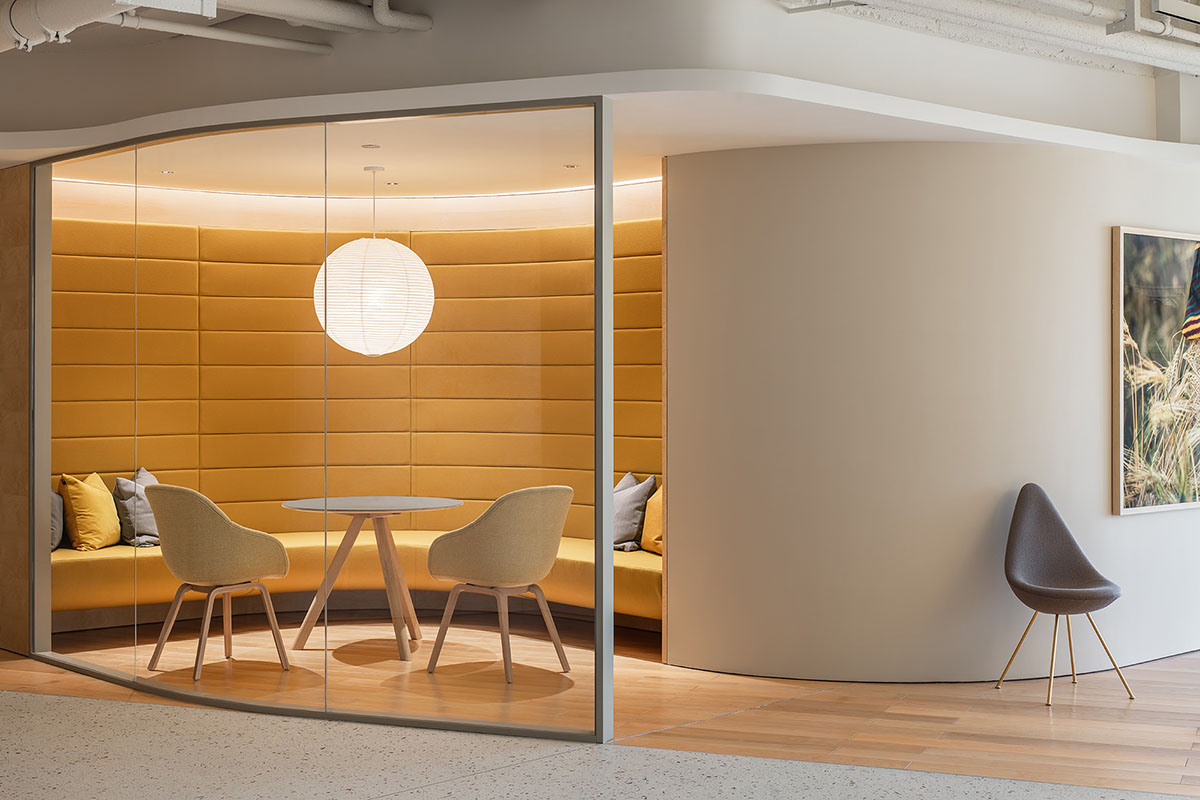 Image © Tan Xiao / Studio Ten
ECCO's Office in Xi'an by HONG Designworks
The ECCO's Office by HONG Designworks features a series of dynamic scenes that fit into the brand's values, and integrated natural ambience, rhythm and positive state of life within the space.
Taking cues from the continuous movement of nature and rhythm it generates, the studio uses extracted elements from mottled old city walls of Xi'an, and combined them with ECCO's spirit of leather innovation, to create a leather brick wall with mixed colors in the reception area.
The story received over 3,900 views.