Frank Gehry revises plans for Ocean Avenue Tower in Santa Monica
Frank Gehry has released updated version of plans for his new Ocean Avenue Tower in Santa Monica, Califonia where the architect originally lives in.
Named Ocean Avenue Tower, the multi-faceted tower, originally conceived as a 22-storey hotel and residential tower, has now been shortened to 12-story tower due to imposed restrictions by the city's Downtown Community Plan (DCP).
The new tower will be built on an almost 2-acre (8,093 square-meters) property -which sits astride Ocean Avenue and Santa Monica Boulevard overlooking the Pacific Ocean, Palisades Park and Santa Monica Pier, at the terminus of a major pedestrian thoroughfare between Ocean Ave and the Third Street Promenade.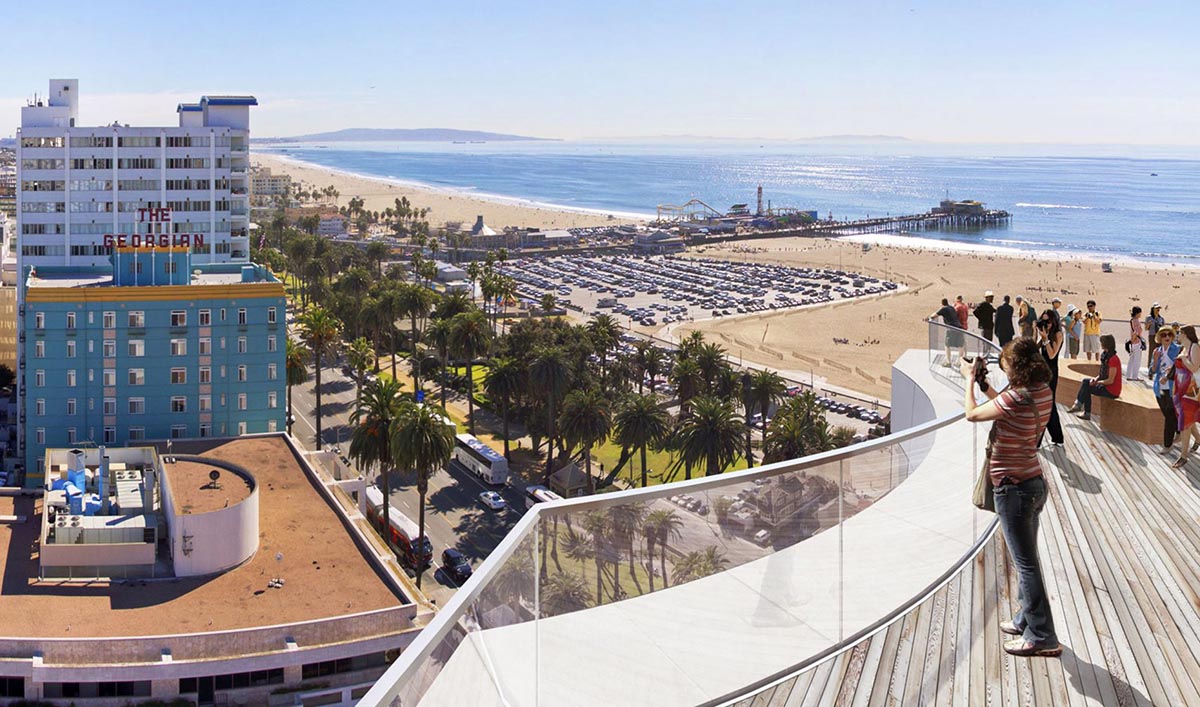 The Downtown Community Plan's regulations entails lower-level buildings, as existing buildings in the downtown are comprised of 4-5 storey buildings.
Frank Gehry's rippled tower will include residential, retail and cultural spaces, scattered across a tower and three lower structures at the site. The plans will also incorporate a museum and two preserved buildings, which are all revived with green spaces and walkways across the street.
The original tower, reaching 12 storeys, will include 79 apartments, a hotel with a reduced number of guest rooms and retail spaces on the ground floor. Instead, the architect increased the number of rental units, affordable units and family units in the plans.
A rooftop observatory, encompassing a total of 465 square meters) will be placed at the top of the hotel to provide panoramic views of Santa Monica. Developed by Worthe Real Estate Group (Worthe), the total of 79 residential apartment units will include 19 rent-controlled units and 18 affordable units. In the new plans, residential units layout and pedestrian areas have been reorganised.

In the new plans, a new museum will be built behind the existing former structures to revive public facilities, walkways, and the continuation of streetscape. Reaching almost 3,800 square meters in total, the museum will provide a vast space for artistic and local presentations, as well as its enlarged courtyards.
"We are committed to a project with seamless circulation among the different elements and with the surrounding areas, whether entering the site by foot, bicycle or car," said the developer in a statement.
"The ground level pedestrian experience is open and connected site-wide. Vehicular/pedestrian interactions are limited to reduce conflict, and all street frontages other than the alley to 2nd Street are free from vehicular exit/entry points. The articulation of building facades creates a variety of sidewalk widths and spaces to facilitate pedestrian movement."
All landscaped courtyards and patios have been reorganised throughout the project. "This layout allows porosity and designates approximately 25% of the site area as public open space at the ground level," added the statement.
Gehry's design scheme will preserve, protect and adaptively reuse two landmarked buildings that exist on the site, including a Queen Anne style Victorian building from 1906) and a two-story Spanish Colonial Revival building from 1926. The museum will incorporate the two buildings into its design, creating visitor access to this rich part of our City's history.
Frank Gehry released his first conceptual plans in 2013. Since then, the design scheme gained a number of changes, including the removal of a condominium block, the reduction of hotel program and the lowering got floor height.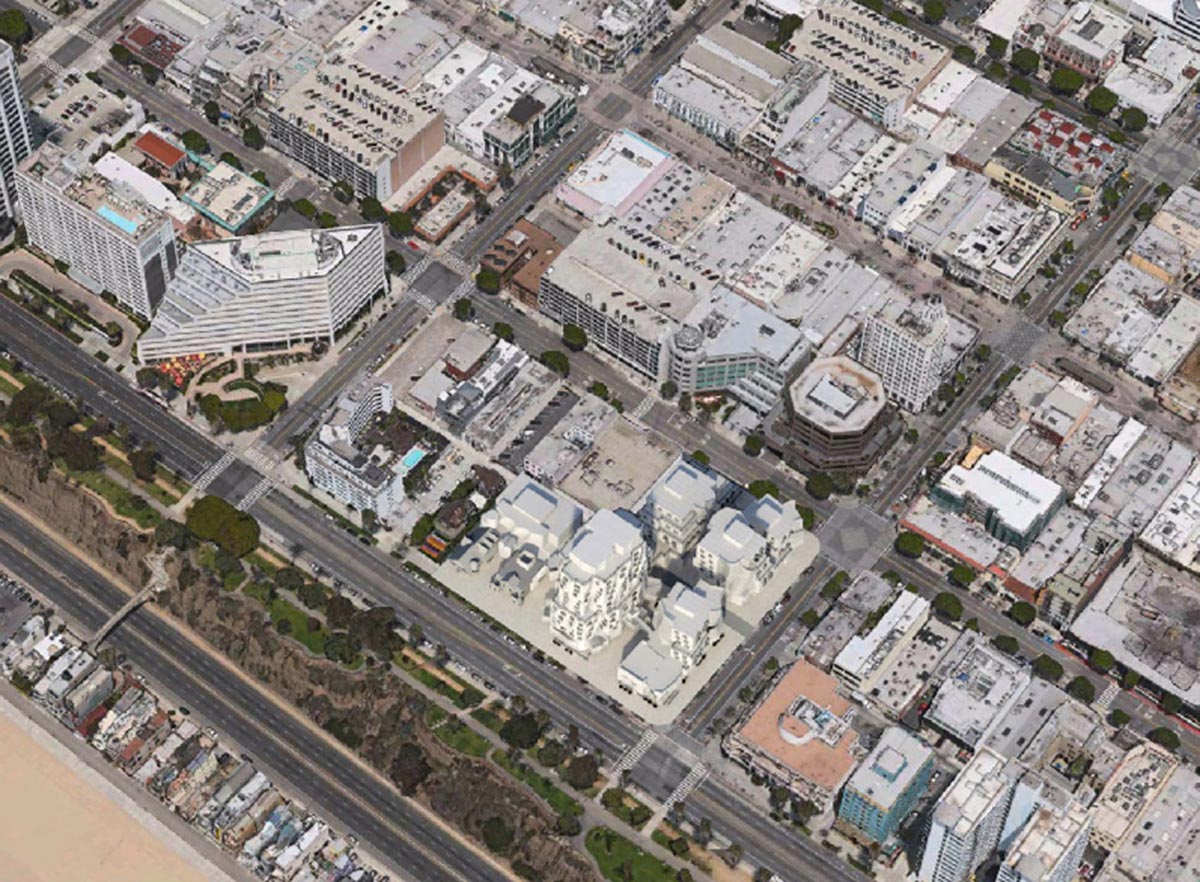 Worthe is also collaborating with M. David Paul and Associates (MDPA) on this project.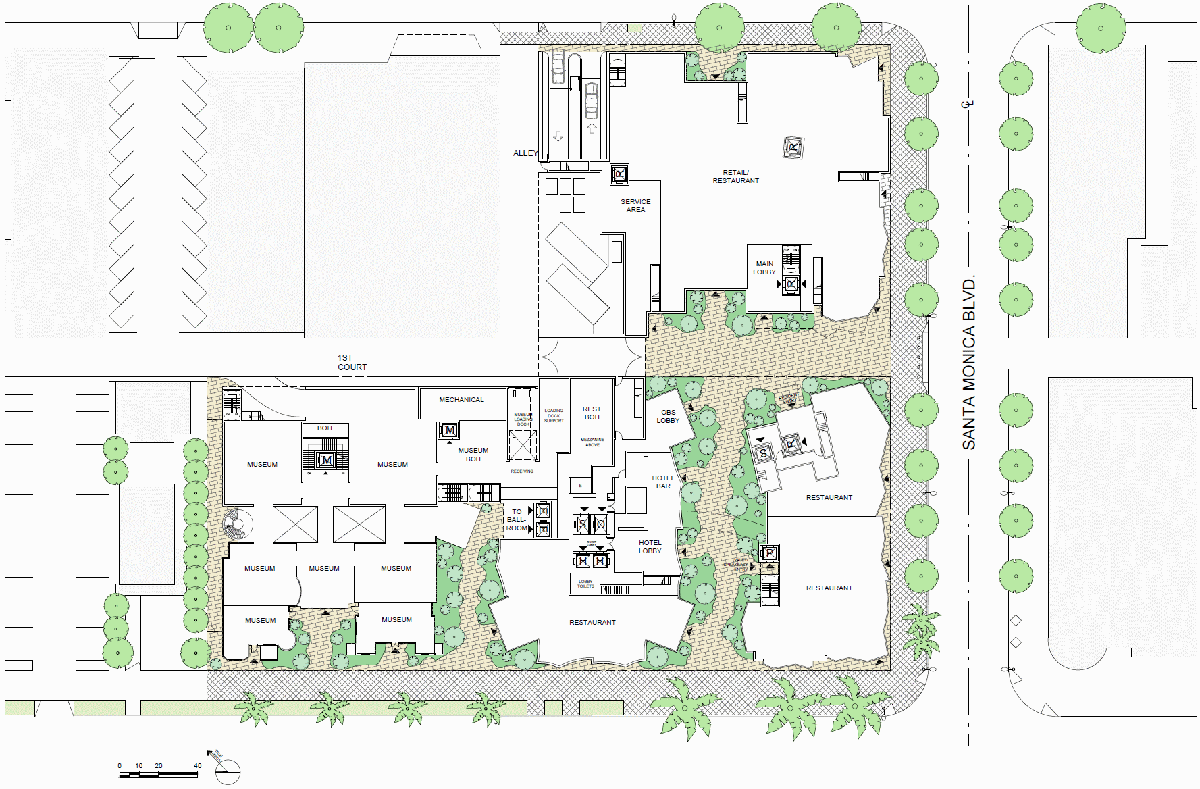 All images © Gehry Partners, LLP
> via The Ocean Avenue Project