Polish architects win eVolo 2018 competition with foldable skyscraper for disaster zones
A team of three Polish architects has won the 2018 eVolo competition with a foldable skyscraper inspired by origami that could be easily transported and deployed in disaster zones.
The team, comprised of Damian Granosik, Jakub Kulisa, and Piotr Pańczyk, has created a skyscraper that directly addresses natural disaster issues in remote locations. The 2018 Skyscraper Competition selected 3 winners and 27 honorable mentions from 526 projects received.
Named Skyshelter.zip, the project has won the first price in eVolo Skyscraper 2018 competition, the "annual award - established in 2006 - recognizes visionary ideas and projects that through the novel novel use of technology, materials, programs, aesthetics, and spatial organizations, challenge the way we understand vertical architecture and its relationship with the natural and built environments."
"More and more natural disasters happen annually across the world. When dealing with forces so powerful, standard means of crisis-management often prove to be inefficient. Whether certain region is struck by earthquake, flood or hurricane – help needs to arrive quickly. This is often easier to be said than done, as damages to transportation infrastructure or remote localization can make it extremely difficult," said architects in the project description.
"The Skyshelter.zip tries to address these issues by proposing structure that while offering large floor surface is compact, easy to transport anywhere and can be deployed with minimum amount of time and manpower requirements. It is meant to serve as multi-purpose hub for any relief operation."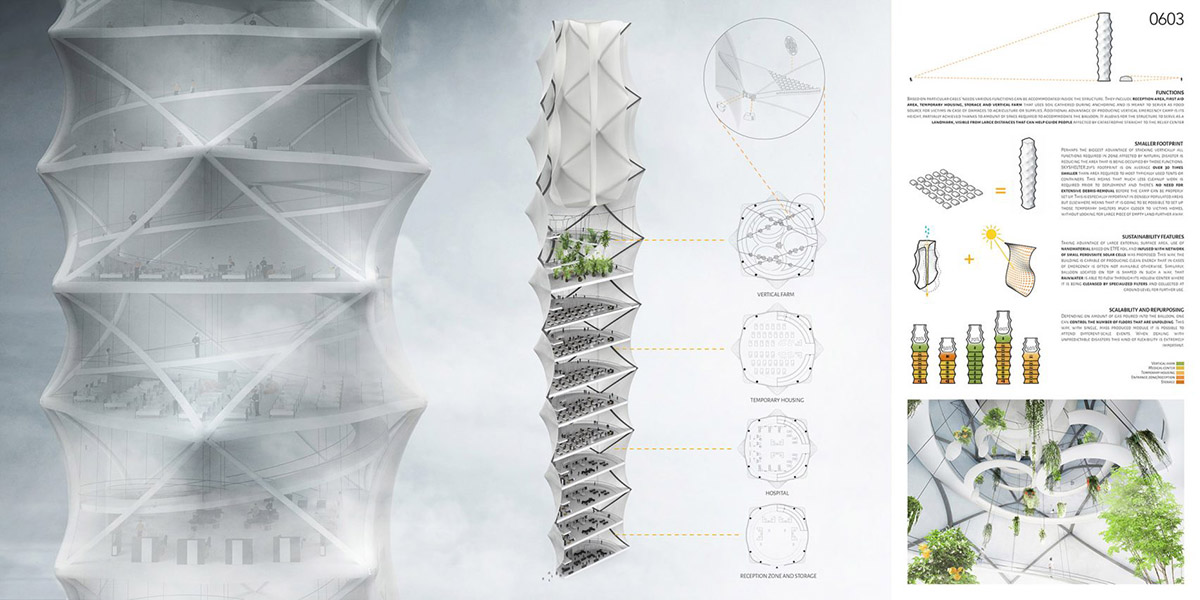 "The Skyshelter.zip is extremely easy to move due to its unique qualities. The entire structure is foldable in a manner that resembles origami or accordion. This means it can be neatly packaged into single relatively small box with minimum height and base dimensions reduced to building's footprint."
"Then such a package can be moved anywhere with help of helicopters commonly used by rescue teams and military in the event of a natural disasters. Because elements do not have to be transported in batches by trucks, it is easier and faster to reach zones cut off from the transportation network," added the architects. Read the full project description here.
Jinja: Shinto Shrine Skyscraper designed by Tony Leung from Hong Kong received the 2nd prize. The project aims to restore the traditional interactions between a Shinto Shrine and the local people- an urban building for rice farming, spiritual meditation, and community development.
"The objective of this proposal is to restore the traditional interactions between Jinja (Japanese Shinto Shrine) and local people by reterritorizing a busy urban corner in Ginza, Tokyo with a vertically organized Jinja cum rice-farming complex. In the past, Jinja and rice farming were the center of Japanese economy," explained the architect.
"The paddy field and Jinja complex also served as centers of everyday interaction. Many local Jinja not only housed the relevant Kami (deities) but also served as a warehouse for harvests. Also, the biggest communal festival, Matsuri, happened during spring seeding and autumn harvesting."
"As cities expand, both rice farming and Jinja remains in the shadow of urban livings. Jinja complex is overshadowed by modern skyscrapers. However, more than two centuries ago, according to some ancient manuscripts, Izumo Shrine was said to be reaching 96m high above ground i.e. a historical origin of sky scraping Jinja," he added. Read the full project description here.
The 3rd prize went to Claudio C. Araya Arias from Chile for the project Waria Lemuy: Fire Prevention Skyscraper. This proposal envisions a new prototype for vertical housing in areas damaged by wild fires in Chile. The project makes use of passive systems to mitigate wind and disperse water to prevent new fires.
"The proposal looks for a new way of inhabiting the territory, through a system of buildings at height, avoiding the effects of the old settlement model. The objective is to face the reconstruction from a new perspective, recover the lost housing and infrastructure, added to a restoration of the flora and biodiversity, through a system that prevents and mitigates future catastrophes. Through a renovating process that allows to coexist with the geography and the territory," said Arias.
"The system is positioned on the perimeter of the affected area, allowing to establish a network of routes, public spaces and wetlands rehabilitating the central area."
"It consists mostly of housing, followed by common double-height intermediate spaces, such as interior courtyards within a system that encourages coexistence. The modularity of the type of housing allows different ways, allowing the inclusion of apartments of different stocks," added the architect. Read the full project description here.
The honorable mentions include Sandscrapers that prevent desertification, floating skyscrapers that transform ocean water into fresh water, towers that collect fog in arid regions, 3-D printed buildings, and volcano skyscrapers among other visionary proposals. See all winners from here.
All images courtesy of eVolo
> via eVolo