Heatherwick Studio unveils plans for ecological park "The Cove" on San Francisco's waterfront
Heatherwick Studio has unveiled plans for a pedestrian-friendly ecological park for San Francisco's Piers 30-32. A large part of the bay has been closed for 36 years due to a tragic fire, the fire damaged the historic pier decks.
Called The Cove, the project is developed together with Earthprise and will rebuild and reactivate these empty piers which are so long overdue, and urgently needed, faced with the looming and unpredictable threats of earthquake, floods, and sea level rise.
The site is currently used as parking lot and will be converted into a mixed-use scheme which will be accessible public park, which is raised over pillars to have a minimum footprint.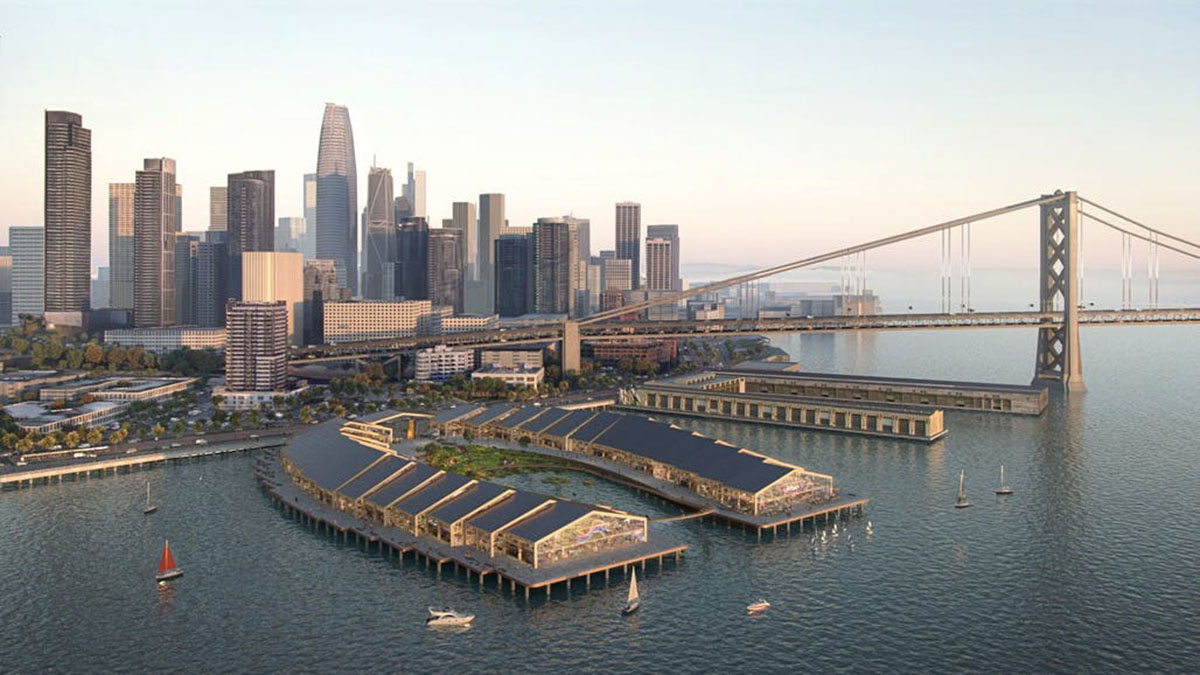 The Cove will function as ecological park and community hub which is designed as flexible as possible. It will contain single or multiple tenants, alongside a series of retail and dining functions. The complex will be a two building workplace campus with a central 5-acre, ecological public park.
Covering a total of 550,000 gross square feet area, the horseshoe-shaped design will include modular units and stretch out over the water. Containing 26 modules -which their sizes are vary - the units will be low rise and float on the water with their flat appearance.
The design of the modules is inspired by the region's original pier sheds. The park is a natural experience, an Eco-Transect, reminiscent of the California coastal bluffs.
A pedestrian-friendly journey through the ecological park winds from the Embarcadero promenade through a multi-use plaza, a rolling softscape of native terpene-laden trees and dune grasses, a carbon-sinking, floating wetlands, an oval boardwalk, onwards to a promontory, a bridge beyond, overlooking the bay.
"The entire Cove is smaller than the original pier footprint, has less bay fill, and is highly sustainable, and plans for net-zero carbon and International Living Future Institute certifications," said a press statement.
"Synchronization of the design and construction of The Cove with the new Embarcadero Seawall Program, including their interface, is critical for an integrated, seamless, waterfront experience and mutual project success."
"Like the coronavirus pandemic and the recent northern California fires, and Loma Prieta before it, climate change, sea level rise, and earthquakes will not wait for man. The clock is ticking," Art Thompson, Executive Director at Earthprise said in a statement.
"The protection of the health, safety and well-being of our people and our communities is paramount, and in jeopardy. Our waterfront infrastructure is our first line of defense in the face of forces bigger than ourselves."
"Timely, modern, ecologically-based resiliency improvements, which also respect the Embarcadero Historic District, like The Cove, are key to future-proof our City by the Bay, to safeguard our people, our assets, and our economy against natural disasters."
The project's development team includes Earthprise, led by Art Thompson, Executive Director, Sares|Regis, Heatherwick Studio, Paradigm Strategy, CMG Landscape Architecture, Page & Turnbull, Kendall/Heaton Associates, WSP USA Maritime, Fugro USA Land, Magnusson Klemencic Associates, MKA Civil, stok, PAE Consulting Engineers, Biohabitats, McLaren Engineering Group, Edgett Williams Consulting, Michael Schwab Studio, Manson Construction, DPR Construction, Concrete Technology Corporation, Mammoet, Consolidated Engineering Laboratories, SWCA Environmental, and Reuben, Junius & Rose.
If the plans of The Cove are approved, construction work will start soon and the completion of the project is expected to be completed in 2026.
All images © Earthprise, Heatherwick Studio and the Wire Collective.
> via The Cove