"There are unbelievable number of ways to have a meaningful career in this industry" - Julia Gamolina
Communications in architecture has always existed, albeit in current times, more and more architects are interested and feel ready to take the leap as well. It is the collaborative approach which makes these conversations interesting, helping like-minded creatives from around the world to be sharing ideas - communicating and appreciating emerging technologies supportive of such endeavors. For my next piece, I wanted to dive deep into the aspect of 'media and communications in architecture'. Even though we see more mediums each day, every day is still bringing different values to the entire learning curve. This series seeks to reach out to individuals who are trying to push the bar of conversations about architecture globally and creating new avenues of exploring for young and emerging architects. For the first interview, we sit down with Julia Gamolina, Founder and Editor-in-Chief of MadameArchitect.org, an online magazine about the extraordinary women that shape our world, and Director of Strategy at Trahan Architects, a global architecture firm rooted in New Orleans and New York, where she focuses on new business, brand development, and other aspects of firm growth and evolution.
Megha Balooni: You have mentioned that as a kid you wrote a lot but during your years growing up as well as architectural education, you were not writing as much as you would like. After a while, your yearning to get back to writing coupled with seeking mentorship in the field inspired you to write again. What were some of the ways, in the intermediate time, which helped you with catching up on lost writing practice? How would you guide someone who might be looking for such a direction in their career?
Julia Gamolina: I journaled, and still do, all the time. Throughout my schooling, I probably wrote once a day in this way, and throughout my professional career have tried to do so as much as possible. Journaling was great for me in so many ways – I would set goals, write through thoughts, gain clarity around certain things just by articulating them.
I would highly encourage anyone who enjoys writing to do this, and if it's not journaling, it could be writing a blog, even an Instagram caption. Also setting aside a little bit of time to write each day is all it takes. For me, that was part of my winding down for the day, for some it could be first thing in the morning.
Megha Balooni: I read somewhere in your bio that you have not only published more than 150 interviews with architects and designers but CEOs, publicists, journalists, business strategists, counsel, and more as well. As an architect yourself, what do you feel are some of the essential skills one acquires through architectural education which can be helpful to expand into subjects like business, leadership and communications? What are the ways in which one could hone them?
Julia Gamolina: Presenting your work. Often times, due to the demands of studio and long hours, the presentation is an afterthought, but it's really an essential skill. As you get further into your career, you interact with more and more people, and knowing how to present your work, your company, and yourself effectively to whichever audience you are speaking to is crucial. The audience may be a collaborator, a potential client, a lovely journalist such as yourself, or it could be students, and knowing what all of those different groups are looking to understand about you is a skill that needs to be exercised often.
Ways in which one could hone presentation skills is through continuous practice! I learned them by many meeting people for the first time, over coffee, drinks, or nowadays, Zoom. I got to practice telling over and over what I was about, what Trahan is about, what Madame Architect is about, and now don't have to think about it.
Megha Balooni: You have expressed that through the interviews on Madame Architect you hope to bring a holistic personality of women in architecture and not only focus on their building designs. What are some interesting conversations or aspects you have come across in this regard?
Julia Gamolina: Motherhood has been a huge topic, in myriad ways – fertility and family planning, starting a business while expecting, running a business as a young mother - all of it. For so long, women were expected to work as though they don't parent, and parent as though they don't work, and really, it's all one life and I'm really glad that Madame Architect has prioritized conversations around this.
Other topics have included general health and balance in the industry, advocacy work that's being done, sustainability and climate change initiatives, the direction and future of academia. Every single person I've interviewed has a unique combination of focuses and interests, that the conversations never get old.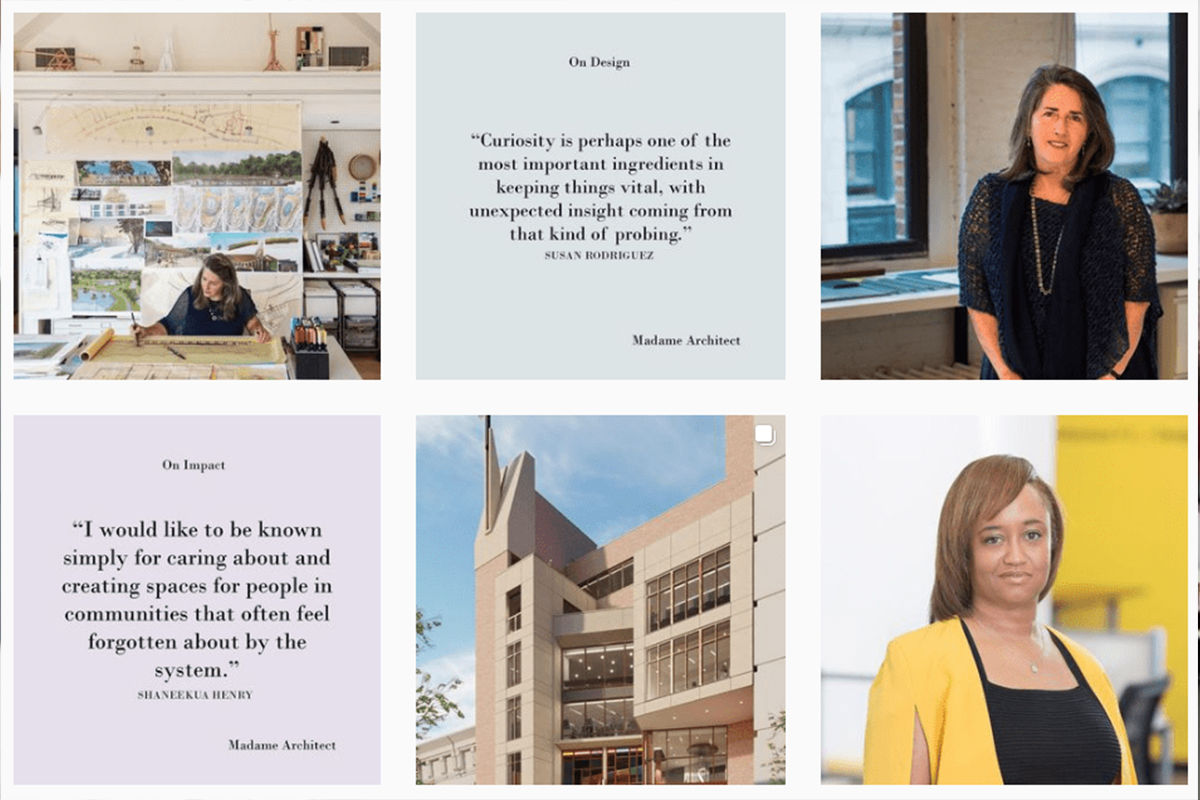 Madame Architect Instagram. Image © Julia Gamolina
Megha Balooni: Architects always stride to achieve timelessness through their designs. Though you mention Madame Architect started as a platform to seek mentorship in the field, what do you feel is an essential element you strive to achieve through your conversations?
Julia Gamolina: I'm so glad you're asking this – an essential element I strive to achieve through the two hundred or so conversations we've had is that there is an unbelievable number of ways to have a meaningful career in this industry, and, that there is so much more to architecture than formal design. I just mentioned some of the themes that the women we've interviewed are focusing on – climate change, architectural education, family planning – all of these are crucial topics, and I wholeheartedly believe that people's values towards these things inform their approach to their work, and thus their formal designs. Everything is related.
Julia at WIA NY Women's History Month panel at Perkins Eastman in 2019. Image © AIANY.
Megha Balooni: In a lot of countries, we see 'strategy' being a core functional element for any design practice. In India, however, it still is an emerging career option. Could you discuss the importance of such a role in an organisation? Could you also break down the steps of preparation, the kind of expertise one should be looking at practising and the ways to create opportunities for those seeking to tread in this direction?
Julia Gamolina: What strategy means to me, and what strategy means for Trahan Architects, is the synthesis of skills in design, communications, business development, and general firm evolution to precisely determine the direction of firm growth and development. This relates to everything – what projects we want to pursue to contribute to the world the kind of work we think is important, who to hire to both pursue and carry out such work (and carry it out extremely well), what we communicate to the general public in terms of our expertise and our values that helps people understand the impact of our work, and how we communicate with our staff and what we encourage them to do in the industry. Again, everything relates, and all of these different aspects influence each other, and an understanding of that, and how we move forward with that, is strategic planning.
In terms of steps of preparation and expertise to hone in on to prepare for such a career direction, I would advise that one simply makes sure to gain varied expertise at an office! There are many aspects to running an architectural practice, and thus to the making of architecture – finance and accounting, public relations, business development and pursuit strategy, operations, all this. Sometimes working for a small firm allows you to have a hand in all of these things. At the same time, working for a larger office allows you to see how experts and dedicated teams do it. To anyone who is interested in pursuing this route, I would say just find the people you want to learn from, or an office you'd like to learn from, and be curious about all aspects of their business.
Megha Balooni: In your career, mentorship has been a vital means of learning for you. Could you elaborate the need of mentorship, especially in a rigorous field like architecture, where one not only has to be apprised with the technical learnings (which is a continuous process) but also aesthetics, client demands, to name a few? And now that you are in a position of being a mentor, how would you like to take (or are taking) your role forward?
Julia Gamolina: I'm a huge proponent of mentorship – I do think that learning by personal experience is still best, but it's always good to gather information, hear people's take on things, and see what is possible. When you are mentored by someone with many years in the industry, you are absorbing everything they've learned through experience too, and that is very valuable.
I think that anyone can mentor at any time! If you are a college student, you could be mentoring a high schooler, if you are just starting in the industry, you could mentor a college student. The best thing is to be mentored and be a mentor at the same time – you learn by mentoring as well. I'd like to take my role as a mentor forward by making time for it – speaking with students and recent graduates is one of my favorite things. The optimism, enthusiasm, and hope that people just entering the industry have is incredible, and is a huge energizer for me.
Julia interviewing Hayes Slade at the Slade Architecture offices. Image © Julia Gamolina.
Megha Balooni: What do you think are some of the strengths women in architecture bring which a lot of people are either not aware of or talking about enough?
Julia Gamolina: Deep empathy and care, and the desire to truly make lives better. This is not necessarily gender specific, but I think that in some ways, women are programmed from an early age to really care for others. I think there is a little bit of a difference in terms of the work that women-led firms take on and I don't think that's by accident. But I think in opening up discussions around fatherhood and mentorship for men, we are finding that the same amount of empathy and care exists no matter who you are.
Megha Balooni: You mention a quote by Adam Bryant from his book The Corner Office - "Don't plan a career, prepare for one". What are you preparing for next?
Julia Gamolina: What a great question! I am preparing for growth, both for Trahan Architects and for Madame Architect. Both entities are at a stage of entering a next level, which requires me to flex and strengthen some new muscles – community engagement, business strategy, all of this. Stay tuned!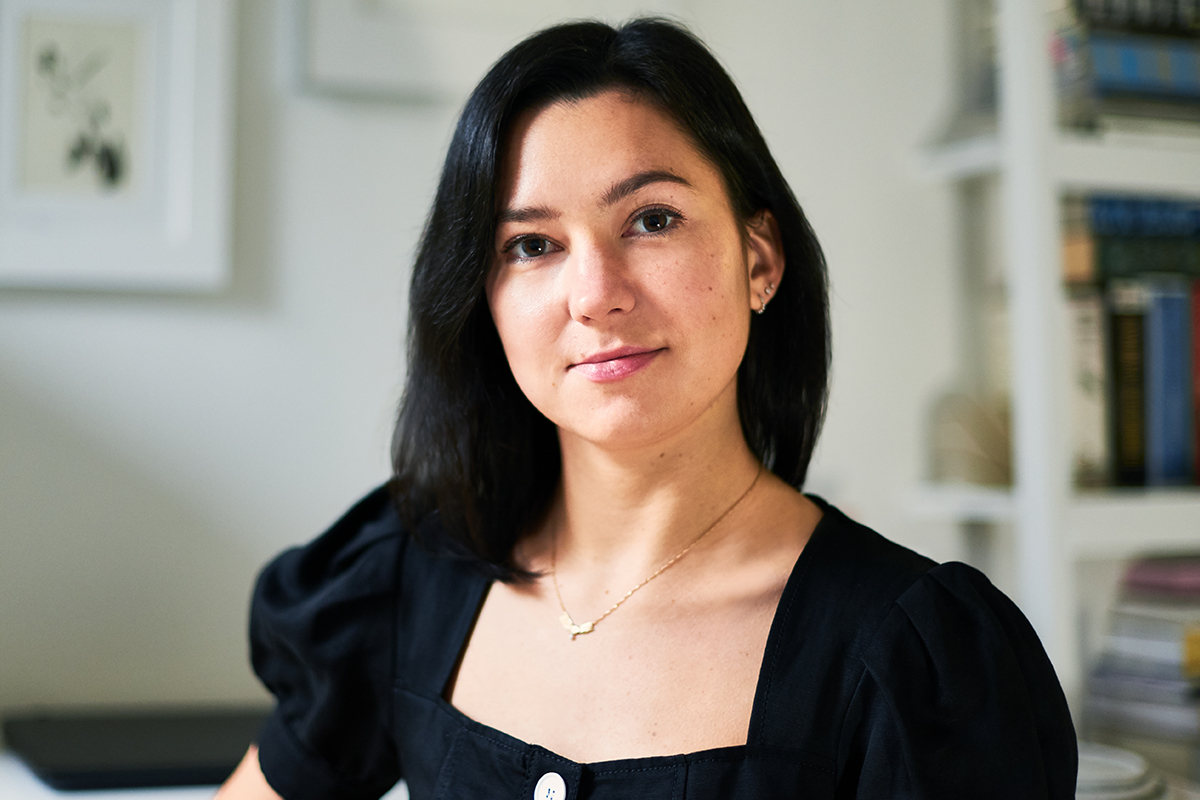 Portrait of Julia (color). Image © to Lily Olsen
Julia Gamolina is dedicated to the built environment and the visibility and advancement of the women who shape it. She is the Director of Strategy at Trahan Architects, a global architecture firm rooted in New Orleans and New York, where she focuses on new business, brand development, and other aspects of firm growth and evolution. For more information about Julia and her initiatives, visit her profile at MadameArchitect.org.
Head Image: Julia presenting at AIA Cleveland in 2019 (© John Biliboaca)
Other Images © As Mentioned
> via Inputs from Julia Gamolina