Harvard GSD announces Spring 2021 public program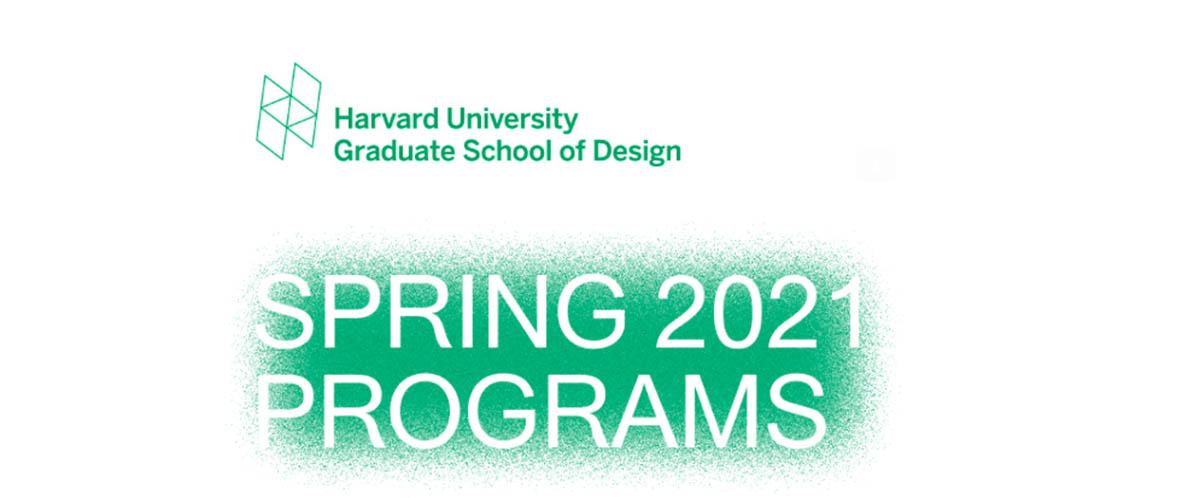 Harvard University Graduate School of Design (GSD) has announced its Spring 2021 public program, including a public lecture with Wolff Architects, a discussion titled "Mayors Imagining the Just City", a talk with Andrew Freear, Faranak Miraftab, and Todd Okolichany on "Small Town Urbanism in the 21st Century", and more...
The GSD's Spring 2021 Public Programs are all virtual and require registration.
Scroll down to see the public programs and short description of the events:
---
Thursday, February 18
KATE THOMAS
"Lesbian Arcadia: Desire and Design in the Fin-de-Siècle Garden"
Invoking that the first documented use of the term "sexuality" refers to plants, Thomas puts the fields of landscape architecture and queer theory into conversation, arguing that queer theory needs to build a history of lesbian desire that is animated as much by landscape as by other women. (View more)
Tuesday, February 23
WALTER HOOD
Senior Loeb Scholar Lecture
Hood is the Creative Director and Founder of Hood Design Studio in Oakland, California—a cultural practice, working across art, fabrication, design, landscape, research, and urbanism. He is also the David K. Woo Chair and the Professor of Landscape Architecture and Environmental Planning at the University of California, Berkeley, and has been named the GSD's 2021 Senior Loeb Scholar. (View more)
Monday, March 1
WOLFF ARCHITECTS
Wolff is a Cape Town-based design studio concerned with developing an architectural practice of consequence through the mediums of design, advocacy, research, and documentation, led by Ilze and Heinrich Wolff. (View more)
Tuesday, March 2
Introducing Pairs 01: GIOVANNA BORASI in Conversation with the Founding Editors
The founding editors of student-led Pairs will introduce the inaugural issue of the journal, which will be followed by a conversation with Giovanna Borasi, Director of the Canadian Centre for Architecture, on beginnings in curation and publishing. (View more)
Thursday, March 4
JULIE BARGMANN
"Modesty"
Daniel Urban Kiley Lecture
Bargmann is internationally recognized as an innovative designer in building regenerative landscapes. She founded D.I.R.T. studio in 1992 to research, design and build projects with passion and rigor. (View more)

Friday, March 5
THAISA WAY with ED EIGEN and RAFFAELLA FABIANI GIANNETTO
"Think Like a Historian, Imagine Like a Designer: A Conversation on Landscape History and Design Education" 
Presenters discuss the relationship of history as a craft and design as a mode of inquiry, investigating the role of history and its methods and narratives in the understanding of place and cultural relationships to site and landscape. (View more)
Tuesday, March 9
International Womxn's Week Keynote Address
Womxn in Design's fifth annual International Womxn's Week convenes a series of events that gathers members of the Harvard GSD community and beyond to celebrate and cultivate new ways of thinking about gender and power. This year's International Womxn's Week Keynote Address and subsequent events will explore the theme of GRASSROOTS. (View more)
Thursday, March 11
CATHERINE SEAVITT NORDENSON
"The Miasmist: George E. Waring, Jr. and Landscapes of Public Health"
Nordenson is a professor and director of the graduate landscape architecture program at the Spitzer School of Architecture, City College of New York. Her work explores adaptation to climate change in urban environments and the novel transformation of landscape restoration practices. (View more)
Wolff Architects. Image © Dave Southwood, courtesy of Harvard GSD
Friday, March 12
"Mayors Imagining the Just City"
Following the inaugural MICD Just City Mayoral Fellowship, a collaboration between the Mayors' Institute on City Design (MICD) and Harvard GSD's Just City Lab, the seven inaugural MICD Just City Mayoral Fellows discuss how to tackle racial injustices in each of their cities through planning and design interventions. (View more).
Tuesday, March 23
HARVARD DESIGN MAGAZINE reveals "Harvard Design Magazine #48: America"
Harvard Design Magazine editorial director Julie Cirelli joins Harvard Design Magazine #48guest editors, Florencia Rodriguez and Mark Lee, and others to introduce and unpack the inaugural edition of the redesigned magazine. (View more)
Monday, March 29
MARC ANGÉLIL and CHARLOTTE MALTERRE-BARTHES
"Migrant Marseille: Architectures of Social Segregation and Urban Inclusivity"
Malterre-Barthes and Angélil discuss the role of planners and urban designers in fostering social and spatial integration, drawing from their latest book, Migrant Marseille. (View more)
Thursday, April 1
ZOE LEONARD
Rouse Visiting Artist Lecture
New York-based artist Leonard balances rigorous conceptualism with a distinctly personal vision in her work, which merges photography, sculpture, and installation. By employing strategies of repetition, shifting perspectives, and a multitude of printing processes, Leonard's practice probes the politics of representation and display. (View more)
Monday, April 5
ANDREW FREEAR, FARANAK MIRAFTAB, and TODD OKOLICHANY
"Small Town Urbanism in the 21st Century"
Participants discuss small towns as in need of examination on their own terms, not as sites to be eclipsed in the search for new territorial logics. (View more)
Tuesday, April 6
Black Radical Space: THE BLACK SCHOOL and BRYAN C. LEE, JR. in Conversation
Founded by Joseph Cuillier III and Shani Peters, The Black School is an experimental art school that leads art workshops on radical Black politics, and public interventions that address local community needs. Lee is an architect, the Design Principal of Colloqate, and the founding organizer of the Design Justice Platform. (View more)
Black Radical Space: The Black School and Bryan C. Lee Jr in conversation. Image courtesy of Harvard GSD.
Wednesday, April 7
REBECCA CHOI
"White Man's Got a God Complex"
Choi discusses the visions of Chicago developer Charles Shaw—who in 1976 bought nearly one million cubic feet of air above the Sculpture Garden of the Museum of Modern Art, under New York City's Transfer of Development Rights—and the context of Harlem, where a range of surreptitious and highly choreographed mechanisms of abstraction were tested out and exhibited at MoMA in a demonstration plan for the neighborhood in 1967. (View more)
Monday, April 12
H ARQUITECTES
"Where the Invisible Becomes Visible"
H ARQUITECTES is an architecture studio founded in 2000 by David Lorente, Josep Ricart, Xavier Ros, and Roger Tudó. In this event, they discuss how interactions with natural phenomena, in addition to optimizing resources, deeply link architecture to its surroundings. (View more)
Tuesday, April 20
CECILIA PUGA
Puga is Principal and Founder of Cecilia Puga Architects, based in Santiago de Chile. (View more)
*DATE TO BE DETERMINED*
ACHILLE MBEMBE in Conversation with JOSHUA COMAROFF and JOHN MAY
Mbembe is a Cameroonian philosopher, political theorist, and public intellectual. (View more)
All programs will take place virtually and require registration. Visit www.gsd.harvard.edu/events for more information.
Top image courtesy of Harvard GSD.
> via Harvard GSD