3XN releases design for Denmark's first climate-positive hotel on Bornholm island
3XN has released design for Denmark's first climate-positive hotel in Rønne on the Danish island of Bornholm, Denmark.
The new hotel will be built as a new wing for Hotel Green Solution House (Hotel GSH) which was opened in 2015 and designed by Danish architects 3XN and their green think tank GXN.
The new hotel, made of gridded configuration, will contain 24 rooms, a conference room and roof spa.
The hotel will be built, clad and insulated by using wooden materials that will not only be CO2 neutral, but climate positive. The new wing is also designed by 3XN and GXN, the independent research company of 3XN.
Kim Herforth Nielsen, founder and principal of 3XN, recently spoke to WAC's Netherlands Reporter Lola Kleindouwel in a live talk as part of WAC's Live Interview Series. Watch Kim Herforth Nielsen's live talk on WAC's IGTV.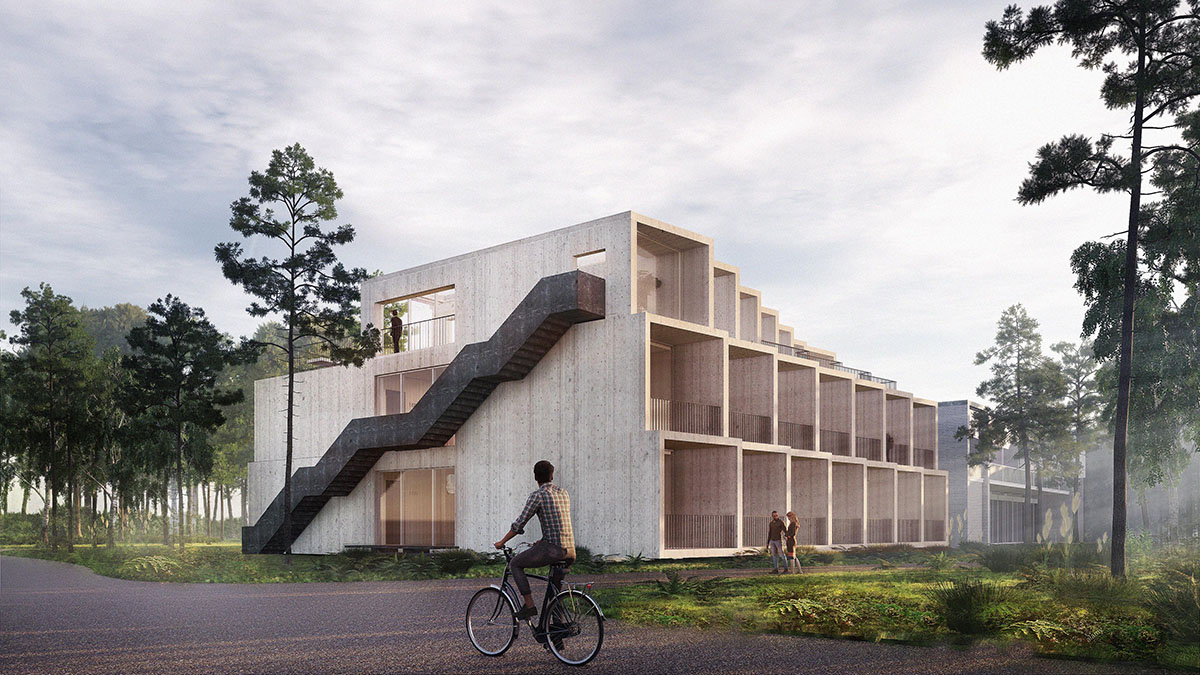 Built, clad and insulated with wood, a material that naturally absorbs CO2, Hotel GSH's new hotel wing is expected to provide a positive climate footprint when built – something that has not been seen in a commercial building in Denmark before
"The idea is simple – we believe that climate positive architecture combines good design and good business. Today destination tourism has got multiple dimensions," said Kasper Guldager Jensen, architect, partner 3XN and founder of GXN.
"Hotel GSH will provide a blueprint for a climate positive future and this experience is a destination worth travelling for, which ultimately makes it a good business for our client."
3XN emphasized that despite the COVID-19 crisis that has hit the hotel industry hard, Hotel GSH's Director Trine Richter expects a continuous flow of Danish companies and tourists to Bornholm for business and pleasure.
"At the same time, she hopes to show the way forward towards designing and using building materials other than steel and concrete, which are the primary materials used for construction today."
"Even though the industry is having a hard time right now, we are full of expectation that the Danes will continue to spend their holidays in Denmark, and that companies will continue to demand meetings and conferences with a sustainable set-up," said Trine Richter, Director, Hotel GSH.
"We are excited about the prospect of setting new standards for Danish commercial construction with this new climate-positive building, where the load-bearing structure will be made from wood. Everyone talks about it – we build it."
3XN will use upcycled materials used for decoration and well-being
Besides being all wood, the new hotel wing excels by upcycling waste products created from the offcut construction for the furniture and surfaces, while debris from local granite quarries in Bornholm are used for decoration in the conference room. The stone also helps to regulate the temperature in the conference room, as granite naturally stores heat and cold.
Furthermore, the building an all naturally ventilated via skylight windows and open areas, which eliminates the need for mechanical solutions.
One of the hallmarks of the new building is that all the components are designed for reuse with reversable joints and will not end up as demolition waste as with conventional construction projects.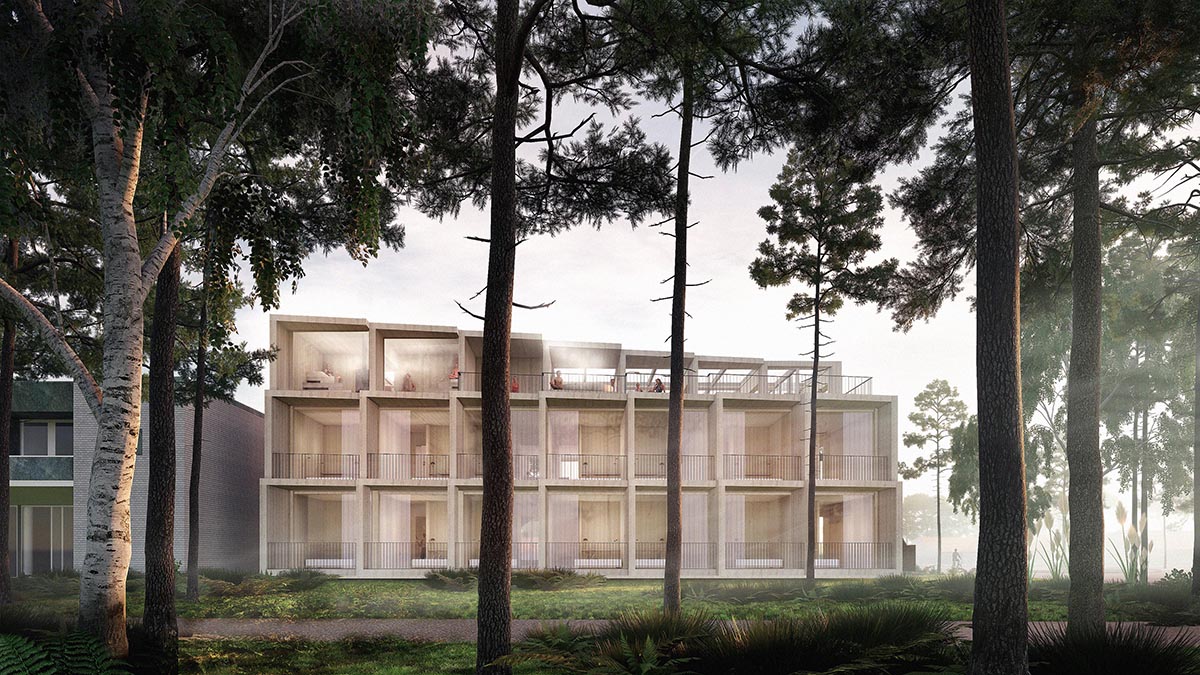 "It is a privilege to work with a developer who is completely uncompromising in her approach to sustainability and the circular economy. In this way, the project is making the impossible a reality. In addition to creating the foundation for a successful business, I hope that the new project can help to show others the potential of wood construction," said Kasper Guldager Jensen, architect, partner 3XN and founder of GXN.
"If we in Denmark want to be able to achieve our climate goals, the construction industry needs to think and act differently, and there is therefore a great need for lighthouse projects like this."
According to the International Environment Agency, the construction industry accounts for about 40 percent of the world's CO2 emissions. Steel and concrete pose a great burden on the environment and are responsible for a total of 16 percent of the world's CO2 emissions.
Construction of the new hotel wing at Hotel GSH will begin autumn 2020 and is scheduled to be completed before the summer of 2021.
3XN was founded by Kim Herforth Nielsen in 1986, Kim Herforth Nielsen functions as the creative director and has overall responsibility for the architectural quality of 3XN's work from the idea to the final result.
The firm completed a sinuous Olympic House in Lausanne and cube Berlin office building which is described as "Europe's next generation smart office" by incorporating the latest advances in sustainability, design, digitization, and comfort.
All images © 3XN/GXN
> via 3XN