MAD's Wormhole Library tops out in Haikou, China
MAD Architects has revealed latest photographs of its Wormhole Library in Haikou, China, the recent photographs show that the exoskeleton the building has topped out and is nearing completion on site.
Released design in August 2020, MAD expects to complete and open the library in the Spring of 2021.
In the recent photographs, the smooth concrete walls have started to appear giving the volume of the building.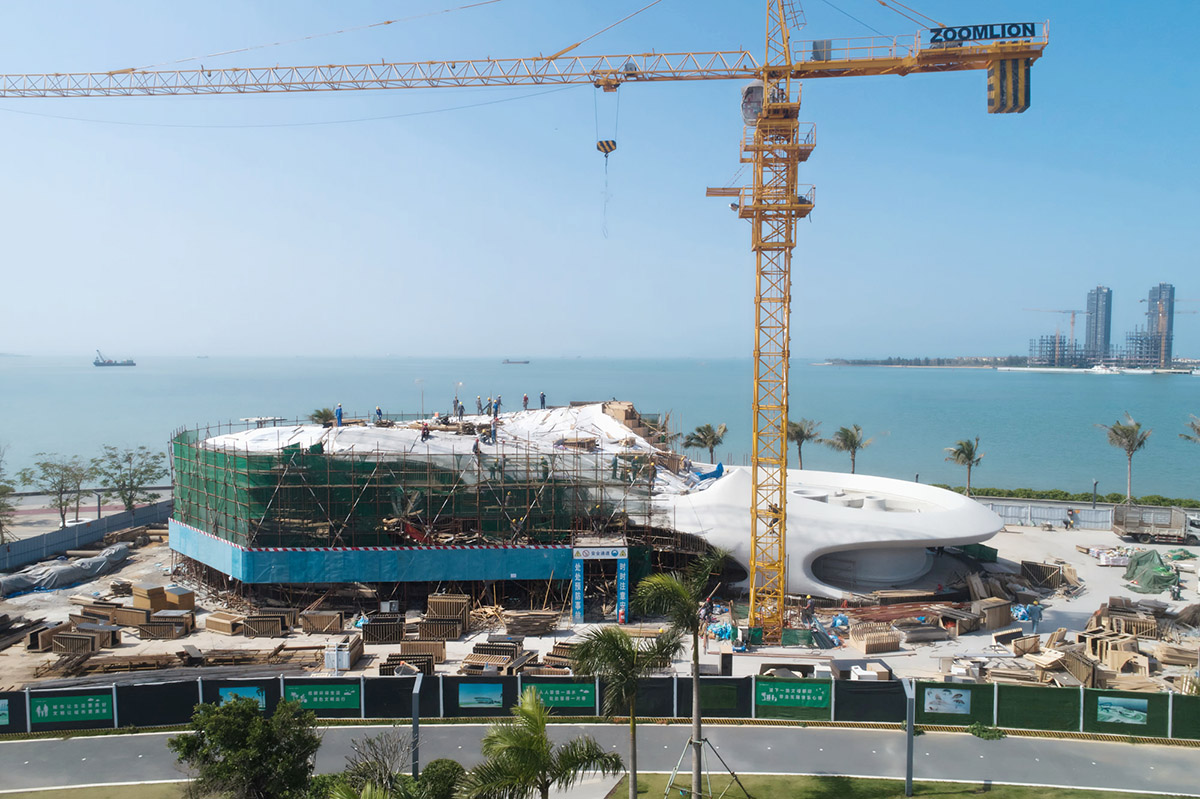 Overlooking the China South Sea, the Wormhole Library is situated within the Century Park along the Haikou Bay coastline.
As the studio explains, upon completion the library will serve as a multi-functional building, accommodating spaces for reading, and a public rest area for visitors.
The library is informed by a cast of white concrete walls and is perceived as a singular unit. The curved concrete walls not only serve as an organic architectural structure, but also connect the ceiling, ground, and walls together.
The building is comprised of holes of varying sizes allowing the architecture to breathe, while also letting natural light flood the interior.
Featuring grey spaces of the exterior corridors, these spaces provide shaded spots for passers-by to stop and rest.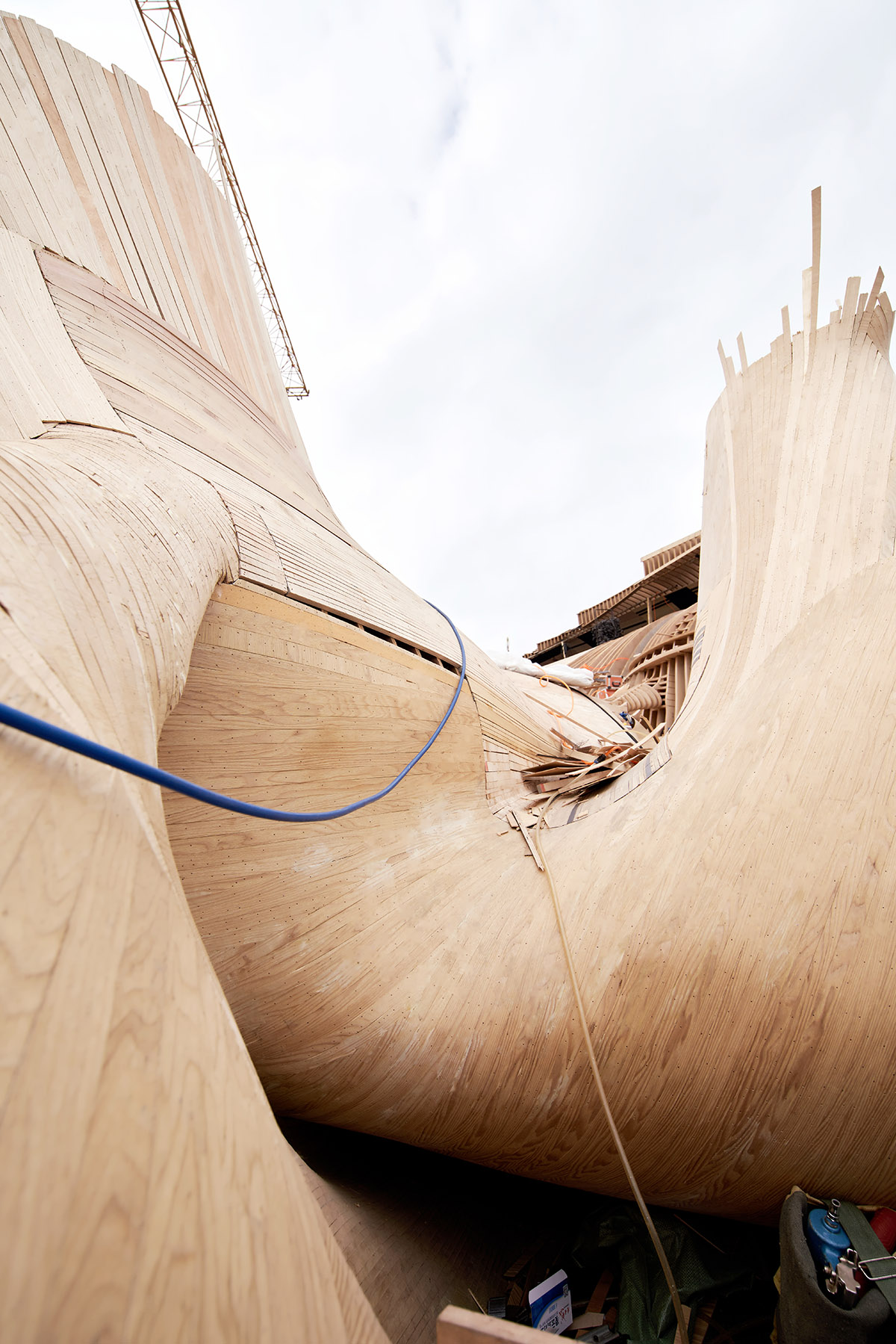 "Within the library, people interact directly with both the sky and sea," said MAD.
"Humans are no longer the dominant beings, and architecture is no longer the dominant vessel. The visitor experience is instead a "glimpse into the universe" – abstract but infinite," the firm added.
Covering a total of 1,380-square-metre area, the interior of the building is divided into two parts: a 690-square-meter reading space that can store approximately 10,000 books, a café and a terrace and a 300-square-meter public rest area that is equipped with a bicycle parking system, public bathrooms, and shower areas.
To ensure accuracy and seamlessness across the curved surfaces, the building is being cast using both a CNC (Computer Numerical Control) and 3D printed model.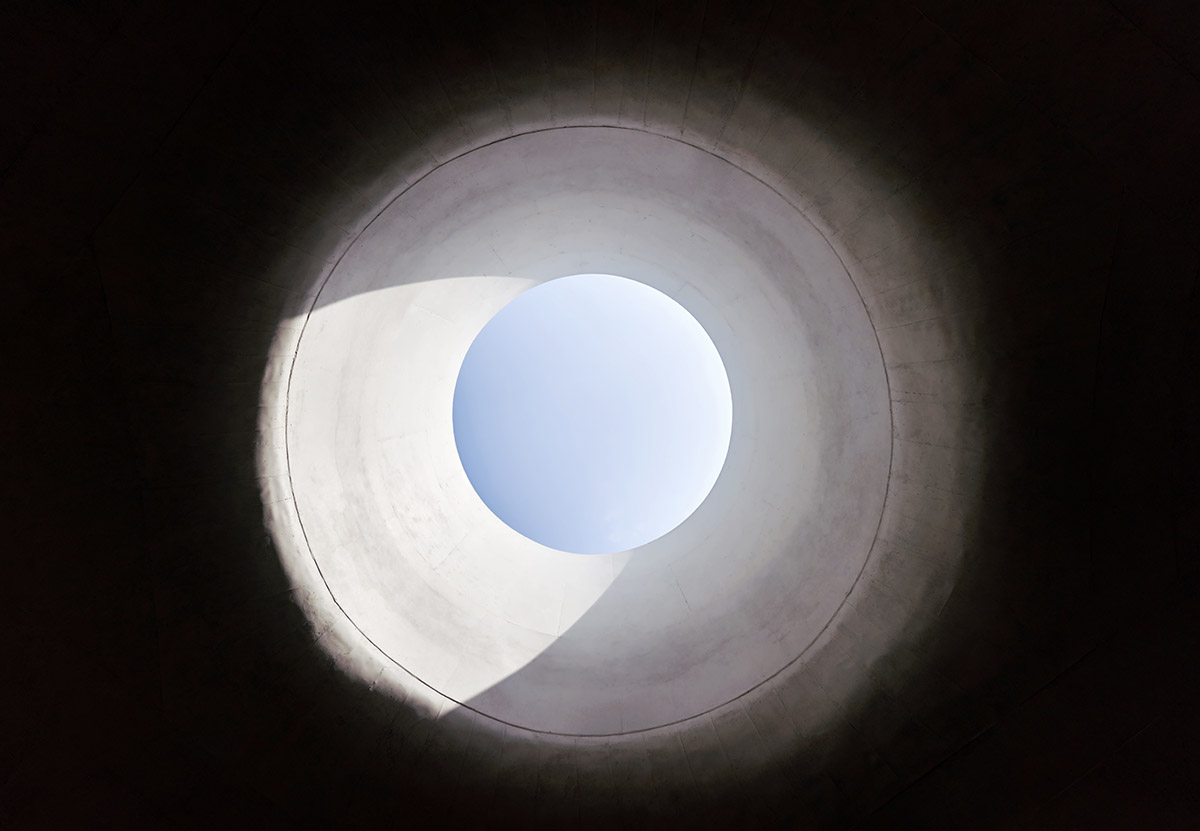 MAD Partners Ma Yansong and Yosuke Hayano on site
Ma Yansong, Yosuke Hayano and project architect on site
Wormhole Library was listed in WAC's 10 hotly-anticipated buildings set to be completed in 2021, the list also includes MAD's Quzhou Sports Campus, in Quzhou, China (expected to be completed for the first phase in 2021).
MAD recently revealed visuals for a train station in the forest in Jiaxing to be "borderless park" in the city.
All photographs © Agovision
> via MAD