MAD designs "wormhole library" creating a dreamscape on the coast in Haikou, China
Beijing-based architecture studio MAD has designed a porous library that acts as a "wormhole" for its visitors.
The library, situated on the coast in Haikou, Hainan Province in China, is formed by a sensuously curved pavilion that "transcends time and space."
Named Wormhole Library, the 1,380-square-metre building is currently under construction on site and it will serve as a multi-functional building that allows visitors to read, enjoy views of the sea, and attend open-air performances, temporarily removing themselves from the hustle and bustle of everyday life. The building is expected to be completed in 2021.
"Located in southeast China, Haikou is the capital of Hainan province. It once served as an important port along the Maritime Silk Road, and today has become a key area of the Hainan free-trade island initiative," said MAD.
"In 2019, the local government launched the Haikou Bay rejuvenation plan in an effort to enhance the use of public space along the Haikou coastline."
"A series of pavilions by both domestic and international architects is under planning and the Wormhole Library will be the first one to be completed," the firm added.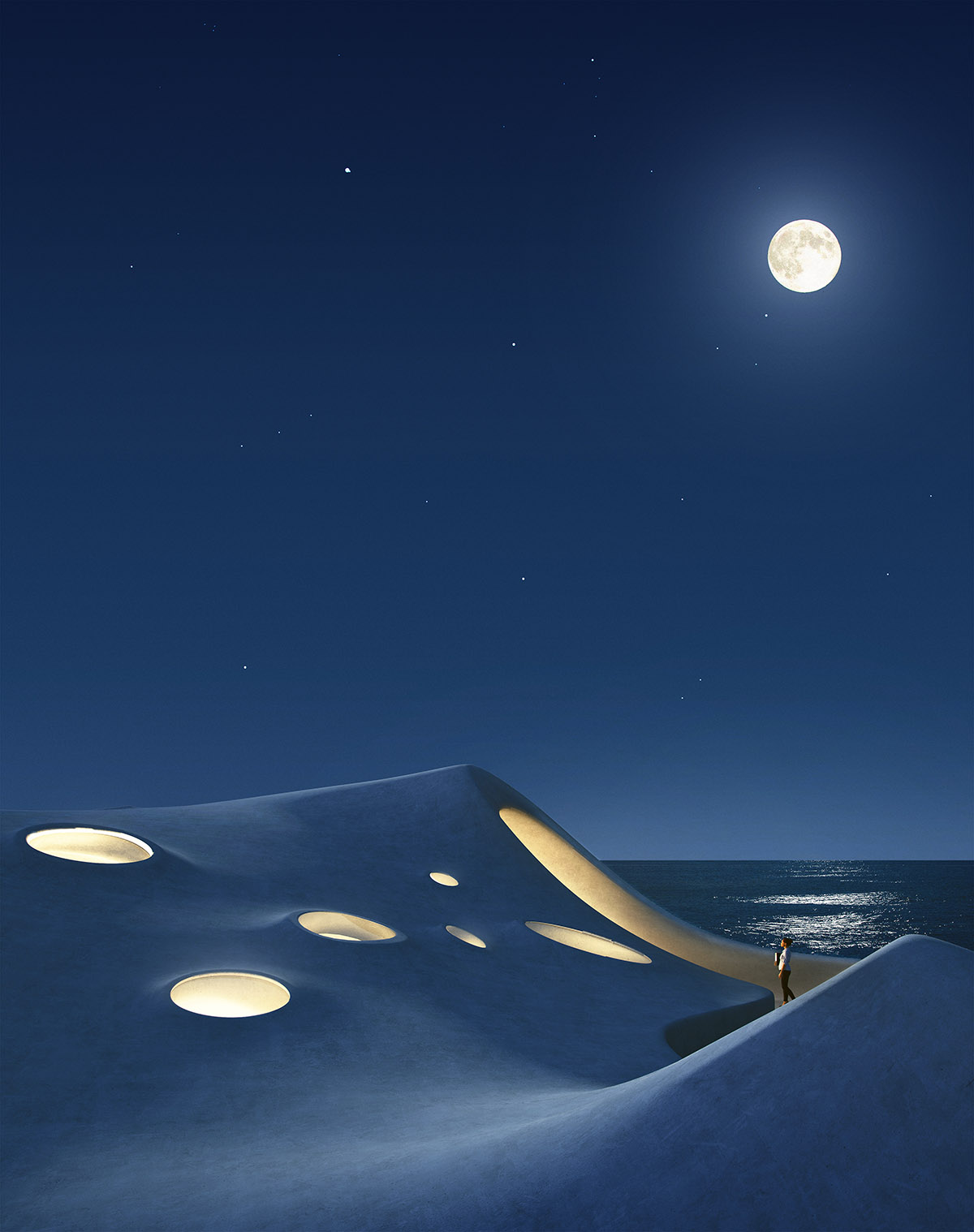 Facing the South China Sea, the Wormhole Library is located in Century Park along the Haikou Bay coastline. MAD used white concrete to make the building as a single unit by maintaining a humanistic scale.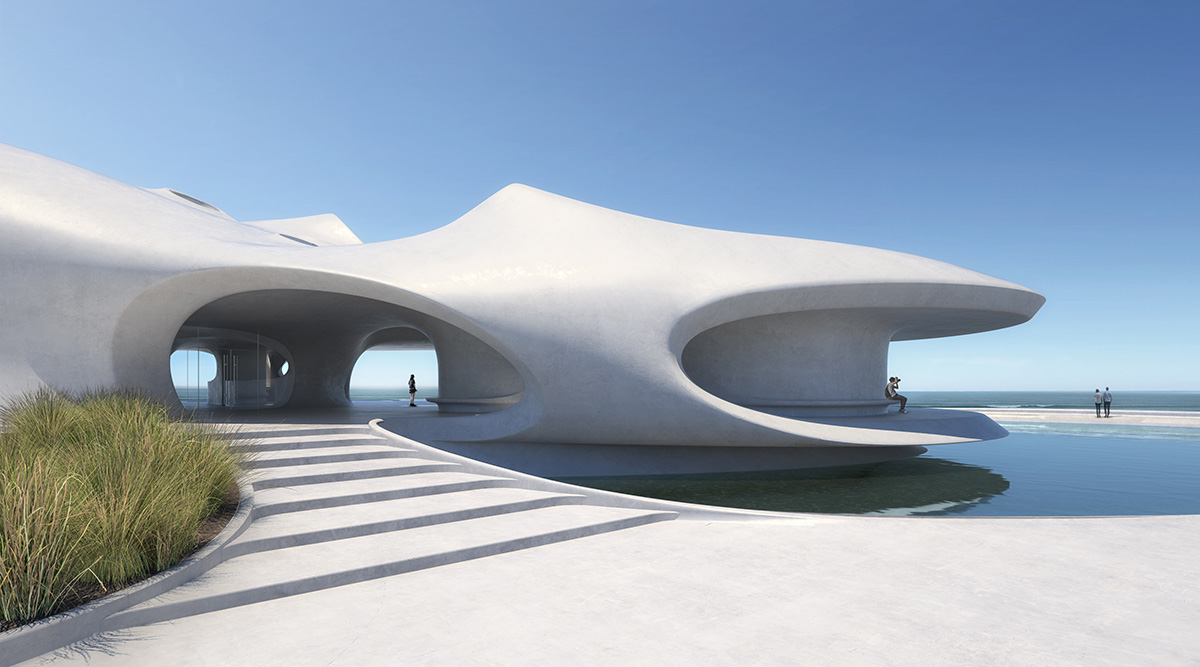 Functioning as a whole structure, the curved concrete walls not only serve as organic architectural structure, but also connect the ceiling, the ground and the walls together.
Holes of varying sizes allow the architecture to breathe and meanwhile let natural light flood the interior. The grey spaces of the exterior corridors provide shady spots for passers-by to stop and rest.
The interior is composed of two parts: a 690-square-meter (7,430-square-foot) reading space that can store approximately 10,000 books, a café and a terrace; and a 300-square-meter (3,230-square-foot) public rest area that is equipped with a bicycle parking system, public bathrooms, and shower areas.
To ensure accuracy and seamlessness across the curved surfaces, the building is being cast using both a CNC (Computer Numerical Control) and 3D printed model. All MEP has been designed to be hidden within the concrete cavity to minimize its appearance and create visual consistency.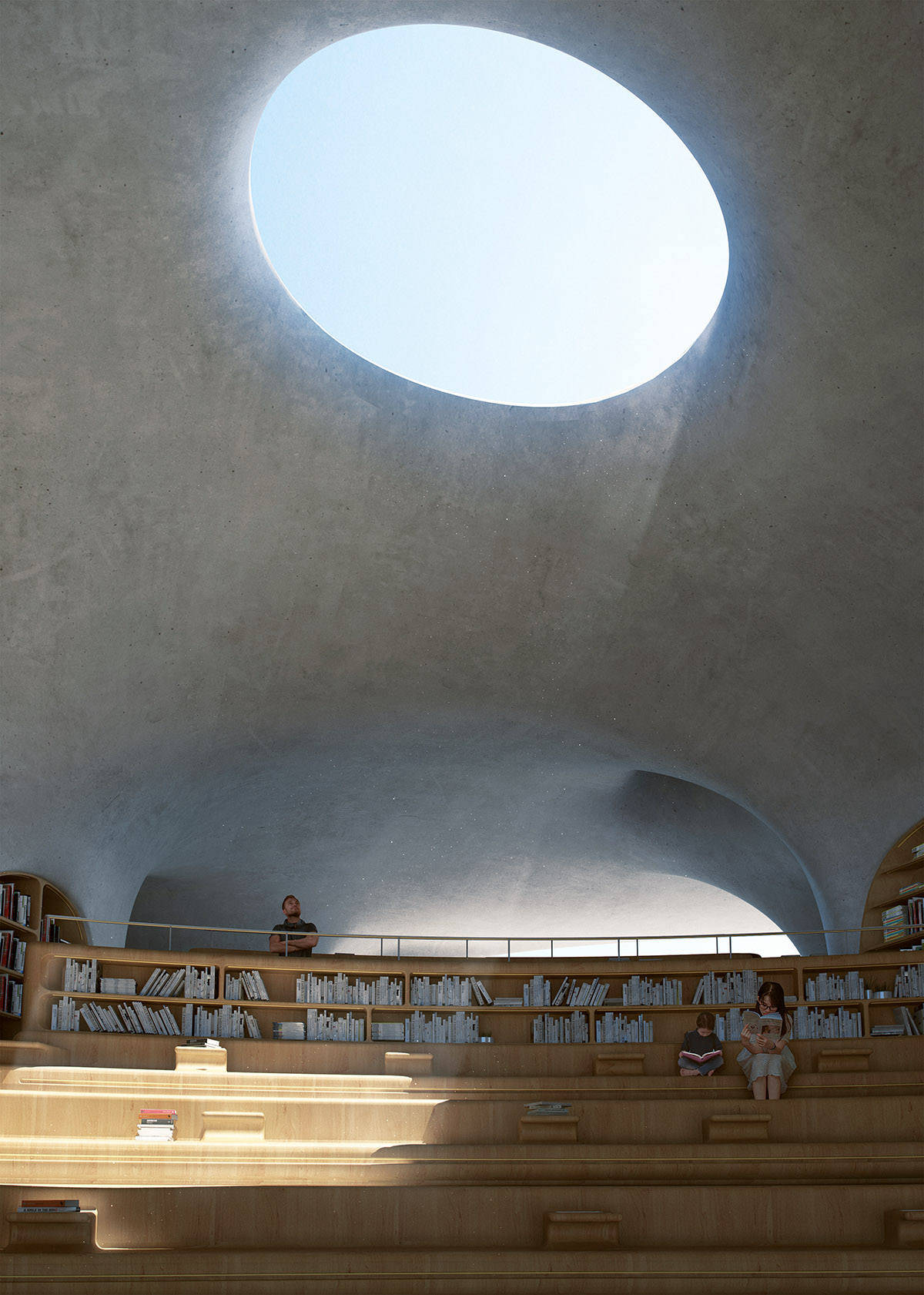 "Curved sliding doors and retractable glass curtain walls not only provide views of the sea, but also enhance overall airflow and ventilation," continued MAD.
"In response to local weather conditions, the roof on the sunny side is cantilevered to achieve comfortable temperatures, realizing a sustainable and energy-saving building."
Image © MAD
Image © MAD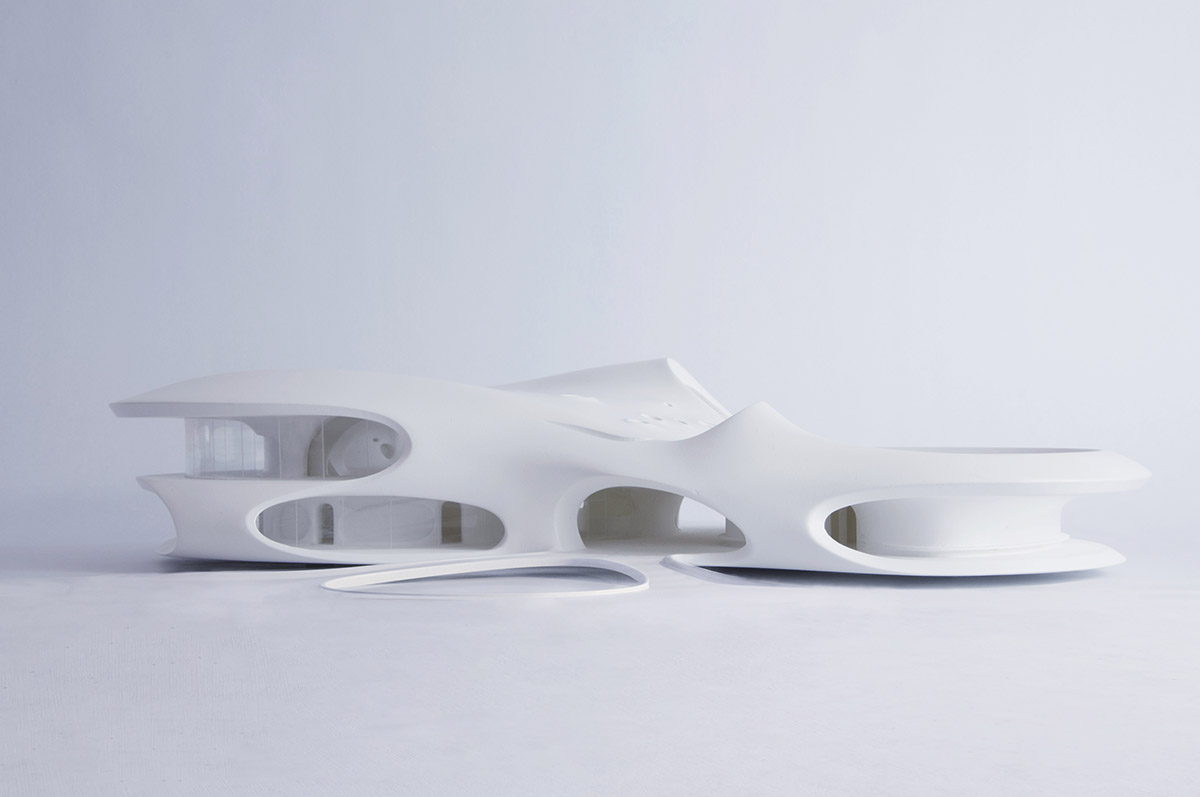 Image © MAD
Stress Smax Diagram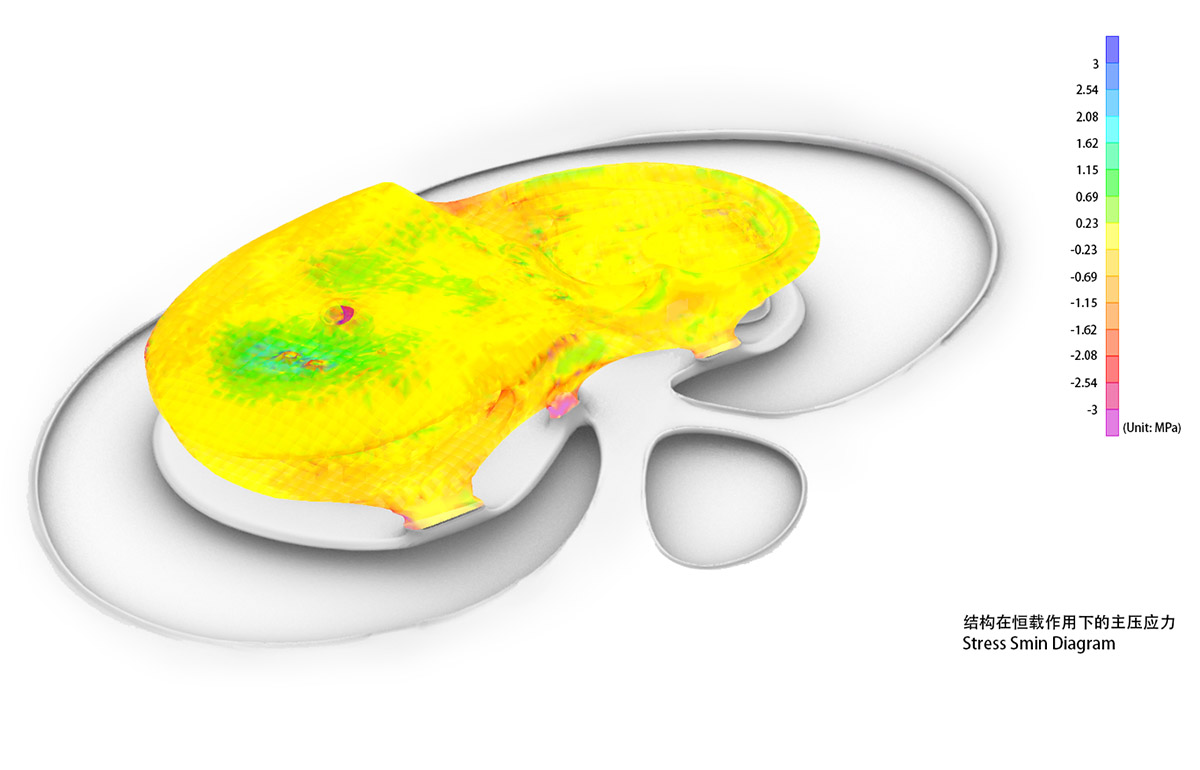 Stress Smin Diagram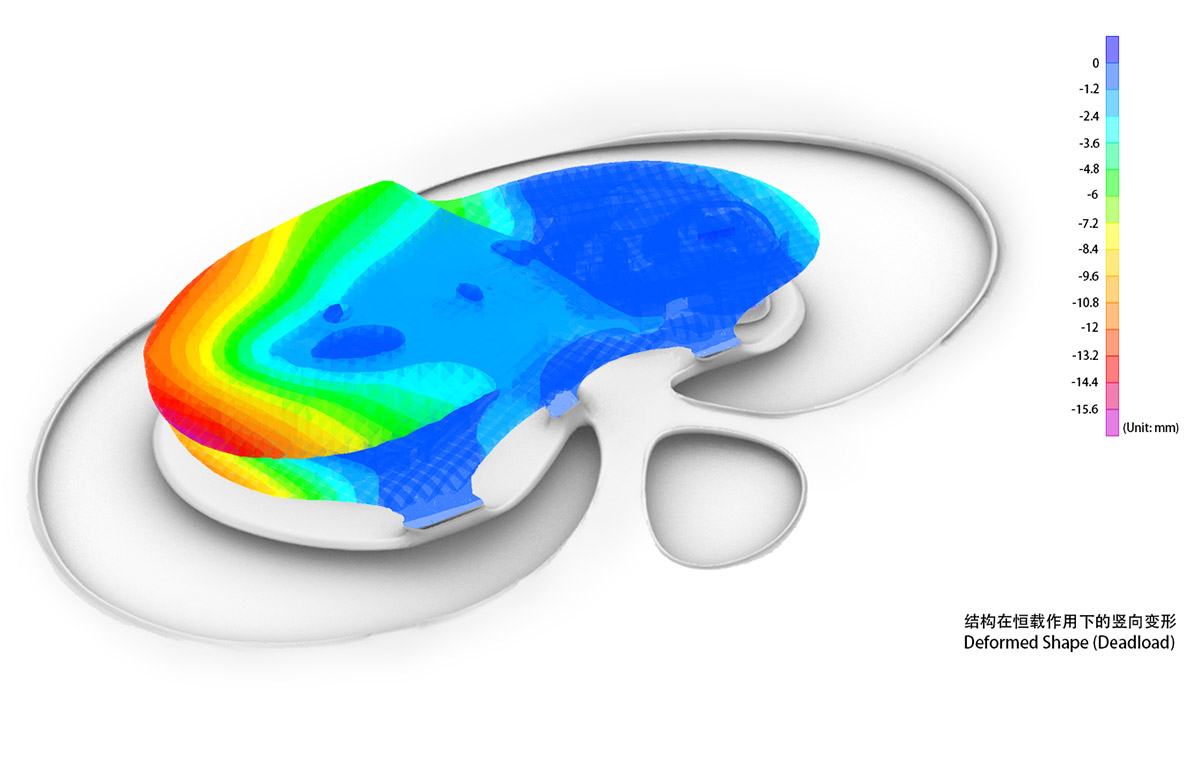 Deformed Shape (Deadload)
Site plan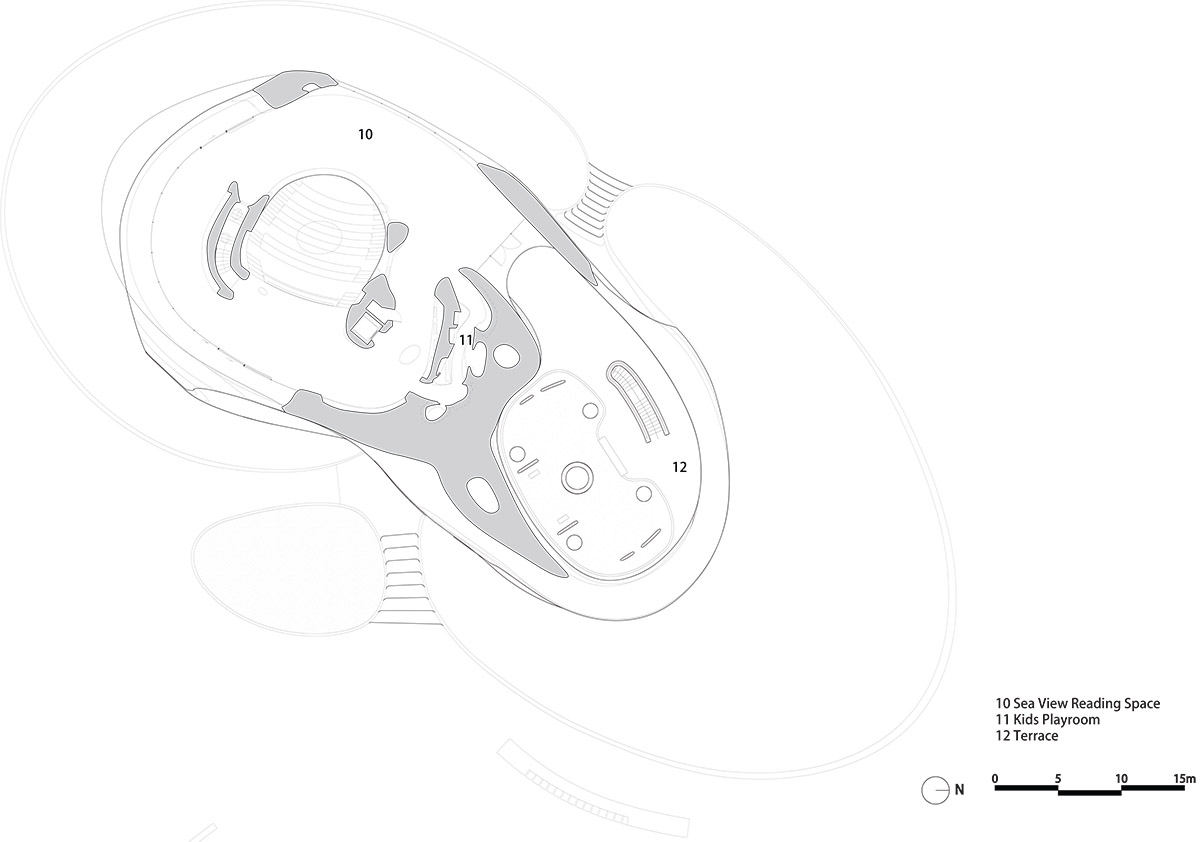 First floor plan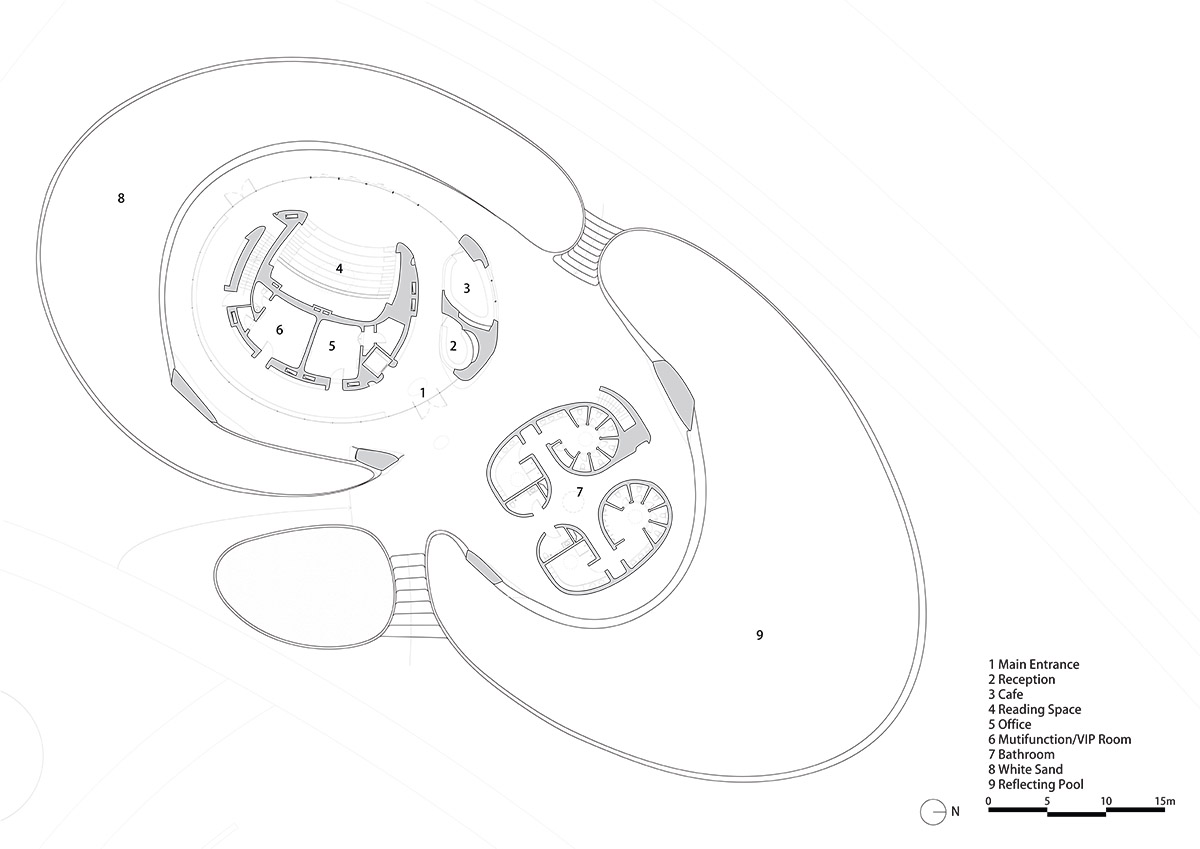 Second floor plan

Section
Section
Project facts
Project name: Wormhole Library
Location: Haikou, Hainan Province, China
Date: 2019-2021
Site Area: 4,397 sqm
Building Area: 1,380 sqm
Principle Partners in Charge: Ma Yansong, Dang Qun, Yosuke Hayano
Associate in Charge: Fu Changrui
Design Team: Qiang Siyang, Sun Feifei, Dayie Wu, Shang Li, Alan Rodríguez Carrillo, Xie Qilin
Client: Haikou Tourism & Culture Investment Holding Group
Executive Architect: East China Architecture Design and Research Institute
Façade Consultant: RFR Shanghai
Construction Contractor: Yihuida Shimizu Concrete
All images © SAN unless otherwise stated.
All drawings © MAD
> via MAD