Penda releases "full arcaded" Tel Aviv tower inspired by Bauhausian neighbourhood
Beijing and Austria-based Penda has released its "full arcaded" tower in Tel Aviv, evoking its Bauhausian neighbourhood by setting a clear formal language and materiality. The 21,000-square-metre building is already in progress by the Austrian branch of Penda and set for construction in 2019.
Penda is best known with its "crazy details and materialistic innovations with new forms", and the studio will now build a new high-rise tower featuring extreme arched details and cascading terraces, which are all made of hand-laid brickwork.
Named Tel Aviv Arcades, the 116-metre condominium tower will 17.650 squaremeters of residential areas on 18 floors. The building will house a range of residential layouts from 1-bedroom to 4-bedroom apartments as well as penthouses with double-height spaces on its top.
A cave-like pool and spa area will occupy the base of the building, while community areas like a yoga-studio, a restaurant and shelter spaces are shared on the first 2 floors and cores.
Inspired by the old town of Tel Aviv called Jaffa, Penda uses only one element in the building: the arch and gives an architectural form with a broad history and meaning.
"The arch was a direct structural interpretation of the cave, our ancestors first "apartments". But the arch was not just used as a structural span, but was also seen as a 'welcoming gesture' of and entrance to buildings and cities," said Penda.
The studio tried to recreate this gesture in a rhythmic layout of an arched structure and cascading terraces, that defined the facade of the building and reflects the vividness of Tel Aviv. It allows the building to be open to its surrounding, but not exposed to its climate.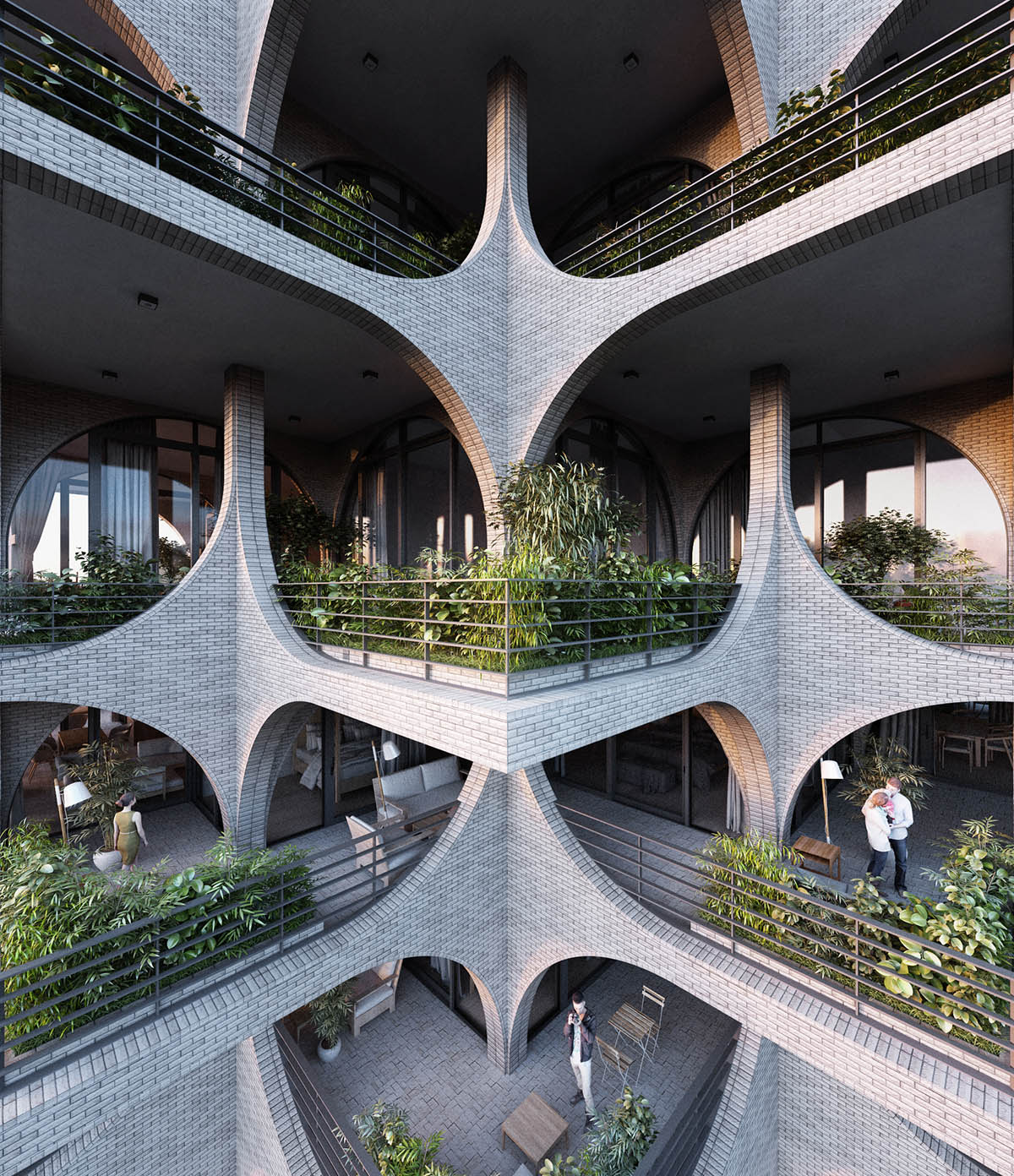 "When I first walked through Tel Aviv, I was taken by the vividness on its streets and its shores. The rhythm of lively plazas, traditional context and modern architecture inspired me and had a deep impact on the design of the building," said Chris Precht, co-founder of Penda.
"We mainly looked to the past and how previous generation built in Mediterranean regions. Designing in a warm climate is not about maximising glass-facades and a continues AC-run. It's about creating a design that offers views on one hand, but minimises its openings to direct sunlight on the other. The arch is an expression of this approach and improves the buildings structural capacities and energy performance at the same time."
The apartments are encircled by ribbons of terraces. These terraces are a shading device, that shield off direct sunlight and cool down the interiors in a natural way.
Each room of the apartments has direct access to the outdoor area by arched elements. Through this transparency the terraces can be seen as an continuing extension of the interior spaces.
The undulating setbacks of the floors creates 2 different typologies of terraces: Roofed ones, that provide protection from the sun and open terraces that are more exposed to sunshine and rain and offer an ideal area for growing a garden. They are also varying in privacy: The inbound terraces give a large private space to the residents, where the outbound areas invite residents to cross-floor communication.
"We like to think about those large outdoor zones as private yards in the sky with zones where residents can interact with their neighbours. In a way the terraces are a vertical neighbourhood and they reflect the positive atmosphere of the life in the city," added Precht.
For architects, Tel Aviv is an inspiring city as it features the largest display of buildings from the Bauhaus. An era that was driven by openness, formal clarity and rational geometry. Straight lines and circular elements were defining the style of art, products and architecture.
With its clear design-language of arches and lines, the "Tel Aviv Arcades" can be seen as a tribute to this era and a formal connection to its Bauhausian neighbourhood. As the tower is designed in a modular system, large parts of the structural elements can be prefabricated to lower costs of construction and maintenance.
The building will evoke its own neighborhood starting from stone-paved alleys to the thick stone walls of its ancient buildings: Jaffa is a haptic wonderland.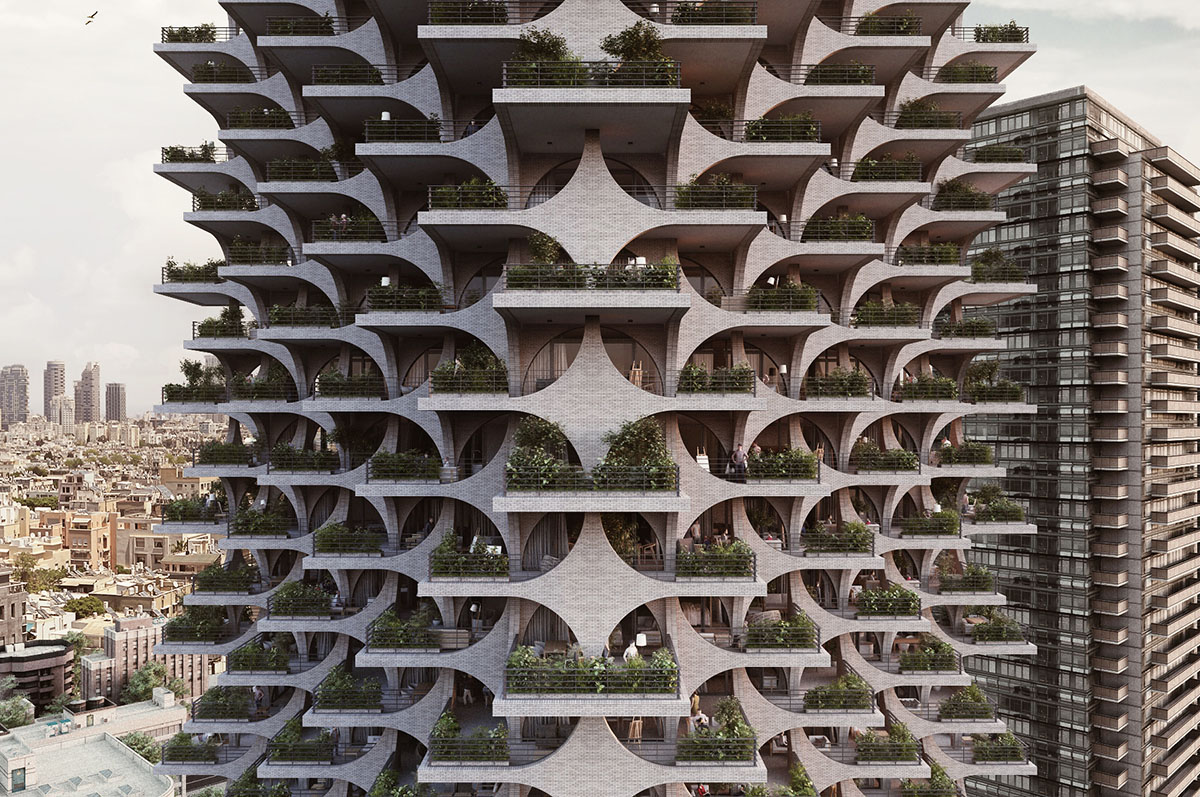 "The old town with its profound masonry and rough materiality is an inspiration for architects. With the 'Tel Aviv Arcades' we tried to complement this timeless craft with hand-laid brickwork as a facade of the building," explained Penda.
"A high-rise shouldn't be an island in the city without any relation to its surrounding. A glass-tower though, is the formal illustration of an island without a connection. Its unsustainable in southern regions, it's a bad neighbour as it heats up its surrounding and it lacks a sense of identity. Even if we design modern buildings, we believe they should reflect a sense of place and respect its environment, its history and its culture."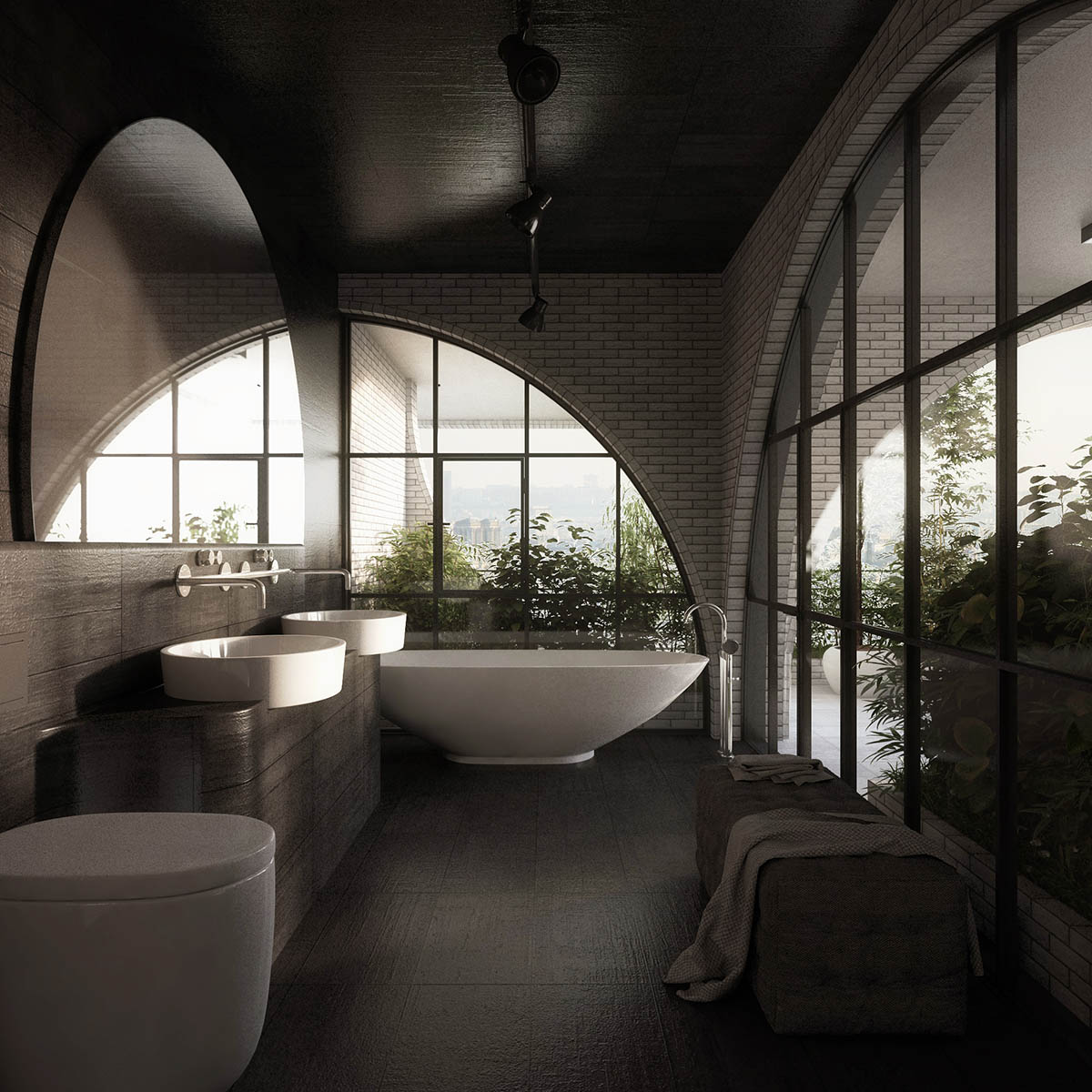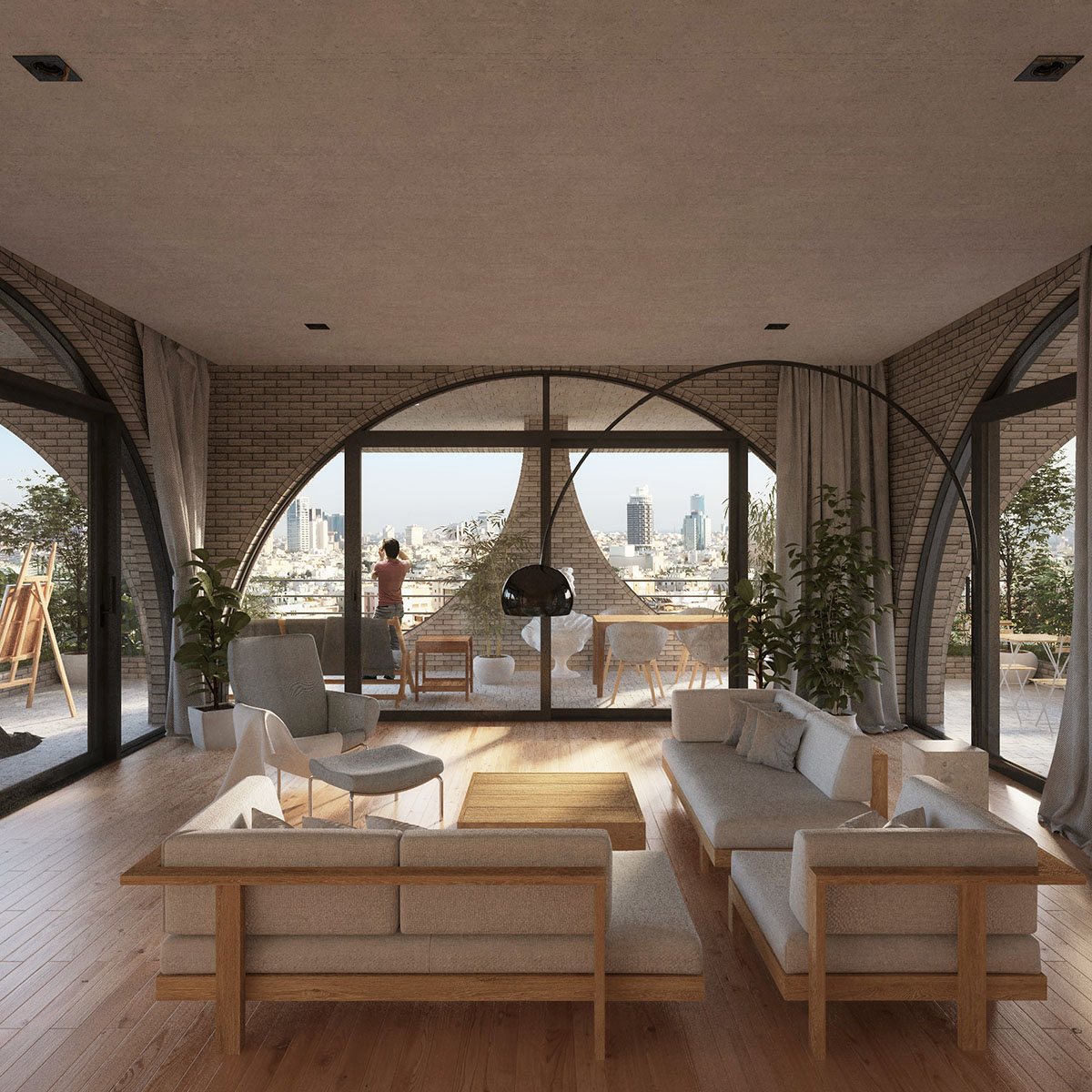 Penda was set up by Chris Precht and Dayong Sun end of 2013 and has studios in the mountains of Austria and the centre of Beijing.
Penda currently unveiled images for a new self-sufficient house with a living roof in Edersee, the countryside of Germany. The studio also proposed a new modular and natural high-rise tower, produced from massive timber panels for Toronto.
All images © Penda Austria
> via Penda