Kengo Kuma combines three types of materials for this hotel addressing to Kyoto's streetscape
Kengo Kuma's firm Kengo Kuma and Associates has completed a hotel that gently follows the historic streetscape of Kyoto in Japan.
Named ShinPuhKan, the hotel was realized with bold and fragmented facade configuration to address the history of the street and the Kyoto Central Telephone Exchange building next to it.
The Kyoto Central Telephone Exchange was designed by Japanase architect Tetsuro Yoshida, one of the pioneers of modern architecture in Japan, channeling a street between the new building and the one designed by Tetsuro Yoshida. The Kyoto Central Telephone Exchange created another street from that one that heads towards Higashi-Notoin Street at the rear.
A new hotel, covering 25,610-square-metre, is designed in a square layout with a generous courtyard, to fit to the existing city fabric.
Located in the center of Kyoto, the studio aimed to design the building in a humanistic scale and distinguished texture.
"We designed a hotel in the center of Kyoto that a street passes through and is thus connected to the street. The history of Kyoto as a city has been a history of searching for how to have streets weave their way through the city in 120 meter long square blocks that originated in China, and how to introduce human scale and texture into these blocks," said Kengo Kuma and Associates.
"We thought that we wanted to have the hotel be more like an extension of the street rather than an isolated structure that occupies the space."
"This is in essence the philosophy of ACE HOTEL which has brought about a revolution in 21st century hotels," the firm added.
Drawing a bold appearance, the architects used three types of materials in order to "play a new type of jazz" in Kyoto on top of the streets: "Tokyou" that are made by assembling wooden members, aluminum louvers that randomly fluctuate, and ink black precast concrete which contains iron oxide."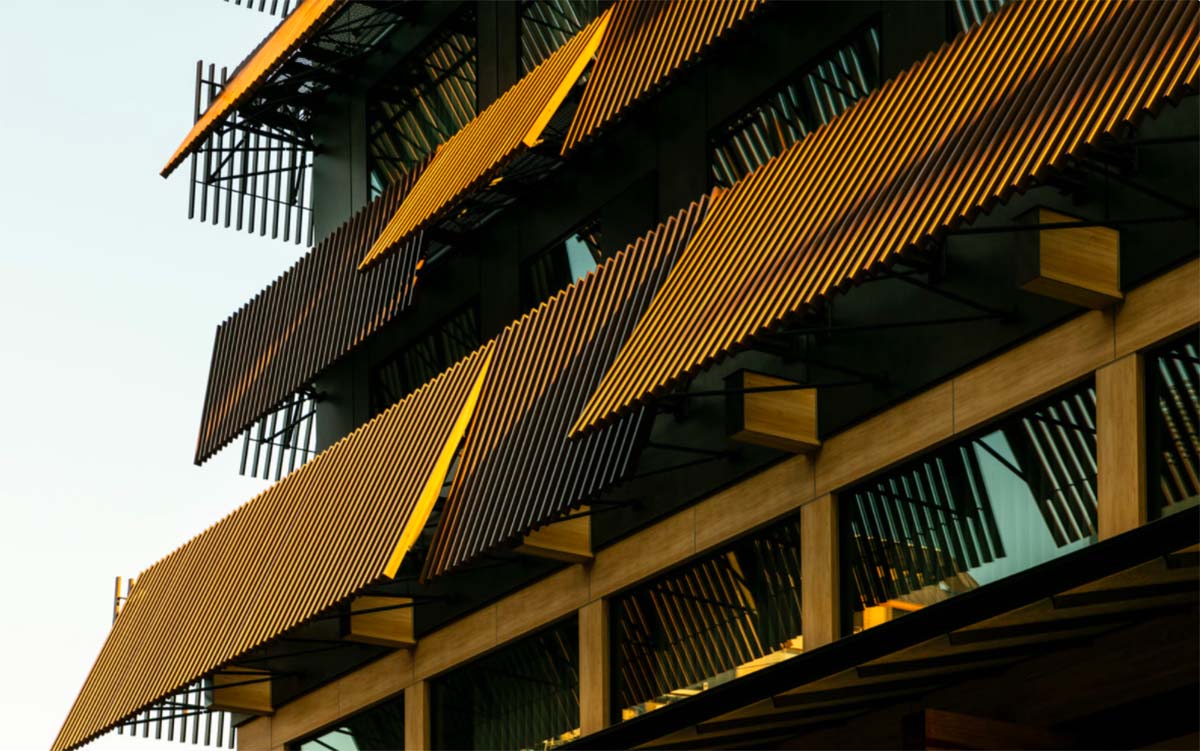 ShinPuhKan acts like a multiple layers of materials which enrich the facade and building to its visitors; the building itself is the material. Kengo Kuma is best known for the use of wood and local materials and on this project, Kuma used his specific material approach in other level.
In the lobby level, visitors are welcomed with wooden beams that are arranged in criss-cross configuration, which is used for both artistic appearance and structural purpose.
The bold lines of the building continue in the interiors with wooden chairs, tables, walls and ceilings.
In the courtyard, visitors can still see the entryway covered by criss-cross wooden beams and translucent roof. Visitors are able to enter the courtyard with cascaded large stairs that is used for sitting and relaxing with cushion and pillows.
For landscape design, Kengo Kuma and Associates worked with PLACEMEDIA, Landscape Architects Collaborative on this project.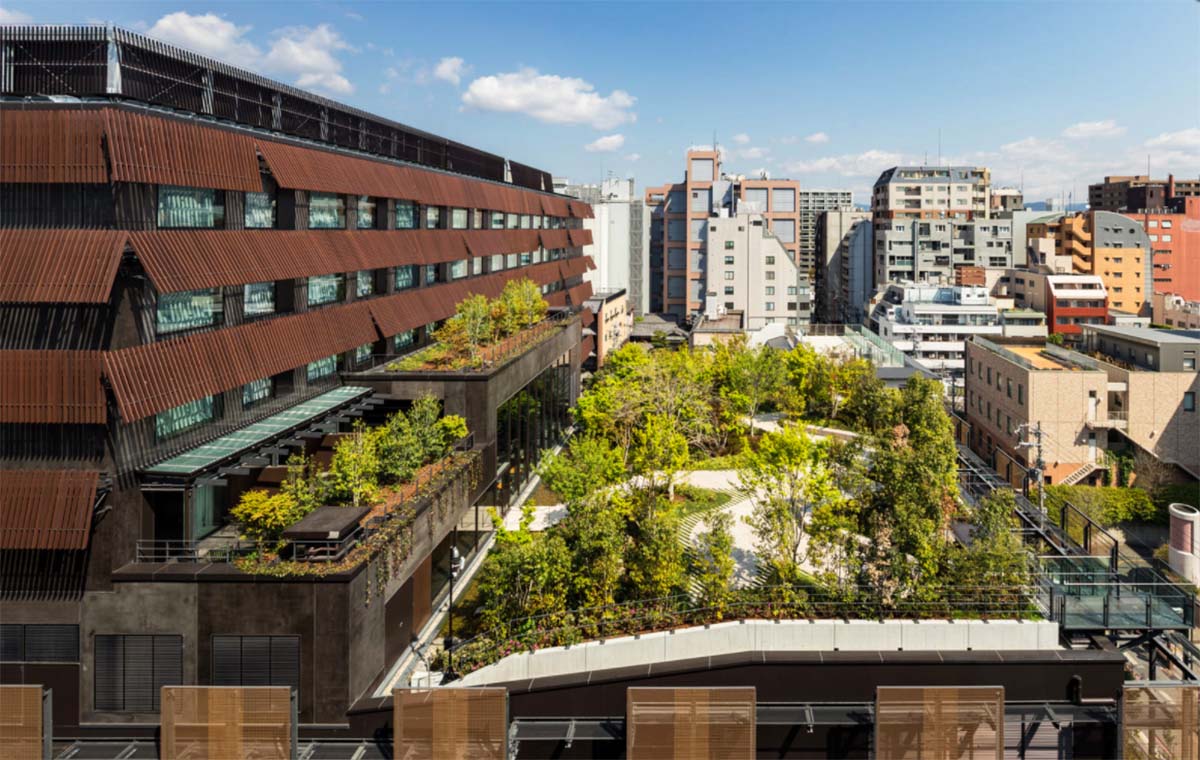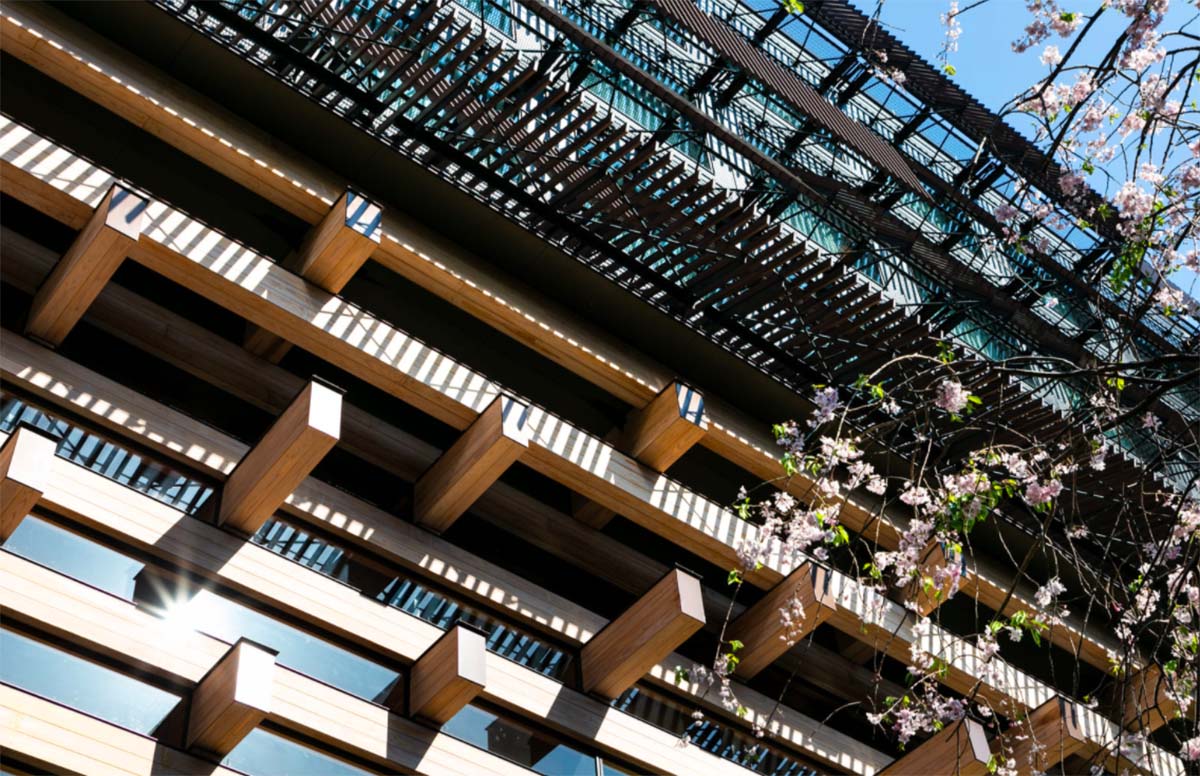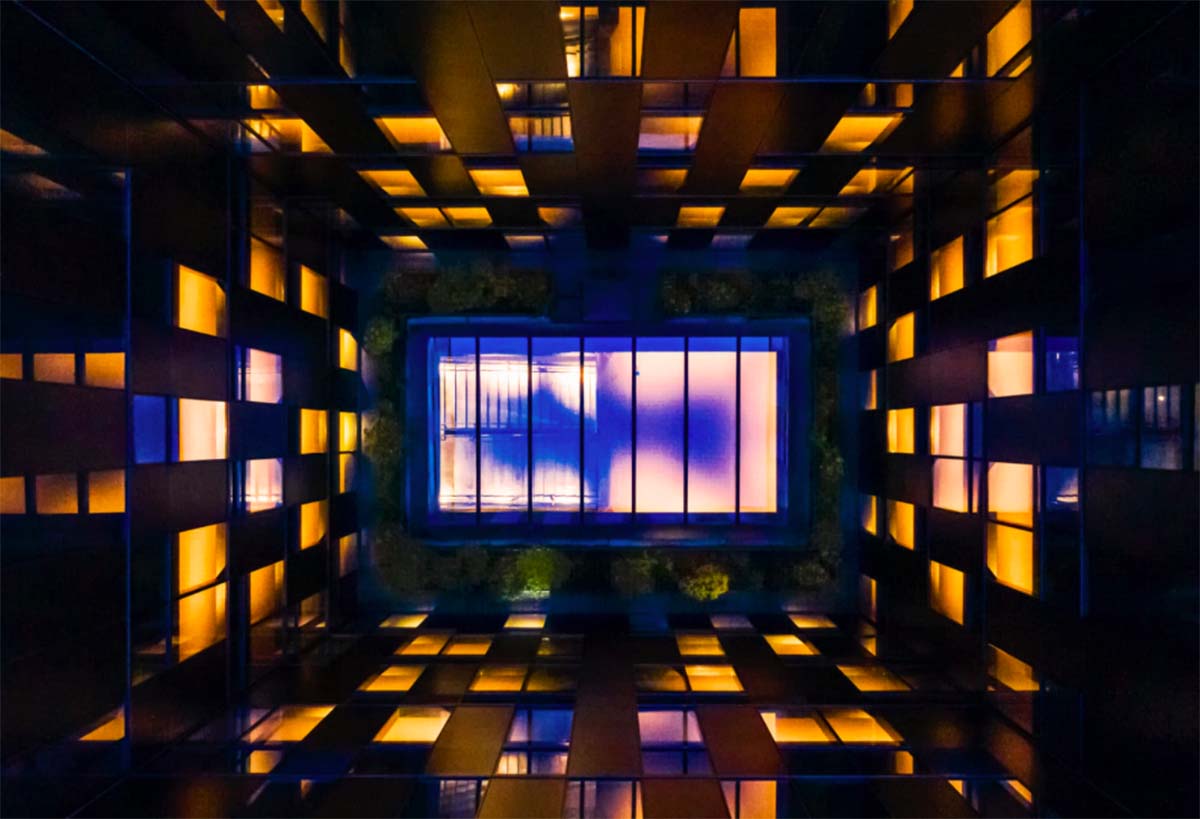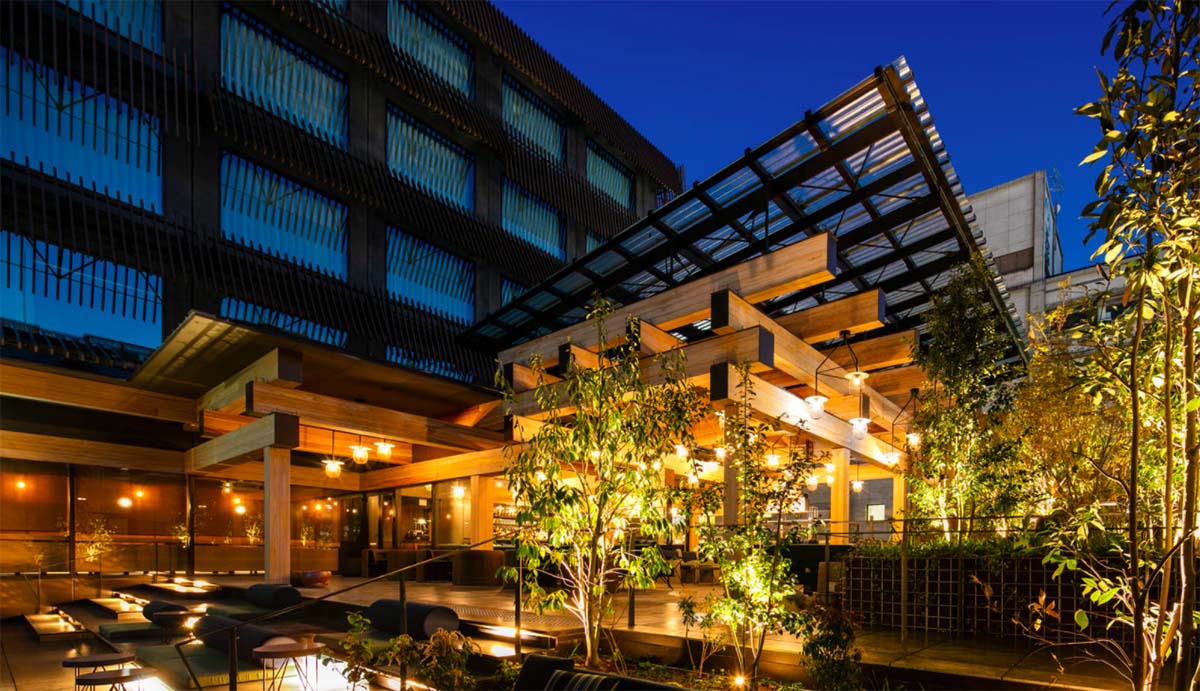 Kengo Kuma & Associates was founded by Kengo Kuma in 1990. Kengo Kuma & Associates aims to design architecture which naturally merges with its cultural and environmental surroundings, proposing gentle, human scaled buildings.
Kengo Kuma & Associates has offices in Tokyo and Paris.
The firm recently completed a restaurant in Honshū, Japan that features interlocking cypress-wood planks which creates an intermediate feeling between heaviness and lightness.
Project facts
Project name: ShinPuhKan
Architects: Kengo Kuma and Associates
Location: Kyoto, Japan
Size: 25,610.97 m2
Date: 2020
Project team: Yuki Ikeguchi, Kenji Miyahara, Hiroaki Akiyama, Ryuya Yamawaki, Yohei Mochizuki, Takumi Nakahara* (*Former staff)
Design Supervision: NTT FACILITIES, INC. ADrchitects & Engineers
Landscape: PLACEMEDIA, Landscape Architects Collaborative
All images © by Kawasumi - Kobayasi Kenji Photograph Office