Stefano Boeri Architetti designs Tirana Riverside masterplan addressing to post Covid-19 needs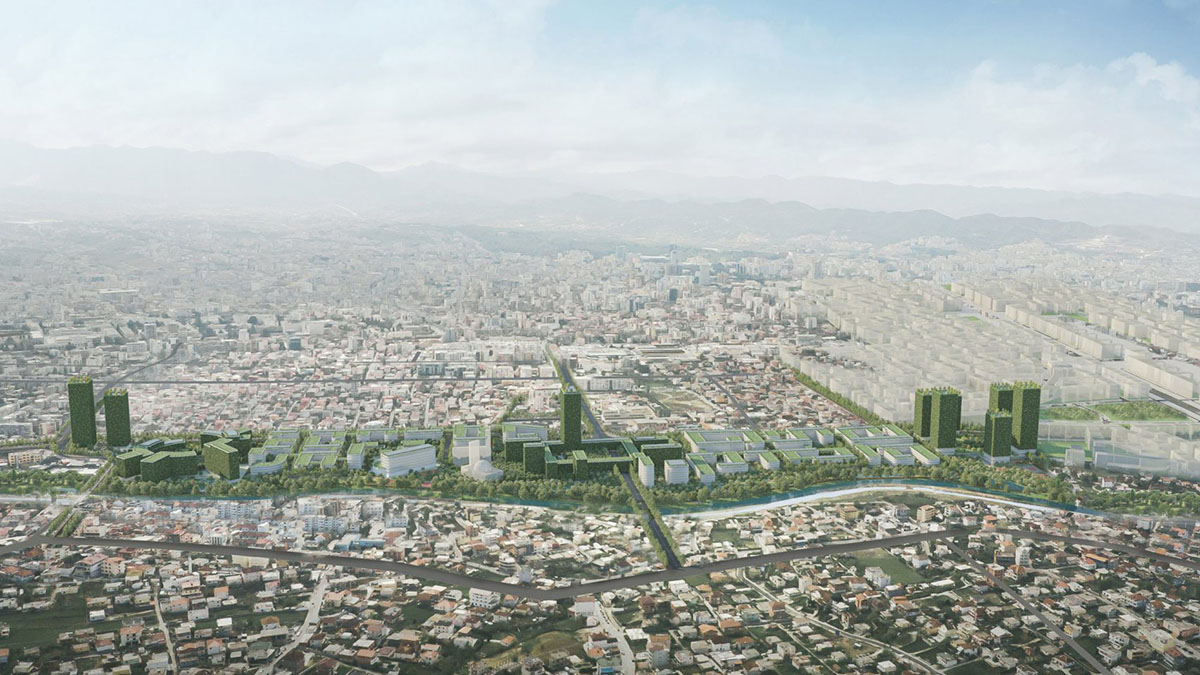 Italian architect and urban planner Stefano Boeri's firm Stefano Boeri Architetti has released its new masterplan addressing to post Covid-19 needs along the northern border of the Albanian capital close to the Tirana river in Albania.
The masterplan, developed as one of the three masterplans commissioned by the Municipality of Tirana, ensures the safeguards and health safety requirements necessary to face contemporary seismic and pandemic emergencies.
Dubbed as "Tirana Riverside", the new green neighborhood will accommodate 12,000 residents with a 29-hectare green area, which will be equipped with all smart city technologies and be able to guarantee the health measurements.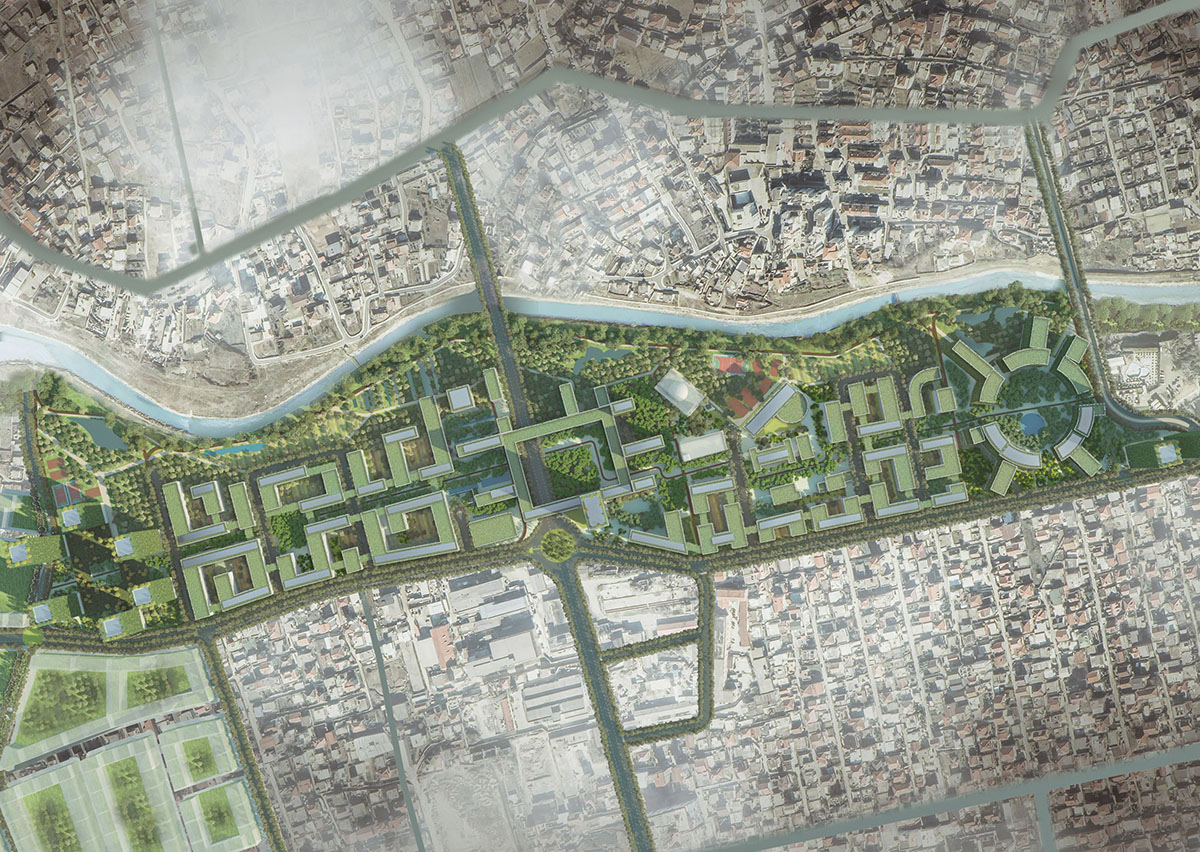 Developed with SON-Group, Boeri's plan is conceived as a large urban regeneration project that favours a functional and social mixité and welcomes within it various cultures and backgrounds, in an accessible and self-sufficient district from the point of view of clean energy, water, food and all urban public services.
The plans offer new housing solutions to residents and develops along a green and innovative central spine dedicated to soft mobility, on which commercial ground floors, access to residential buildings, sports and working spaces and numerous outdoor areas insist and emphasize total accessibility to all areas of the neighbourhood.
"The distribution of the main public services around three central locations arranged at a pedestrian distance from each other, make Tirana Riverside a zero-emission polycentric neighbourhood, containing all the essential services for citizens," said Stefano Boeri Architetti.
"Inside are distributed public and administrative functions of urban scale, numerous services to the city, a school and a university centre, in order to make the whole area a reference point for the Albanian capital."
"In addition to the Masterplan, guidelines for the design of each building are planned, with the aim of working closely with the territory, reactivating the economies of Albanian small and medium-sized enterprises," added the studio.
"The Tirana Riverside project makes it possible to collaborate with local production and professional realities, in a precious process of sharing know-how and to establish new urban quality and design standards."
As the studio highlights, a main component of the project is that of public and domestic greenery, distributed in common areas, on vertical surfaces and on roofs, considered as living spaces capable of hosting numerous plant species, areas dedicated to co-working and the delivery of goods, sports facilities and for leisure, hanging gardens and pedestrian bridges.
The architects will use solar panels on the roof which makes each building a source of production and conservation of clean energy, so that there will be the possibility of building a local energy network, available to citizens.
"Tirana Riverside overlooks a river park dedicated to the community and designed to preserve an ecosystem capable of increasing biodiversity in the urban environment, becoming a refuge and biological habitat for non-domestic species, promoting the creation of microclimates useful for the surrounding civic well-being."
The services along the entire Masterplan are divided into three staircases: the public squares, the play areas dedicated to children, the private gardens, the urban gardens, the spaces fall within the proximity ones – intended as within five minutes on foot retail, cafés, restaurants, offices and emergency medical centres; the neighbourhood ones include religious spaces for different faiths – placed around a single square – and those intended for primary and secondary education, together with areas for sports and entertainment; those on an urban scale include university poles, a river park, a portion of public ministries, fablabs and larger offices.
Described as "a territorial project" designed to host trees and inhabitants in equal numbers, the masterplan will include a total of 12,000 plants belonging to more than one hundred different native species.
The fifteen hectares of green surfaces are divided into common gardens, agricultural and horticultural areas, in which more than five kilometres of cycle paths develop and – also including the roofs intended as a fifth facade inhabited by arboreal essences – the Masterplan, in its entirety, provides up to eighteen hectares of green surfaces.
"The central backbone available for gentle mobility and powered by electricity crosses 90 thousand square meters of open public spaces, in an interplay of courtyard, tower, in-line, L-shaped buildings, which mix residential, working and service realities to the citizen," explained the studio.
"The use of prefabricated structures also in wood allows a surprising rapidity of construction and makes it possible to generate a virtuous circle for monitoring deforestation and reforestation, sustainable production and the reduction of waste goods."
The economic and social advantages of the massive presence of trees intended as an Urban Forest – which in addition to decreasing the "heat island" effect increase the real estate value of buildings – make Tirana Riverside a contemporary landscape that mixes nature and technology, to favour the welfare of citizens who live there temporarily or permanently.
Project facts
Architect: Stefano Boeri Architetti
Partner: Stefano Boeri, Francesca Cesa Bianchi
Team leader: Carlotta Capobianco, Andrea Zucchi
Team: Orjana Balla, Corrado Longa, Jacopo Colatarci, Yulia Filatova, Sara Gangemi, Besart Gjana, Federico Godino, Paloma Herrero Ermakova, He Ruoyu, Mattia Tettoni, Luca Tognù, Shilong Tan
Local partner: SON-Group – Ilir Bejleri
Mobility: MIC – mobility in chain – Giuseppe Vallelonga, Filippo Bissi, Alessandro Bruscaglioni
Landscape: Studio Laura Gatti Partners - Laura Gatti
Sustainability: Transsolar – Tommaso Bitossi, Clara Bondi
Structural engineering: SCE Project
MEP: ESA Engineering
All images courtesy of Stefano Boeri Architetti
> via Stefano Boeri Architetti