MEAN* used 30,000 discarded water bottles to create this geared pavilion in Dubai
Riyad Joucka's firm MEAN* (Middle East Architecture Network) has used 30,000 discarded water bottles to form this geared pavilion in front of the Dubai International Financial Center (DIFC), Dubai, United Arab Emirates.
Called Deciduous, the pavilion, commissioned by the DIFC, has been built to celebrate this year's "Art Nights" event at DIFC with the theme "Autumn". The firm set out its brief from the question: "Deciduous entices us to ask ourselves, what does Autumn mean to Dubaians today?."
Video by MEAN*
"Deciduous is a 3D printed pavilion that invites us to revisit our relationship with nature, through an experience reminiscent of walking through an abstracted botanical form," said MEAN*. The pavilion can be perceived as an entire mechanical interpretation of a season which is reflected with the 3D print technology.
The circular structure contains a series of thin curved tubes which resemble branches of a tree. The heads of these tubes turn into an orange color to remind us of autumn season. "In the field of botany, the term "deciduous" refers to trees that seasonally shed leaves, usually in the autumn," the architects added.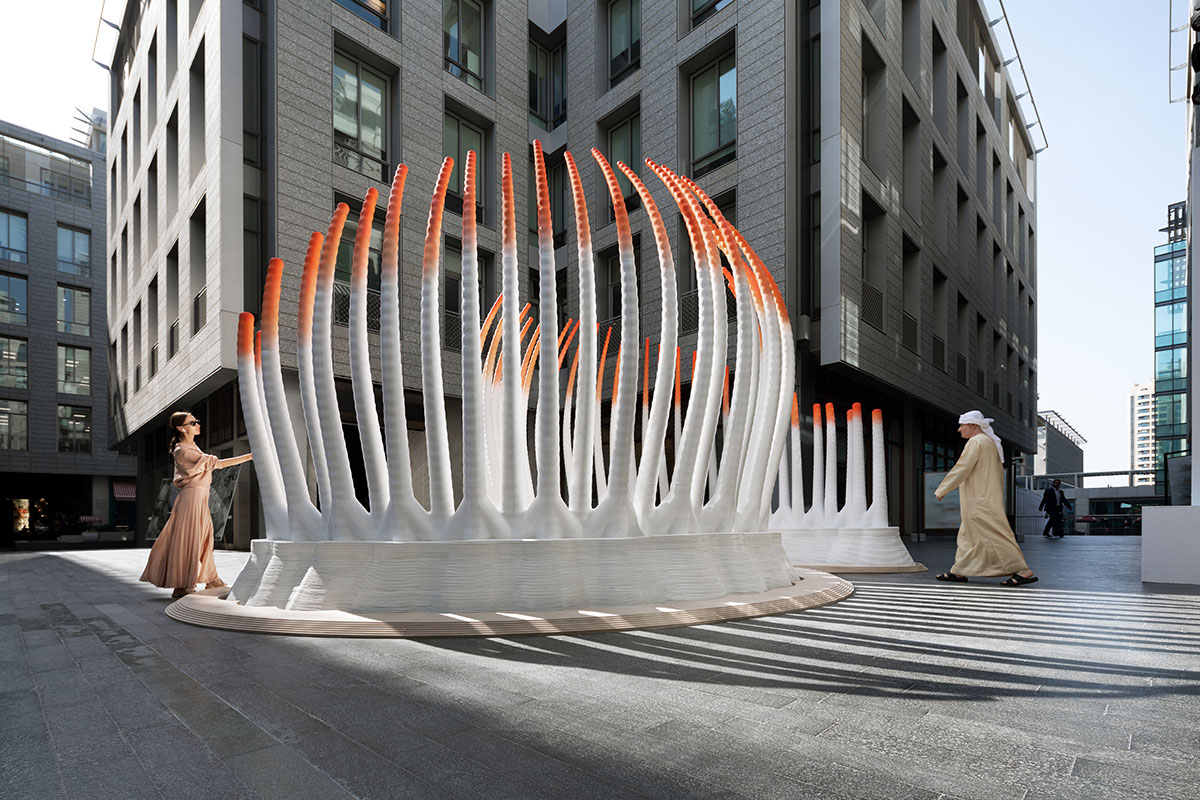 Building on MEAN's experiments with 3D printing in design, the pavilion is an exploration in scaling processes to the architectural realm. Deciduous has been produced by using a hybrid of 3 different sustainable materials: CNC-milled Birch plywood flooring, Robotically 3D-Printed Concrete Base, and a series of branching 3D-Printed PETG stems, a plastic polymer up-cycled from 30,000 discarded water bottles.
In light of Dubai's focus on 3D printing as a sustainable technology, the hybridization of state-of-the-art Robotic 3D printing in Plastic and Concrete is a first attempt to explore the possibilities that the two technologies can offer, contributing to the emirate's vision of ecological construction growth towards 2025.
Deciduous is designed to come together in interconnected parts, and is completely prefabricated off-site. The parts can be mechanically joined on a clean site with no need for heavy machinery.
Computational modeling was used to conceive and quantify the design to a level of detailing optimal within the parameters and constraints of Large Format Robotic 3D Printing.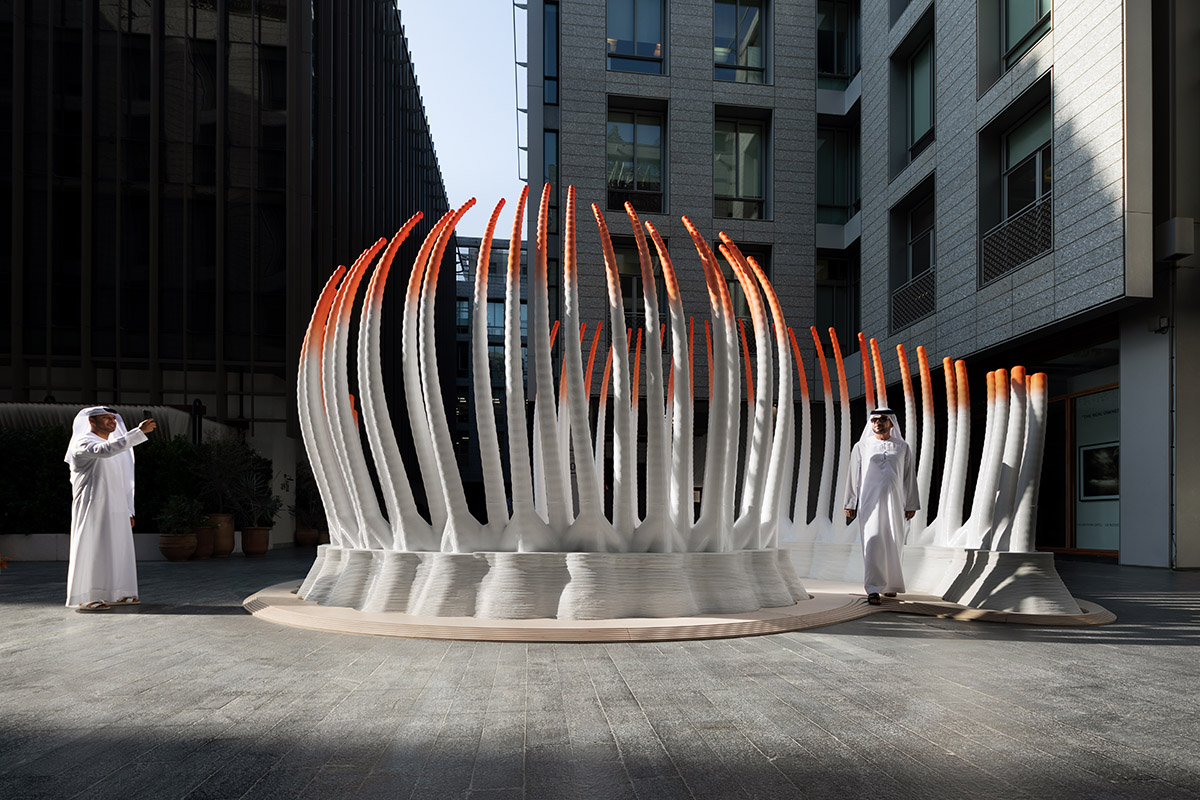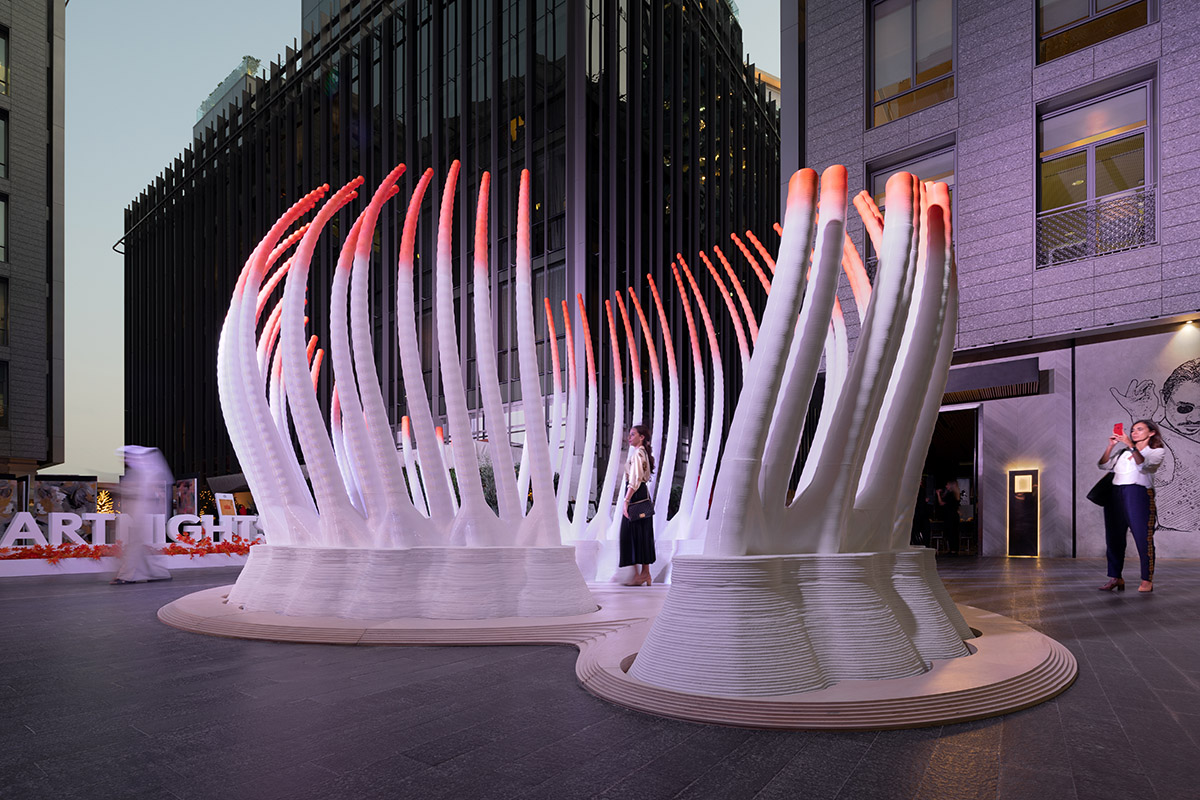 Image © MEAN*
Image © MEAN*
Image © MEAN*
Plan of the pavilion
Section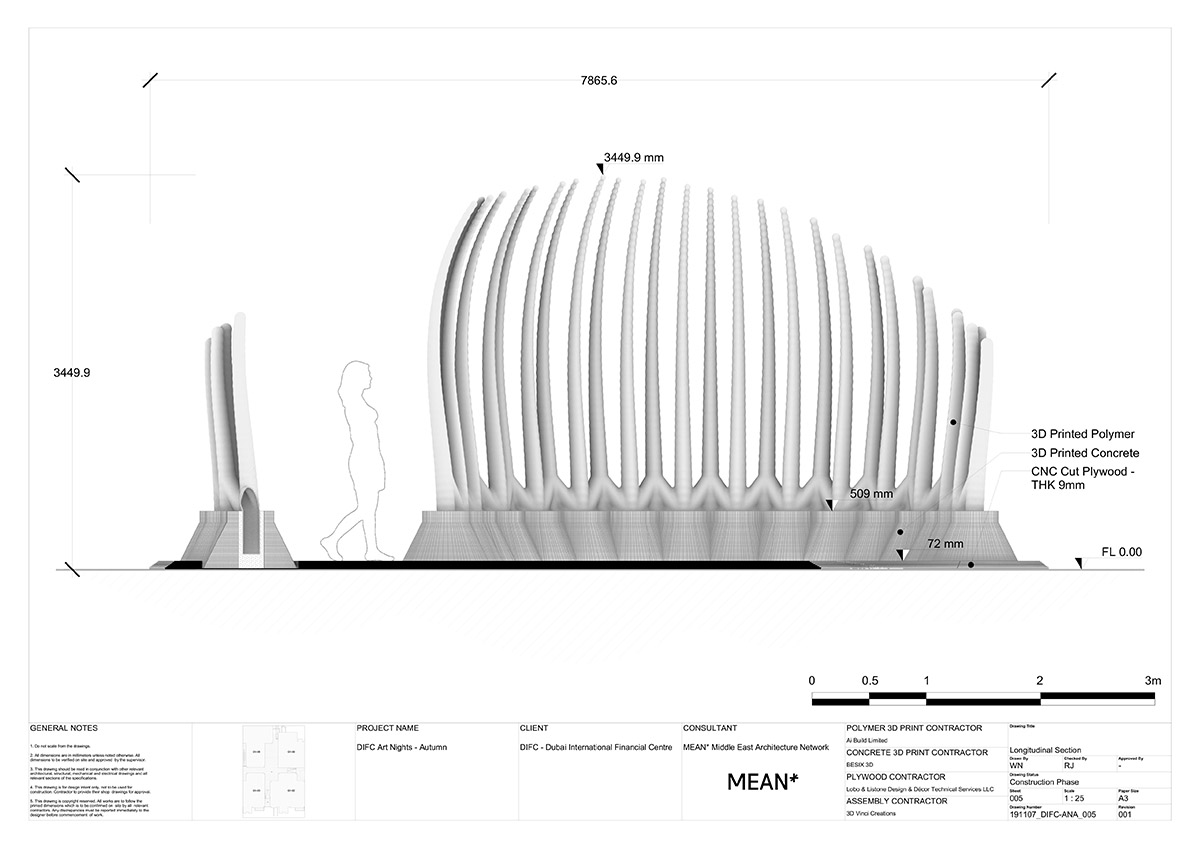 Longitudinal section
Footing detail
Front elevation
Side elevation
MEAN* also released its design proposal for modular Barjeel Art Foundation Museum in Sharjah, as well as its technologically-advanced Sabeel 2020 Water Fountain for Dubai Expo 2020.
MEAN*, founded by architect, entrepreneur and researcher Riyad Joucka, is an innovative architecture practice that works at the nexus of design and emergent technologies.
Project facts
Client: DIFC Dubai International Financial Center
Event Coordination: brag
Design: MEAN* Middle East Architecture Network - Lead Architect: Riyad Joucka
Polymer 3D Printing: Ai Build
Concrete 3D Printing: Besix 3D
3D Printing Contractor: 3D Vinci
CNC Plywood Fabricator: Lesly Lobo
All images © NAARO unless otherwise stated.
All drawings © MEAN*
> via MEAN*