World Architecture Community launches new sections for Interior Designers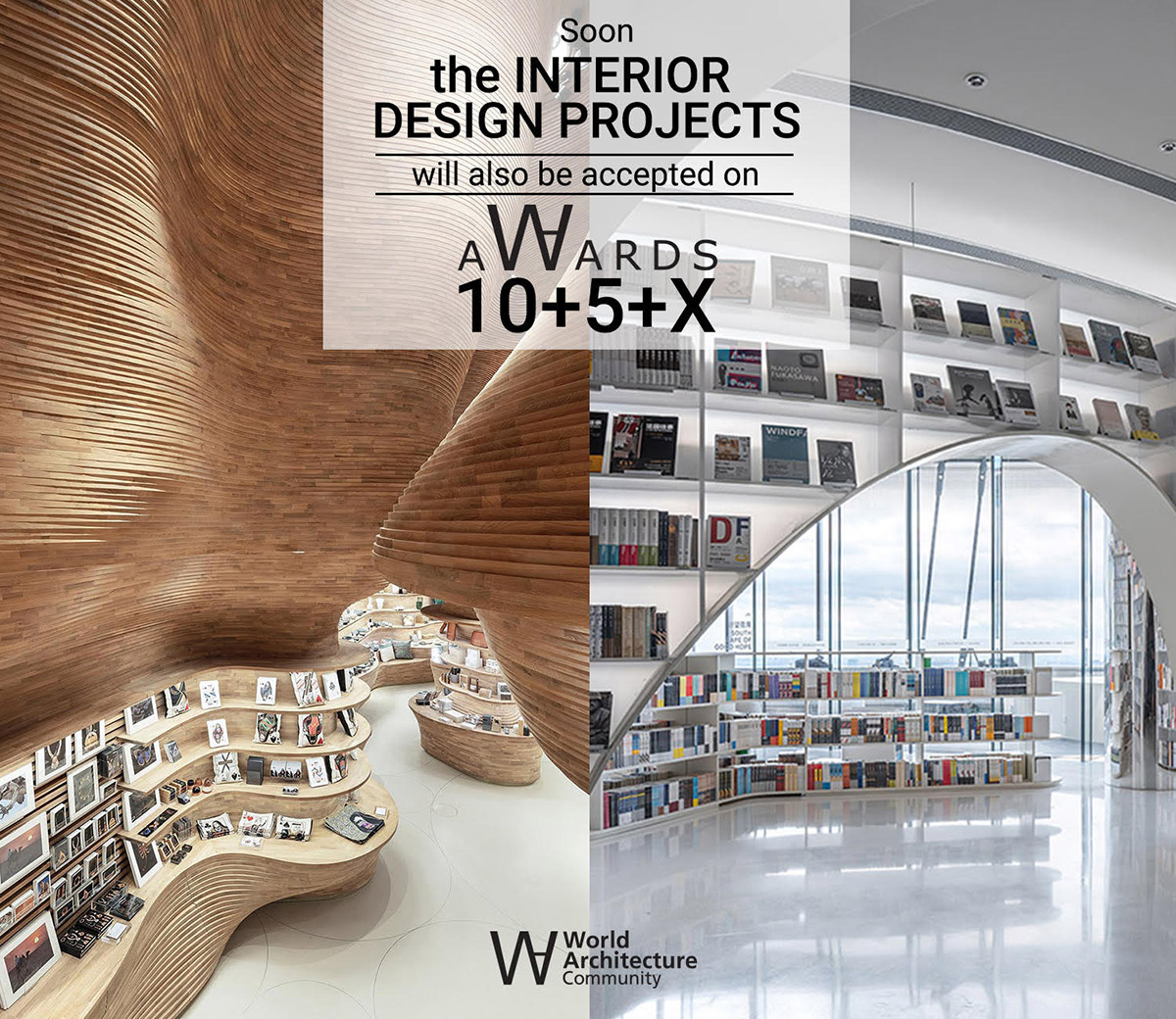 As architects, we have never separated architecture and interior design from each other in architectural discourse. We have always seen architecture as a holistic approach. However, with evolving technology and the changing conditions of today's architecture in design oeuvre showed that the profession of interior design has gradually increased and become a separate business and design field.
Although we stand behind our assertion in the discourse of architecture, there are millions of interior designers and interior design offices in many parts of the world that do very creative and provocative projects. Up to now, WAC has been in little distance from interior design projects, a highly selective, and has not featured much interior projects in our Main News page, Projects section or even in WA Awards section as our regular publication flow.
However, due to the increasing number of interior design projects we have received in recent years, we have seen that many creative interior designers around the world have produced such innovative and provocative projects - in different sizes and scales. Especially, we have seen that interior designers from Asia, together with other countries, can be said to be a rising value in this sense.
To illustrate, have you seen Koichi Takada Architects' cave-like interior for museum shops inside National Museum Of Qatar? Or, have you seen how Roth-Architecture created a wooden jungle in the interior of a fashion store in Tulum by using different behaviour of materiality? If you are not still convinced, please take a look at Various Associates' grey-colored interior space where the relations of body and space can be connected effectively.
For this reason, WAC, which has not yet reached enough space for interior designers, will be launching the new Interior Design category starting from the 33rd Cycle of WA Awards and will be inviting all interior designers and interior design offices from around the world to participate in WAC's prestigious and acclaimed WA Awards.
Last but not least, we also invite all interior designers to publish their projects on WAC News. Also, very soon, all Interior Designers and/or Interior Design Offices will be able to upload their projects to the WAC's Projects page, like our other fellow members, they will be able to upgrade their membership to Professional Membership to get globally recognized.
From now on, Interior Designers can send their projects to [email protected] for publication of their projects on WAC News. But still WAC Editors will review, select and publish the most innovative, fresh and informative project, creating a new discourse for the interior and space.

To sum up, here are the three of the sections that WAC will launch soon:
Main News Page
World Architecture Community's News pages are the most popular spot of our website, both directly from within our portal as well as through referrals from our twitter and other social accounts. So in this sense, Interior Designers' projects will directly be published on this page to get more media exposure from all around world.
With a new filter on this page, we will also be giving an in-depth look to all the interior design projects news. A new orange-colored icon will help you to filter all the interior projects news on this page.
To be featured on WAC's Main News Page, all interior designers or interior design offices can send their projects to: [email protected].
Main Projects Page
World Architecture Community's Projects pages are, by far, the second most viewed pages of our website. Very soon, interior designers and interior design offices will be a fellow member of WAC, by registering from here, and will be able to upload their projects free to get globally recognized.
It is also important to keep their WAC Pages as up-to-date as possible since WAC Editors share some selective projects from our Projects page on WAC's social media.
Images in the poster (from left to right): Zaha Hadid Architects' Mathematics: The Winton Gallery in the United Kingdom (image © Luke Hayes). DOMANI's interior design for a Shenzhen store brand ROARINGWILD (image © Shaon Liu)
World Architecture Community Awards (WA Awards 10+5+X)
Undoubtedly, WAC's WA Awards will be the most important section that excites us very soon. The WA Awards highlights and recognizes remarkable projects that might otherwise remain unnoticed by the international public, yet have the potential to inspire exciting questions about contemporary architectural discourse.
Starting from the 33rd Cycle of WA Awards 10+5+X, we will be launching a new category for interior designers and offices in addition to our 3 distinct categories. Interior designers or interior offices will also be able to send their projects in 3 distinct categories below:
WA Interior Designed Award: Projects that were not built,
WA Interior Realised Award: Projects that are actually built,
WA Interior Student Award: Projects designed by Interior Design Students.
But most importantly, we will be following the same selection procedure and pricing policy for our new Interior categories. All Interior Designers and/or Interior Design Offices will fully benefit from the rights and benefits that our other members do have.
If you are already planning to participate in WA Awards 10+5+X 33rd Cycle, please visit our WA Awards 10+5+X page and How To Participate page. We will be sharing the fresh news with you very soon...
Top images in the poster (from left to right): Koichi Takada Architects' interior of two museum shops inside Jean Nouvel's National Museum of Qatar in Doha (image © Tom Ferguson Photography). Wutopia Lab's interior space design in Shanghai Tower (image © CreatAR Images).