Iran in Rome, Rome in Iran

"If Italians [Romans] build Iranian façade style in their countries, then we can build Roman facades in Iran as well"
- Alireza Madadi
Alireza Madadi, a professor at one of the most prestigious architecture schools of Hamedan referred to the flagrant use of Neoclassical Architecture in Iran. In recent years, Neoclassicism in architecture has turned into a symbol of wealth in Iran. It may resemble the glory that once this style was offering to the Roman Empire. It was not only Iran but also other countries that were fascinated by Neoclassicism, however, there is a significant difference between the way other countries used Neoclassicism and the way pseudo-architects used it in Iran. In other countries, this style was used mostly for governmental buildings to show a kind of glory to the other nations. But this style was used as a mean of boasting. Iran and Iranian architecture are rich in glorious buildings from ancient times to the date. Golestan Palace is still one of the most glorious palaces of Iran which was built around 1759 and developed later by Qajar dynasty. Therefore, architects did not sense the need to refer to the Neoclassicism for the governmental buildings of Iran because they were already glorious and magnificent. Even in the contemporary era, Iranian architects did not refer to Neoclassicism but Modernism and some specific postmodernism movements. Some of the Iranian architects were also eager to reinterpret the core concepts of Iranian architecture and use it again in the modern days. The degree of their success in their reinterpretations is a matter of controversy but it is obvious that they are eager to reinterpret the inherited architecture of Iran.
Dariush Grand Hotel; A reinterpretation of Past in modern days. Image courtesy of Dariush Grand Hotel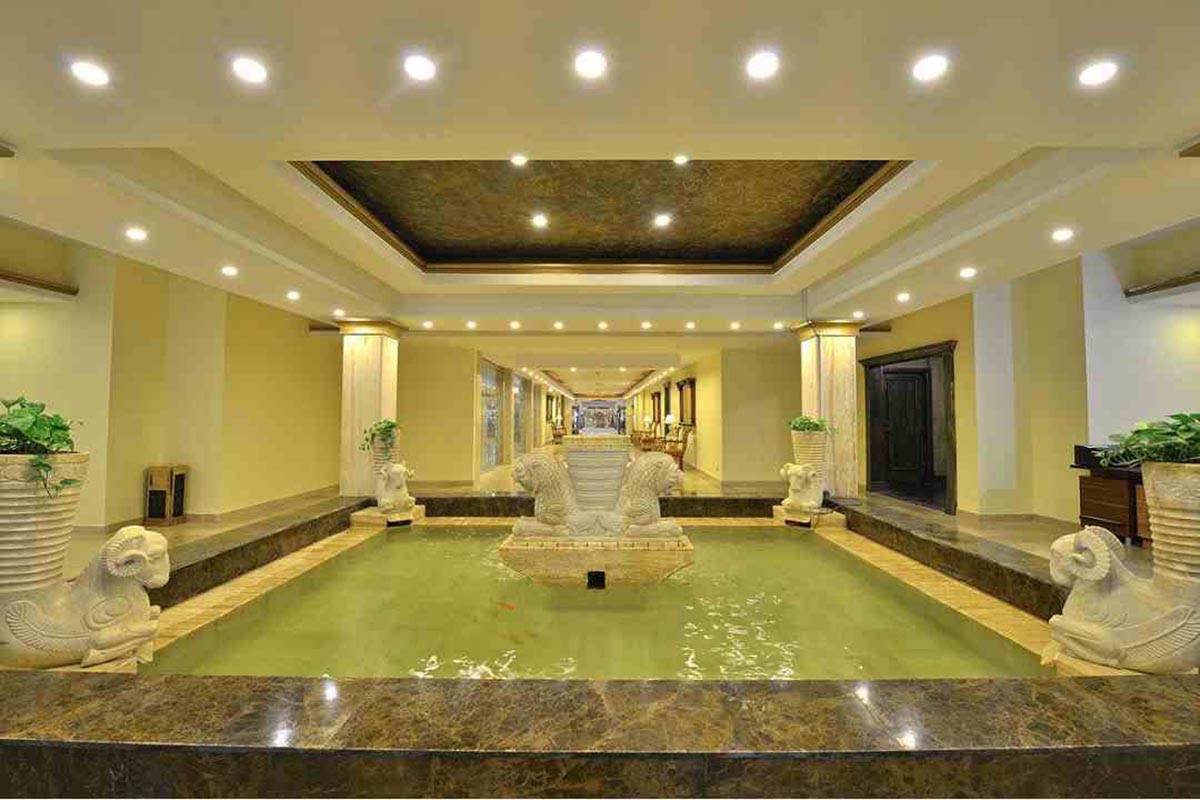 Dariush Grand Hotel. Image courtesy of Dariush Grand Hotel
Dariush Grand Hotel. Image courtesy of Dariush Grand Hotel
The eagerness for reinterpreting the past creates a Neo-Iranian Architecture that contains so many references both in core concepts and form to the past of Iranian architecture. However, pseudo-architects of Iran used Neoclassicism instead of focusing on their own past. They used this style in Villas, Apartments, and most of the residential projects that they were able to take. They took advantage of their clients and convinced them that Neoclassicism is something that can exhibit their wealth and social position. Fortunately, among these deceived clients were the intellectuals and educated ones who refused to have such a style for their buildings. But unfortunately, the deceived ones by pseudo-architects of Iran started a culture that goes on to the date. They are building Neoclassicism facades (aka Roman Facades in Iran) on the apartments and changing the way an Iranian city should be. Fortunately, these pseudo-architects were never welcomed by the government or public institutions. They are mostly working in the residential sector of Iran and endangering the future of Iranian cities. In a recent action of one of the local branch of IRCEO in Yazd, a set of local regulations were passed to avoid Neoclassicism facades in this most architecturally-preserved city of Iran. The regulations indicate that if one builds such a facade, the local branch of IRCEO and the municipality are legally allowed to enforce the complete destruction of the building or its facade.
Ali Qapu. Image © Jean Chardin's book; A Journey to Persia (Persian Edition)
Persepolis; Painting by Charles Chipiez. Image © Charles Chipiez's book; History of Art in Persia
The glory of ancient Iranian Architecture; Painting of Persepolis by Charles Chipiez. Image © Charles Chipiez's book; History of Art in Persia
"Those types of architecture with specific cultural references, which refer to a certain historical period, raise the question of what that history is and why this reference has been used. Classical architecture has rules, none of which are obeyed in these buildings, neither in totality nor in detail. Therefore these buildings can be confusing for those interested in history."
-Kamran Afshar Naderi
Meanwhile, many architects in other parts of Iran are trying so hard to convince their clients that they should not use these Roman facades on their buildings because there is no root for them in Iranian architecture. Iranian Architecture is more glorious and magnificent than Roman Facades. They try to talk to them and convince to use other styles and educate them on how architecture should be. Some other architects talk to these clients about Iranian architecture and they hope that these clients won't use Roman Facades and instead use Iranian architecture in their buildings. The commercial sector in Iran is playing a key role in developing such a culture. A recent hotelier wanted to show how glorious Iranian architecture is and therefore, asked architects to design a hotel that seeks its ancient roots. The final product was something interesting in reviving ancient Iranian architecture. They used the Iranian architecture components in every single corner of the building in a modern way. They just started building the second branch of the hotel in the city. It might be a sign of cultural change and show that people welcome Iranian architecture more than Roman in their country. Whatever it is, this new culture contributes to reviving Iranian architecture with new interpretations. It requires many institutes and cultural programs to change the culture of using Roman facades which were founded by pseudo-architects in Iran. Architecture students can play a key role in changing this culture by exhibitions in their cities and showing how the future of their cities will be when people are aware of their culture and architecture.


Footnote: This article does not mean that every architect who uses Neoclassicism is a pseudo-architect. Pseudo-architects in Iran are those with a minimum qualification in the market and only seek financial profits instead of focusing on presenting at least a satisfactory architecture. These pseudo-architects are mostly blamed in architecture schools of Iran. Simultaneously, these schools respect those who understand the true spirit of Neoclassicism and used it in the correct context.
Top Image: Mirror Hall, Golestan Palace by Kamal-ol-Molk. Image courtesy of Golestan Palace