SHoP unveils mountainous WAVE/CAVE installation made of 1,670 terracotta blocks
SHoP has created a mountainous installation for the Interni Magazine's 20th Edition Event called ''Material Immaterial'', made of 1,670 terracotta blocks and 797 individual profiles from the single extrusion used. SHoP's giant installation-called WAVE/CAVE- exhibited at Università degli Studi di Milano from April 3-15 to experience the mixture and speed of contemporary media and technology, intersected at a particular moment -which also reflects itself as an ''internal agitation'' through the material.
Developed in partnership with NBK Keramik and Metalsigma Tunesi, WAVE/CAVE is conceived as a large sculptural terracotta enclosure that invites visitors to pause and reflect, one at a time, on the hectic speed of our world.
Film by Spirit of Space/Video courtesy of SHoP
''WAVE/CAVE is a study of the unease we all experience—a slow, quiet commentary on solidity, deep time, and the contemporary pace of change. A custom-developed system of unglazed, fluted terra-cotta blocks are arranged in a soaring assembly (7.2 x 10 x 3.6 meters) that is open to the action of life around it but accessible only to the imagination and the gaze,'' said SHoP.
The studio uses 1,670 terracotta blocks are stacked in three tiers, with interior faces carved to reveal a surprising ornamental richness as they describe a smoothly curved surface within the high perimeter wall. The blocks were finished using a customized process that generated 797 individual profiles from the single extrusion used.
''Working with Interni has been an incredible honor and a great experience for our studio to explore the possibilities of design on a smaller, more intimate scale,'' SHoP Principal, William Sharples said.
''Focusing on this idea of solidity and slow-time is a reaction to what has happened to a lot of architecture over the past few years—WAVE/CAVE asks us to slow down and get back in touch with the weight and pace of architecture from other eras.''
The intricate pattern of WAVE/CAVE is called out in a lighting scheme developed by PHT Lighting Design Inc., with systems provided by L&L Luce&Light. The structural solution was conceived, produced, and installed by our partners at Metalsigma Tunesi, and engineered by Arup.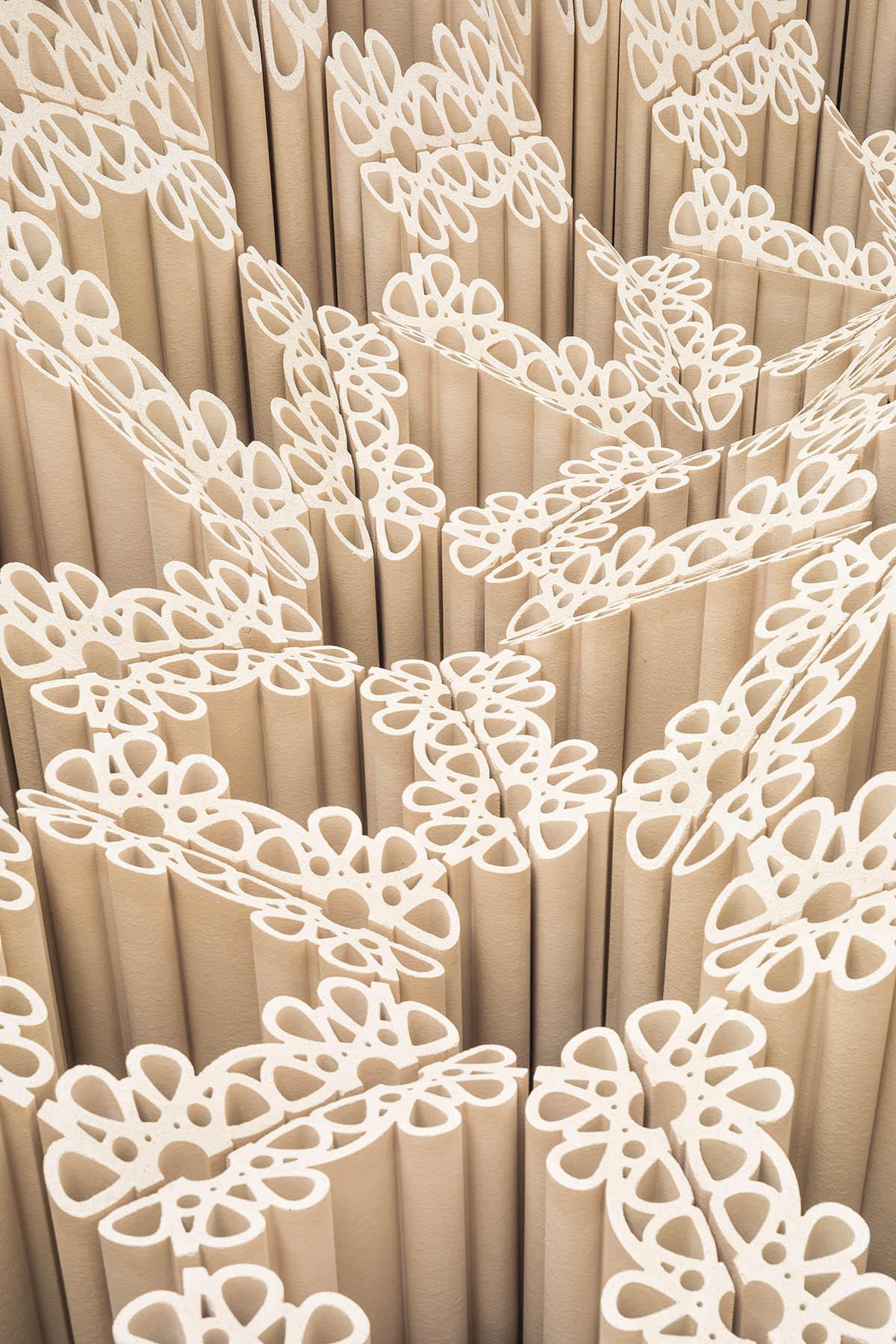 ''We've always been interested in working with traditional materials,'' said Christopher Sharples, Principal at SHoP.
''Today's technologies allow us to draw out their material authenticity in new ways. The collaboration between SHoP, NBK Keramik, and Metalsigma Tunesi on WAVE/CAVE was an effort to demonstrate the poetic possibilities of terracotta while suggesting new directions for its use in contemporary construction.''
Part of FuoriSalone 2017, Material Immaterial brought together a series of experimental and interactive installations of architecture and design, highlighting the unique collaboration between internationally acclaimed designers and innovative manufacturers.
All images © Delfino Sisto Legnani and Marco Cappelletti
> via SHoP