TNA proposes inverted pyramid as a new holiday resort overlooking an untouched forest of Matarraña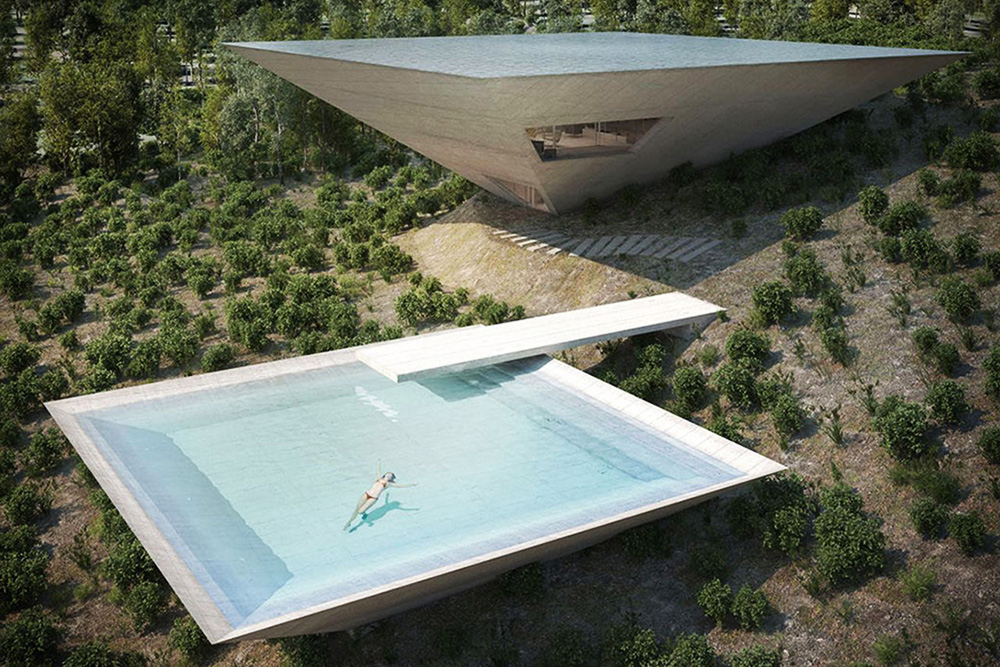 A massive inverted pyramid by Takei Nabeshima Architects will be added to an untouched forest area in the mountainous region of Matarraña, Spain to create a subliminal effect in this wild moorland. Developed as part of Solo Houses series initiated by French developer and gallery owner Christian Bourdais, this uncommon prototype aims to create a contradiction between its powerful form and internal plan layout.
Designed by Tokyo-based architecture firm Takei Nabeshima Architects (TNA) - led by Makoto Takei and Chie Nabeshima - the flipped concrete pyramid will provide epic views to its surrounding forrest and the swimming pool situated below of the house - the pool's structure takes the shape of a new pyramid.
Christian Bourdais started Solo Houses project in 2015 by commissioning 15 architects to build 15 holiday homes on the edge of a national park near Barcelona - Sou Fujimoto, Johnston Marklee, Smiljan Radic, Pezo Von Elrichshausen, Makoto Takei & Chie Nabeshima (TNA) and Kersten Geers et David Van Severen (Office KGDVS) were only few of them to design a new holiday home in this untouched forest.
Christian Bourdais has given each architect carte blanche to create their own design concepts so that one can feel a truly "solo" within this pure environment - and alone and magically isolated and disconnected from every day turbulences. Set within the specified budget, only two of them have been completed so far - - one of them by KGDVS' house, the first Solo House was built by Pezo von Ellrichshausen in Cretas, Spain three years ago, and the last one is still under construction.
TNA designed a three-storey concrete holiday dwelling with a rooftop and pool. Initial renderings of interior images show that all the interior spaces are kept as they are - with exposed concrete without adding extra decoration and they consist of only a few furnitures to meet the basic demands of the house. The architects create angular windows adapting its angular form, overlooking a hilltop of the mountainous area.
Due to its angular structure, the building creates some mezzanines with concrete staircases which connect all the floors. The architects designed dining room on the ground floor of the building, while taking the entrance from the first floor because of the slope at the backyard of the structure.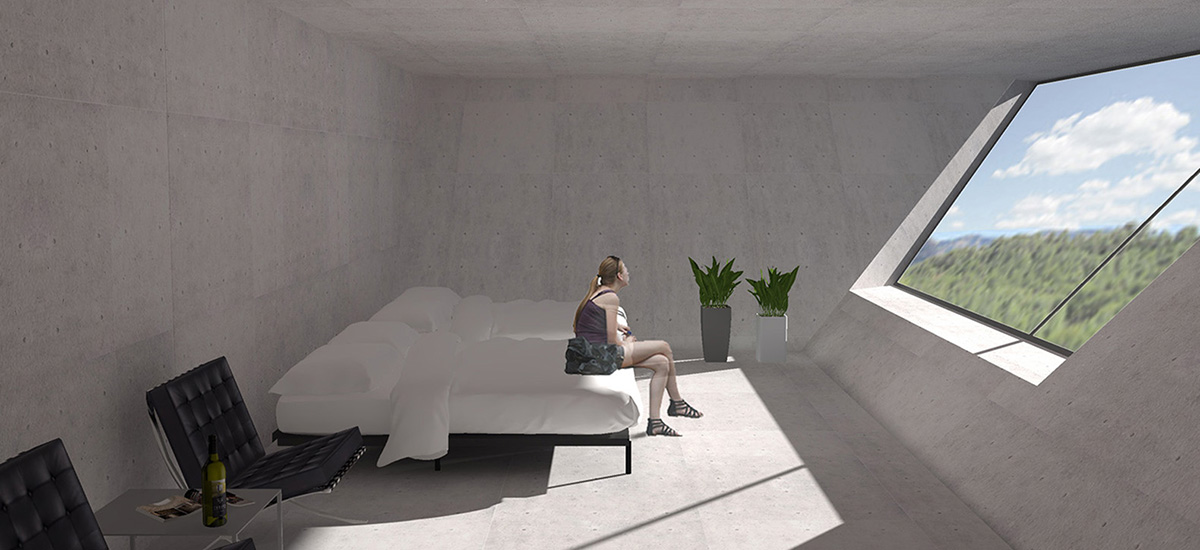 One of the mezzanines is designed as a large living room on the first floor. On the third floor, there is a large bedroom and lounge which is linked to the pool on the terrace. Pantry and machine room are embedded in the landscape as separate rooms. The studio conceived this holiday home as an open plan blending with nature and its surrounding.
All 15 Solo Houses will be built in the region of Matarraña, located in the superb inland region of Aragon, is a Spanish land that has kept its authenticity, its history and its traditions.
The Solo Houses' website described this region "Matarraña, with its Mediterranean landscape, its sunshine, its 18 medieval villages perched on the hills, its crystalline rivers, its waterfalls, its olive and almond tree fields, its black truffles, its ochre soil, its renowned wines, its gastronomy, offers an idyllic frame to commune with nature. We can find a wide range of outdoor activities, adventure sports, charming hotels in surroundings that are still confidential."
"The Solo Houses, an on-going project of contemporary small resort-prototypes conceived by a New Garde of international young architects. These architectural experiences will harmoniously be integrated into a new generation hotel proposal by by Chilean architect Smiljan Radić."
All images courtesy of TNA
> via Solo Houses