Jean Nouvel's Louvre Abu Dhabi featuring giant geometric-patterned dome set to open on November 11
New photographs have been revealed for the eagerly anticipated museum of Jean Nouvel in Abu Dhabi - the Louvre Abu Dhabi museum will officially welcome its first visitors on November 11, 2017. Designed by Pritzker Prize-winning French architect Jean Nouvel and developed by Abu Dhabi's Tourism Development & Investment Company (TDIC), the museum will be the first museum of its kind in the Arab world, which focuses on shared human stories across civilisations and cultures.
Located in Abu Dhabi, the capital of the United Arab Emirates (UAE), the building will serve as a "museum city" (Arab medina) under a vast silvery dome. Visitors will be able to walk through the promenades overlooking the sea beneath the museum's 180-metre dome, comprised of almost 8,000 unique metal stars set in a complex geometric pattern.
Video by Louvre Abu Dhabi
Louvre Abu Dhabi's areal view with its surrounding. Image via drone video
When sunlight filters through, it creates a moving 'rain of light' beneath the dome, reminiscent of the overlapping palm trees in the UAE's oases. On display will be the museum's important collection of artworks, artefacts and loans from France's top museums.
These span the entirety of human existence: from prehistorical objects to commissioned contemporary artworks, highlighting universal themes and ideas and marking a departure from traditional museography that often separates according to origin. The 97,000-square-metre building consists of galleries, exhibitions, a Children's Museum, a restaurant, a boutique and a café.
Louvre Abu Dhabi's giant dome is composed of almost 8,000 unique metal stars set. Image via drone video
"Louvre Abu Dhabi will open in two months. After several years of studies and construction, guests will be able to enter this place of light, this revelatory meeting place of a number of planetary cultures beyond the seas and centuries," said Jean Nouvel.
"It is an architecture that is protective of its treasures, it is a homage to the Arab city, to its poetry in geometry and light, and, under the large cupola, it is an evocation of the temporalities which inexorably punctuate the hours, days, and the passing of our lives," added Nouvel.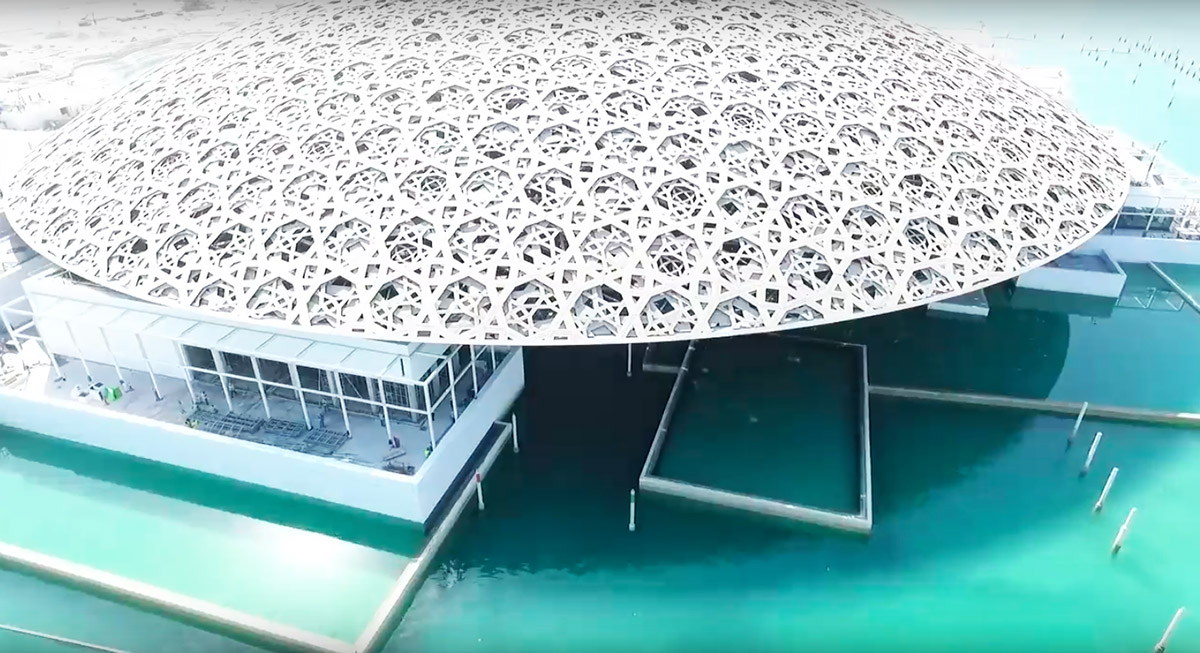 Louvre Abu Dhabi's areal view. Image via drone video
The Louvre Abu Dhabi was first launched in 2007 as part of a proposed new cultural district on Saadiyat Island, Abu Dhabi. Frank Gehry, Jean Nouvel, Tadao Ando and Zaha Hadid were the four leading international architects proposing new cultural buildings on the shore of Abu Dhabi, commissioned by Abu Dhabi's Tourism Development & Investment Company.
Jean Nouvel's design is inspired by the traditional Arabic architectural culture that focuses on the medina and low-lying Arab settlements in the region. In total, 55 individual buildings, including 23 galleries, make up this museum city. The façades of the buildings are made up of 3,900 panels of ultra-high performance concrete (UHPC).
Louvre Abu Dhabi's exterior view. Image © Mohamed Somji
A vast dome, 180 metres in diameter, covers the majority of the museum city. This impressive structure is visible from the sea, the surrounding areas and Abu Dhabi city.
The dome consists of eight different layers: four outer layers clad in stainless steel and four inner layers clad in aluminium separated by a steel frame five metres high. The frame is made of 10,000 structural components pre-assembled into 85 super-sized elements, each weighing up to 50 tonnes. The installation of the museum's dome took approximately two years to complete.
Louvre Abu Dhabi's 'rain of light'. Image © Mohamed Somji
The dome's complex pattern is based on a highly studied geometric design. It involved close collaboration between the architectural design team at Ateliers Jean Nouvel and the structural engineers at BuroHappold Engineering. The pattern is repeated at various sizes and angles in the eight superimposed layers. Each ray of light must penetrate the eight layers before appearing then disappearing.
The overall structure creates a cinematic effect as the sun's path progresses throughout the day. At night, it forms 7,850 stars visible from both inside and out. Named the 'rain of light', this effect has been the subject of many models and mock-ups over the years and is one of the defining features of the concept.
Louvre Abu Dhabi's plaza view. Image © Mohamed Somji
"All climates like exceptions. Warmer when it is cold. Cooler in the tropics. People do not resist thermal shock well. Nor do works of art. Such elementary observations have influenced the Louvre Abu Dhabi. It wishes to create a welcoming world serenely combining light and shadow, reflection and calm. It wishes to belong to a country, to its history, to its geography without becoming a flat translation, the pleonasm that results in boredom and convention," explained Jean Nouvel regarding his design approach.
"It also aims at emphasizing the fascination generated by rare encounters. It is rather unusual to find a built archipelago in the sea. It is even more uncommon to see that it is protected by a parasol creating a rain of light," continued Nouvel.
View overlooking the sea. Image © Mohamed Somji
The dome is supported by only four permanent piers, each 110 metres apart. These are hidden within the museum buildings to give the impression that the dome is floating. The interior dome elevation is 29 metres from the ground floor to the underside of the cladding. The highest point of the dome is 40 metres above sea level and 36 metres above ground floor level.
The museum design is a collaboration between traditional design and modern construction techniques. The tranquil environment encourages visitors to enjoy the ever-changing relationship between the sun and the dome and between sea, buildings and land. The complex engineering concept made Louvre Abu Dhabi one of the most innovative and challenging museum projects to be built in recent times.
"The possibility of accessing the museum by boat or finding a pontoon to reach it by foot from the shore is equally extraordinary, before being welcomed like a much-awaited visitor willing to see unique collections, linger in tempting bookstores, or taste local teas, coffees and delicacies," he added.
"It is both a calm and complex place. A contrast amongst a series of museums that cultivate their differences and their authenticities. It is a project founded on a major symbol of Arab architecture: the dome. But here, with its evident shift from tradition, the dome is a modern proposal."
Louvre Abu Dhabi's exterior with skyline (night). Image © Mohamed Somji
The interior exhibition spaces, comprising museum galleries, temporary exhibition spaces and Children's Museum, make up 8,600 square metres. The museum galleries incorporate approximately 6,400 square metres and showcase approximately 600 artworks.
The two-stories-Children's Museum completes the ensemble with approximately 200 square metres specially laid out for Louvre Abu Dhabi's youngest visitors. Considering the flooding hazard of the land, the process of flooding the site was carried out in four carefully controlled stages and took approximately eight weeks to complete.
Top image: Louvre Abu Dhabi's areal view. Image via drone video
> via Louvre Abu Dhabi