MVRDV's new Bałtyk tower features endless pixelated windows that change form in every perspective
MVRDV has completed its first mixed-used tower in Poznań, Poland, where presents a long history, specifically with its modern heritage - the iconic Okrąglak (Rotunda) by Marek Leykam built in 1954.
Combining the old and new ingredients within a new framework, the Dutch studio created a tower that features endless pixelated windows shaped by different angels. The basic design approach was to create different viewing angles so that the building can be perceived as a unique form from every perspective.
Called Bałtyk, the linear building with the concrete is entirely composed of a glass-fronted façade and clearly exposed aggregate grain, which becomes a dominant mixture of "old" and "new" architecture in the context of the neighbouring historic building of Concordia Design and the Haven.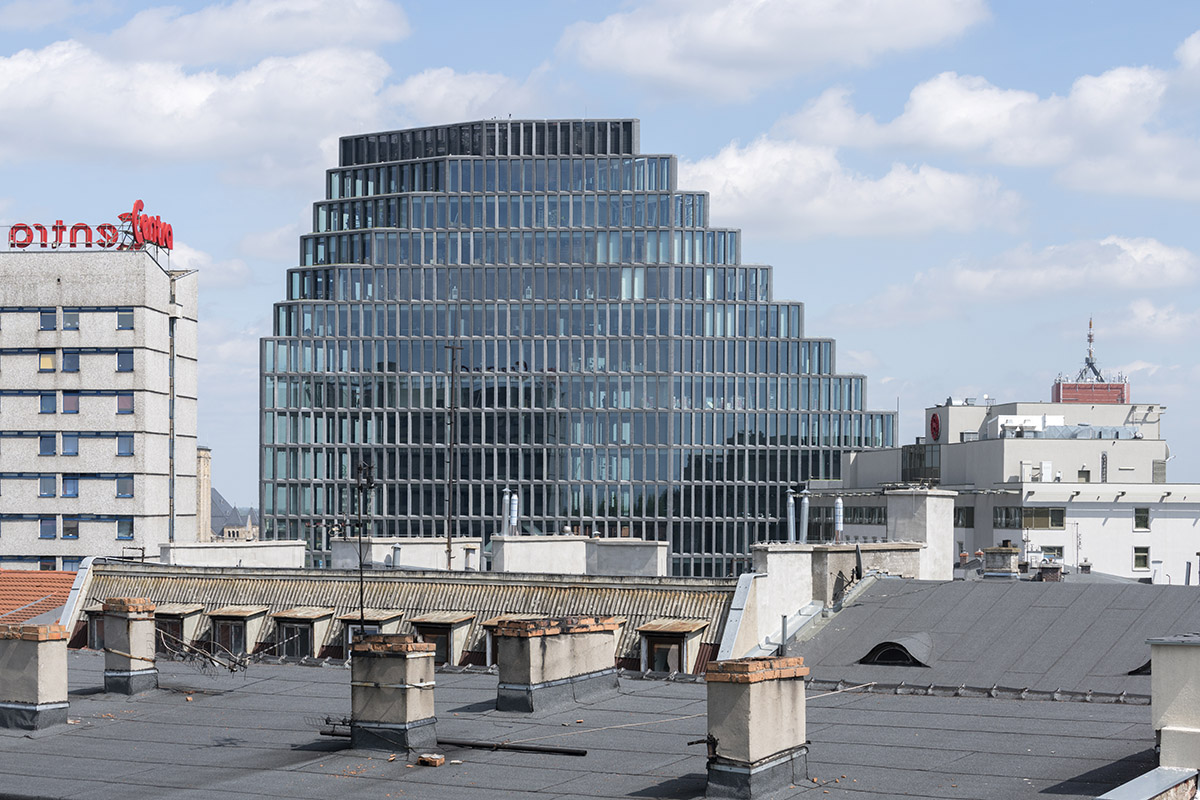 The Bałtyk reaches to 16 storeys with angled and irregular arrangement, and occupies a 25,000 square-metre space in total by dividing the program into 12,000 square-meters for office space, 750 square-meters for panorama restaurant with a one room hotel and 1350 square-meters for retail space in the plinth of the building and three levels of underground parking.
The tower provides a flexible office space that is limited to a depth of seven metres, allowing daylight to generously penetrate the workspaces. The Bałtyk tower serves as a multifunctional building with innovative interior solutions, and scenic terraces offering panoramic views all across the city.
In addition to its business-oriented functions, the building will house catering establishments, a fitness club, and an intimate jazz club on the 16th floor. Its closeness to the reopened Concordia Taste restaurant and Haven square is aimed to increase social functions that encourage meeting and integrating different communities.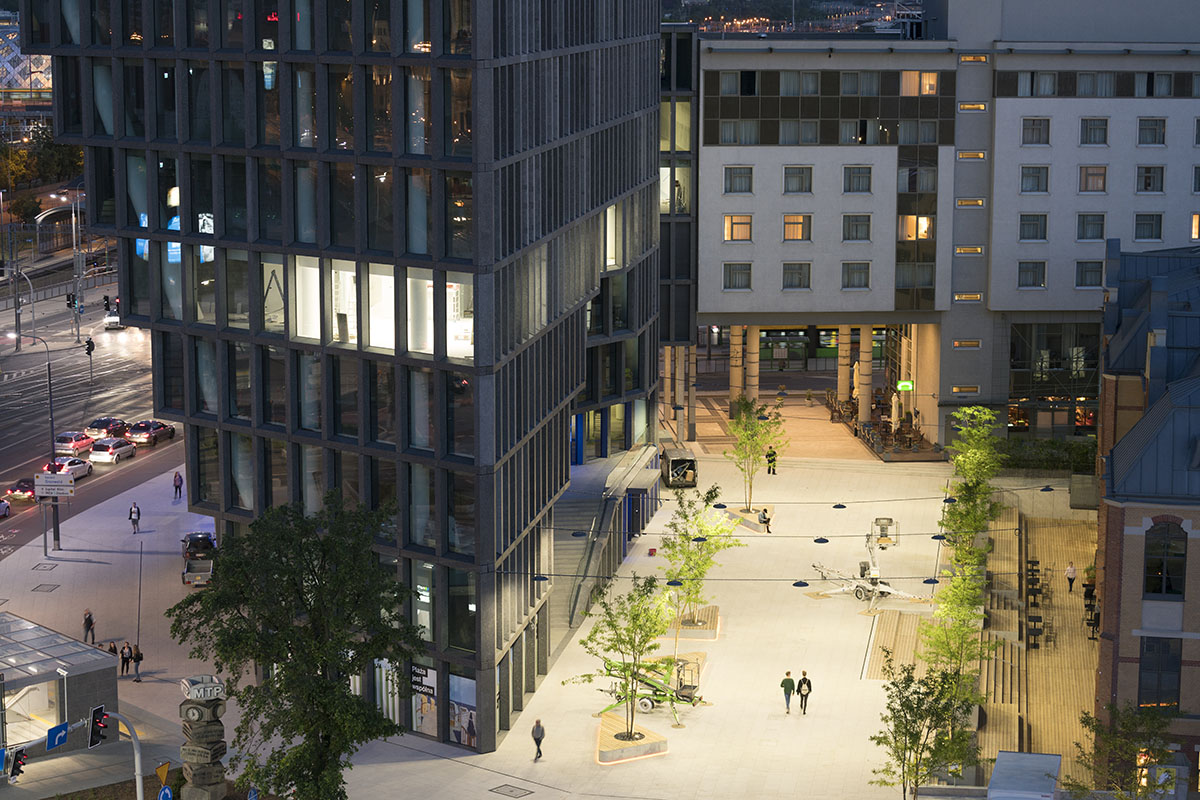 "When we came to Poznań for the first time, 'the goal was clear, we were to realise a representative office building with public functions on the first two layers and at the top. But also, offering the best possibilities of the site for users and everybody else around. We realised that if we could control the footprint of the building, we were able to create a new square between Baltic and Concordia," said Nathalie de Vries, MVRDV co-founder.
"We responded by turning diagonal shapes into terraces, usable by the office workers. A thin building that is very different from all four sides i.e. it is slim towards the top to create a more tower-like feeling but still respective of the neighbourhood height restrictions," added Nathalie de Vries.
MVRDV completely drew a different form by playing with angles to be perceived differently in the historical context. Needless to say that the tower is based on a "faceless" structural approach, which makes the building difficult to grasp from four facades. The tower illusionary creates a fifth facade because of its awry appearance.
"Towards the south, a slope of cascading patios offers outdoor spaces to the users of the building. The façade is floor-to-ceiling glass with vertical louvres of glass fibre concrete softening the impact of the sun without losing the vistas over the city and zoo," noted MVRDV.
MVRDV worked with local architects NO Natkaniec/Olechnicki Architekci on this project and the team responded to the client's request for more fluent connections between lower and upper levels - which connects the building to the neighbourhood and at the same time - is bold and significant with its depth in the volume.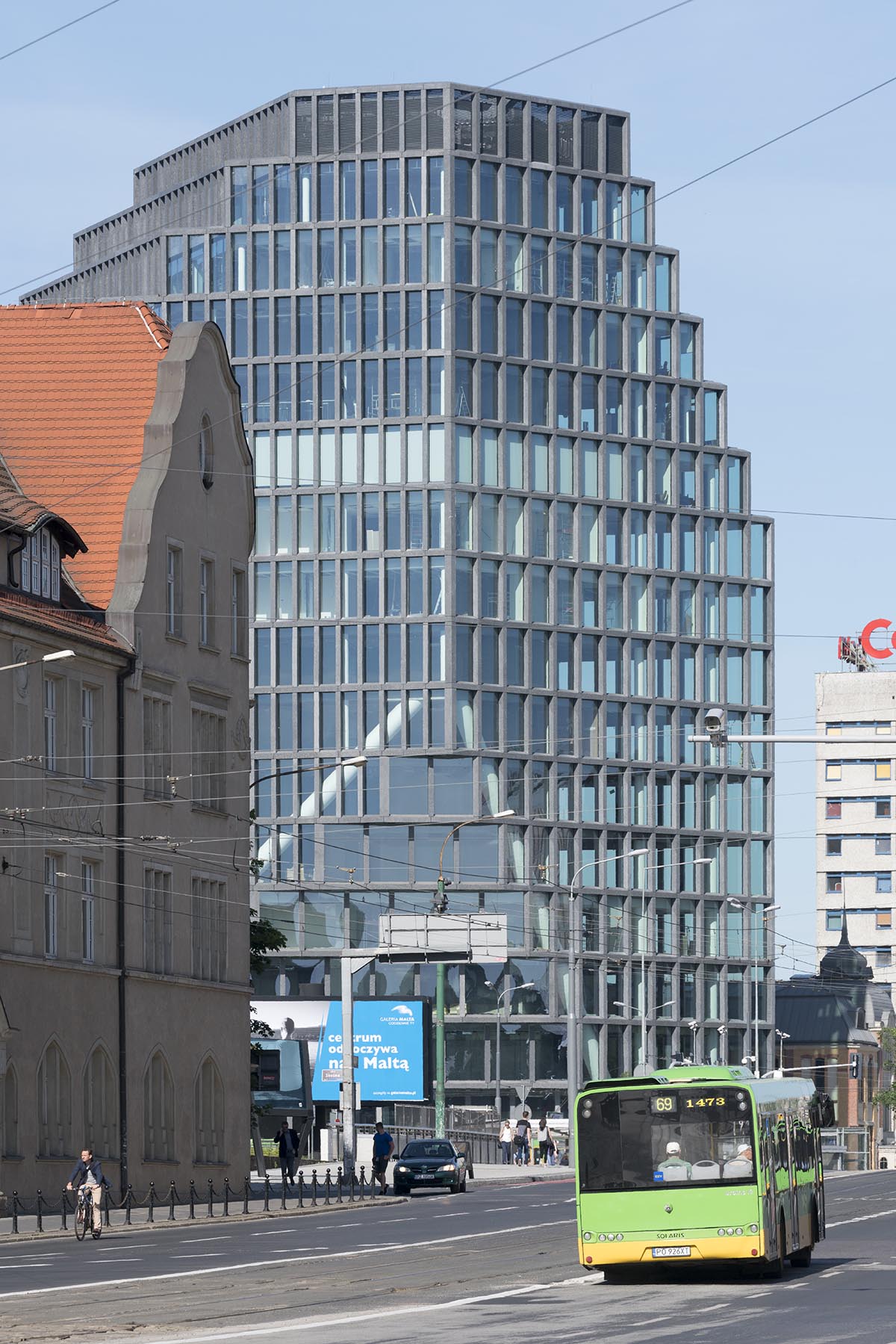 "Diagonal shapes are turned into terraces for users, and this thins out as it ascends allowing for less square meters of offices in return for more public space below," added the studio.
The Dutch studio created a building that is very difficult to perceive from all four sides. The studio stresses that the building responds to the historicity of the site located on what used to be the old Baltyk cinema, from which the project takes its name.
MVRDV recently completed Rotterdam's Groos Store with soft colours and fixtures and was opened to the public last week. On the other hand, MVRDV's newly-opened Seoul Skygarden broke a record with 1 million visitors since its opening on May 20, 2017.
Project facts
Project Name: Baltyk
Location: Poznan, Poland
Year: 2011 - 2017
Client: Garvest & Vox Group
Site and Program: 25,000 m2 mixed-use tower divided into 12,000m2 office space, 750m2 panorama restaurant with a one room hotel and 1350m2 retail in the plinth.
Budget: Undisclosed
Design team: Winy Maas, Jacob van Rijs and Nathalie de Vries with Fokke Moerel, Roy Sieljes, Anton Wubben, Jaap Baselmans, Doris Goldstein, Maciej Grelewicz, Brygida Zawadzka, Irena Nowacka
Co- architects: Natkaniec Olechnicki Architekci
Designers: Karol Olechnicki and Paweł Natkaniec
Cooperation: Anna Piętocha, Karol Zdanuczyk, Maciej Faber and Michał Zbytniewski
Façade: Akon S.C.
Designers: Olgierd Rutnicki and Katarzyna Starzecka
Cooperation: Michał Ejsmont, Joanna Hoffmann, Piotr Kasperski, Kamila Pierunek and Łukasz Woźniak
Mechanical: Termostudio S.C.
Designers: Nikodem Frąckowiak, Rafał Pawłowski, Marek Maciejewski, Bartosz Rurek, Marek Skrocki and Dawid Nowak
Greenery: Grupa Krajobrazowa
Designer: Monika Łucarz
All images © Ossip van Duivenbode
> via MVRDV