Michael Sorkin Studio and Terreform to open Metrophysics exhibition in the Atrium Gallery in New York
Michael Sorkin Studio and Terreform to open a new exhibition titled "Metrophysics" in the Atrium Gallery at the Bernard and Anna Spitzer School of Architecture on March 12, 2018. The exhibition will present in-depth overlook at cities and buildings in terms of their historical traces and new speculative efforts to push forward the projects beyond their territorial effects. The exhibition can be visited until May 04, 2018.
"Architecture lives as both object and aggregation: buildings and cities. If the pursuit of an environment that is sustainable, equitable, beautiful, and rich with difference is common at every scale, the valence of these values varies by situation. Metrophysics foregrounds projects rooted in the urban, including buildings and sites designed with both practical and polemical intent," said the team of Michael Sorkin Studio and Terreform.
Michael Sorkin Studio, Weed, Arizona, 1993. Drawing
"The work is from a team that operates as both a "traditional" architectural studio responding to clients, and as a research practice that formulates its own agenda of investigation and intervention. Discoveries are passed back and forth and what Terreform has learned over the years from New York City (Steady) State—an elaborate speculation meant to determine just how autonomous our city can become—informs "official" projects Sorkin Studio has undertaken in Wuhan, Xi'an, or Istanbul and vice versa."
"All, however, test the limits of physical design to serve and enlarge broader human and planetary needs and desires and to represent ideas about happiness," they added.
Terreform, Gowntown, 2016
Terreform, New York City (Steady) State: Home Grown, 2014. Image courtesy of Terreform
In 2005, Michael Sorkin Studio underwent a mitosis with the founding of Terreform. Given a long history of polemical and activist work in a variety of registers, including design, advocacy, and writing—there'd been a long simmering desire to find a form of practice that was more transparent with the non-commercial—even utopian—projects and ambitions that engaged us.
Not wanting to give up the prospect of "ordinary" building, however, we formalized the conceptual split into a "straight" architectural practice and an organization doing research, unsolicited interventions, publishing, and propositions.
Michael Sorkin Studio, A New Capital City, 2017, Xiongan, China
The studio works in a single spirit with a focus on questions of city, on its morphology, systems of equity, and metabolic behavior. Each side serves as the lab for the other but we're all on the same page: the iron fiscal curtain between the two entities is a membrane that's completely porous to ideas.
Image courtesy of UR (Urban Research)
The imprint of Terreform, Urban Research is a book series devoted to cities and their futures. Understanding that no single approach is adequate to the promise and problems of the urban, we publish a wide range of designs and analyses. Terreform currently published its new book titled "Downward Spiral: El Helicoide's Descent from Mall to Prison", delving into an unmisseable history of Venezuela's symbolic and powerful architecture, El Helicoide, which is currently being occupied as "prison cells", "tortured chambers" by the state.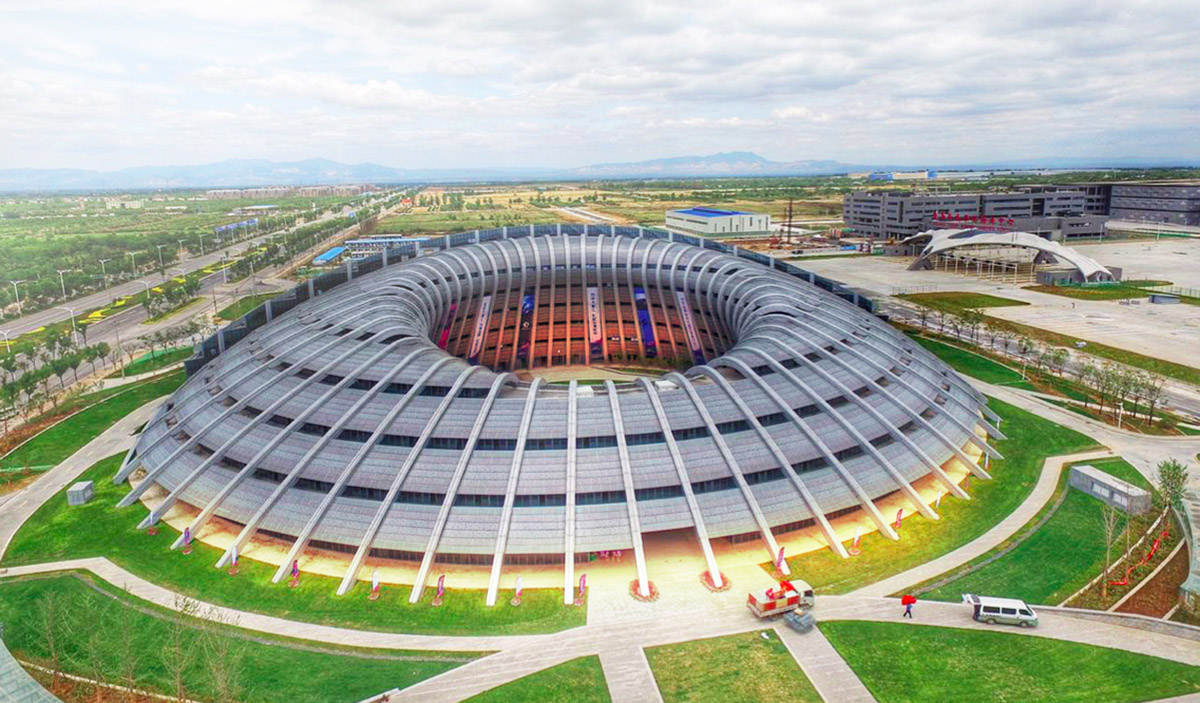 Michael Sorkin Studio, Xi'an Airport Service Center (UFO), 2012–2016, Xi'an, China. Image © Ninghai Qun
Michael Sorkin, a Honorary Member of World Architecture Community and a Distinguished Professor of Architecture and the Director of the Graduate Program in Urban Design at Bernard and Anne Spitzer School of Architecture at The City College of New York.
All images courtesy of Terreform