The "Bilbao effect": 20 Canadian galleries and museums empowered by architecture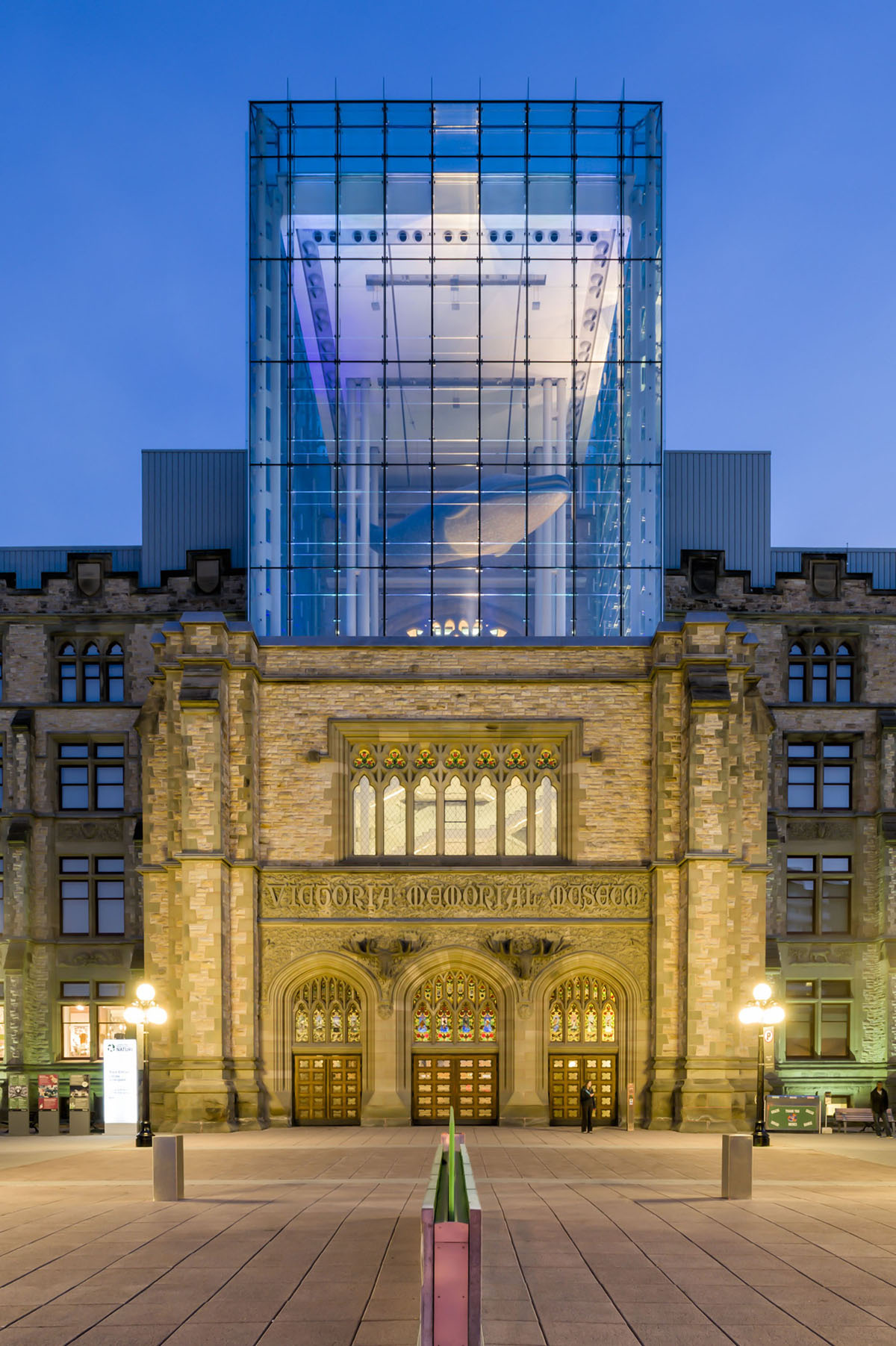 When The New York Times included Saskatoon (the largest city in Saskatchewan, with almost 300,000 residents) among its top travel destinations for 2018, many Canadians were surprised it was the only town in the nation to make the list. One of the primary reasons, not surprisingly, is the city's recently opened Remai Modern, an art gallery designed by Bruce Kuwabara of KPMB Architects, with Architecture49 as architect of record.
Image © Adrien Williams/Remai Modern
Image © Adrien Williams/Remai Modern
Named one of Wallpaper's "top buildings that shaped culture in 2017," the four-storey museum is not only a goldmine of art (with more than 400 Picasso linocuts among its 8,000 works), but the Remai also has won design accolades, including an Award of Excellence from Canadian Architect magazine. The exterior features perforated metal meshwork inspired by the nearby 1930s Bessborough Hotel, an architectural landmark built by the Canadian National Railway.
Image © Adrien Williams/Remai Modern
This is only one of many museums and galleries in Canada to attract international attention and awards. Located in Whistler, B.C. – well-known for its world-class ski runs – the $30-million Audain Art Museum (opened in early 2016) won a 2018 Institute Honor Award for Architecture from the American Institute of Architects.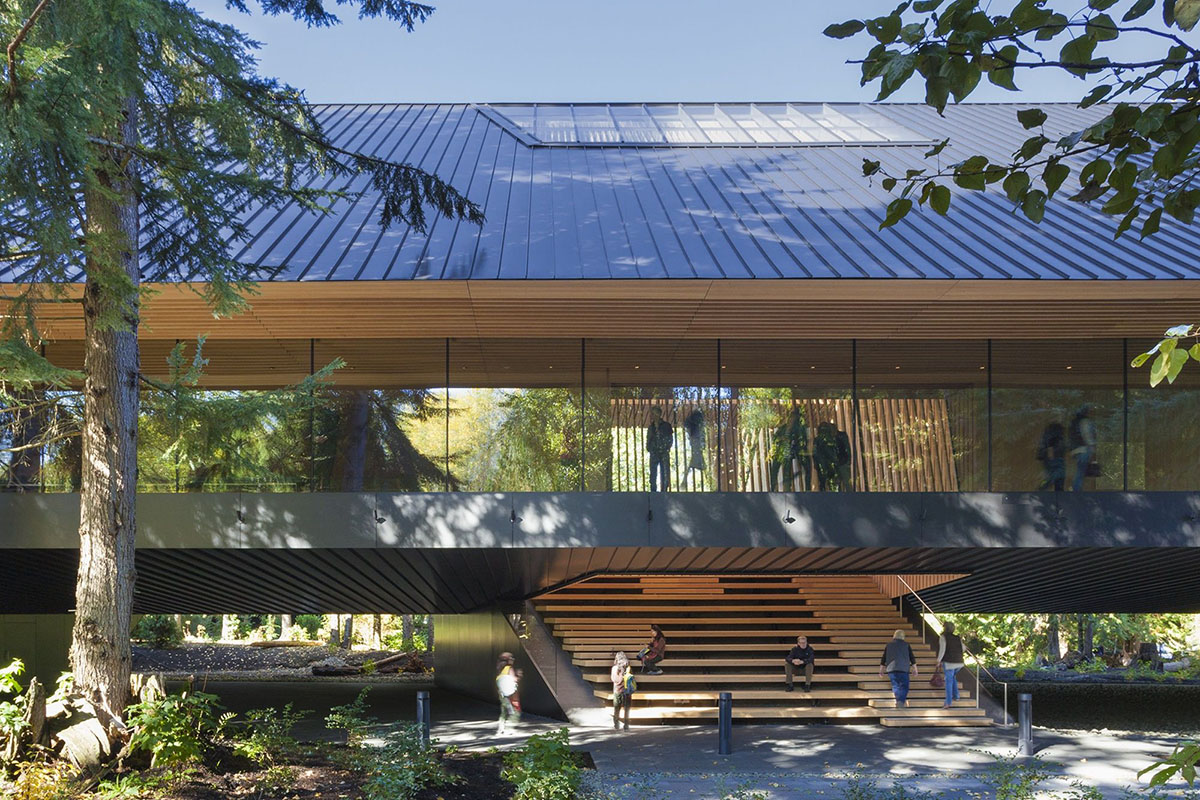 Image © James Dow/Patkau Architects
Designed by Vancouver-based (and multi-award winning) Patkau Architects, the Audain Art Museum primarily features works relevant to the history of British Columbia, including a significant collection of First Nations masks and paintings by Emily Carr. But while the collection is unique, the building itself has attracted a heightened interest in the gallery.
Image © James Dow/Patkau Architects
Both the Remai and Audain museums are named for the philanthropists who made them possible: Ellen Remai, whose foundation has committed more than $100 million to both construction and operating expenses, and Michael Audain, a Vancouver-based builder who funded the Whistler gallery to share his personal art collection with the public.
Image © James Dow/Patkau Architects
But even with award-winning designs, internationally acclaimed architects, and substantial private donations, some critics question the logic of expensive architecture, especially when taxpayer dollars are involved. In a nation whose population is smaller than California's, federal and provincial spending is often heavily scrutinised, and funding is limited. Plus, construction delays, cost overruns, high operating fees, and poor attendance (especially in smaller towns) are common challenges.
When it opened in 2014, Winnipeg's $350-million Canadian Museum for Human Rights – designed by acclaimed American architect Antoine Predock – was both criticized and celebrated, much like Frank Gehry's Guggenheim, which despite the derision of many locals quickly defined the rebirth of Bilbao, Spain; hence, the "Bilbao effect" became a common term for architecture's power to regenerate the local economy, and a city's overall reputation – but at what cost, Canadians often ask.
Image © Aaron Cohen/Canadian Museum for Human Rights
Another project that continues to inspire debate is Daniel Libeskind's controversial "Crystal" addition for Toronto's Royal Ontario Museum (ROM), which underwent a $415-million expansion. With the renovation's 10th anniversary last year, the Toronto Star ran an article entitled "Toronto still can't decide if it likes the ROM Crystal," with an online poll that (as of this article) shows the "hate" votes outweighing "love." Regardless, the ROM is the most visited cultural institution in Canada, with a record-breaking 1.35 million visitors in its 2016/2017 fiscal year.
Image © Studio Daniel Libeskind
The past decade has seen numerous other high-profile Canadian gallery and museum projects, most of which have been celebrated rather than hated. Ottawa's Canadian Museum of Nature (the nation's oldest national museum) completed an eight-year, $250-million renovation in 2010 by PKG Joint Venture Architects, led by Bruce Kuwabara of KPMB and Ottawa-based Barry Padolsky, who specializes in heritage restorations. Seismic and structural upgrades, along with the "Lantern Tower" addition, completely rejuvenated the original Tudor-Gothic Revival "castle," which was built in 1912 by David Ewart (chief government architect from 1896 to 1914), with the help of 300 stonemasons from Scotland.
Image © KPMB/Canadian Museum of Nature
A few years earlier, KPMB Architects also completed a considerably less costly, but still dramatic, renovation and expansion of Toronto's Gardiner Museum, which houses a collection of ceramic art and hosts many community events.With a budget of less than $10 million, the original structure – built in 1984 by architect Keith Wagland – was modernized with a buffed limestone façade, while a third storey was added and the interior spaces were demolished and reconfigured.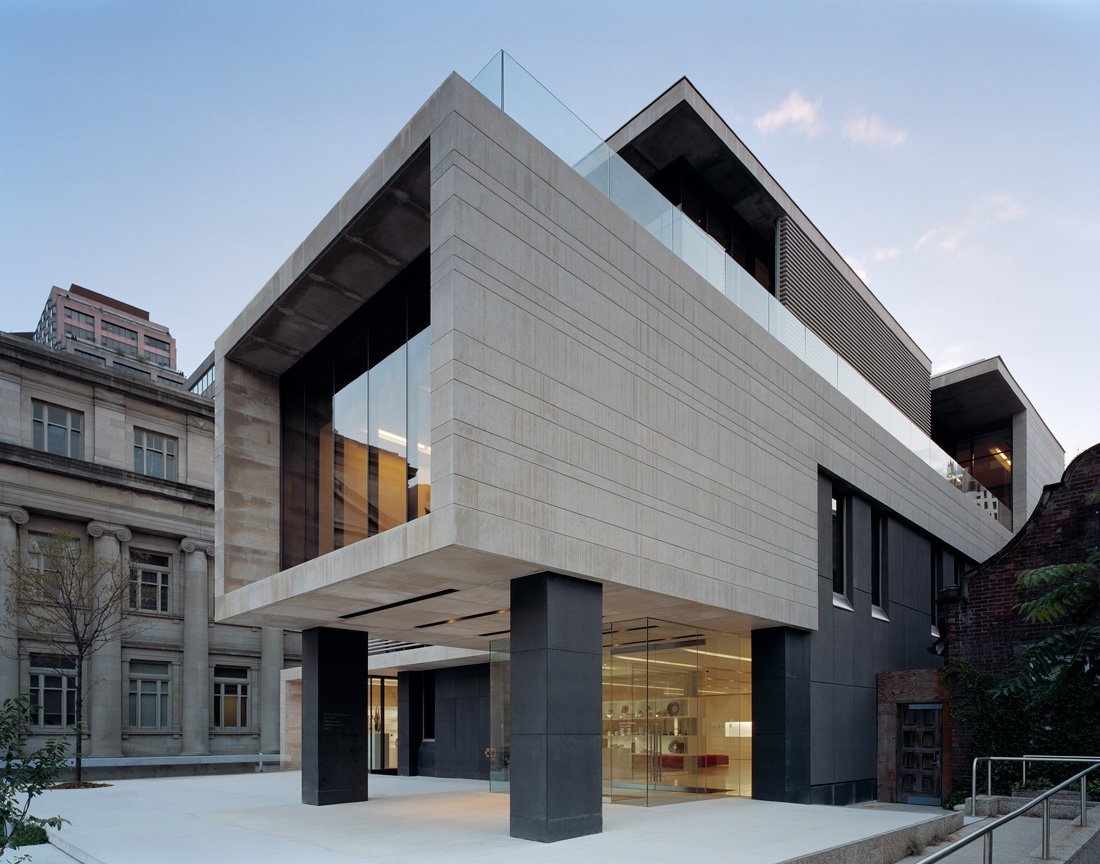 Image © Eduard Huebert/Gardiner Museum
Other art gallery renovations instantly became historic landmarks for their cities: Frank Gehry's $276-million "facelift" for Toronto's Art Gallery of Ontario (his first building in Canada and a personal project, since the renowned architect was raised in the city and visited the gallery often as a child) and his former associate Randall Stout Architect's Gehry-esque $88-million transformation of the Art Gallery of Alberta (in Edmonton) renewed interest in these cultural institutions, and in the cities themselves. In its first six weeks after reopening in 2010, the Art Gallery of Alberta recorded over 30,000 visitors, and more than doubled its memberships; but despite varying peaks in attendance and consistent popularity, both museums have struggled to maintain visitor increases.
Images: AGO (left), Art Gallery of Alberta © IQRemix (right)
While the above are a few of the best-known projects, there are many others throughout Canada, both recently opened and under development. Since its completion in 2014, the Philip J. Currie Dinosaur Museum in Wembley, Alberta (a small town with less than 2,000 residents), has been struggling to reach its visitor targets. Designed by Teeple Architects, an award-winning firm based in Toronto, the museum exhibits fossils from one of the world's most significant dinosaur bone beds, with specimens more than 70 million years old.
Image © Teeple Architects/Philip J. Currie Dinosaur Museum
Also in 2014, opening to critical acclaim, was another project headed by Patkau Architects, with Kearns Mancini Architects. The Fort York Visitor Centre in Toronto marks the spot where a naval base was established in 1793 (before generations of landfill moved the shoreline), and where the War of 1812 saw fighting and fatalities when the Americans unsuccessfully invaded. In 1934, Fort York was declared a National Historic Site, and several barracks were restored for public viewing.
Image © Tom Arban/Patkau Architects + Kearns Mancini
The $25-million Visitor Centre is embedded into the side of a hill, while dramatically faced on its south end (the main entrance) by upright weathering steel panels, in deliberate contrast against the nearby columns that support an elevated freeway almost directly above the museum. Inside, exhibits and artifacts include a multimedia "time tunnel" of the Fort's history – a military outpost that became the city Toronto.
The same year saw the debut of Toronto's white granite-encased Aga Khan Museum – which houses Islamic art and artifacts from throughout the world – designed by Pritzker laureate Fumihiko Maki, with Toronto firm Moriyama & Teshima as the architect of record; the upcoming Pritzker Prize will be awarded to Balkrishna Doshi at this location in May. A hexagonal motif, signifying heaven, figures prominently throughout the airy, light-filled interior.
Image © John Oyston
In 2016, the $25-million Montreal Museum of Fine Arts – the city's largest museum – opened its fifth pavilion, the Michal and Renata Hornstein Pavilion for Peace, designed by Atelier TAG in consortium with Jodoin Lamarre Pratte architectes. The recently deceased Hornstein couple – philanthropists, Holocaust survivors, and Montreal residents – donated 750 artworks, including 100 Old Master paintings, in addition to financial support for the project, which won an Award of Excellence from Canadian Architect.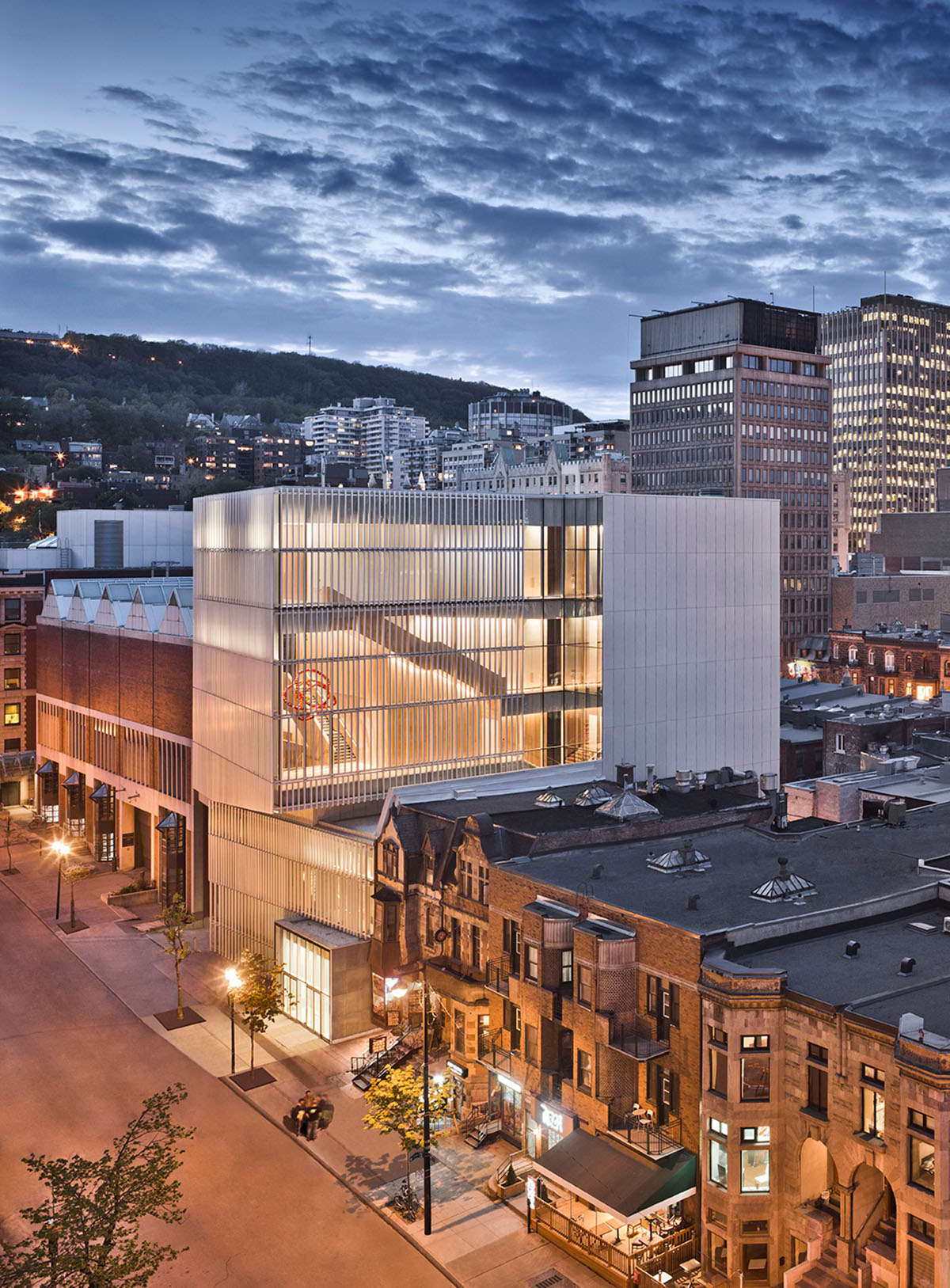 Image © Marc Cramer
Last November, after a three-year closure, one of the most innovative galleries in the country reopened: the Canada Science and Technology Museum in Ottawa, renovated by the Arcop Group and Provencher Roy + Associés, features a white "projectable" entryway facade – plus one of the country's largest LED screens – and, inside, a high-tech performance stage that facilitates online broadcasting. During the $80-million project, sections of the original structure were left intact, including a steam locomotive exhibit which was too difficult to move; it now incorporates a virtual reality simulation that recreates the experience of driving a train. A $156-million storage building is still under construction next door to house the museum's extensive collection, which is too large to display.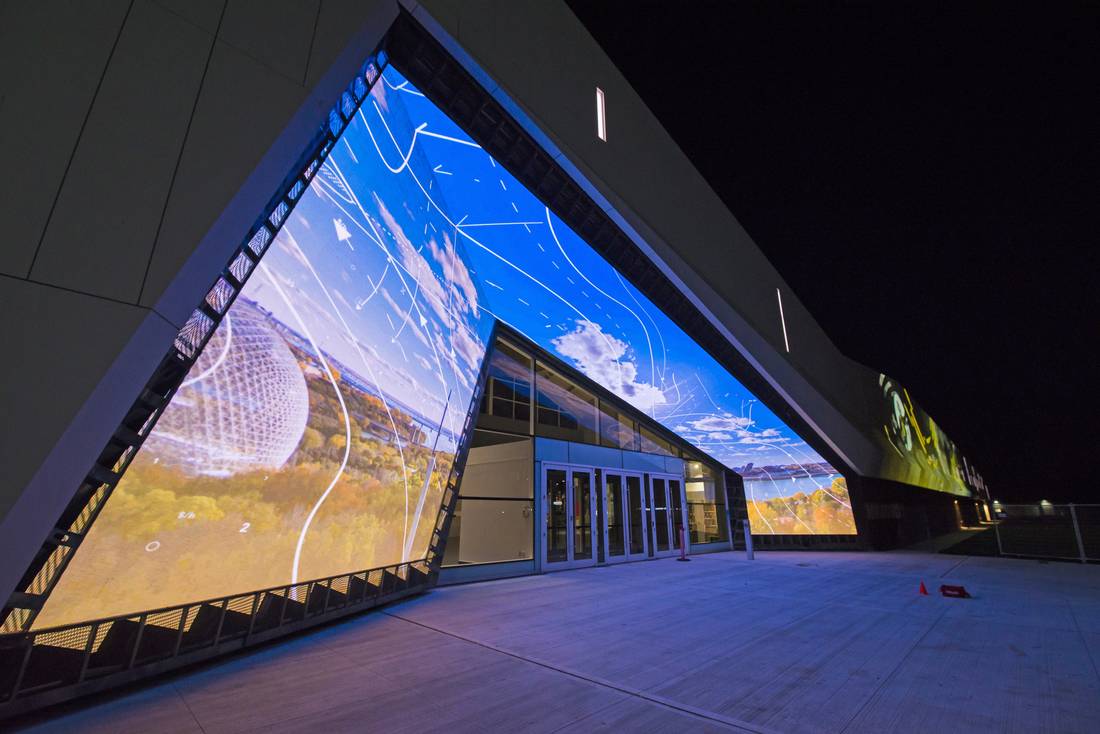 Image © Pierre Martin/Ingenium
In late 2017, another innovative structure by Patkau Architects was completed: the $18-million Polygon Gallery, the largest independent non-profit photography gallery in Canada (but a relatively small facility at only 23,000 square feet). A $4-million donation from the Audain Foundation launched the project. Situated on the waterfront of North Vancouver, with a full view of the Vancouver skyline, the interior takes full advantage of the spectacular setting. The exterior is clad with large "crumpled" stainless steel shingles that mimic the reflective qualities of water.
Image © Patkau Architects
And yet another waterfront art gallery by Patkau is in the pre-construction funding phase; the goal is to open the new $33-million Thunder Bay Art Gallery (in northwestern Ontario) by 2021.
This year, three more important galleries will open to the public. In the nation's capital, the expanded five-storey Ottawa Art Gallery is scheduled to reopen on April 28 after a $39-million renovation which tripled its space, as part of a $100-million project that also includes a boutique hotel and condominium building. The initial design was another collaboration between KPMB Architects and Barry Padolsky, with architectural firm Régis Côté et associés.
Image © KPMB
In Toronto, the Museum of Contemporary Art (MOCA) – described by Architectural Digest as one of the "most noteworthy museums opening this year" – reopens this May. It will occupy the lower floors of a 10-storey, century-old industrial building – a local landmark and the tallest structure in the urban area – renovated by local architect and "condo king" Peter Clewes. The MOCA is also expanding to include a purpose-built location across the street, expected to be completed by 2020; the project is part of an eight-acre parcel under redevelopment to include condominiums, mixed-use buildings, affordable housing, parks, and bike paths.
Images © Arash Moallemi (interior)/MOCA
One of the most significant recent projects is also due to open in the next few months in downtown Edmonton: the all-new, $375-million Royal Alberta Museum, designed by Ledcor, DIALOG + Lundholm Associates. Now the largest museum in western Canada, with 2.4 million artifacts, its debut has been delayed due to the huge task of moving the collection into its new home.

Other projects a few years from completion include a $10-million addition to the Royal BC Museum in Victoria, designed by John McAslan + Partners. The expansion will create exhibit space for 1,100 works by Emily Carr that are currently in storage. Further redevelopment is planned over the next 25 years.
Image © John McAslan + Partners
In the same city – B.C.'s capital and a popular West Coast tourist destination – the Art Gallery of Greater Victoria recently received a $2-million donation from the Audain Foundation towards a planned $21-million expansion. The project has been on hold for several years pending provincial funding; the B.C.-based architectural team (Lang Wilson Practice in Architecture Culture + Moore Architecture, which is now Studio 531) was chosen in 2014 after an international request for proposals.
Image © LWPAC
With an expected completion date in 2020, the $35-million Canadian Canoe Museum – a collaboration by Heneghan Peng Architects and Kearns Mancini Architects – promises to put Peterborough, Ontario, on the international map; the project has already won an Award of Merit from the RAIC. The one-storey building features a two-acre green roof and geothermal heating/cooling; the museum is also next to the Trent-Severn Waterway (connecting Lake Ontario to Lake Huron) and the highest hydraulic lift-lock in the world, a National Historic Site that originally opened in 1904.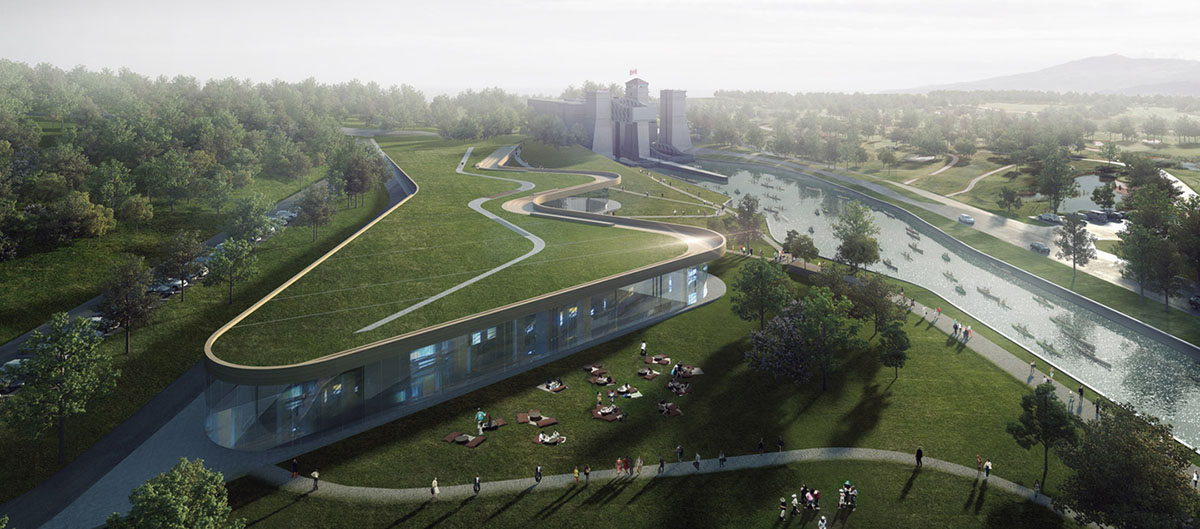 Image © Kearns Mancini Architects
> via Aga Khan Museum, Arcop Group, Art Gallery of Alberta, Art Gallery of Greater Victoria, Art Gallery of Ontario, Atelier TAG, Audain Art Museum, Canada Science and Technology Museum, Canadian Canoe Museum, Canadian Museum for Human Rights, Canadian Museum of Nature, DIALOG, Fort York Visitor Centre, Gardiner Museum, Heneghan Peng Architects, Ingenium, Jodoin Lamarre Pratte architectes, John McAslan + Partners, Ledcor, LWPAC, Kearns Mancini Architects, KPMB Architects, MOCA, Montreal Museum of Fine Arts, Ottawa Art Gallery, Patkau Architects, Philip J. Currie Dinosaur Museum, Remai Modern, Royal Alberta Museum, Royal BC Museum, Royal Ontario Museum, Studio 531, Studio Daniel Libeskind, Teeple Architects