Melike Altınışık Architects unveils eco-friendly holiday resort with undulating timber roofs
Melike Altınışık Architects - MAA has unveiled design for a new, eco-friendly micro-home holiday resort, featuring organically-shaped, undulating timber roofs for Sapanca, Türkiye.
Called COA Hills, the 1,200-square-metre resort complex, located in Balkaya Village of Sapanca, is set to be built as "a unique architectural project that promotes health, nature, and eco-conscious living."
MAA's design scheme consists of 26 micro-homes, each of which will occupy between 25-50-square-metre living area. The resort complex, made of natural and renewable materials, the homes will predominantly be built by using timber material which can be re-introduced into natural cycle.
COA Hills is currently under construction at site and is expected to be completed in the third quarter of 2024.
"The resort's sustainable architectural vision is expected to inspire a new vitality in the region and serve as a healing place where the soul finds its release," said Melike Altınışık Architects in its project description.
"These micro-homes are situated on a sloped landscape that is surrounded by natural treasures such as forests, and they offer breathtaking scenery of Sapanca Lake."
"Nature has the power to recharge, rejuvenate, and connect people with the natural world around them. COA Hills recognizes this and provides an escape from the demands of everyday life," the studio explained.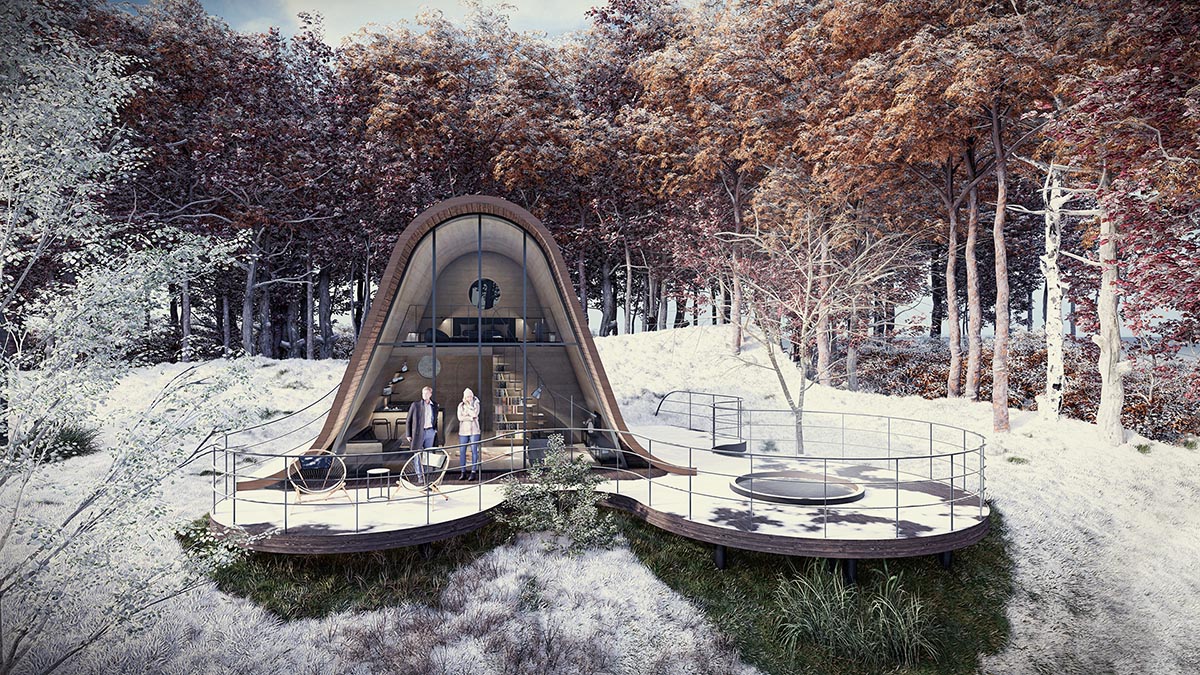 According to MAA, being directly in nature "has numerous health benefits, including reducing stress, lowering blood pressure, improving mood and cognitive function, and boosting the immune system."
Derived from natural principles, COA Hills is planned to "become a place of inspiration where nature and design find collaboration." The resort is described as "a place to stay with the natural materials that surround," while giving the feeling of timber shaped in organic and smooth surfaces. The holiday homes will create a timeless comfort and offer a true escape, where joy and peace bound.
Timber will be the main material to be used in each micro-home. While each micro-home is typically designed to be compact, each home will be equipped with necessary amenities complementing comfortable living.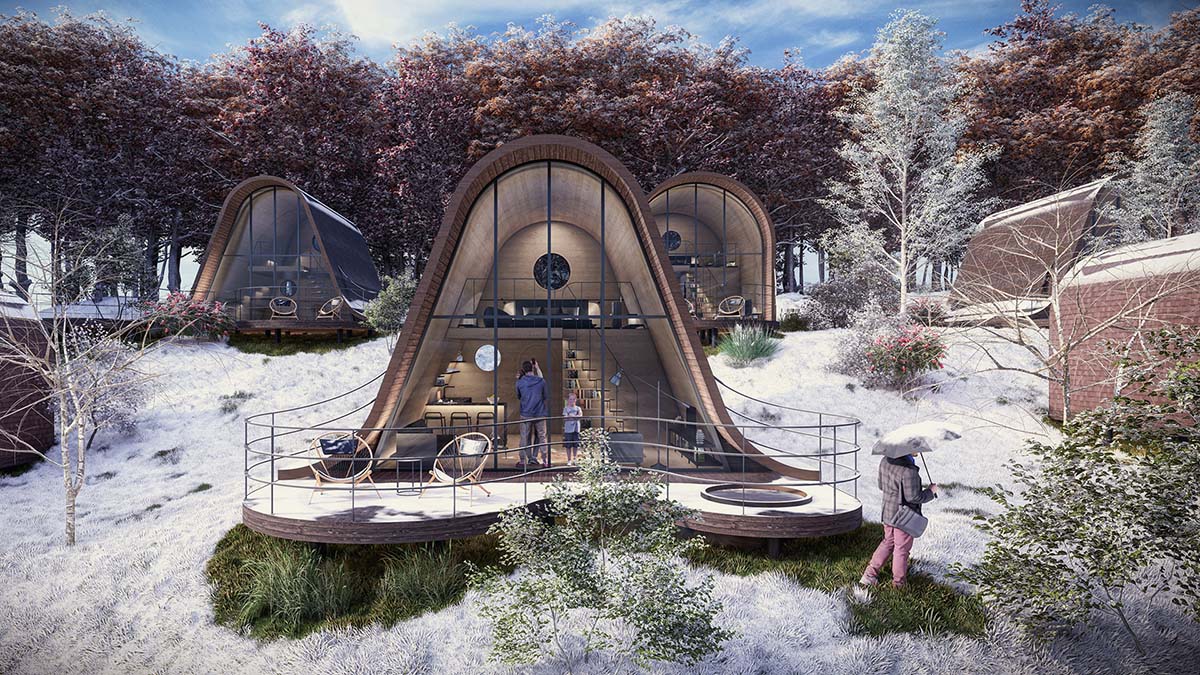 Each home will be built from sustainably-sourced timber to deliver a smaller footprint and energy-efficient homes.
"Timber is a renewable and environmentally friendly building material that has a significantly lower carbon footprint than traditional building materials such as concrete or steel," the studio added.
"The use of timber materials allows for efficient insulation, which helps to keep the homes cool in the summer and warm in the winter."
Besides its living spaces, the resort will offer several facilities, such as an organic farming area where guests will be able to learn about sustainable agriculture.
Another feature will be an on-site restaurant that can serve cooked-to-order delicious and healthy meals made from fresh, locally sourced ingredients.
The resort will also host workshops and classes, covering a range of topics, including cooking, organic farming, and sustainable living.
Outdoor facilities are enriched with a gathering amphitheater surrounded by natural beauty, providing a stunning view of Sapanca Lake and the surrounding forest.
"This amphitheater provides a space for guests to connect with nature, relax, and socialize with other guests," MAA continued. Other outdoor facilities include hiking and cycling trails and fishing on the lake.
"COA Hills offers a sustainable holiday experience that promotes eco-conscious living while providing guests with an opportunity to reconnect with nature and themselves," MAA added.
Through the resort's natural aesthetic and the integration of sustainable building materials, and range of facilities, MAA expects the resort become "an attractive destination for those seeking an architectural design that blends in well with the surrounding environment."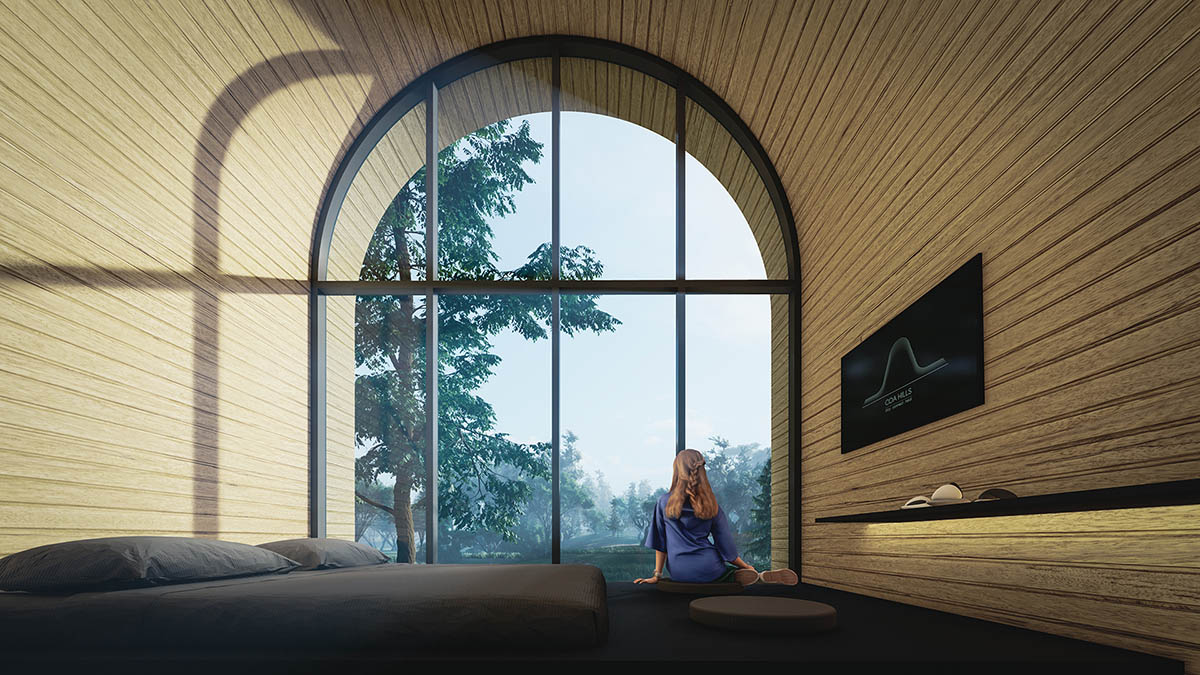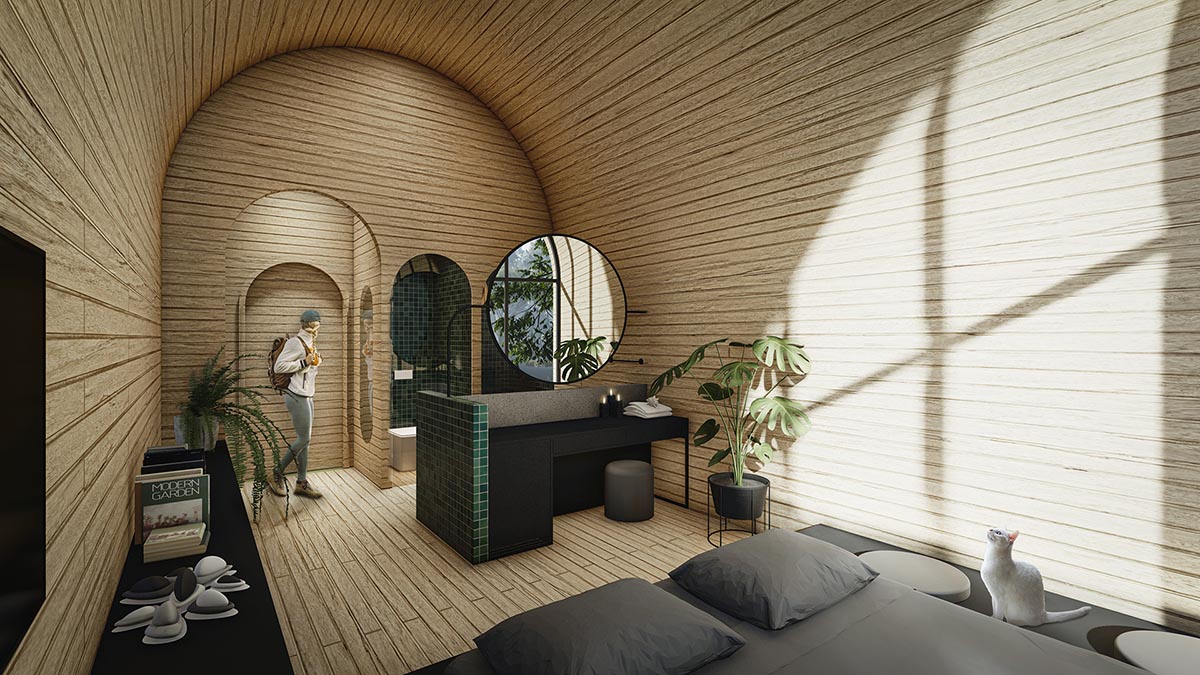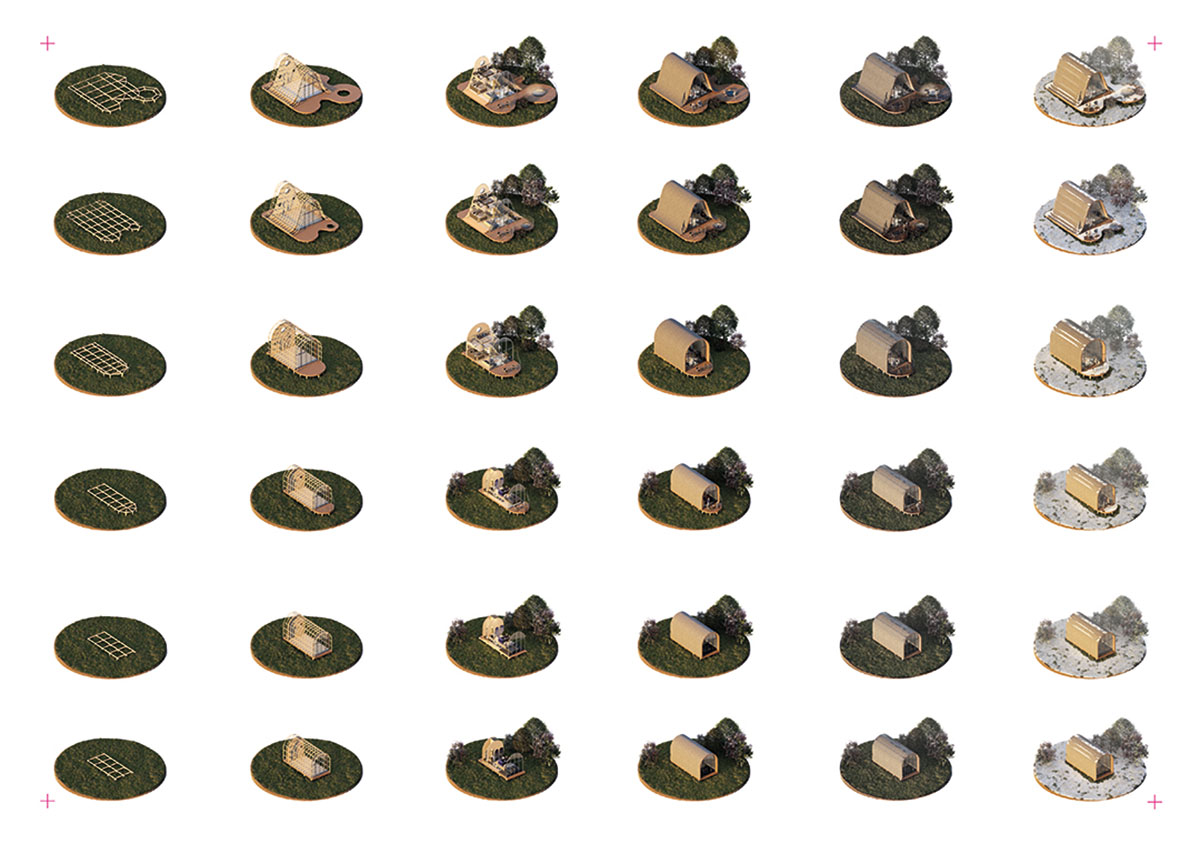 All Modules Matrix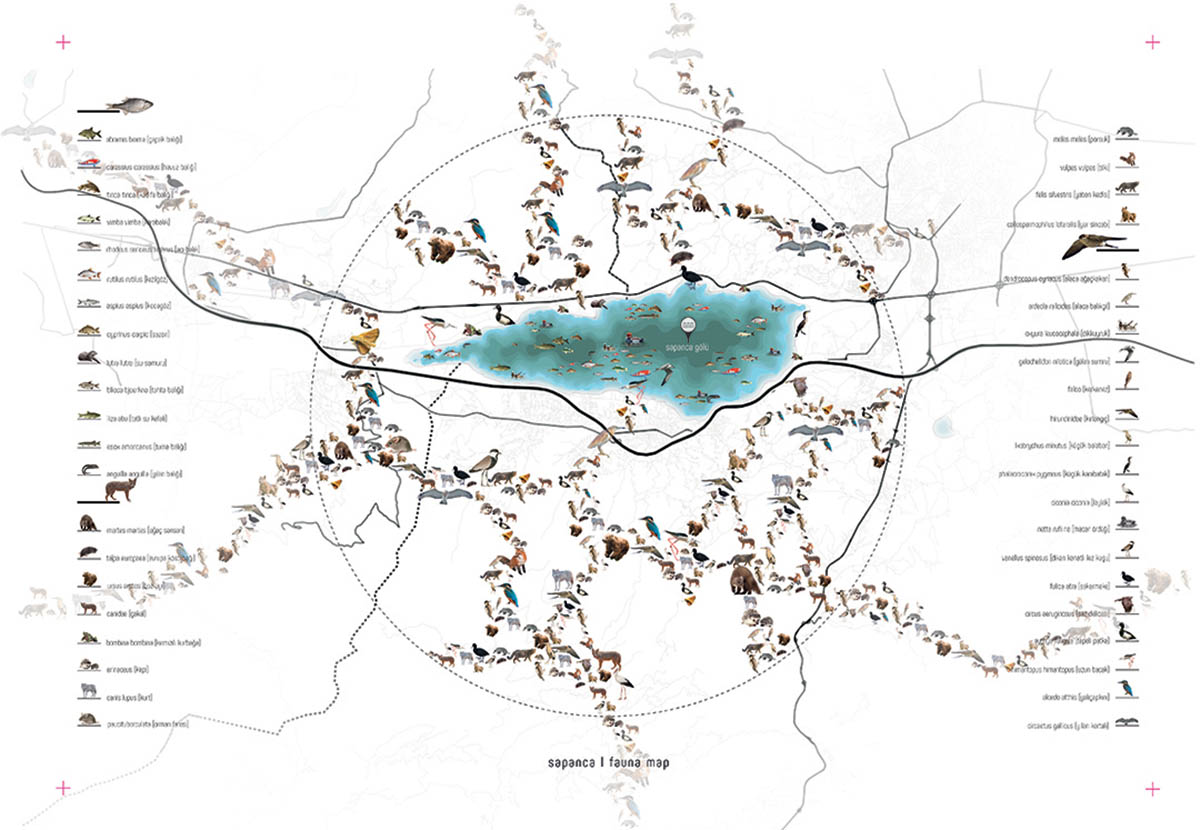 Sapanca, Faunamap
Sapanca, Floramap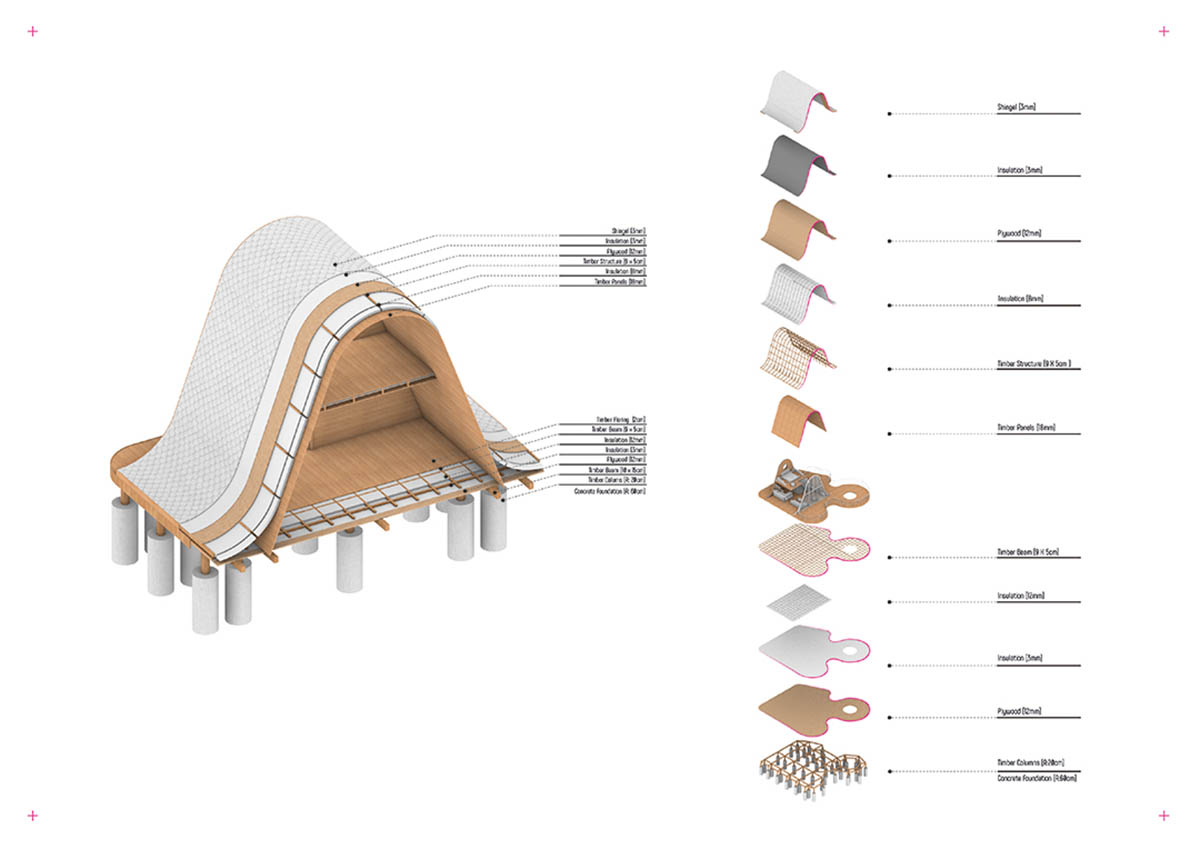 Detailed Section
Snowy model
Floor plan - level 1
Floor plan - Mezzanine
Floor plan - level 1
Section AA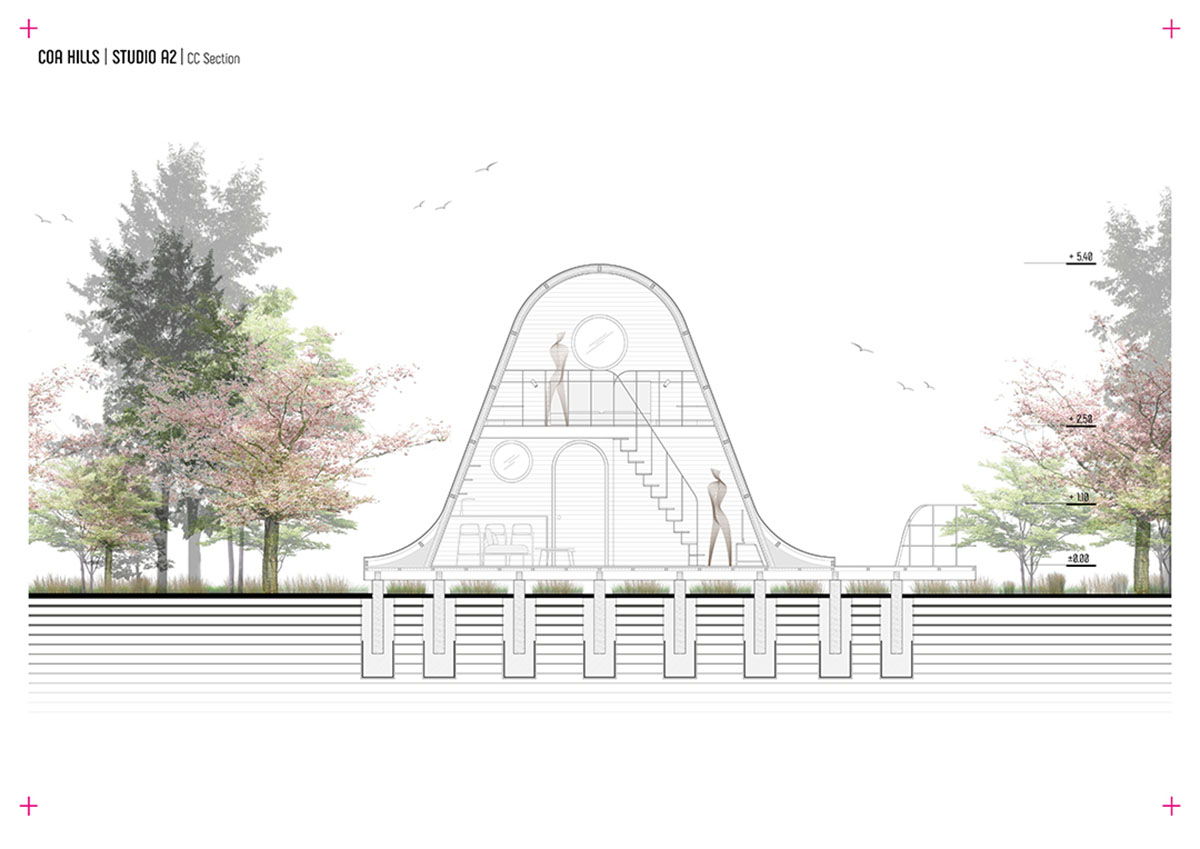 Section CC
Section AA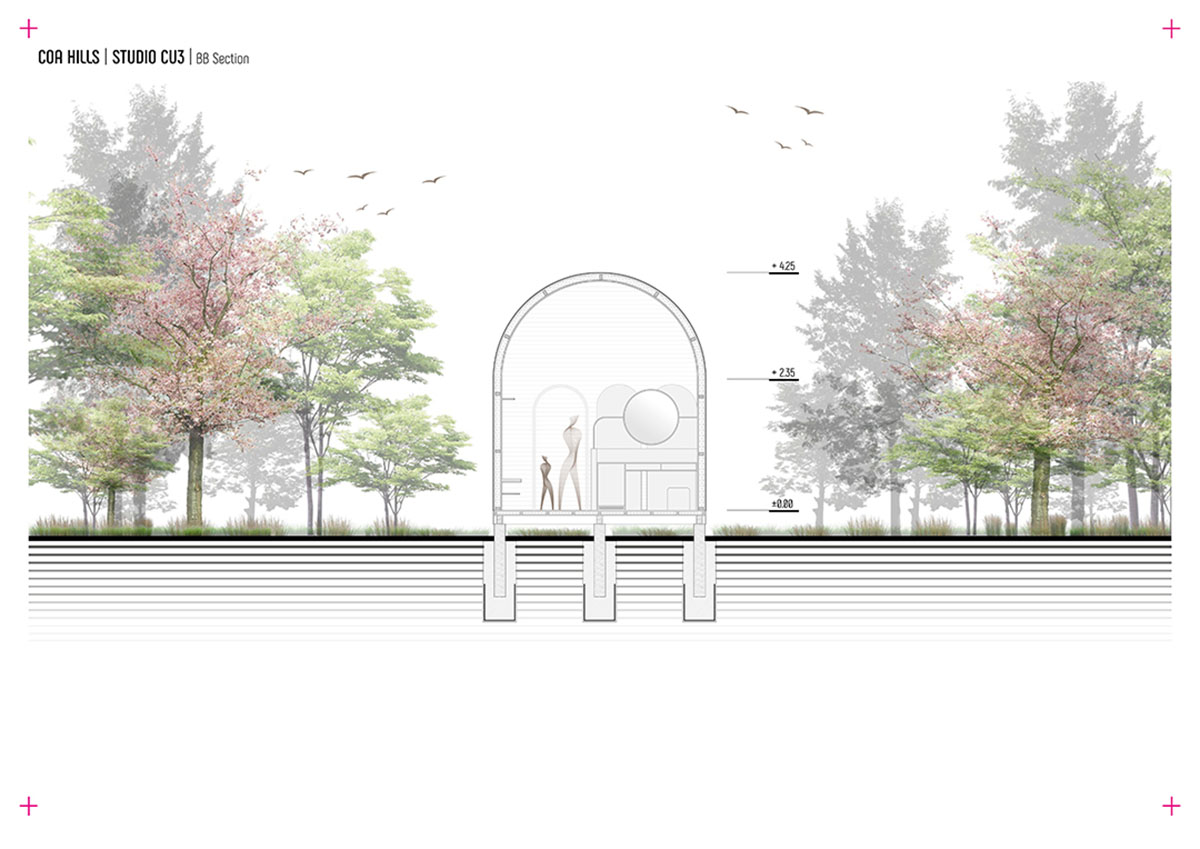 Section BB
MAA recently revealed design for TPAO Headquarters, resembling "an open eye" stuck between two fluid volumes between land and sea in Zonguldak. MAA is also working on the world's first pioneer Robot Science Museum in Seoul.
Project facts
Project: COA Hills
Architect: Melike Altınışık Architects
Design: Melike Altınışık
Client: COA – City of Angels
Location: Sapanca, Turkey
Function: Micro Living Resort
Date: 2022- 2024
Status: Commission, Underconstruction
Size: 1,200 m2
MAA Project Director: Ayça Yontarım
MAA Project Team: Sümeyye Uçar, Batuhan Güllü, Atakan Gündüz
MAA Project Team (Concept Stage): Adham Mashaal, Ahmet Can Karakadılar, Elifcan Merden, Ömer Faruk Seçim
MAA Architectural Assistants: Gülnur Aktaş, Bahadır Altın, Seren Esen, Sinem Nida Arslan, Umay Phildius
MAA Design Development Specialist: Melih Altınışık
Multimedia & Visualisation
MAA Creative Media Team: Aykut Dağ, Atakan Gündüz, Elifcan Merden
MAA Media Assistant Team: Buse Yağcı, Tuğba Acar, Anya Ghosh
Engineers & Consultants
Structural Engineer: Arif Altınışık
Landscape Architect: Nursen Gümüşsoy
All images & drawings © MAA.
> via MAA