Mount Sinai Kyabirwa Surgical Facility by Kliment Halsband Architects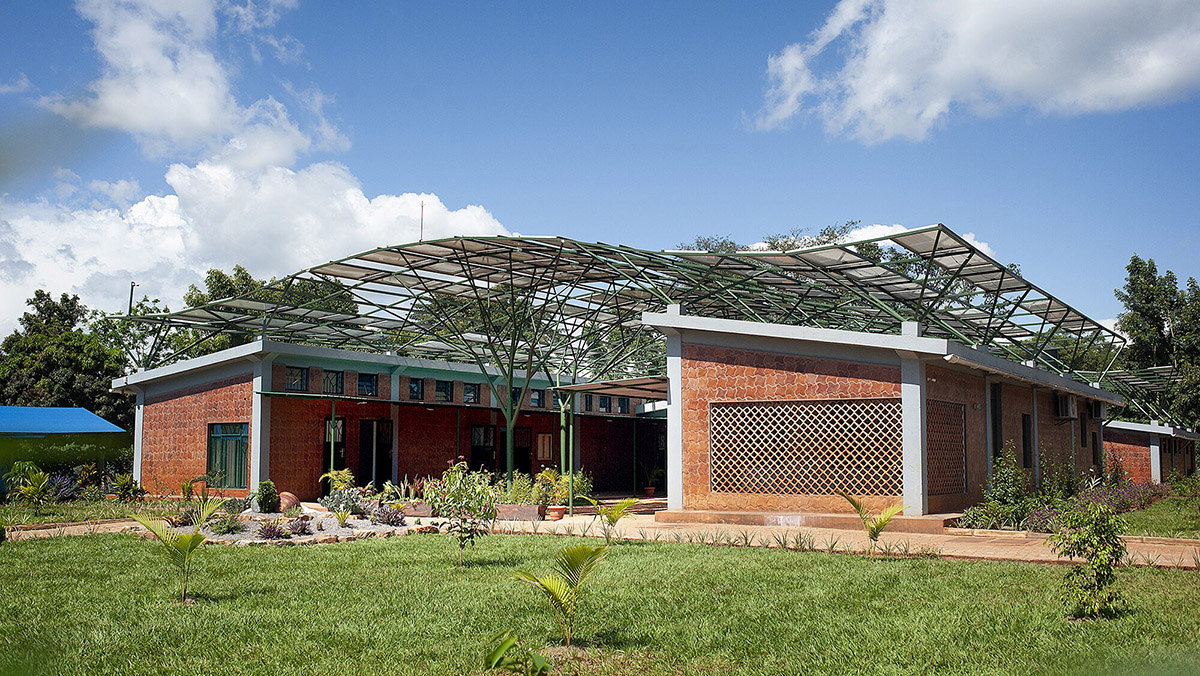 This project, carried out in a rural village called Kyabirwa, near the equator in Uganda, bears the signature of Kliment Halsband Architects. The agency, which had never before designed a health care facility, was contacted by Dr Michael Marin of Mount Sinai Medical Center in New York, who wanted a new approach for this project. The facility is designed as a prototype of an independent, self-contained ambulatory surgical facility that can be replicated in other resource-poor and underserved areas. It is intended to demonstrate that surgery can be performed in low-cost facilities. To do this, the designers reduced and simplified requirements to the essentials by eliminating some of the complex, expensive and energy-consuming systems related to high technology.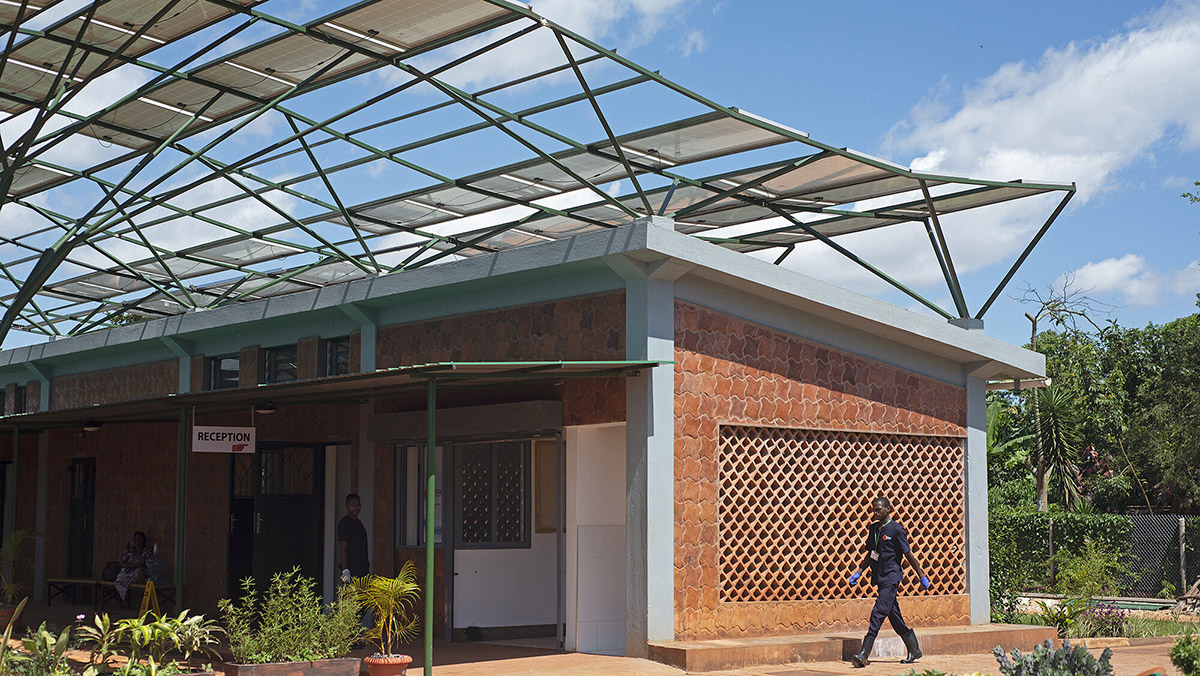 Reception pavilion and canopy © Will Boase, courtesy of Kliment Halsband Architects
The building has three main parts: a reception pavilion and a courtyard for patients' families, an intermediate pavilion that hosts pre-and post-operative activities and a sterile pavilion with two operating rooms and related support spaces.
Plan and inspiration © Kliment Halsband Architects
The walls that structure the various spaces are made of bricks and cladding tiles made from red clay dug directly into the ground near the construction site and fired in a local kiln. The choice of this affordable and locally available material supports the local economy. Besides, the ingeniously perforated walls allow for natural ventilation and lighting in almost any space. Only the operating rooms use air conditioning.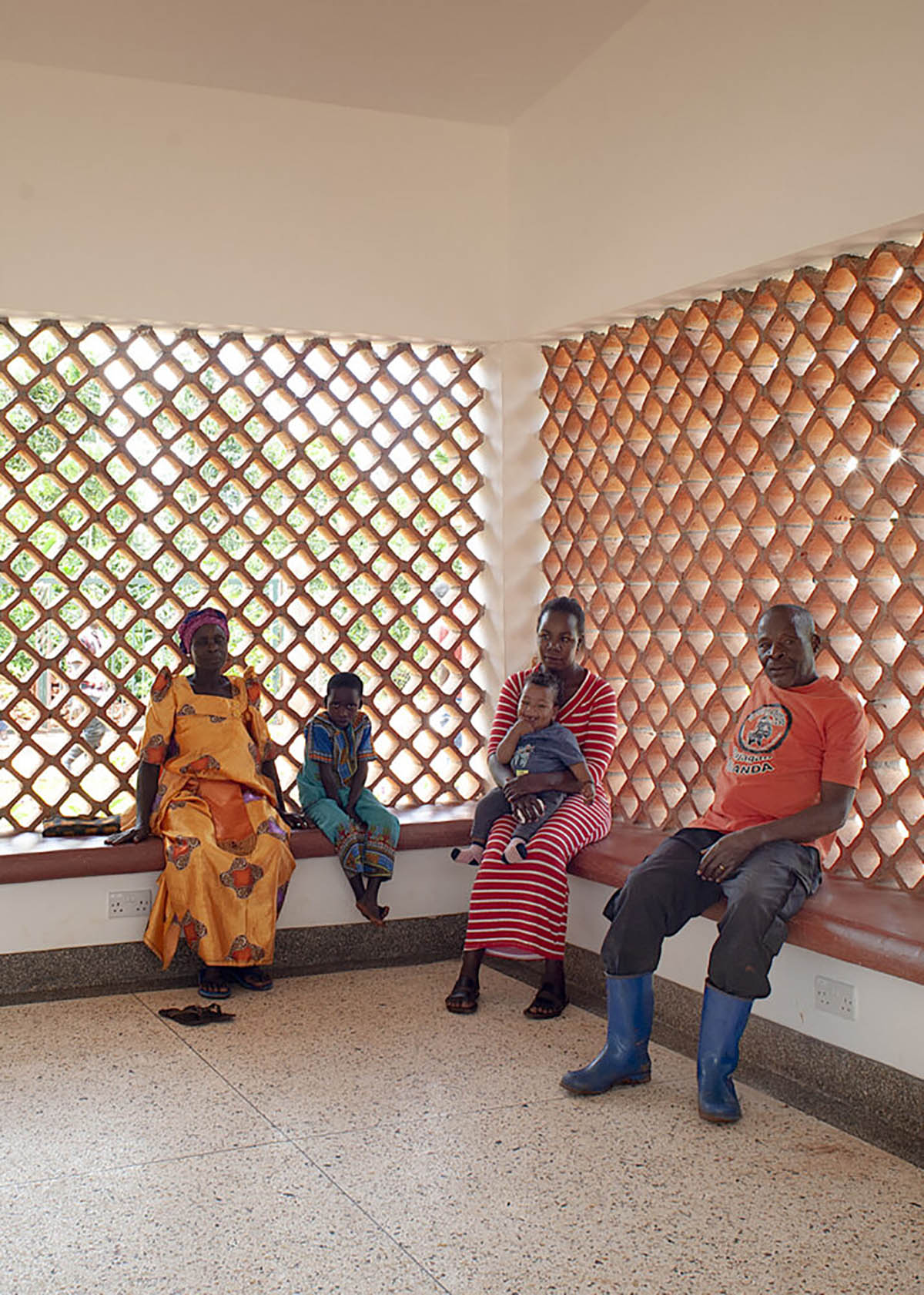 Waiting space. Image © Will Boase, courtesy of Kliment Halsband Architects
Because the site lacked access to some essential resources such as clean water, reliable electricity or an Internet connection, the designers had to use common sense. A canopy inspired by the banana trees around the project site has a dual function. It produces energy and creates shade thanks to the solar panels it bears. The combination of this device with batteries for storage ensures the energy autonomy of the building. The water from the well as well as that coming from the city is stored if necessary thanks to gravity tanks equipped with a filter and a sterilization system. Water from the roof is collected and stored for use in the toilets and for watering the vegetable garden where food is produced for patients and staff.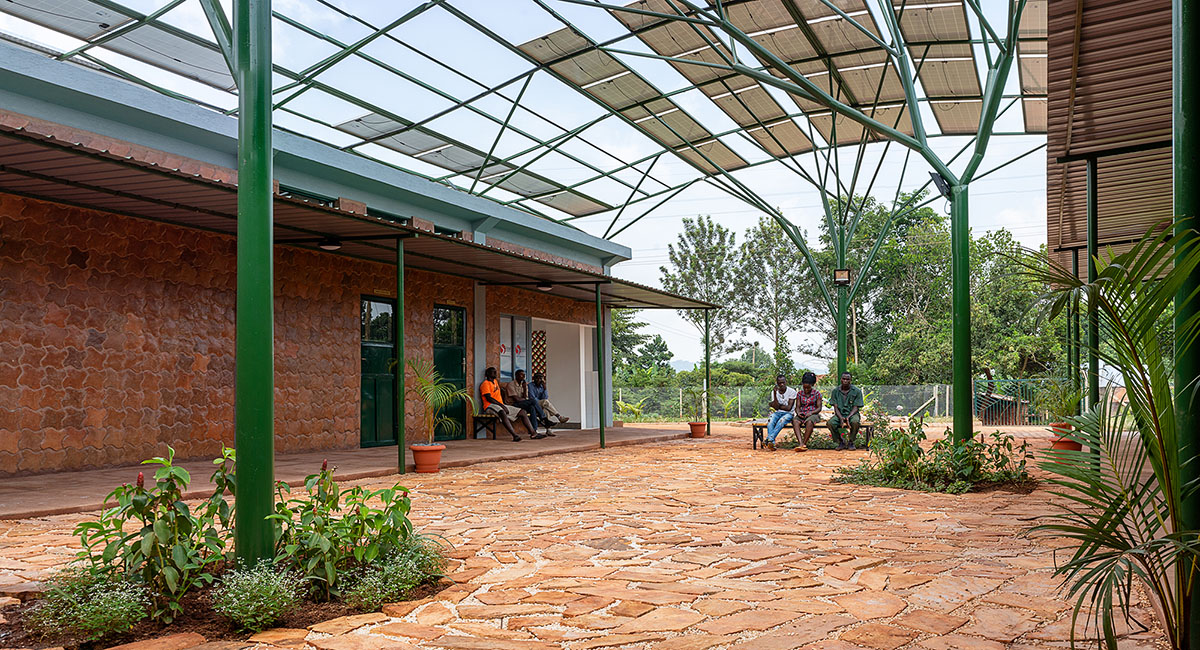 Reception pavilion courtyard. Image © Bob Ditty, courtesy of Kliment Halsband Architects
Greywater is recycled for toilet flushing and irrigation, while wastewater is treated on-site by a septic tank. Medical waste is disposed of on-site by incineration. The installation of a network of some 32 km of underground cables has provided the facility with a reliable Internet connection. This was essential to enable local doctors to receive support from their counterparts on Mount Sinai in New York City through live surgical consultations and real-time videoconferencing.
Project in its environment. Image © Bob Ditty
The project demonstrates very well how vernacular skills and modern techniques and technologies can help and complement each other to improve life.
Video courtesy of Mount Sinai Health System
Top Image © Will Boase, courtesy of Kliment Halsband Architects