Opposite Office proposes "a dystopian fortress" around US Capitol Building to protect democracy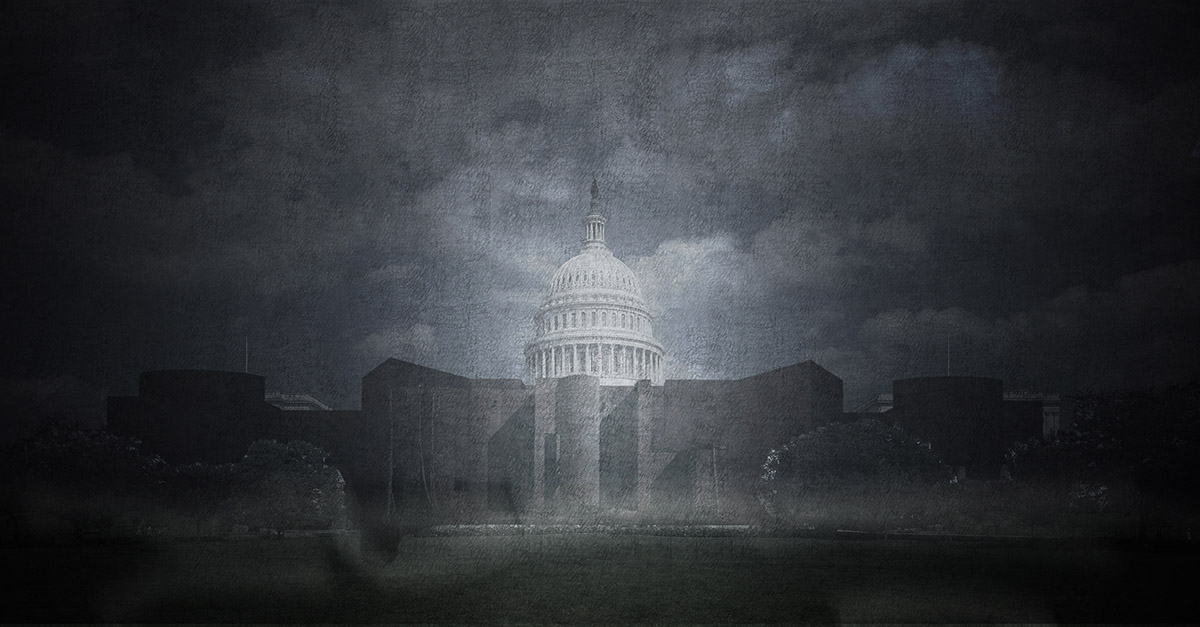 Munchen-based architecture studio Opposite Office has proposed to build "a dystopian fortress" around the US Capitol Building to protect democracy against the riot of Donald Trump supporters on January 6, 2021 in Washington DC.
Called Capitol Castle, the proposal remodels the US Capitol Building, originally completed in 1800, and builds "a dystopian fortress" around the building with a 1.5-meter wide wall to protect the existing building.
The US Capitol Building was completed in 1800 and after partly destroyed in 1814 by a British invasion of Washington city (known as the Burning of Washington), the building was fully restored within five years.
The Capitol Building, which has a neoclassical style and white exterior, is the seat of the US Government and American democracy and also a worldwide symbol for democracy and political stabilization.
"As a reaction to the storm on the Capitol by supporters of Donald Trump, we designed a dystopian architecture to convert the capitol to a fortress to protect democracy," said Opposite Office.
"The storm of the Trump mop is one of another eyesore of Trump's reign and US democracy since the civil war. During his reign, Trump undermined the democratic system from within."
"To give expression to this drama, we remodeled the Capitol and build a dystopian fortress around it. A 1.5 meter wide wall is added to the structure and protects the existing building."
"This symbolic conversion draws attention to the general problem of democratic systems that are facing populism, right wing nationalism and fake news. How can democracy deal with this?," added the studio.
The proposal came after the Trump supporters occupied the US Capitol Building, which began on January 6, to halt the inauguration of Joe Biden as the country's new president.
"Western democracy has been dealing with this topic for some time, but no suitable answer has yet been found. Society is dividing more and more," continued Opposite Office.
In addition to a fortress, the wall is also proposed to be guarded with armed soldiers.
"The conversion of the Capitol as a fortress shows that. Opposite Office's dystopia is supposed to shake you awake. We can no longer look the other way. We have to act politically!."
"Democracy is not a gift, but people had to fight for it. This is still relevant today. Democracy is not for free. We have to care about it and preserve it. We have to fight for our democracy!."
"We have to reverse the division in society and reconcile people. Let's hope that Joe Biden will succeed and that Donald Trump will be history once and for all," added the studio.
"With the dystopian project "Capitol Castle", we are showing a version of democracy that has to hide behind ever higher walls," said Benedikt Hartl, founder of Opposite Office.
"The seat of the congress is being converted into a fortress. A layer of 1.5m solid walls is placed in front of the classical building."
"Democracy sees itself as an open house. Power is by the people, but what do we do when these people are divided?," Hartl continued.
"Not only the USA, but many countries are struggling for social cohesion. Digitization, globalization, social inequality and social networks are accelerating polarization and division."
"So how can democracy protect itself from these attacks? This will not work with high walls and isolation, as the dystopia of the Capitol Castle shows, but also not through moralization and social outcast."
"Democracy is not a fortress! The only protection of democracy lies in social justice, fair living conditions, fair wages and a real social perspective for everybody!," added Hartl.
Opposite Office is an activist architecture studio that operates worldwide. The studio deals with the architectural interaction of fiction and reality.
Opposite Office creates speculative architectural stories that are located in the political and social environment. Thus, architecture becomes a medium for political participation and social discourse.
The work of Opposite Office was published and exhibited in over 100 countries in numerous magazines, exhibitions, newspapers and TV.
Opposite Office previously proposed to transform Berlin's Brandenburg airport into a superhospital for coronavirus patients.
All images courtesy of Opposite Office.
> via Opposite Office