Nvard Yerkanian reimagines Soviet Modernist Architecture of Armenia with colourful illustrations
Armenian graphic designer and illustrator Nvard Yerkanian has reimagined Soviet modernist architecture of Armenia with a series of colourful illustrations to reveal the beauty and value of the iconic structures.
Called Soviet Modernist Architecture in Armenia, the series is a continuous project and explores the architectural monuments from 1960 and 1970s.
The colourful set of ilustrations reimagines either the buildings that were destroyed, or abandoned, or deteriorated from weather conditions, and absence of care.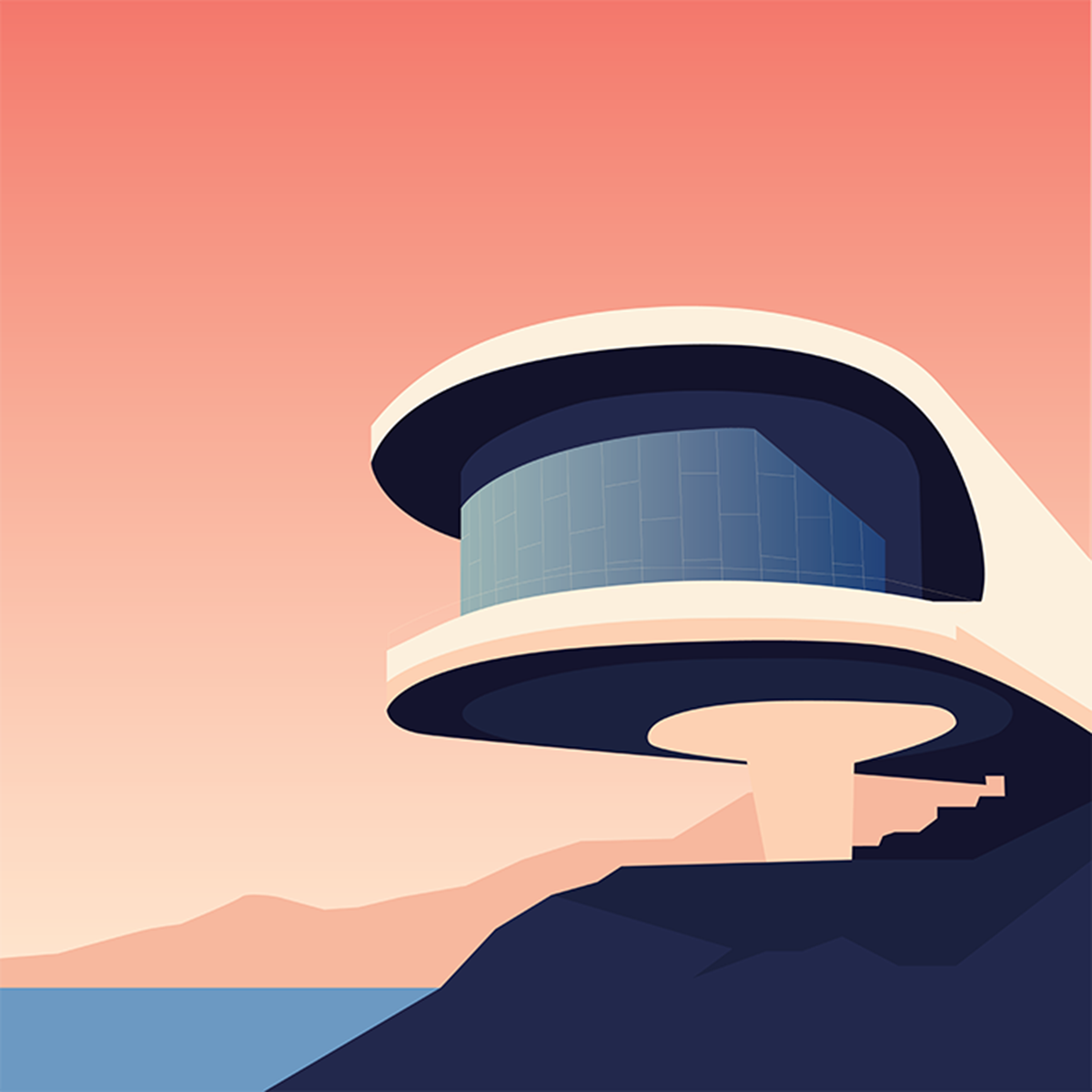 Sevan Writers' Resort, Architects: Gevorg Kochar and Mikael Mazmanyan - Designed in 1965
"After the collapse of Soviet Union, there was an agenda to create a new image of the city. Armenia was finally independent, and we wanted to get rid of anything that would remind about the Soviet past," said Yerkanian.
"In the beginning of 2000s Yerevan started drastically transform with high rise buildings growing here and there around the city, and the abandoned modernist buildings were considered as useless construction that occupy expensive land."
"Architectural community was constantly protesting and trying to save the buildings, but some were forever lost."
Cinema Rossiya in Yerevan, Architects: Spartak Khachikyan, Hrachik Poghosyan, Artur Tarkhanyan - Designed in 1975
According to Nvard, illustrations can be a powerful tool to help people and authorities to rethink and revalue these buildings. She explained: "There is a big interest raising nowadays all around the world towards socialist and brutalist architecture, and we have quit a few examples all around Armenia."
The series can also help travelers to find the most iconic elements of the country, they can create a playful agenda and be memorizable easily, as the designer emphasized.
Youth Palace in Yerevan, Architects: Tarkhanyan, Poghosyan, Khachikyan, Zakaryan - Designed in 1966-70. Demolished in 2010
"I wanted to bring attention to this architecture, because it was undervalued and endangered"
"This monuments can become a destination for travelers looking for something different in a country that is mostly famous for its unique monasteries and churches," Yerkanian added.
"Since childhood I was fascinated by these fantastic buildings. They looked like concrete spaceships landed in my city, mysterious objects that catch your sight like magnets.
"I wanted to bring attention to this architecture, because it was undervalued and endangered," she emphasized.
Zvartnots Airport in Yerevan, Architects: M. Khachikyan, A. Tarkhanyan, S. Qalashyan, L. Cherkezyan - Designed in 1961
In her project description, Yerkanian briefly touches upon her youth memories and explains how her involvement in the past activities raised awareness to protect some modernist buildings in Armenia. Yerkanian's strong advocacy attitude jumps in another level to raise awareness through illustrations.
"Studying architecture in university, I've been involved in different social movements to protect some of these buildings from destruction," she explained.
Youth metro station in Yerevan, Architect: Stepan Kyurkchyan - Designed in 1981
"One of them is the Cinema Moscow Open Air Hall, that already have lost its frontal part in the past, and was totally altered by an ugly cafeteria that occupied the entire frontal part of it."
"With a group of friends and architects we managed to save the building through a petition and events raising public awareness towards modernist architecture in Armenia."
Yerkanian is the co-founder of AJZ space and WHY Graphic Design Festival in Florence. She is currently working on a new book on Armenian's Modernist Architecture, also exploring personal stories, memories, dreams and fantasies from different people who have stories to share.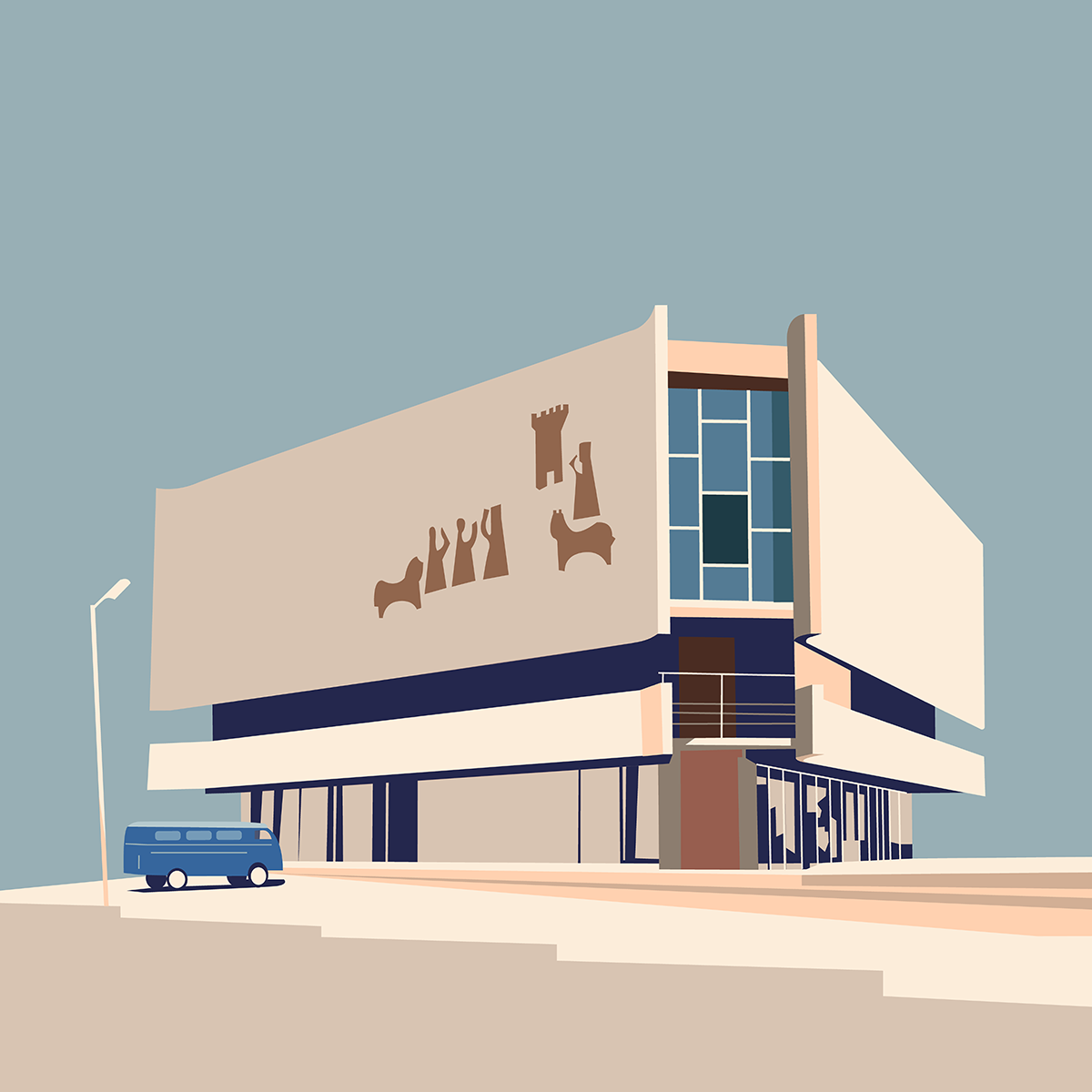 Tigran Petrosian Chess house in Yerevan, Architects: Zhanna Meshcheryakova, Gevorg Aramyan - Designed in 1970
"In the last few years a lot of work has been done by art curators, architects and historians to bring back the interest and appreciation for modernist architecture," she added.
"People buy and wear my illustrations on their bags, decorate space with various objects and hang the prints in their homes and offices."
"Many people wrote to me that the illustrations bring back memories of 60s and 70s, memories of youth and childhood, and they enjoy being surrounded with those sweet memories."
Diving tower in Etchmiadzin, Armenia, Architect: Felix Hakobyan - Designed in 1960s
"Each illustration secretly caries my memories and my personal stories living around those buildings," Yerkanian continued.
"I refer to my memories a lot especially choosing the colors and light."
"The colors represent memories, stories, atmosphere, and my feeling when I look to specific buildings. Some are realistic, but some are just there to show my overwhelmed fascination towards the forms."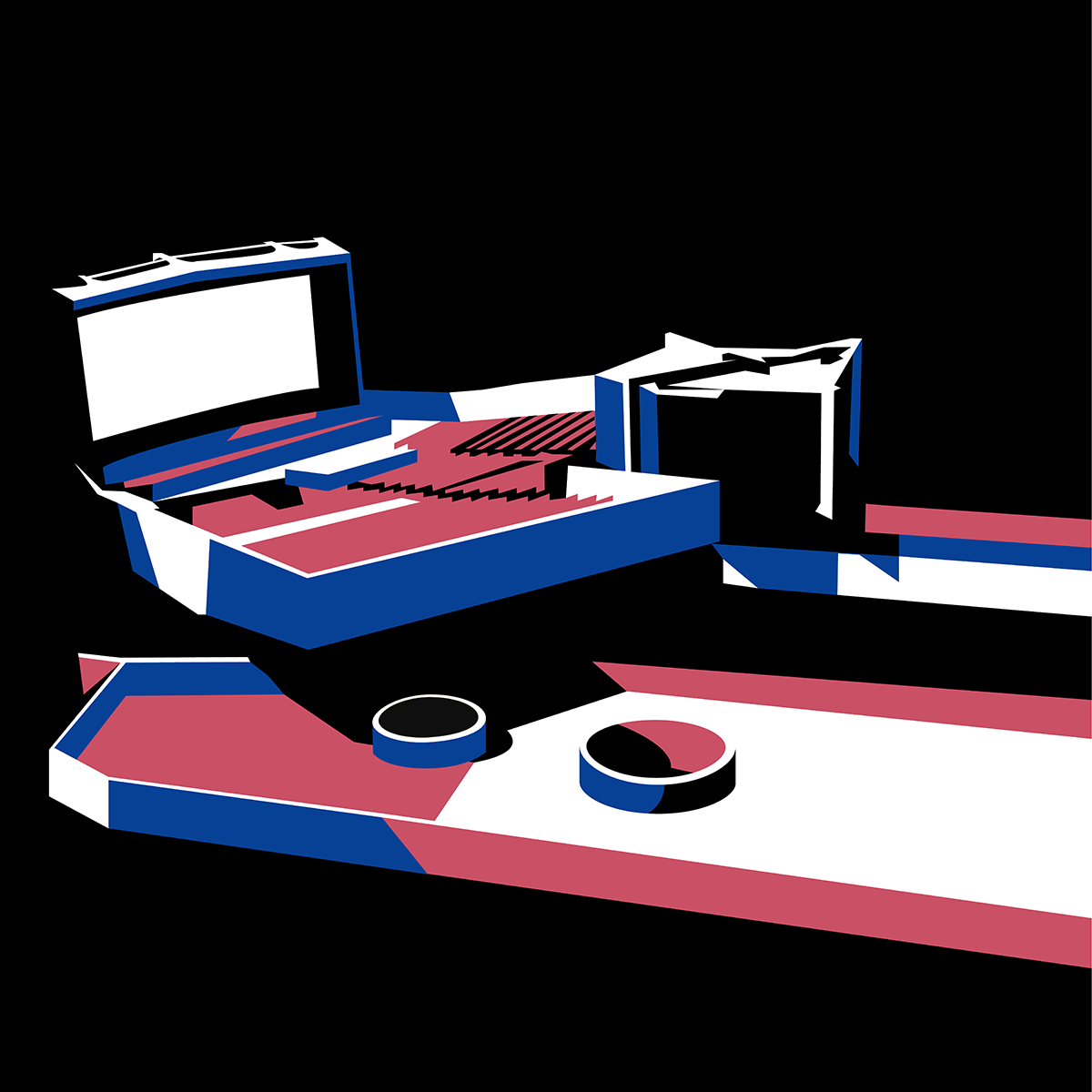 Cinema Moscow Open-Air Hall in Yerevan, Architects: Spartak Knteghtsyan, Telman Gevorkyan - Designed in 1966
"Seagull", road mark at the northern entry of Yerevan, Architect: Hovhannes Hakobyan, Artist: Van Khachatouryan - Designed in 1960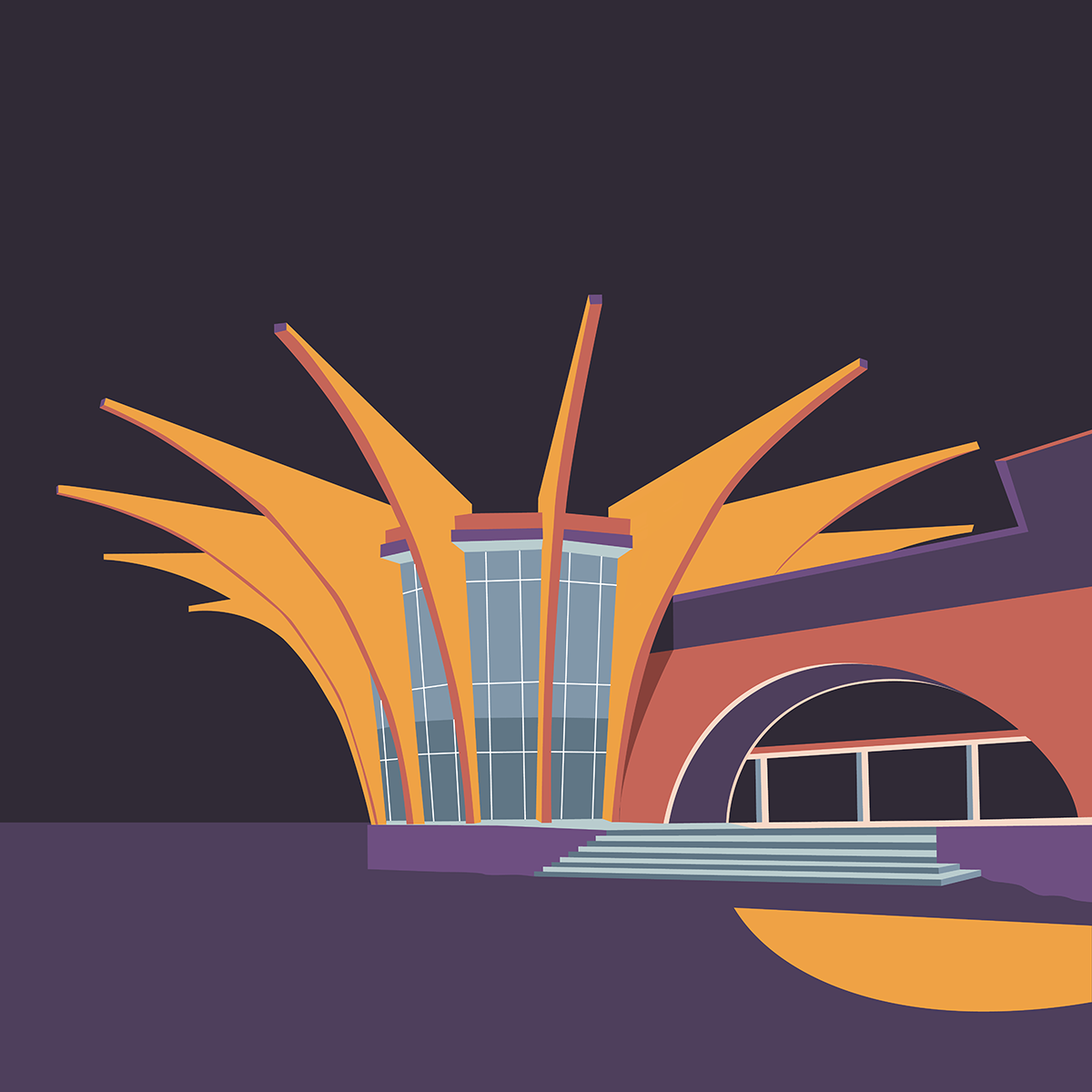 Central Bus Station in Hrazdan, Architect: Henrik Arakelyan - Designed in 1976-78
The artificial lake of the Sports Complex, Architects: Martin Mikaelyan and Avetik Mirijanyan - Designed during 1975-1986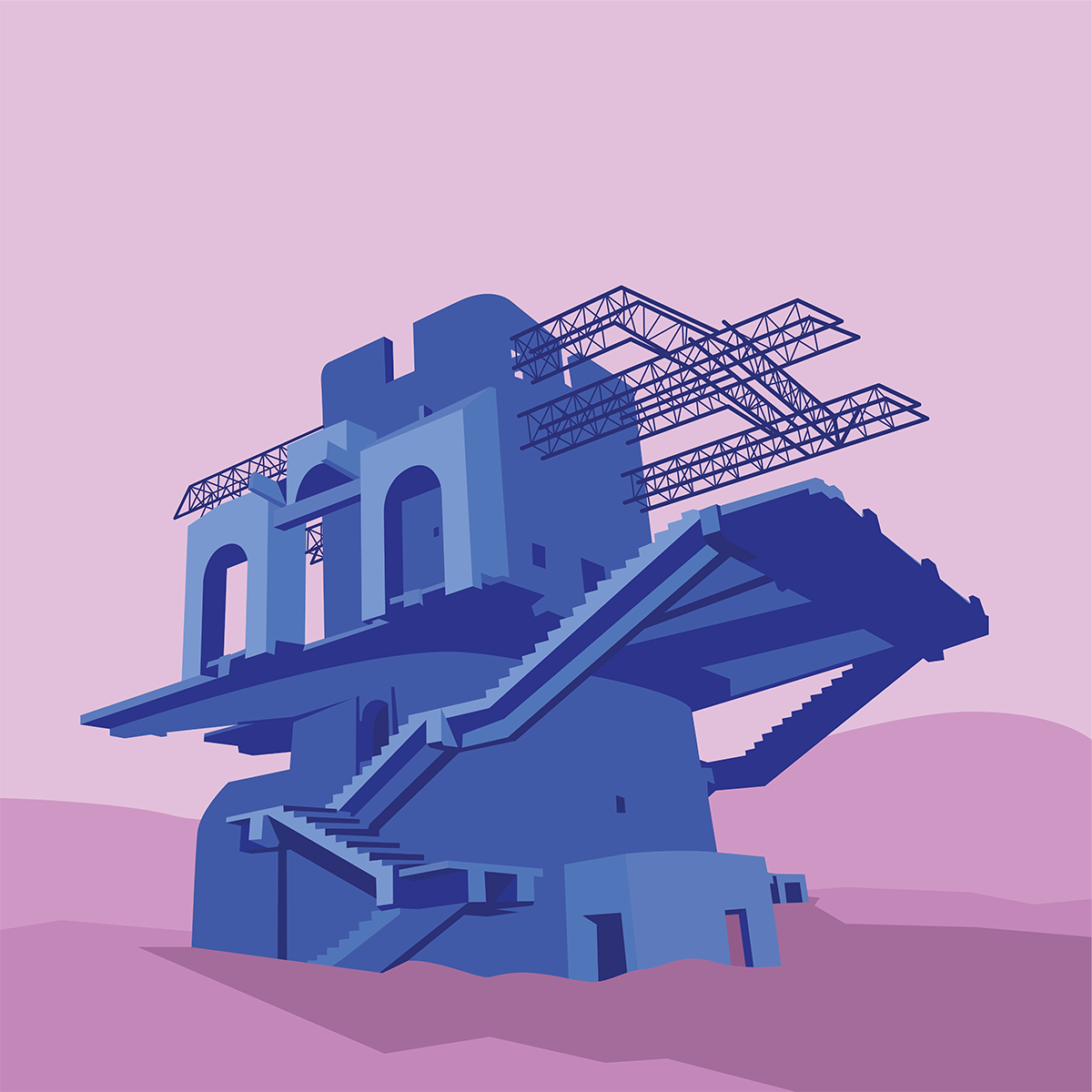 Cable car station in Ijevan, Armenia, Architect: Vakhtang Lejava - Designed in late 1980s
Memorial for the 50th anniversary of Soviet Armenia in Dilijan, Tavush Province, Armenia, Architects: A. Tarkhanyan, S. Avetisyan and K. Vatinyan - Built in 1970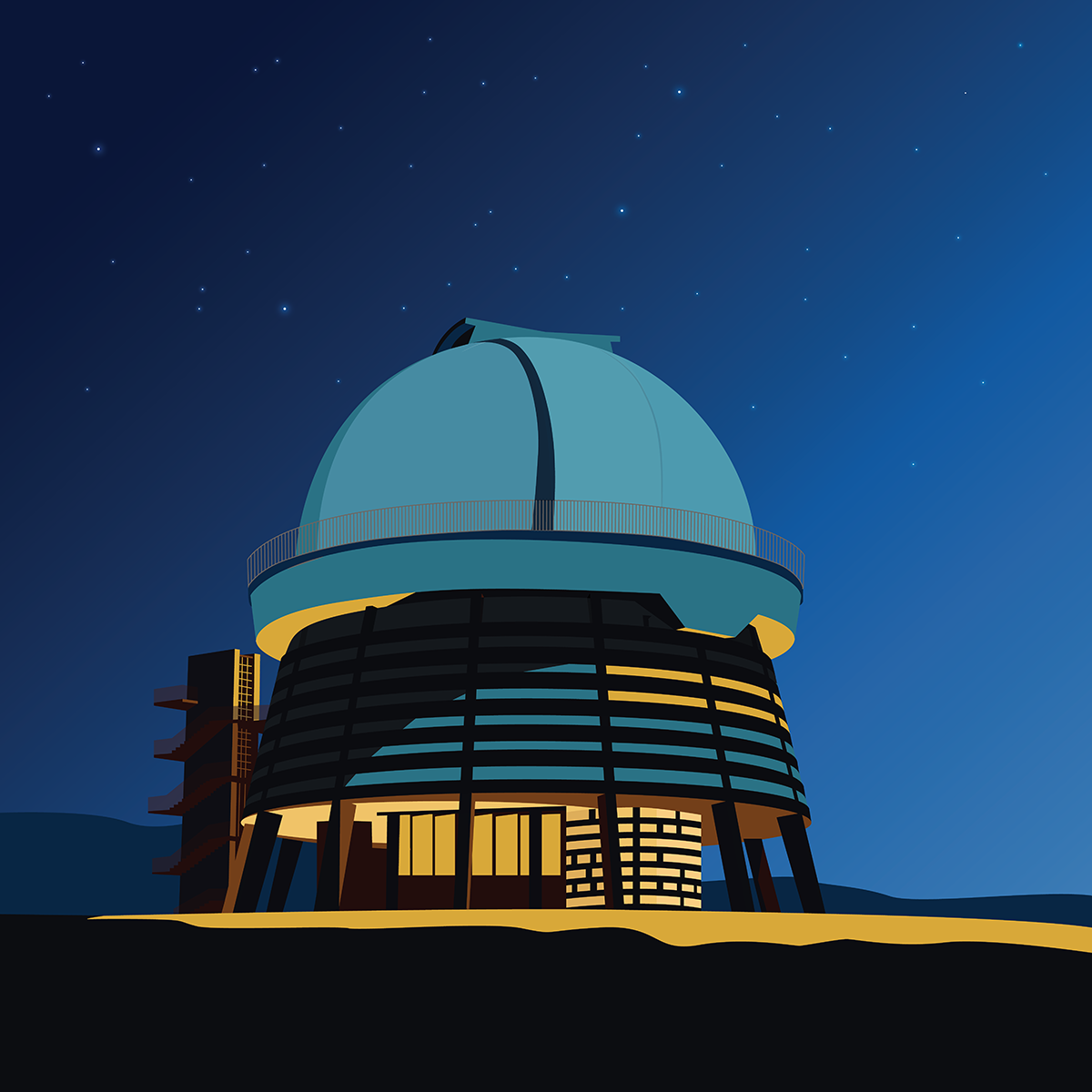 Byurakan Observatory after Victor Hambardzumyan, Architect: S. Gurzadyan - Built in 1972
Tsitsernakaberd, The Armenian Genocide memorial complex in Yerevan, Armenia. Architects: A. Tarkhanyan, S. Kalashyan, Artist: Van Khachatryan - Completed: November 1967. The illustration was commissioned and done for the University of Oxford Network for Armenian Genocide Research.
Top image: Viewing platform in Sevan, Architect: Makabe Manuelian - Designed in 1978
All images © Nvard Yerkanian, all images published with Nvard Yerkanian permission.
> via Nvard Yerkanian