Tatari: "We don't only design buildings but we create nodes out of research out of designs"
Marianthi Tatari, Associate Director and Senior Architect at UNStudio based in Amsterdam, is the sixth guest of reSITE's podcast series, titled "Design and the City".
The podcast series "Design and the City", was launched by reSITE and features conversations with outstanding architects held during the 2019 REGENERATE conference as part of the conference's theme.
In the new episode, Tatari discusses UNStudio's holistic and inclusive design approach in addressing issues of experience and sense of place in various scales and typologies.
Tatari explains how UNStudio engages with all aspects of design and urbanism in city-making, such as internal and external discussions, participatory processes and testes that are required to be conducted.
"We don't only design buildings but we create nodes out of research out of designs," said Tatati.
"We have a couple of platforms within the office that work at the same time as we architects are working and we have no lids platform that test product processes and tries to actually help the studio but also create new leads through collaborations," she added.
During the 20-minute discussion, reSITE dissects different aspects of city-making that threaten the quality of life such as monofunctional spaces and commoditized smart cities and how to approach designing them with optimism.
Marianthi Tatari is Associate Director at UNStudio, founded in 1988 by Ben van Berkel and Caroline Bos. UNStudio is known for the use and adaptation of advanced technology and new tools in all levels of architecture, design and urbanism by designing performance-based structures.
To delve into better product processes and technology-driven approaches, UNStudio launched UNSense in 2018, it is a new startup and innovation platform for built environment. UNSense functions as a sister company of UNStudio.
Image courtesy of reSITE
While explaining the role of UNStudio for smart cities and human-centered design, Tatati explains: "Everyone is [advocating for] smart cities these days. Smart cities are not there because a smart city is actually a city that makes you not being hit by a car."
"A city that adjusts itself [in a way] that pedestrians are the priority, and we are, I think, still a very long way from [getting] there. But what's interesting is to be a part of the discussion, that's what we are very actively doing."
"We are trying to get into this discussion and also think about the inclusion of smart within our cities, that's why we also create the kind of and separate platform in our organization to talk about that because we think about these architects and designers we don't use the world top-down we actually really think of from their human perspective," she continued.
"What do we want to achieve with our projects, and this is one of the examples, is to actually have people's participating, like active participation is very important."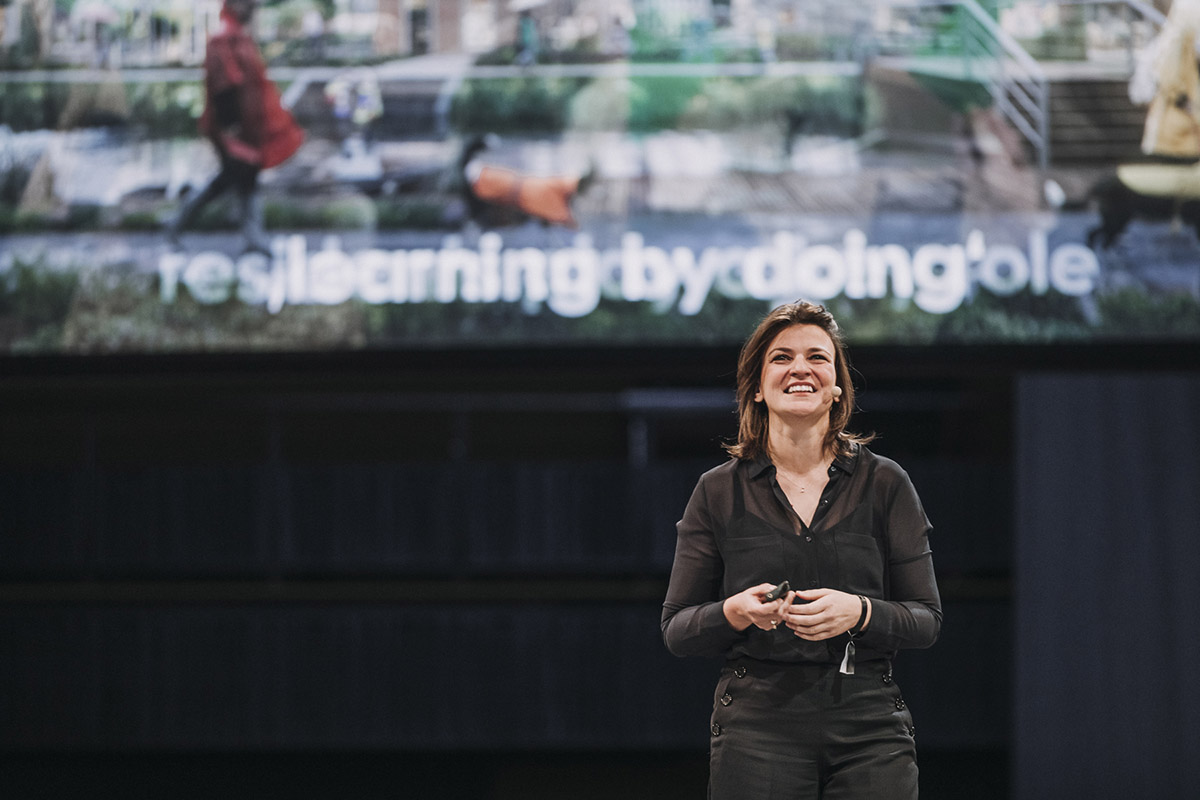 Marianthi Tatari at reSITE 2019 stage. Image © Jakub Cervenkai
In the discussion, Tatari also explains the most pressing urgent issues of today, "climate change," "digitalization" and "densification" are the three of the most pressing issues of the world today, according to the Greek architect.
"We are facing complex issues that we have to [address by] actually coming together and thinking of holistic solutions across all scales," Tatari continued.
"Designing with the future in mind. We architects, designers, urban planners need to engage with innovative clients, city officials, experts to create real-life integral solutions to what is challenging our built environment."
Brainport Smart District masterplan in Helmond. Image © Plomp
Over the course of 30 years, UNStudio designed important projects that are the key works of the studio, including the Erasmus Bridge, the Arnhem station, and the Mercedes-Benz Museum in Stuttgart. The studio recently finished the Doha metro. UNStudio is currently working on the headquarters of Booking.com in Amsterdam.
As related to providing diversity in cities, Tatari stresses that "A lot of cities have problems with mono functionality, that they have areas of only residences, only offices, only areas around stations that are always a bit problematic."
"What we actually try to do is to create a welfare program within our projects that you can have what we call a 24/7 activity or city for everyone, because if you have mono functionality, then you don't have diversity. You seclude other parts of the population from certain areas."
Marianthi Tatari in conversation with Tech Reset Canada's Bianca Wylie at the 2019 reSITE stage. Image © Tomas Princ
Design and the City is a podcast series produced by reSITE, aiming to find the ways we can use design and to make cities more livable and lovable.
As a global non-profit organization, reSITE acts to improve the urban environment, both on the stage at our events, and off. The organization works at the intersection of architecture, urbanism, politics, culture, and economics, acting as a catalyst for social action and innovative leadership.
WAC will be releasing a new podcast from reSITE 2019 with a new guest.
World Architecture Community was Media Partner of reSITE 2019 and covered the summit in detail. Read more about WAC's previous coverage about speakers, discussions and sessions on WAC's Urbanism page.
Top image: Brainport Smart District. Image © Plomp
> via reSITE