UNStudio unveils design for a new mixed-use development in Nanjing
UNStudio has unveiled design for a new mixed-use development in Nanjing, China, claiming that the new project will be "a human-centric destination where sustainability and culture play a key role in the daily lives of locals and visitors alike."
Developed by K.Wah Group, UNStudio's scheme envisions a dynamic waterfront community, a low-density and lush green working-living environment, which is expected to add new vibrancy to Nanjing, while contributing as a hub for culture, finance and innovation.
"The Nanjing K.Wah G72 mixed-use development will serve as a one-stop destination in which lifestyle, innovation and work are brought together," said Ben van Berkel, founder and principal architect at UNStudio.
"It aims to be a benchmark for newly integrated urban developments in Nanjing, across the country, and beyond," Van Berkel added.
Dubbed as K.Wah G72, the project is set along the urban central and the economic development axes in Hexi New District, and is connected to the Metro Rail Transit to the northwest and the coast to the south. The site is separated by the central river and the planned road into 4 plots which are set to create a dynamic community for locals and visitors.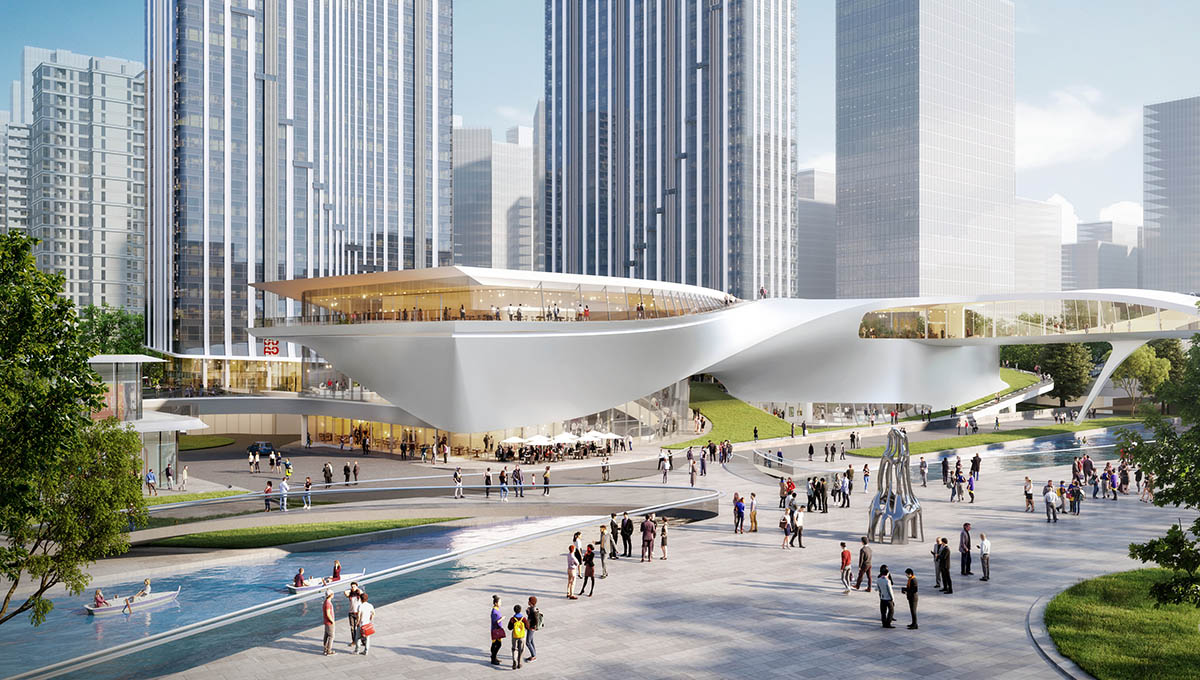 The scheme features a dynamic programming of high-rise office towers, commercial and cultural functions, two serviced apartment buildings, a headquarter tower and a luxury hotel forms an urban silhouette that rises from the central waterfront area to either side of the complex.
The studio integrates a green corridor throughout the entire design for K.Wah G72, bringing together community and nature in a multi-dimensional way, and will contribute to the well-being of the city.
These green public spaces encourage socialising, event organisation and creativity, and enable building users, visitors and creative professionals to experience new ways of living, while also providing a leisurely sanctuary to a fast-paced life.
Aiming to create a "lifestyle waterfront community", the waterfront community is at the core of UNStudio's proposal for the K.Wah G72 mixed-use development.
"The communities that have historically lived by Nanjing City's Qinhuai River inspired the design," said UNStudio.
"By making full use of the resources along this central waterway, riparian low-density podiums and green terraces create a waterfront community that continues this cultural and urban heritage," the firm added.
"UNStudio's vision is set to realise a future-oriented, multi-purpose community, which will contribute to Nanjing's ambitious urban development goals," said Hannes Pfau, partner at UNStudio.
"The design aims to create a synergy between building scale and human scale, bringing a healthy and pleasant working, shopping and living environment for residents, visitors and creative professionals. The development will offer diversified value to this historical location, in terms of a new identity for the community and city," Pfau added.
This waterfront community also propels Nanjing and the surrounding regions as an exciting cultural venue. As the ancient capital of the six Chinese dynasties, Nanjing has a rich cultural history. UNStudio's design strategy for K.Wah G72 development adopts this history and incorporates it into the city's embrace of contemporary art.
As such, the UCCA Centre for Contemporary Art will be introduced and form the core public space for the arts within the community and will provide a new venue to showcase Nanjing's culture and art on the world stage.
The streamlined and rhythmic design of the Art Centre supports a sense of togetherness within the community and fosters a more creative atmosphere.
In the future, the art venue will host a variety of international cultural and artistic events, exhibitions and social activities, creating a new, ambitious cultural venue that innovatively intertwines public and semi-private programme for visitors and the general public alike.
The proposal is shaped around sustainability principles and future-proof design in China. Other key features include well-being, which is at the centre of the design, the incorporation of technology to enhance the sustainability, public welfare and adaptive nature of the different plots.
UNStudio's design strategy comprises active energy saving technologies, such as natural ventilation, HVAC system, solar photovoltaic panels (roof or facade), to lower the energy demands of the building. The office towers will be built from prefabricated components as well as a modular supporting structure.
According to the studio, Building Integrated Photovoltaic, BIPV solutions will be installed on the roofs of all buildings in order to meet the daily energy demand of the buildings, while further reducing operation and maintenance costs. The team emphasized that "this solution will also be applied to the façade of UCCA Centre for Contemporary Art."
With its proximity to the central river, the development also introduces a rainwater management system to promote rainwater harvesting and irrigation, with the aim of forming a healthier ecosystem.
The sustainable design of the G72 development also focus on achieving a low carbon environment. It proposes a multi-layer transportation network, including a direct connection with the underground public transport system. This not only provides convenience to visitors, but also encourages the use of public transport and increases regional accessibility.
At the same time, by introducing separate waterfront footpaths and pedestrian bridges, walkability is promoted throughout the site. As such, the design for K.Wah G72 will not only fulfill the needs for developing the TOD, but sets a precedence for mixed-use typologies as part of China's goals for becoming carbon-neutral by 2060.
UNStudio and b720 Arquitectura together with engineering firm Esteyco recently won a competition to remodel Madrid-Chamartín Clara Campoamor Station and its urban integration in Spain.
UNStudio is also working on an office tower which will be "one of the most sustainable office buildings" in Germany.
Project facts
Client: K. Wah Group
Location: Nanjing, China
Building surface: 529,427 m2
Building volume: 1,633,298 m3
Building site: 83,384 m2
Programme: Office, Apartment, Hotel, Retail, Art Centre
Status: Under Construction
UNStudio: Ben van Berkel, Hannes Pfau with Garett Hwang, Guomin Lin and Bin Fu, Alexander Meyers, Kaisi Hsu, Maya Calleja, Harshdeep Arora, Tsungyen Hsieh, Matt Burdalski, Peter Malaga, Craig Yan, Junya Huang, Yu Zhao, Yang Xu, Liang Yu, Hal Chen, Joanna Wang, Andres Monis, Lawrence Ma, with Kyle Chou, Dongbo Han, Ujjal Roy, Mimmo Barbaccia, Diego Ramirez, Ami Nigam, Wei Huang, Dmitry Seregin, Pedro Manzano Ruiz, Yufeng Tu, Zhenyu Yang, Yubang Wu

Advisors
Executive Architect: P&T Group
LDI: Tongji Architectural Design (Group) Co., Ltd.
MEP: WSP
Structure Engineer: Thornton Tomasetti
Landscape architect: AECOM
Façade Consultant: Inhabit, Hyder
Lighting Consultant: BPI
Traffic Consultant: MVA
QS: ARCADIS
All renderings © UNStudio, courtesy of K.Wah.
> via UNStudio