GOA and Jiangnan Management selected to design Sanliting Kindergarten in eastern Hangzhou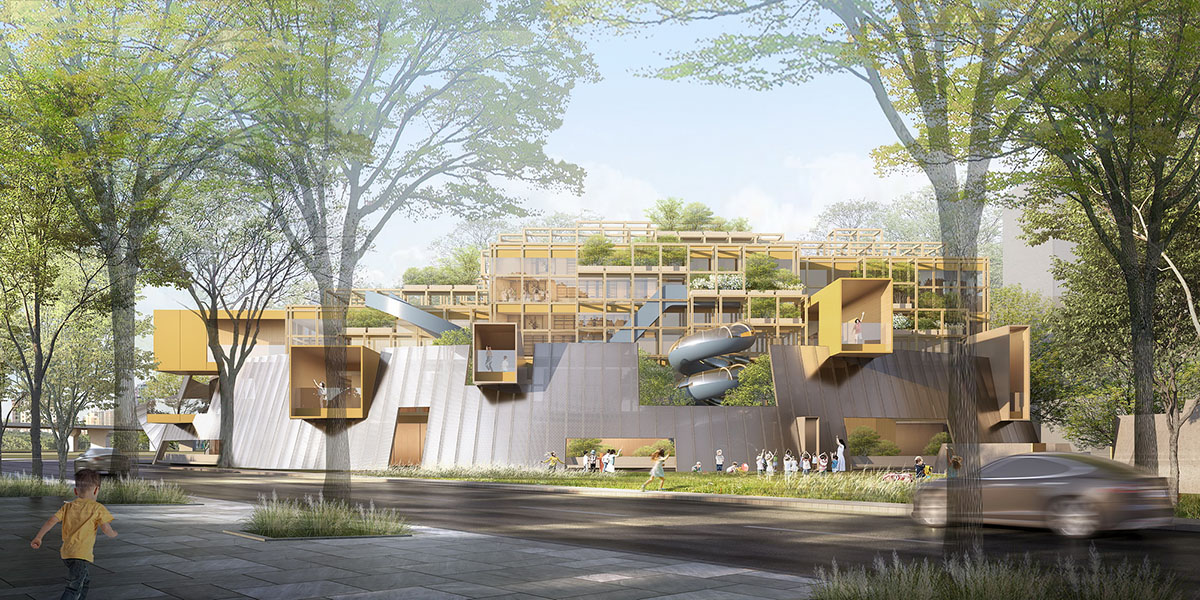 A consortium of GOA (Group of Architects) and Jiangnan Management has revealed their design winning design for Sanliting Kindergarten in Hangzhou, China.
Sanliting Kindergarten introduces an engaging, dynamic architectural boundary that extends beyond the immediate site to create a safe yet stimulating environment by promoting community connections, fostering intergenerational integration, and celebrating childhood.
Location analysis
The project is nestled in an established neighborhood in the heart of a newly developed region in eastern Hangzhou. A triangular public greenfield to the north serves as the sole open interface for the site, with adjoining buildings on the rest three edges.
Site analysis
Instead of conventional fences, the campus boundary is integrated with the local community through a single wall depicting an abstract veranda image. This slightly inclined wall provides a protective space for children, while its mesh texture promotes a "see and be seen" experience.
Various-sized openings in the wall with high-back seats create shared spaces that visually and spatially connect the campus to the street and the greenfield. This "semi-transparent" interface catalyzes impromptu interactions and mutual observations, thus enhancing neighborhood safety within a vibrant streetscape.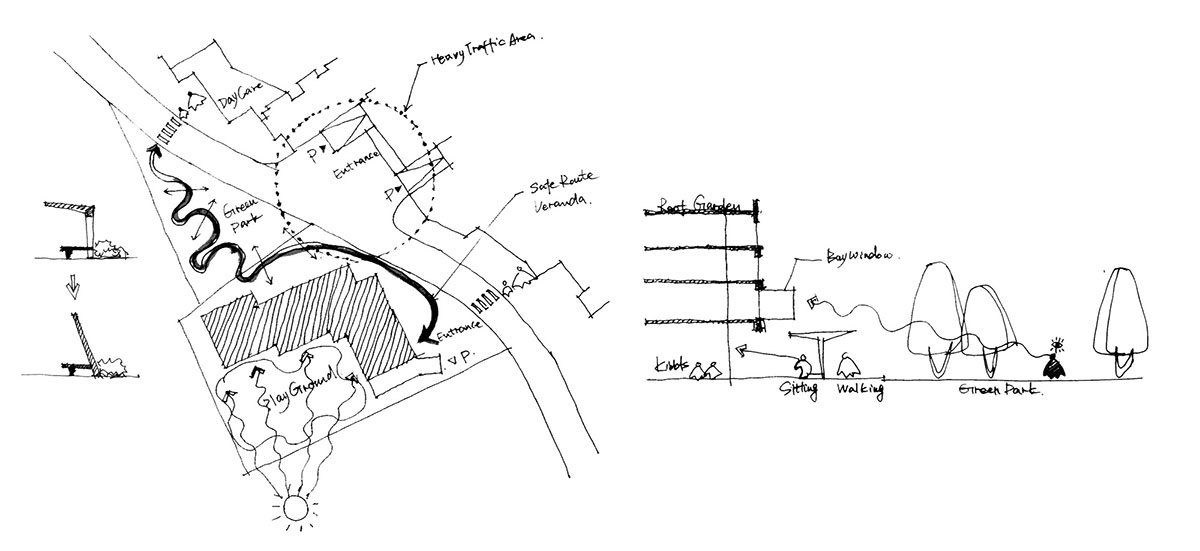 Sketches 1
Sanliting Kindergarten integrates a spectrum of neighborhood facilities to nurture intergenerational bonding and community cohesion. Aseries of landscape structures extends from the kindergarten perimeter to the grass and forms an engaging walk path to connect the kindergarten with the senior activity center across the street, transforming the entire greenfield into a pedestrianized public park.
Additionally, several small cantilevered "display windows" protrude from the inclined wall to serve as "picture frames" for creative and playful interaction between generations.
Aerial view
This prototype model responds to China's aging population and increasing co-parenting involvement of grandparents, providing a design vision that cherishes the dynamic of ages and offers benefits for both the young and the elderly in future developments.
The kindergarten entrance, designed to resemble a "blanket," features a corner slightly lifted, encouraging children to explore and discover the magic within. The entire architecture is enveloped by a modular wooden framework that doubles the structure as both a "building" and an "installation," alleviating the feeling of claustrophobia caused by the crowded environment and allowing for future functional transformations.
Façade along the street
This modular framework extends from the facade to the rooftop, adorned with climbing plants towards the roof garden. The basic module of 1.8 meters is employed to balance the scale of the building with the size of children's bodies.
Most play spaces follow this 1.8-meter module to create corners that require adults to stoop while allowing children to move freely, leading to "young exclusive territories."
Sketches 2
Behind wooden structures, the architectural volume comprises smaller units that stack and interlock like toy blocks, creating a 3D treasure map that inspires infinite exploration opportunities. Integrating slides within the wooden frame adds a playful element to the vertical circulation.
Expansive atriums and windows allow for bountiful natural light and panoramic views, creating a visually efficient teaching and nursing environment for teachers and a nature-intimate setting for the children. This celebration of childhood is at the heart of design, which seeks to allow children to thrive, grow, and discover the world's magic.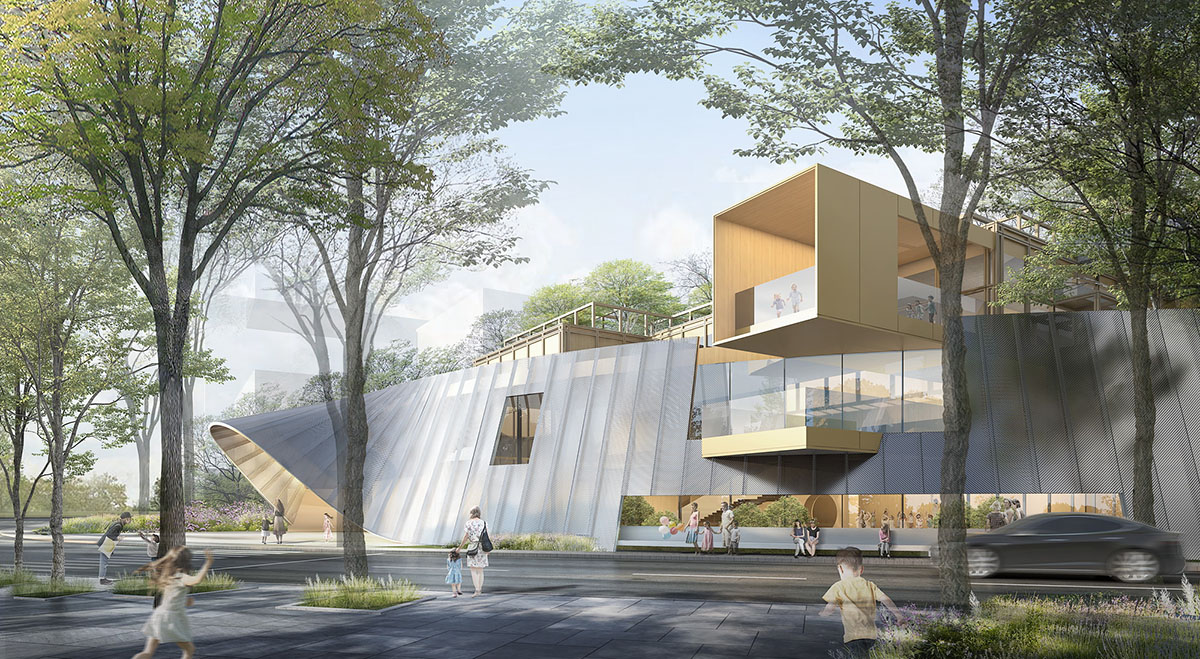 Entrance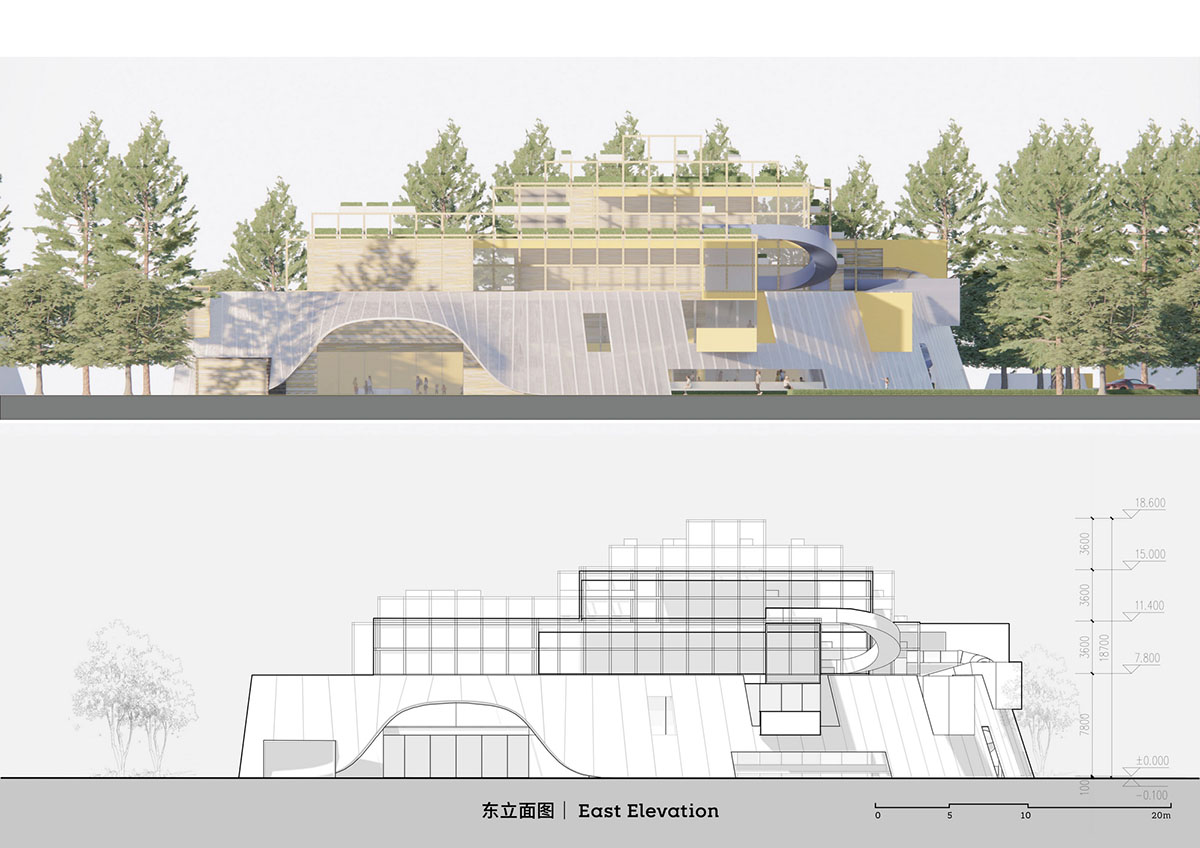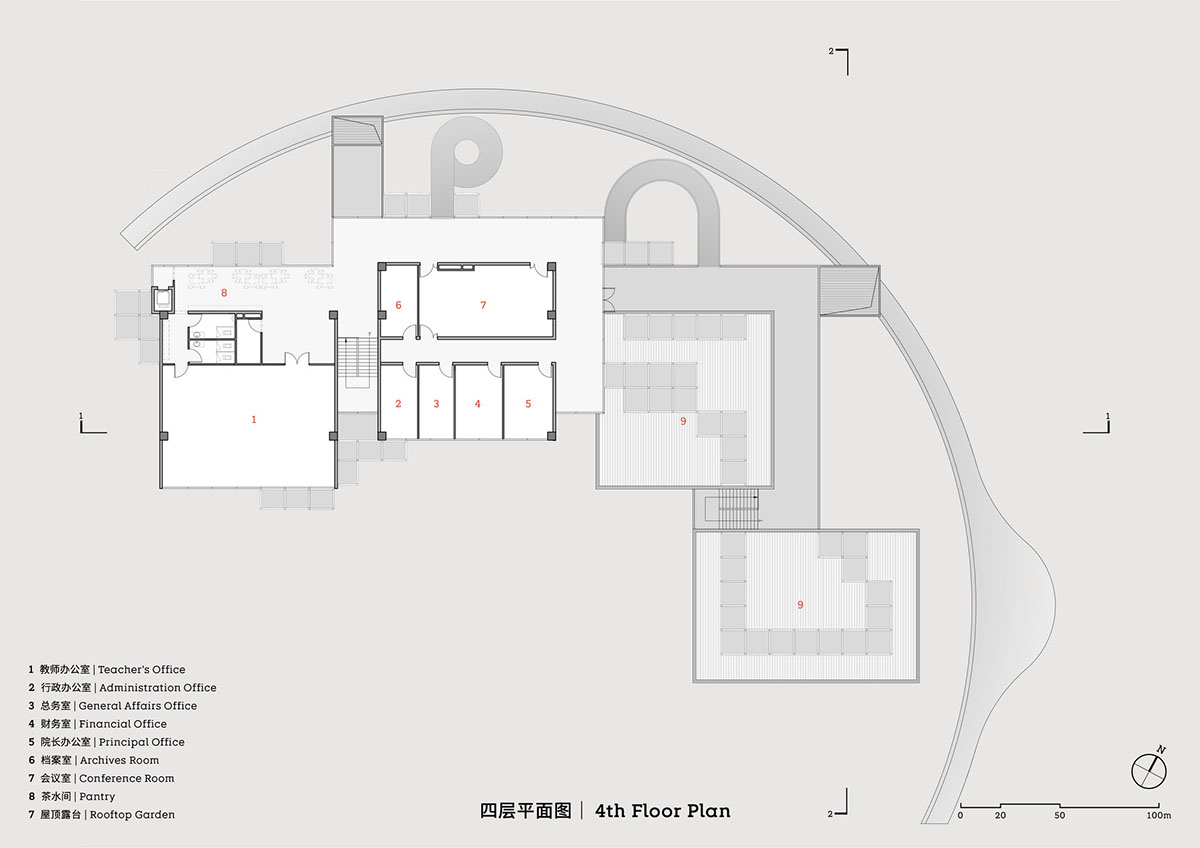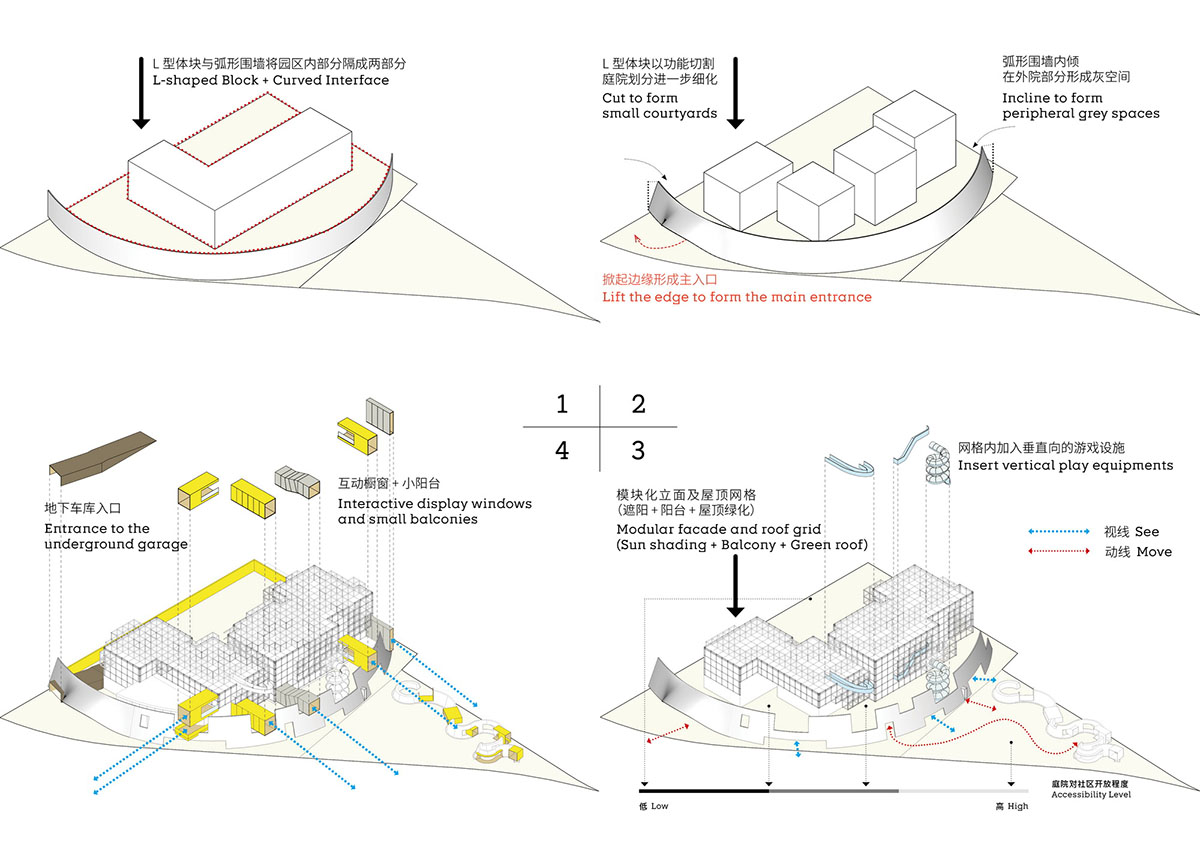 Program
Functional layout & circulation analysis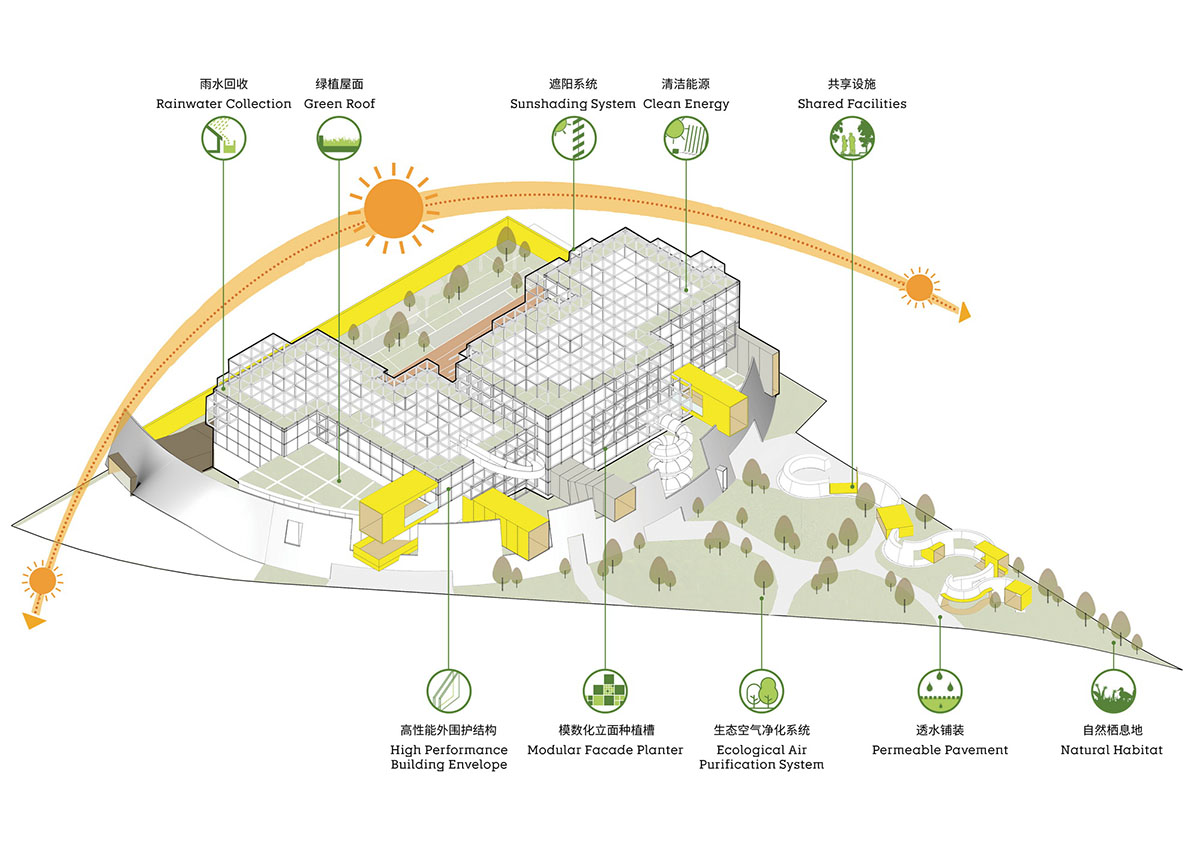 Sustainable strategies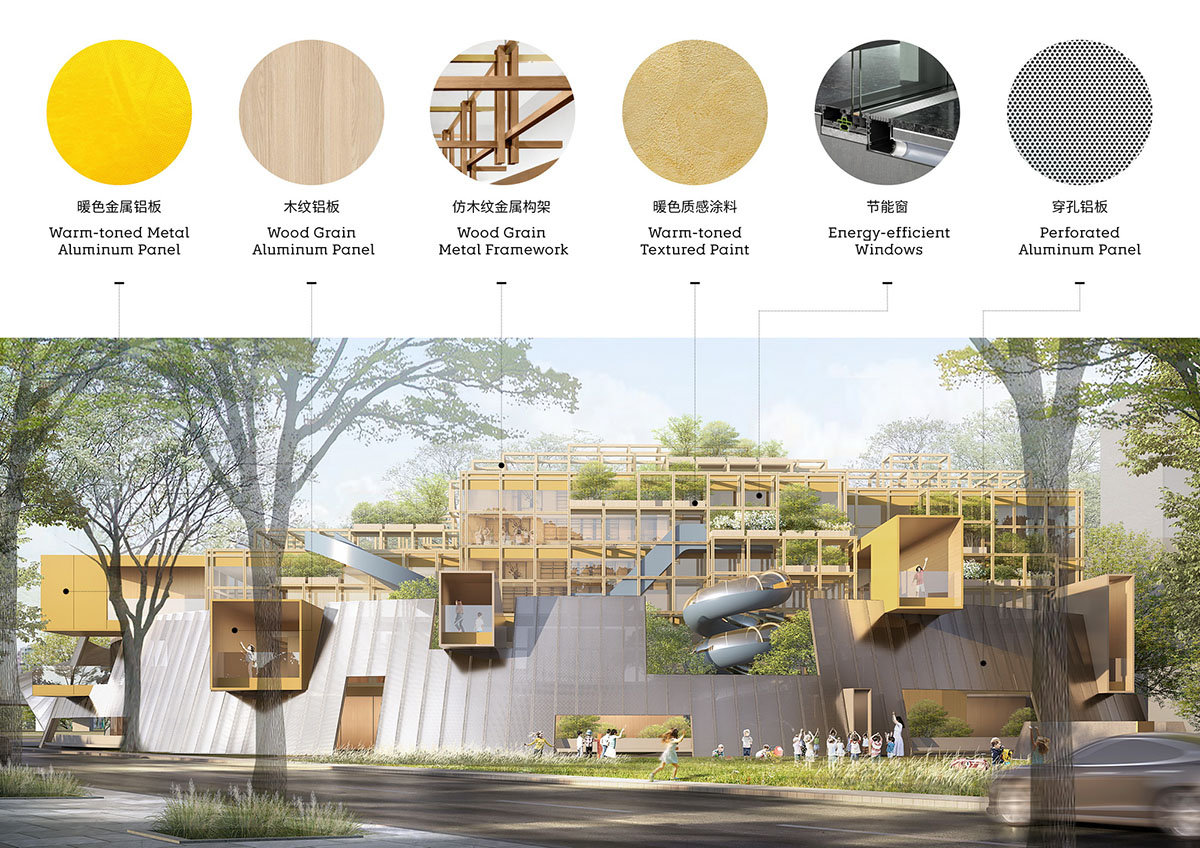 Façade materials
GOA completed a theater complex in Yangxian Xishan of Yixing, China. The practice also completed an art center in Nantong, Jiangsu Province, China.
Project facts
Project Name: Sanliting Kindergarten (Plot JG0904-R22-39 of Sanliting Unit)
Location: Hangzhou, Zhejiang Province
Type: Educational Architecture
Client: Qiandong Construction Investment
Consortium: GOA (Group of Architects), Jiangnan Management
Lead Architect: ZHANG Xun
Status: Winning Proposal
Design Date: 2023.01
Site Area: 3900 sqm
GFA: 7250 sqm
All images © GOA.
> via GOA