Happy Stripe: A Public Art Structure To Revive An Abandoned Alley Using AR Gamification
In November 2019, The Downtown Frederick Partnership in association with Potomac Valley Architecture Foundation, AIA Potomac Valley, and the Fredrick Arts Council sponsored a design competition with an intention to envision spatial installations in specific alleys that would cater to the linkage of the downtown urban fabric. One of the three selected entries for implementation was by SomePeople, a New York-based architecture and design studio founded by Kiki Goti. The installation is scheduled to be placed through November 2021, in Downtown Frederick, MD, and shall welcome safe visits by locals and visitors.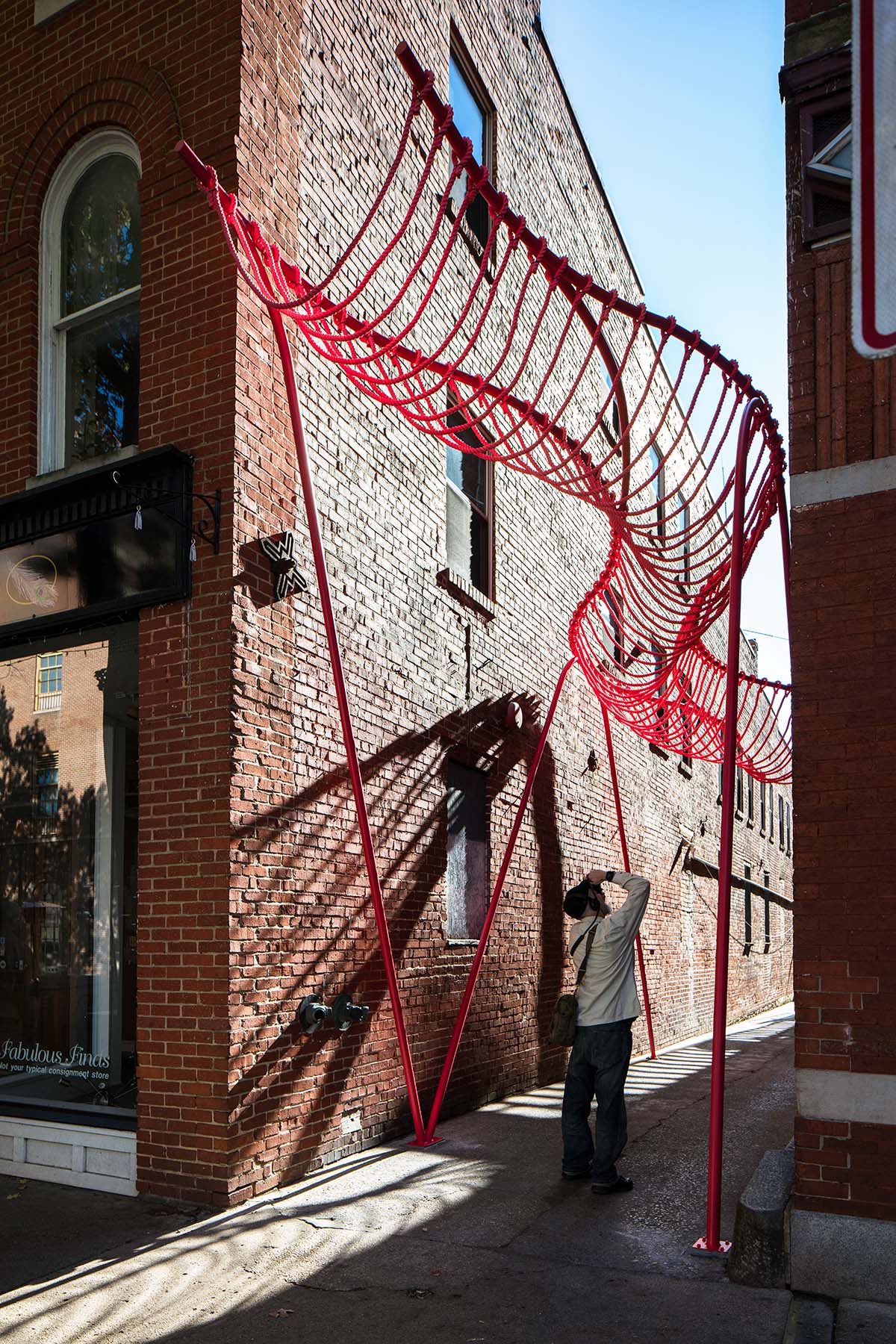 Image courtesy of SomePeople. Photograph by Nate Smith
"Happy Stripe" is designed to activate a jilted alley in Frederick Downtown by inviting bystanders to walk underneath it at the same time generate a sense of inquisitiveness amongst the nearby spectators. Along with stimulating curiosity, the playful structure is also connected with an augmented reality gaming application, that allows users to digitally play and interact with the structure as well as each other while maintaining appropriate social distance.
Image courtesy of SomePeople. Photograph by Nate Smith
The Linear structure is achieved using a bent steel frame and hanging nylon ropes that not only highlight the urban and architectural features of the specific lot but also create a dialogue with the existing context. The details of the installations are thoughtfully articulated with respect to the existing site context; the tilted nature of the structure is designed to accentuate the depth of the alley in perspective, while the spline geometry of the structure is influenced by the arches on the surrounding windows and facades of buildings. The color of the Happy Stripe is chosen with regards to the color of the brick facades and transitions from a red-brown to a vibrant pink as the stripes continue within the alley. The hanging ropes create a sense of porosity at the same time generate playful shadows that alter throughout the span of the day.
Visitors can download the AR game from the app store, which was created as a part of the installation to allow covid-safe user engagement both physically and digitally. In a virtual environment, the Happy Stripe installation acts as a big basket where the player is able to throw colorful balls and score points as well as play in teams of up to 10 people.
SomePeople studio, using innovative materials and advanced technological tools redefine public space and enables human interaction in the socially distanced era.
Image courtesy of SomePeople. Photograph by Nate Smith
Image courtesy of SomePeople. Photograph by Nate Smith
Image courtesy of SomePeople. Photograph by Nate Smith
Project facts
Project Name: Happy Stripe
Design studio: SomePeople
Metal Fabricator: Fire & Wire Welding
Structural Engineers: Schlaich Bergermann Partner
AR Developer: XRFront (Jeffrey Anderson, Ahmad Tabbakh)
Photographer: Nate Smith
Top Image: Happy Stripe by SomePeople. Photograph by Nate Smith
> via SomePeople