Herzog & de Meuron completes M+ Museum Tower in Hong Kong
Construction has officially been completed on Herzog de Meuron's M+ Museum tower in Hong Kong, developed in collaboration with TFP Farrells and global engineering firm Arup. The tower is planned to be opened to the public in the end of 2021.
Located in Hong Kong's West Kowloon Cultural District on the Victoria Harbour waterfront, the M+ Museum tower is set to become a museum for visual culture focusing on twentieth-and twenty-first-century design and architecture, moving image, and visual art from Hong Kong, Asia, and beyond.
Image © Virgile Simon Bertrand
Drawn on an inverted T-shaped plan, the tower covers 65,000 square metres of museum space – including a 17,000 square-metre spectrum of diverse exhibition and display areas with 33 galleries, shops, three cinemas, a mediatheque, a learning hub, multi-purpose halls, cafes, restaurants, a research centre, a members lounge and offices.
The site of the museum is intersected by an underground railway tunnel housing the Airport Express, further defining a specificity of place.
"Excavation around the existing tunnels reveals this distinctive feature as a "found space" with unprecedented potential for large-scale installations, literally anchoring the entire building in the ground," said Herzog de Meuron in its project description.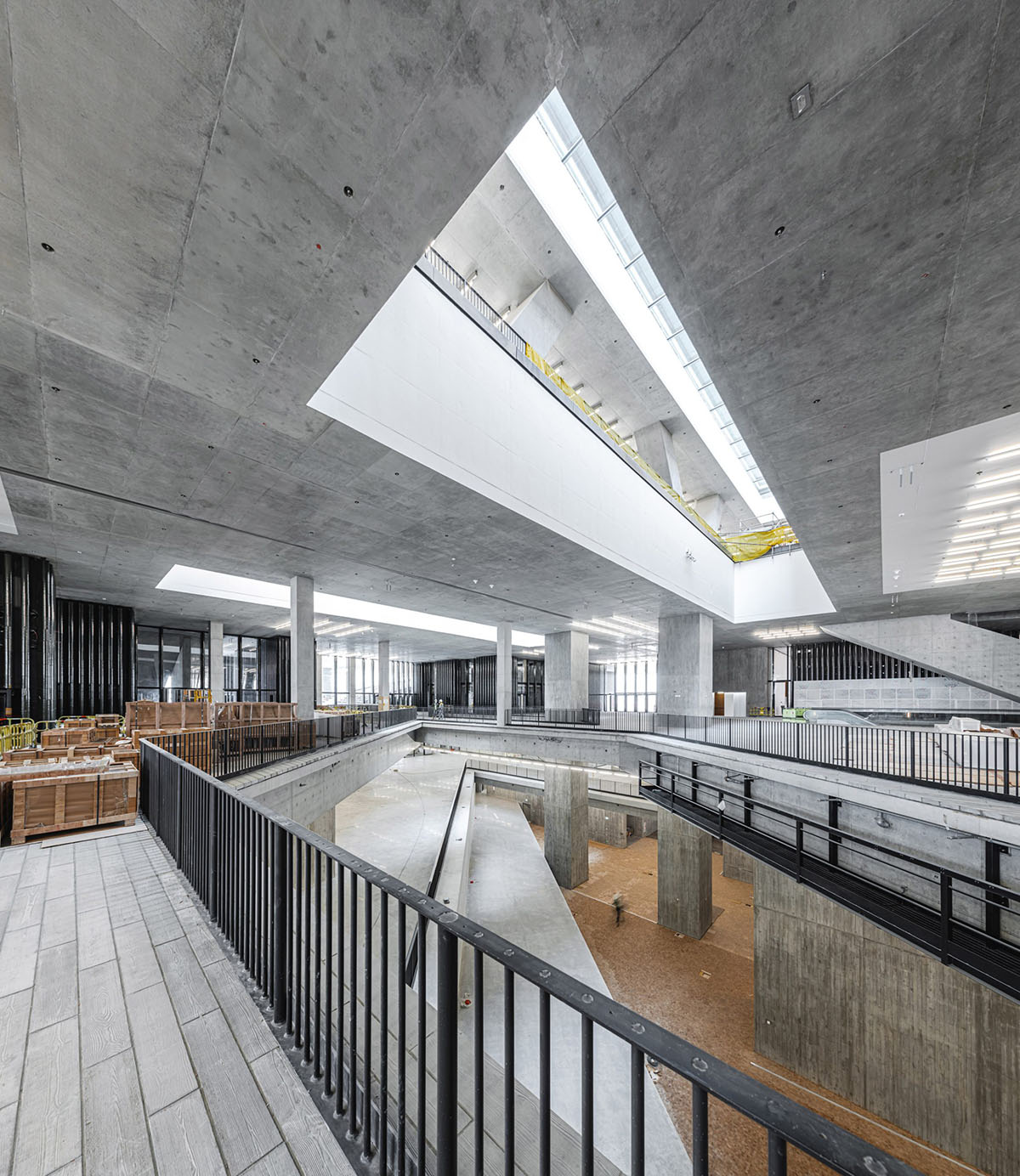 Image © Kevin Mak
Comprised of two volumes - one is vertical and the other is horizontal - the three-storey horizontal volume, hovering above this industrial found landscape and acts as an entrance platform, it houses exhibition spaces arranged around a central plaza.
A diaphanous vertical extension contains research facilities, artist-in-residence studios and curatorial offices, the vertical volume is centred above the horizontal exhibition slab to form a single entity.
Image © Kevin Mak
The building faces the waterfront and its facade is integrated with LED lighting aiming to activate the building as a city-scaled display screen, in order to establish M+ as a part of the dynamic Victoria Harbour skyline.
As stated in a press release, the tower defines a visual dialogue with the urban landscape of Hong Kong. The podium and tower are united as concrete structures clad in ceramic tiles that reflect the changing conditions of light and weather while standing out from nearby glass and steel skyscrapers.
Image © Kevin Mak
On the horizontal podium, there is a large outdoor roof garden, as well as public restaurants and a lounge housed on the top floors, provide gathering spaces complete with panoramic views of Hong Kong.
M+ has been designed as "a public forum, a built platform for the exchange, encounter and activity of people and art."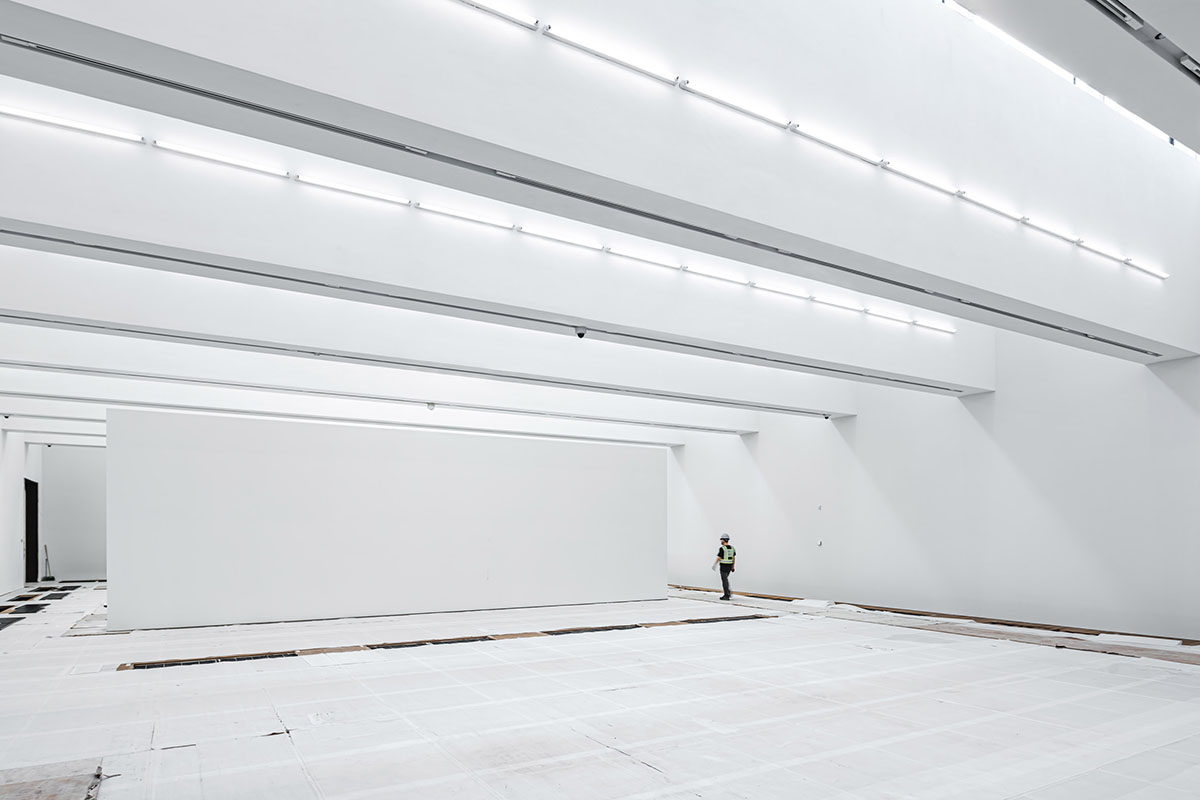 Image © Kevin Mak
"M+ certainly has the potential to become the major visual culture museum in Asia. It best expresses where we should go as a world culture, where diversity, equality and access to art of all kinds are expressed from the very beginning," said Jacques Herzog, Founding Partner of Herzog de Meuron.
"This kind of diversity and broadness is part of the DNA of M+."
"This makes it a museum, which is very much locally inspired, but at the same time universal and open: it is for the people and visitors across the world," Herzog added.
Image © Kevin Mak
"M+, emphasises the importance of the completion of M+'s construction journey," said Suhanya Raffel, Museum Director.
"This is a major milestone for the museum. As we mark the building completion, our opening preparations are in full swing. We have moved into our permanent home, and I am thrilled to be able to say we can soon welcome visitors from Hong Kong and beyond to M+," Raffel added.
Image © Virgile Simon Bertrand
Image © Virgile Simon Bertrand
Image © Kevin Mak
Image © Kevin Mak
Image © Kevin Mak
The M+ Museum is one of 17 core arts and cultural venues developed as part of the West Kowloon Cultural District, including the Xiqu Theatre, M+ Pavilion, the Art Park, Freespace, M+ Museum and the Lyric Theatre. The masterplan of the West Kowloon Cultural District was designed by Foster + Partners.
Herzog de Meuron was selected to design the M+ Museum in 2013. The firm releases revised images for the building in 2015 and the latest updates in 2018. In 2019, M+ Museum purchased Archigram archive for £1.8 Million.
Top image © Virgile Simon Bertrand.
> via Herzog de Meuron