15 Minute City - Urban Design Competition 2021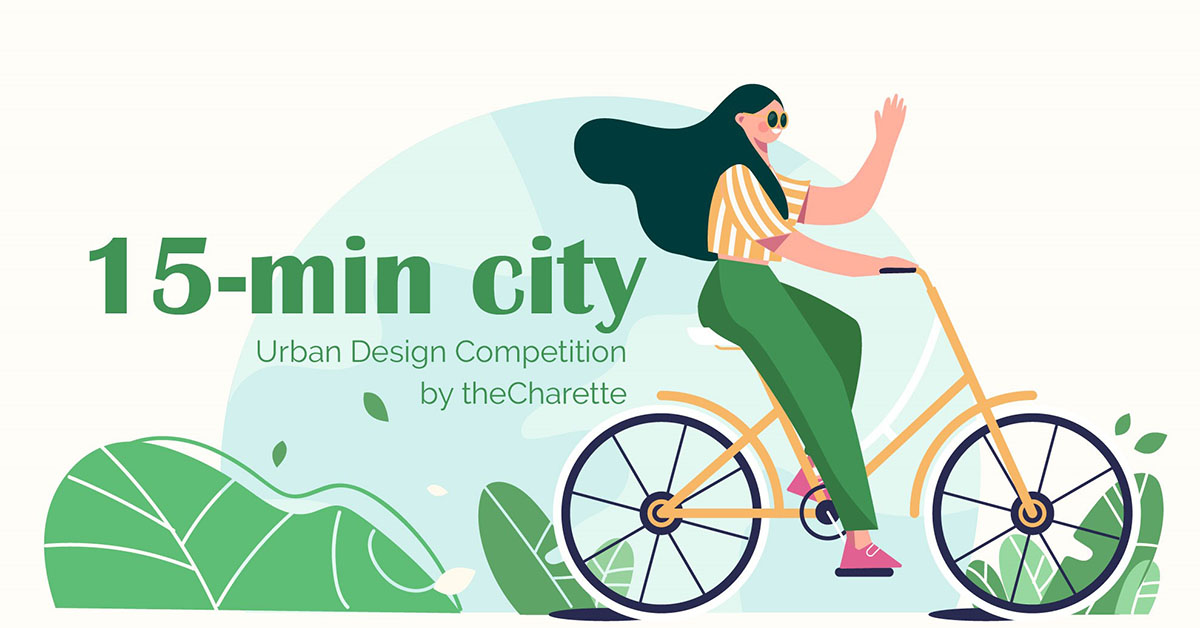 Before the lock-downs around the world, our lives were plagued by long commutes, leaving us with little time for ourselves, our families and our friends. Traffic polluted our air and smog blanketed our skylines. The pandemic hit the pause button on us. The switch to "working from home" made us question the futility of multi – hour commutes. What if we could reclaim our time, health, well-being and our communities for the better?
This is the idea behind a 15-minute city – a way to make urban living less stressful and more sustainable. A 15-minute city has affordable, accessible and adaptable housing for households of all sizes and ages. It is easy to get goods and services, healthcare, fresh groceries, and all other amenities. People can work close to home or work remotely more often. Many major cities such as Paris, Melbourne, Detroit, Portland and Ottawa have been working on similar concepts.
This competition encourages designers and planners to re-imagine our urban landscapes as cleaner, safer, healthier and more inclusive places to live!
Competition Brief
Where everything is 15 minutes away – by foot, bicycle or public transit.
The "15-minute city" is an approach to urban design that aims to improve quality of life by creating cities where everything a resident needs can be reached within 15 minutes by foot, bike or public transit. This concept puts an emphasis on careful planning at the neighborhood level, giving each district the features it needs to support a full life – including jobs, food, recreation, green space, housing, medical offices, small businesses and more. And importantly, it's a full life that doesn't require a car.
Participants are required to design a module for a 15-minute city that can be replicated to create a larger city. You can design a fictional city or re-design a small part of an existing city anywhere in the world. Remember, you don't need to design an entire city – just a module that can be replicated to create a larger city. As a city planner/designer, you are also free to recommend rules and policies to help make the lives of your city's occupants' better.
Submission Guidelines
Participants are required to submit one JPG/JPEG file for the 15-min city competition. Email your submissions to [email protected].
File Naming: '15MC-Registration ID.jpg' (ex. if your Registration ID is 1234, the file name should be 15MC-1234.jpg). You will receive your Registration ID after completing the registration.
Image Resolution: 4k (3840 x 2160 pixel)
File Size Limit: 10 MB
Awards
Exposure and recognition is the key to success for any designer. The "15-minute city" competition provides professionals and students, the opportunity to showcase their work on a global stage. The 3 Top Winners, 10 Honorable Mentions, and 30 shortlisted entries will be featured on theCharette.org, and on our social media platforms. The results will also be published by various websites and online magazines associated with us.
The jury may decide to announce more winner categories if a submission presents a unique and fascinating style or idea.
Trophies
The Top 3 Winners will be awarded Custom Designed Trophies to honor their achievement. The trophies and certificates will be shipped to the Top 3 Winners.
Certificates
the Charette will also acknowledge the outstanding performance of all Winners, Honorable Mentions and Top 30 entries with Certificates of Achievement.
Exclusive Interview
The Top 3 Winners will get an exclusive interview in both – written and video formats. Photos, interview, and more information about the winners will be published on our website.
Publications
The Winners and Honorable Mentions will be published on the Charette's website and other international architecture websites partnered with us. The best entries will also be featured in theCharette Journal.
Eligibility
"15-Minute City" is open to all creative people – architects, planners, interior designers, graphic designers, and all problem solvers! Participation is encouraged from professionals and students alike.
Design proposals can be developed individually or in teams of maximum 3 participants from similar or interdisciplinary backgrounds. The official language of the competition is English.
Jury
JEFF SPECK, Speck & Associates, Principal
LYNNE M. DEARBORN, Association of Collegiate Schools of Architecture, President
Key Dates
Closing date for registration: 31 May 2021
Closing date for project submission: 30 Jun 2021
Announcement of the winners: 31 July 2021
All deadlines are 11:59 PM UTC (Coordinated Universal Time).
Registration
1 Mar – 31 Mar 2021: $35 Advance Entry
1 Apr – 30 Apr 2021: $45 Early Entry
1 May – 31 May 2021: $55 Standard Entry
After completing the checkout, you will automatically receive a confirmation e-mail. In the e-mail, you will also find your Registration ID. Please note, your Registration ID is your order number. If you can't find the e-mail in your inbox, please check your spam folder. Even after the registration, you are welcome to add, remove, or swap team members as long as their total members does not exceed three. For any queries, feel free to contact us at [email protected]
Payments are handled by PayPal and Stripe's Secure Payment Gateways. You can pay through a Credit Card / Debit Card or your PayPal balance. We accept all major currencies.
All deadlines are 11:59 PM UTC (Coordinated Universal Time).
Special student rates are available for group registrations (discount applies for 3+ registrations from one university/school) as our initiative to promote more participation from students. Send us the following details at [email protected] to avail the offer.
Name of the university/school
Number of participating teams
School ID proofs of the team leaders
Top image courtesy of theCharette.
> via theCharette