Stemmer Rodrigues Arquitetura built Ananda house and yoga studio with tree-like columns in Brazil
Brazilian architecture practice Stemmer Rodrigues Arquitetura has built a private residence that can also be used as a yoga studio in Eldorado do Sul, Brazil.
The house, named Ananda House, takes its name from "supreme bliss", which is a common term widely used in Hinduism.
Distinguished with its curved glass façade and angular columns, resembling natural tree trunks, a large circular opening on the concrete slab allows a tree passing out inside and becomes a symbol of the house.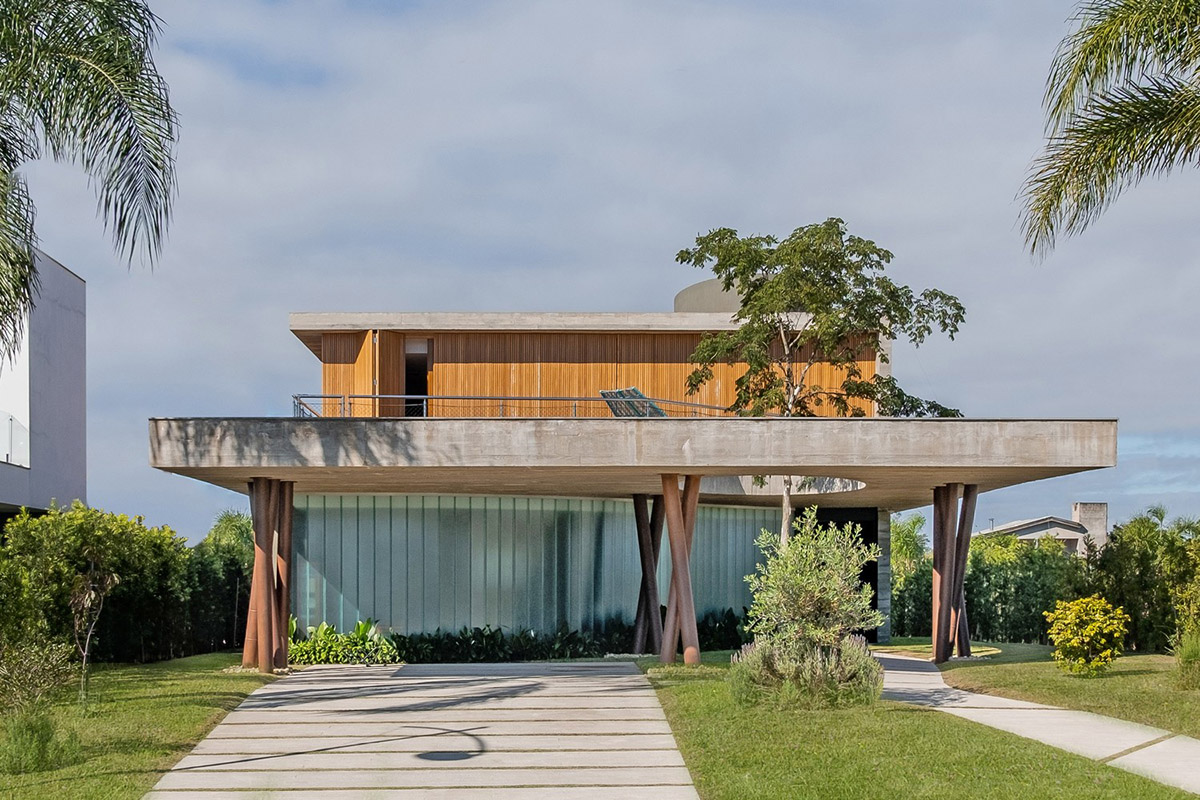 The 2-storey house is designed as a private residence and a yoga studio where a curved glass façade represents this meditation space in the front of the façade.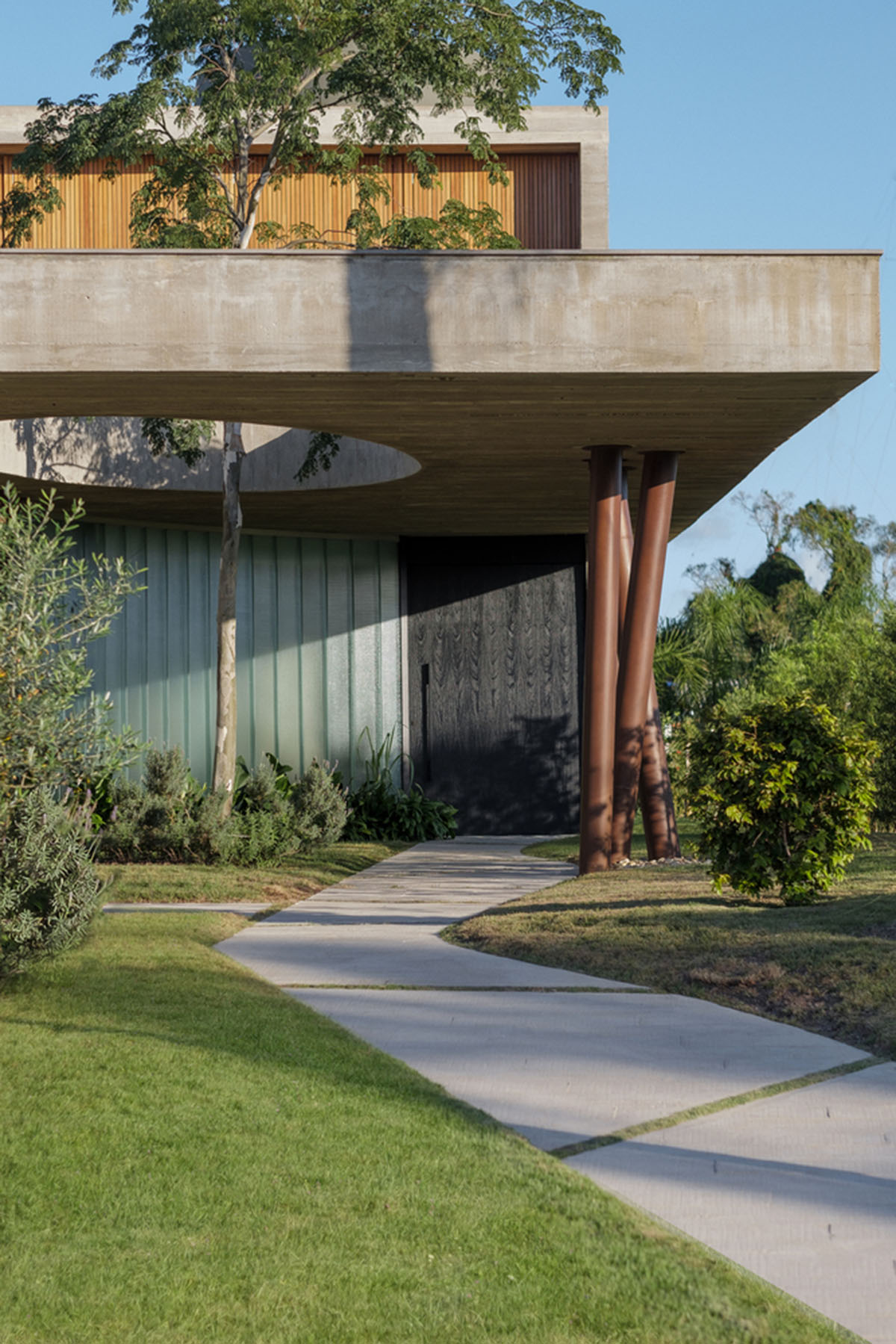 Covering a total of 35-square-metre area, the materials used for the house are simple: wood, concrete and glass.
The client wanted to transform her house into a bright space to live in and to receive students for yoga and meditation classes, as Stemmer Rodrigues Arquitetura explained in the project brief.
The house sits on a 600-square-meter plot and welcomes its users in a beautifully-designed landscape, a walkway dotted by large stones leads up visitors towards the entrance.
"The welcoming happens already at the main entrance, where the supporting pillars mimic natural trunks, while the glass rails configure a shelter dedicated to the practice of meditation and yoga," said Ingrid Stemmer, founder, and partner of Stemmer Rodrigues.
The architects divided the program into two floors: the social area, the room for yoga classes, and the veranda are placed on the first floor, and the intimate area with three bedrooms are designed on the upper floor.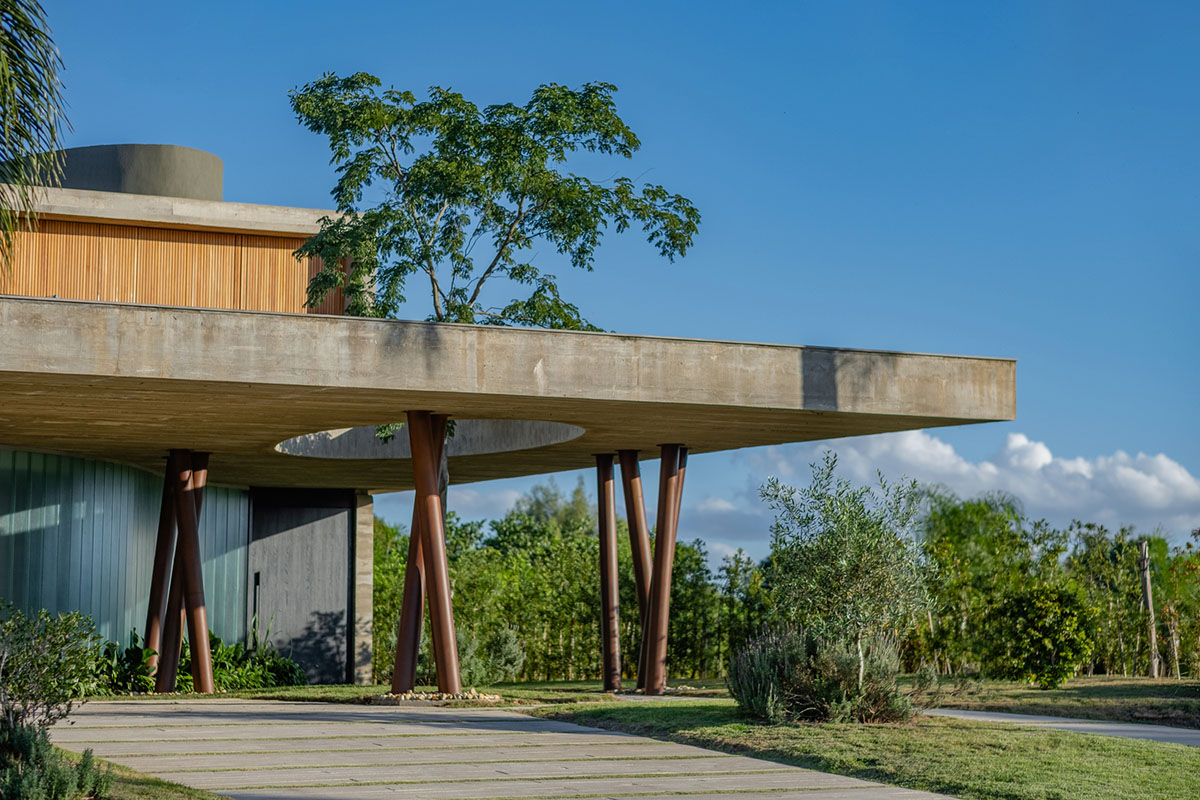 On the porch, with a barbecue grill, there is a marble deck designed to receive friends and family for outdoor gatherings.
"The slatted wood covers the facade on the upper floor, in front of the solarium, bringing more comfort to the intimate area and balance to the design," added Luciana Medeiros, project coordinator at Stemmer Rodrigues.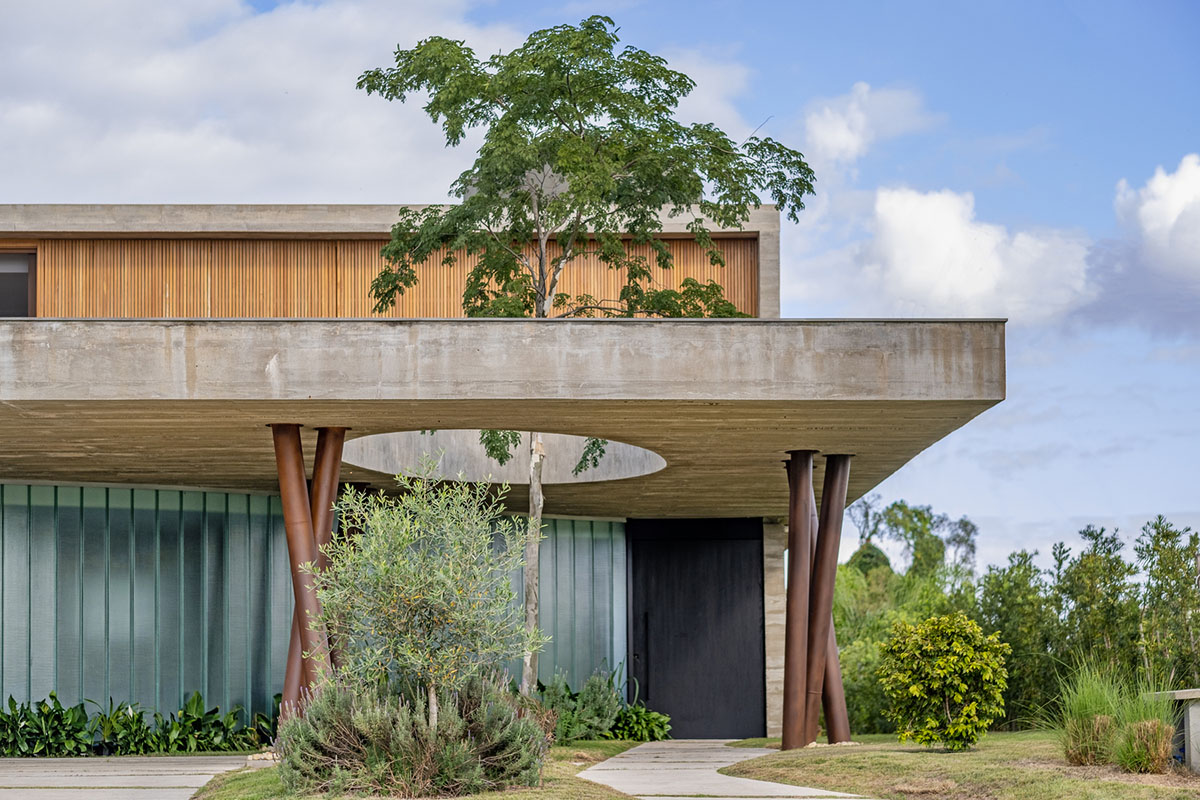 A concrete slab acting like a shelter that defines the language of the house, while the nature becomes part of this structure in a natural way. Angular columns are placed gently in front of the façade, in which they complement the house in an aesthetic way.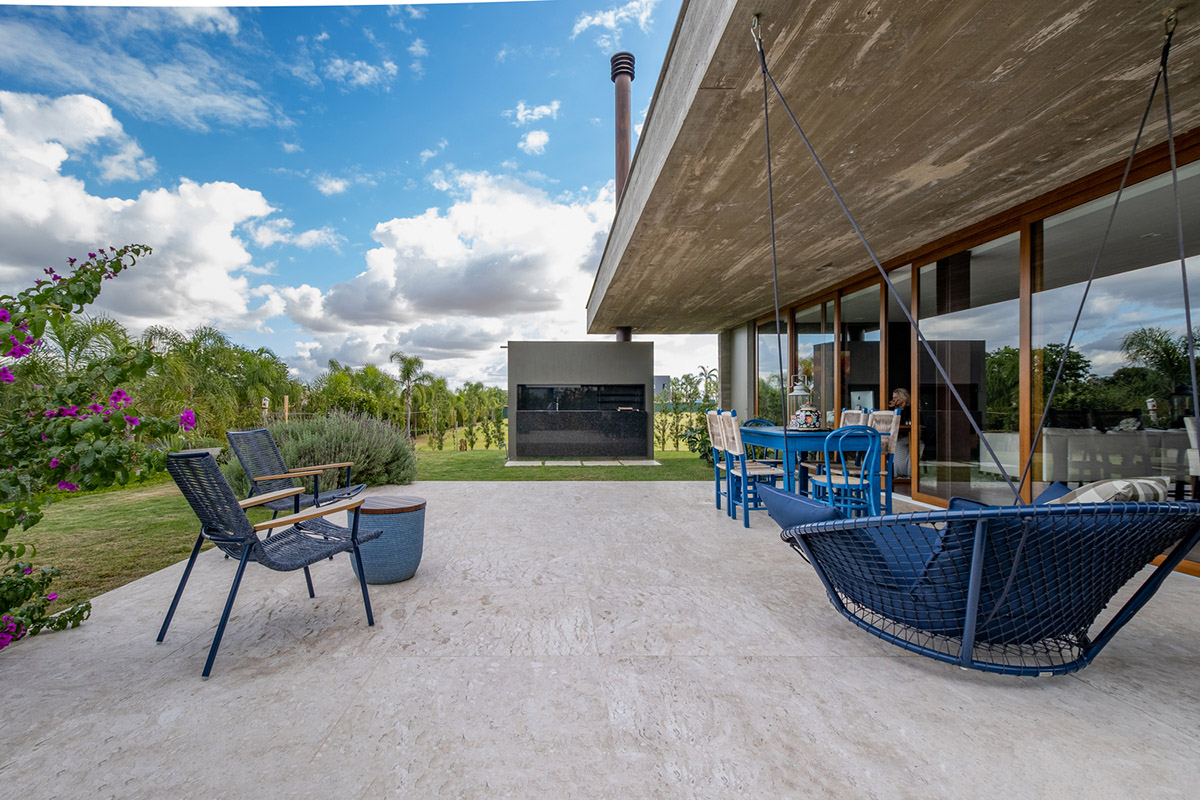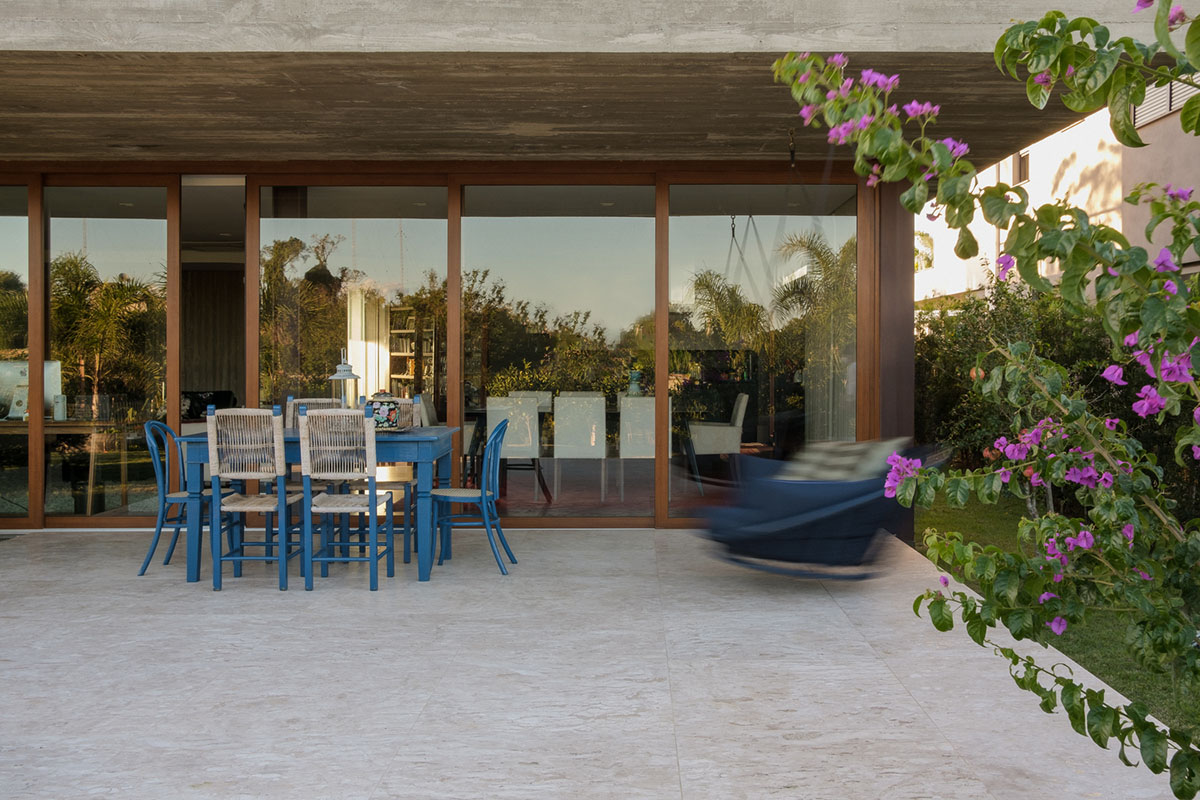 Ground floor plan
First floor plan
Section
Project facts
Project name: Ananda House
Architects: Stemmer Rodrigues Arquitetura
Location: Eldorado do Sul, Brazil.
Size: 350m2
Date: 2021
All images © Lucas Franck/NMLSS
All drawings © Stemmer Rodrigues Arquitetura