IPCC's report reveals details about widespread, rapid, and intensifying climate change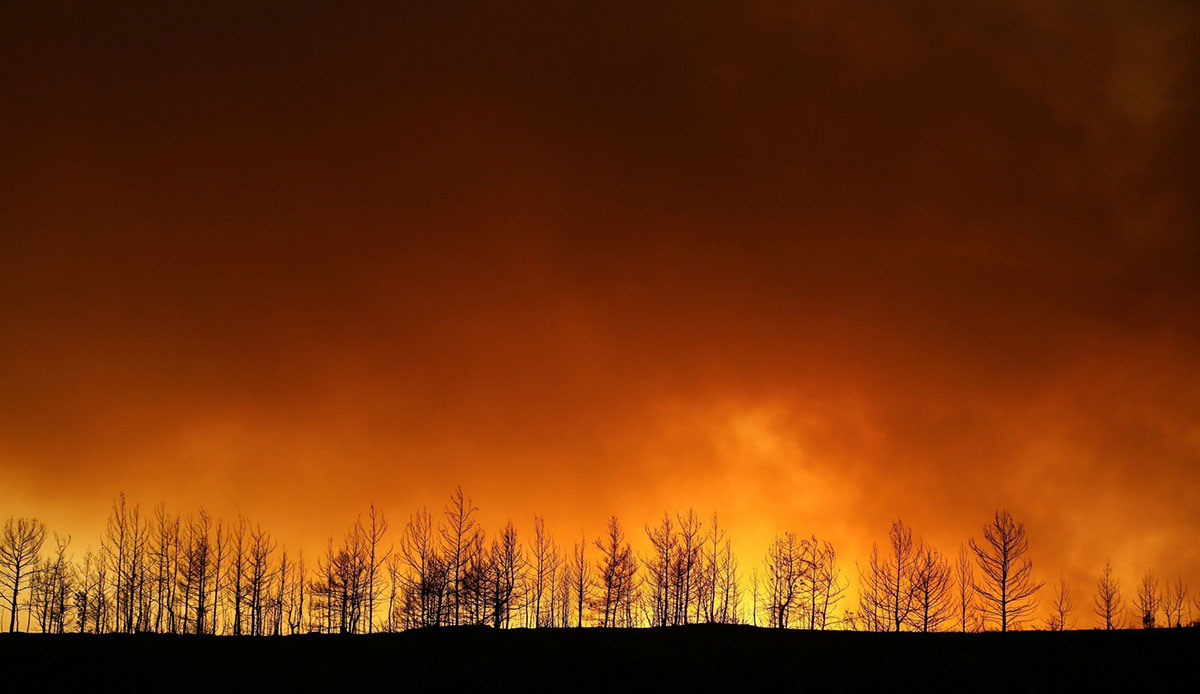 The Intergovernmental Panel on Climate Change (IPCC), the UN's body for assessing the science related to climate change, has revealed a comprehensive report that documents extensive details and scientific observations of climate change regionally, and across the whole world.
A 42-page report, titled Climate Change 2021: the Physical Science Basis, is the first instalment of the IPCC's Sixth Assessment Report (AR6), which will be completed in 2022.
The report takes attention to the new estimates for crossing the global warming level of 1.5 degree threshold in the next 20 years, urging all policymakers to implement "immediate, rapid and large-scale" actions to reduce greenhouse gas emissions.
It says "unless there are immediate, rapid and large-scale reductions in greenhouse gas emissions, limiting warming to close to 1.5°C or even 2°C will be beyond reach."
A view from flooding in the Blessem district of Erftstadt, Germany (2021). Image © Rhein-Erft-Kreis, AP
The 1.5-degree threshold was set out in Paris Agreement during the United Nations Framework Convention on Climate Change's (UNFCCC) 21st Conference of the Parties (COP 21) and in December 2015 to avoid dangerous climate change, which was aimed to decrease global average temperate below 1.5 degrees Celsius.
Earth can see faster warming
However, the report states that as we are very close to this threshold in the coming years if rapid and large-scale decisions are not taken, and underlines that the emissions of carbon dioxide (CO2) and other greenhouse gases will limit climate change if strong and sustained reductions are achieved.
"While benefits for air quality would come quickly, it could take 20-30 years to see global temperatures stabilize," explained in a press statement of IPCC.
"This report reflects extraordinary efforts under exceptional circumstances," said Hoesung Lee, Chair of the IPCC.
"The innovations in this report, and advances in climate science that it reflects, provide an invaluable input into climate negotiations and decision-making."
A view from downtown San Francisco, covered in haze and smoke from various wildfires (Wednesday, Sept. 9, 2020) in San Francisco, California. Image © Gabrielle Lurie / The Chronicle
The IPCC released its last report in 2018 and since then, the world has seen many changes with extreme weather fluctuations such as floods, intense droughts, wildfires, extreme heatwaves, rainfall patterns, ocean acidification. The study clearly outlines that some of the changes on Earth already set in motion, like continued sea level rise - which "are irreversible over hundreds to thousands of years."
"We need rapid system change if we are to achieve this"
At the same time, the report stresses the regional impacts of climate change to a large extent in coastal areas and oceans, claiming that "it is not just about temperature."
It says that there will be multiple different changes in different regions, including changes to wetness and dryness, to winds, snow and ice, coastal areas and oceans. The six-item analysis once again reveals the reality of climate change in coastal areas and oceans. These include intensification of the water cycle, intense rainfalls and associated flooding, more intense drought, sea-level rise, coastal erosion, extreme sea level events, more frequent marine heatwaves.
"Climate change is already affecting every region on Earth, in multiple ways. The changes we experience will increase with additional warming," said IPCC Working Group, Co-Chair Panmao Zhai.
In response to the IPCC's report, UK's Architects Declare, a climate change and biodiversity emergency group, has issued a statement and said "we need rapid system change if we are to achieve this".
The Bear Lakes Estates neighborhood devastated by the Almeda fire in Phoenix, Oregon, 2020. Image © Adrees Latif/Reuters
The group invited all built environment professionals to address this planetary emergency and called the government and policymakers to create a meaningful dialogue on solutions to deal with this challenge collectively.
"This generation can make the systemic changes that will stop the planet warming and create a world of peace, prosperity and equity" said Inger Andersen, IPCC.
"Architects Declare was founded after the 2018 IPCC special report to change the mindset of built environment practice, regulation and policy. Today's report once again hammers home the need to transition rapidly to a zero-carbon world to avoid the worst consequences of climate breakdown," said Steve Tompkins, member of the Architects Declare Steering Group.
"The science is clear, the evidence before our eyes is undeniable and the technical solutions are available: what we need now is political support and the collective courage to act," Tompkins added.
The IPCC's report also highlights that "emissions of greenhouse gases caused by human activities are responsible for approximately 1.1 degrees Celsius of warming since pre-industrial levels, and "finds that averaged over the next 20 years, global temperature is expected to reach or exceed 1.5°C of warming."
"It is unequivocal that human influence has warmed the atmosphere, ocean and land. Widespread and rapid changes in the atmosphere, ocean, cryosphere and biosphere have occurred," the report emphasized.
"With every increment of global warming, changes get larger in regional mean temperature, precipitation and soil moisture." Image © IPCC
Every region to face increasing changes
Regional impacts of climate change is also explored in an Interactive Atlas by the IPCC, that documents a visual projection on climate change in future.
Based on the evidences in the report, "carbon dioxide (CO2) becomes the main driver of climate change, even as other greenhouse gases and air pollutants also affect the climate."
"Stabilizing the climate will require strong, rapid, and sustained reductions in greenhouse gas emissions, and reaching net zero CO2 emissions. Limiting other greenhouse gases and air pollutants, especially methane, could have benefits both for health and the climate," said Zhai.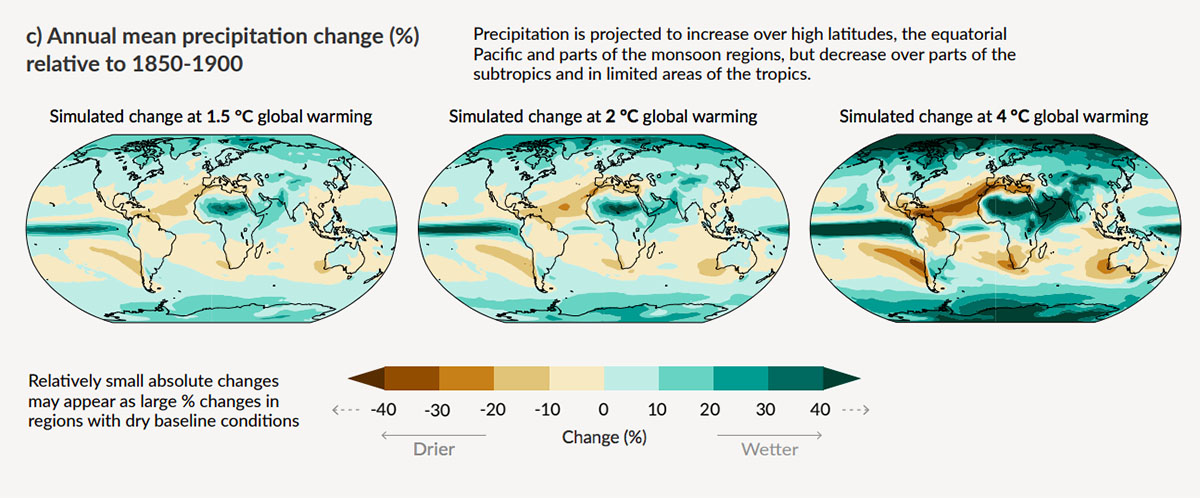 The graphic shows "annual mean precipitation change (%) relative to 1850-1900". Image © IPCC
Five possible scenarios are also shown in the report, considering the different level of emissions, it will result in 1.5 degrees Celsius of warming or more by 2040.
The IPCC originally planned to release the report in April 2021, but the report was delayed for several months by the Covid-19 pandemic, as work in the scientific community including the IPCC shifted online.
The report was created by 234 authors from 66 countries, with 517 – contributing authors, based on more than 14,000 scientific papers. The IPCC will release its next report in 2022 and completed the AR6 Synthesis Report in the second half of 2022.
Top image: A view from wildfire near the town of Manavgat, Turkey. Image courtesy of Reuters.
> via IPCC