Architecture Is Free Foundation: RE:DUX ELEMENTS: THE COLUMN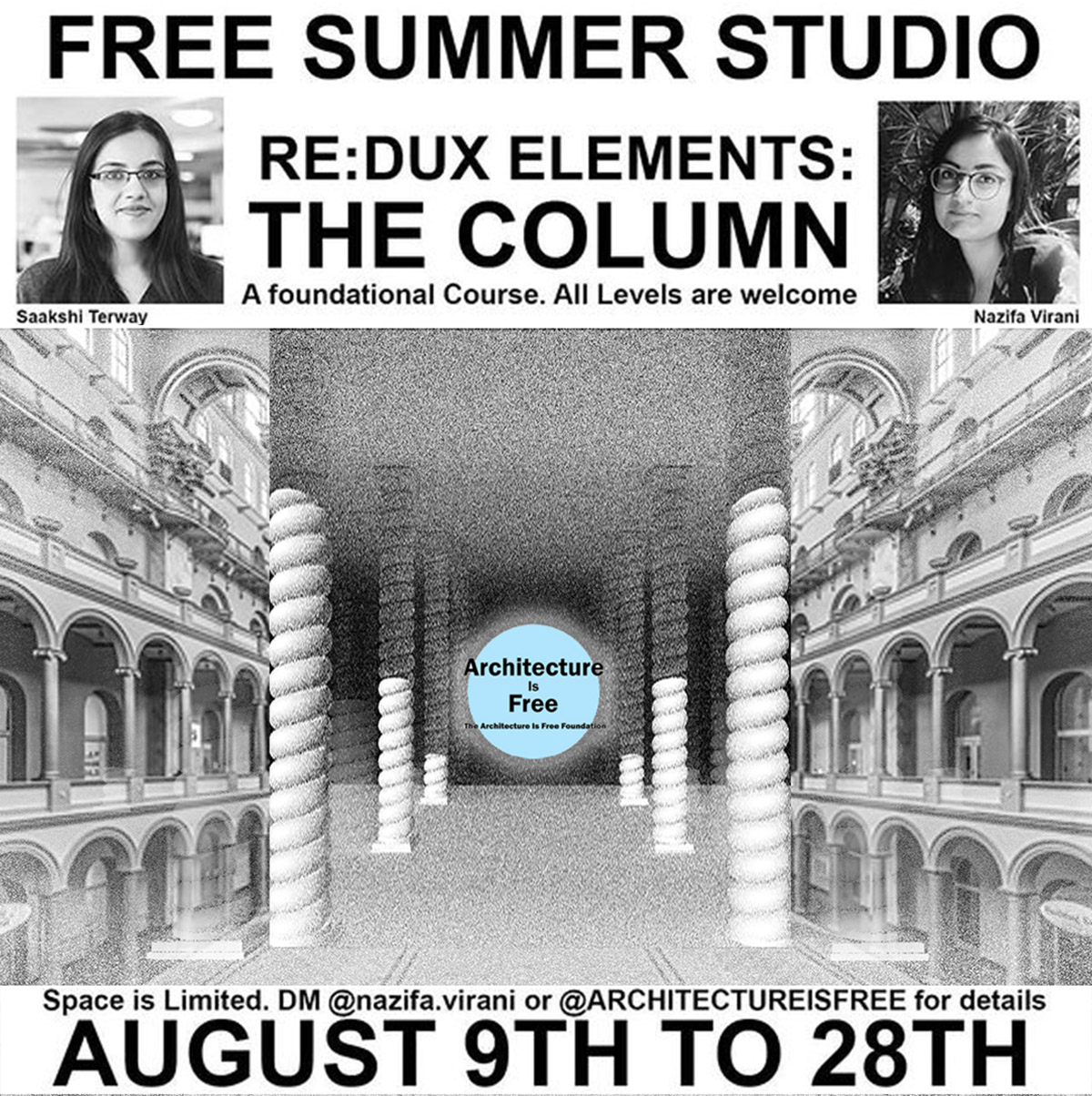 Despite being contemporary, the foundation of design is embedded in history. The elements of everyday architecture have their roots in ancient societies and the artisans that produced them. The floors, doors, walls, and columns are all examples of elements that bridge across cultures and time. In this foundation design studio, we will study the ever-existing element: The Column.
We will use the columns as the object of focus in a series of assignments, increasing in complexity and scale, in order to develop our own design language while familiarizing ourselves with hand-drawings and transitioning them to computer aided design. The goal of this 3-week studio is to explore the complexities of analyzing, visualizing, and conceptualizing design and learning to express it coherently in a well composed form.
This is a virtual studio and will be hosted via zoom. If selected, it is mandatory to attend all sessions.
The Class Timings are as follows:
Week 1:
9th August 2021 7:00pm to 8:00 pm EST
13th August 2021 6:00pm to 7:00 pm EST
Week 2:
16th August 2021 7:00pm to 8:00 pm EST
20th August 2021 6:00pm to 7:00 pm EST
Week 3:
23rd August 2021 7:00pm to 8:00 pm EST
27th August 2021 6:00pm to 7:00 pm EST
While the is a free studio, seats are limited. Please reach out to Nazifa Virani ([email protected]) to initiate the process of registration by emailing the following information:
a short introduction about yourself
your familiarity with 3D modeling software
your familiarity with architecture and design
If selected, you will be informed via email by 26th July 2021.
Instructors
Nazifa Virani (they/ them)
Nazifa is the Design Principal of Twin Projects Corp., Chicago, with a Master of Architecture and a bachelor's in urban and Public Policy and a minor in Art History from the University of Illinois, Chicago.
Saakshi Terway (she/ her)
Saakshi is a designer at Wiencek + Associates Architects + Planners, Washington DC, and the Chairperson for the AIA|DC Urban Design Committee, with a Master of Architecture and a minor in Sustainable Landscape Design from the University of Cincinnati, Ohio.
Organization
This studio has been organized by the Architecture is Free Foundation. AIFF is a non-profit organization that serves a diverse group of students and faculty from all over the world, while funding charities that support inclusion and empowerment. Students do their part to support the community by donating what they can afford to charities of their choice.
You can read details on this page.
Top image courtesy of Architecture Is Free Foundation.