UNStudio reveals its "inclusive masterplan" for Sochi Waterfront in Russia
UNStudio has won an international competition to develop an "inclusive masterplan" for Sochi Waterfront on the Russian Black Sea coast.
The masterplan, called SoCo, offers a comprehensive intervention that rebrands the waterfront as a vibrant and inclusive mixed-use programme, which focuses on hospitality, business, and culture while benefiting from the grand cultural legacy of the existing context of the city.
SoCo is aimed to be the ultimate destination and designed to create opportunities for locals and attractions for visitors, while revitalising leisure resort that celebrates a healthy life, provides grades of luxury, fun, and glamour, as well as unique adventures and memorable experiences.
Image © UNStudio
As always seen in UNStudio's design philosophy, the integration of nature, culture, and innovation will be at the heart of the masterplan that forms SoCo's identity.
The masterplan will also embed technological tools that support short and long terms targets and executes, monitors and enhances a built and green environment.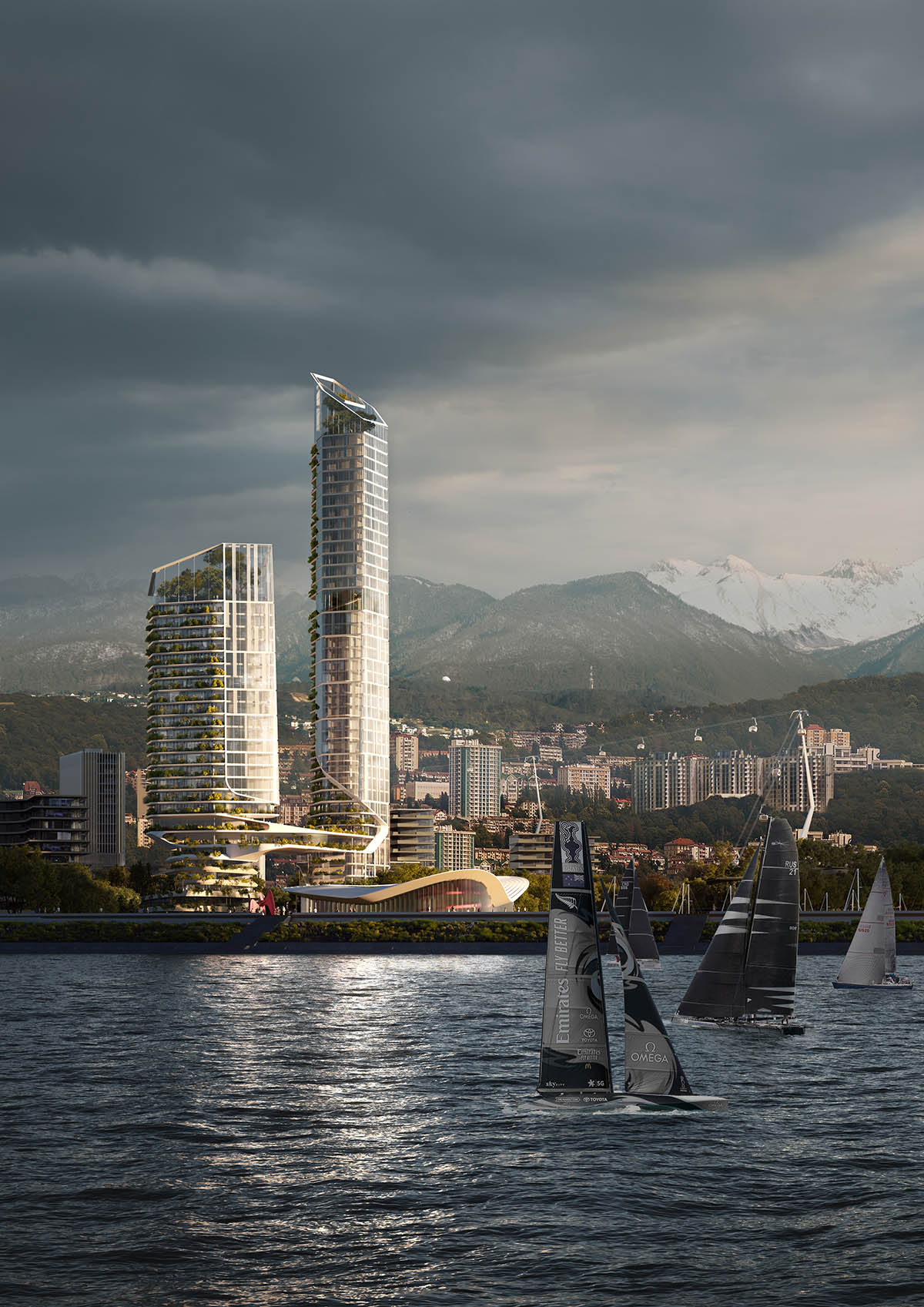 Image © ZOA Studio
Sochi Coast, with its characteristic contemporary architecture, retail, gastronomic experiences, and extensive green areas is recognised as one of Russia's most important holiday destinations and is considered to be the main anchor among the Black Sea Coast Resorts.
In addition to being a well-known holiday destination, Sochi is famous for hosting the Winter Olympics in 2014, meaning that it also enjoys a considerable network of connections and existing infrastructure.
Image © ZOA Studio
Sochi is also a historical seaport that is home to the most famous concert hall in the south of Russia, a museum of art, the Winter & Summer Theatre, and numerous other cultural venues.
"A goal of the masterplan is to integrate and activate these venues within the new development, in order to create a familiar yet strong and unified identity," said UNStudio.
Image © ZOA Studio
UNStudio follows inclusive approach
The goal of the project is to create "a community that can rejuvenate the population and ensure the life cycle of different micro-neighbourhoods."
For this reason, the studio designs purposeful green areas that will incorporate various smart green ecosystems, which have different lifestyles, while the presence of cultural, design, and innovative districts will encourage health, wellbeing, creativity, and tech innovation.
As the UNStudio team highlights, "one of the parameters to create a successful 21st-century district is to ensure inclusivity and accessibility for an ever-changing society." In order to achieve this goal, the principles of masterplan are based on three important concepts: Year Round Destination, Nurture-Nature and Inclusive Neighborhood.
Image © UNStudio
Year Round Destination will provided a well-balanced combination of principally flexible programme components ensures that 24-hour activity and winter-summer transitions are always organic, versatile, and engaging. "Our goal is to create tendencies and platforms for various businesses and entrepreneurs to experiment with long or short-term projects," said UNStudio.
Nurture-Nature will create a built environment that promotes a healthy lifestyle and public spaces that foster positive emotionsby enhancing our connection to the environment, while Inclusive Neighborhood will integrate nature with human living, different demographics, and social groups.
Image © UNStudio
A framework of the masterplan is based on nature and human-scale interventions which form core urban design principles, while a 'cultural spine' connects all the important cultural venues within the city and creates a platform for creative minds to work perform and exhibit their work.
"Not only throughout the year but also during events such as the Sochi Architectural Biennale, Sochi Design weeks, Sochi Film Festival and Sochi Fashion weeks," added the studio.
The masterplan consists of five key interventions: Extension, Magnets and anchors, Intensity increase, Catch a wave and The 'Pops.
Image © UNStudio
Extension: The extension a beach area expands outwards, while a new marina appears at the end of the plot. Marina City is a business and innovation centre for either business or leisure travelers with international standard conference facilities, high-end hotels, vibrant nightlife, a globally recognised Design and Innovation Museum, and a Yacht club.
Magnets and anchors: The plans will offer magnets and anchor points - two very different attractors are established at opposite ends of the beach. A relaxed and open Festival Village, located close to the city centre, forms a north anchor. It is designated for local activities, community use, and casual gathering. Friends can meet for a beach party around fire pits or browse bookstalls at the weekend markets. Visitors from further away will be attracted to the annual calendar of events – carnival, street parties, and outdoor summer concerts. This is a low-stress, low intensity, community-focused face of SoCo at the south end.
A new Marina City at the other end of the beach creates a completely new urban quarter with business and innovation functions and a focus on nightlife. This south anchor is a lively, expressive, pulsating, and exciting place.
Image © ZOA Studio
Intensity increase: As visitors move from Festival Village towards the new Marina City, physical and visual intensity increases in both experience and scale; there is a change in vibe and an increase in volume. In between the two anchors three themed districts emerge from design principles and attractions: SoCo Playgrounds, SoCo Arts & Culture, and SoCo Healthy Lifestyle. Each district is defined by a different character, different urban fabric, green environment, and functional mix, with various services and potential target groups.
Catch a wave: It contains three different routes (The Lanes, The Boardwalk and The Green Wave), each with its own distinct character, connect either end of the waterfront, providing three different speeds, atmospheres and experiences as you move along the waterfront. The Lanes is lined with shops, restaurants, and bars and sheltered from the waterfront. The Boardwalk, on the other hand, is lined with palm trees, beach bars, and bathing spots. Weaving in between these two routes is The Green Wave, a meandering bio-diverse corridor and nature walk that interconnects all layers of activity.
The 'Pops': The pops will be at key intersections with local landmarks, each of the three routes is punctuated by 'Pops'; attractions and destinations such as concert halls, pop-up galleries, a local market, botanical gardens, university outposts, satellite cultural institutions, open-air cinemas, etc.
Masterplan
Technology and sustainability will be at the core of the masterplan. The plans consist of pockets that form a network of healthy green spaces with real-time data on outdoor environmental health. This data will create new ways for residents and visitors to interact with each other and the green environment.
In addition, the proposed master plan aims to define new targets for the city of Sochi as part of an overarching metropolitan and European health strategy.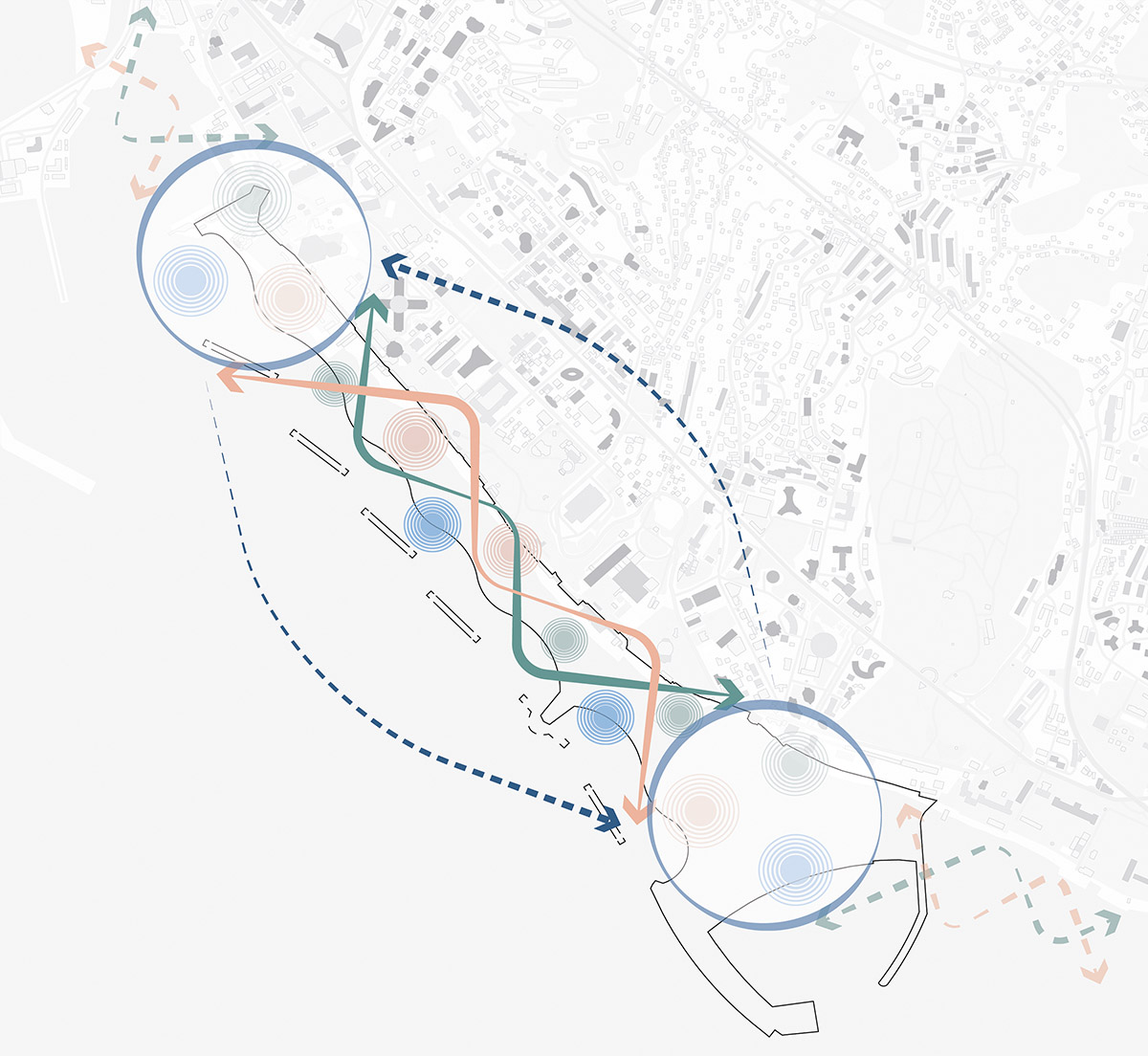 Concept - inclusive approach
Character - public space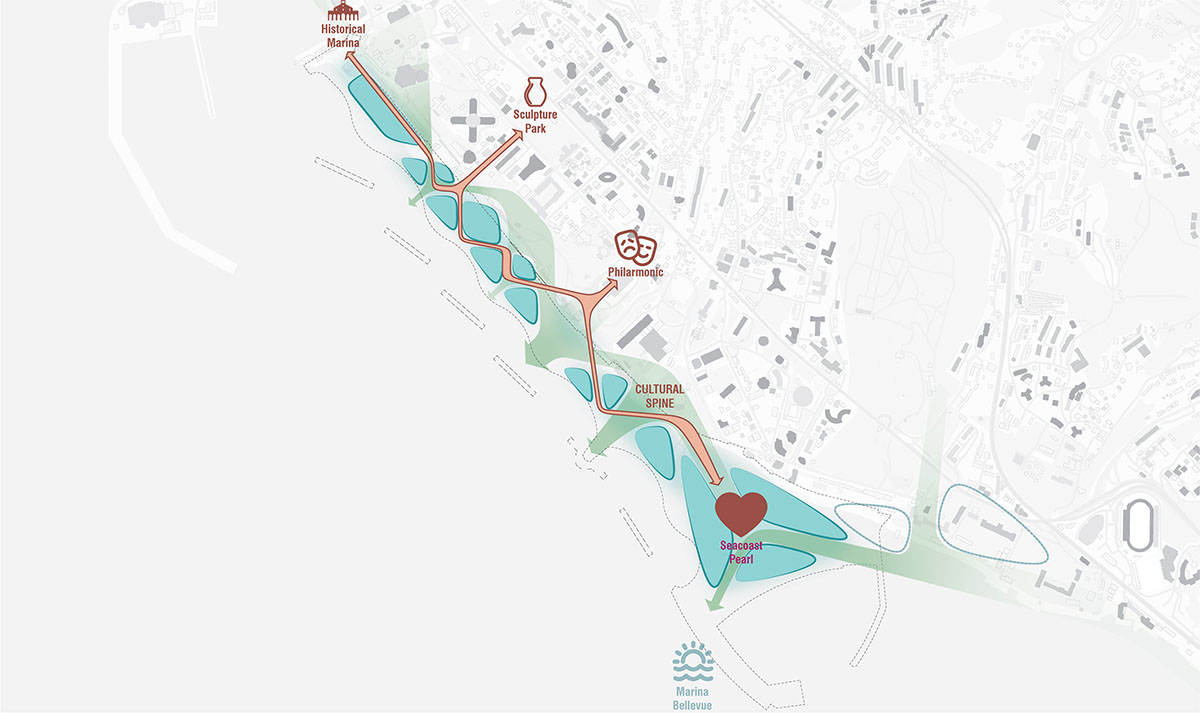 Concept - culture
Concept - nature
Experience innovation
Masterplan theme
Project facts
Urban Design and Architecture:
UNStudio: Ben van Berkel, Caroline Bos, Frans van Vuure with Dana Behrman, Alexander Kalachev and Melinda Matuz, Roman Kristesiashvili, Saba Nabavi Tafreshi, Vlad Cuc, Nataliya Kuznetsova, Olga Kotta, Yimin Yang.
Placemaking & Branding: JTP Studio
Engineering & Cost: Spectrum Group
Local Architecture: Amirov Architects
Video Production: Boma Video Production
Visualization: ZOA Studio
Education and Culture: European Cultural Academy
Academic and Culture: Kuban State University
Top image © ZOA Studio
> via UNStudio