Frank Gehry's shimmering The Tower opens at Luma Arles campus in France
Frank Gehry's hotly-anticipated shimmering mixed-use tower has opened at the Luma Arles campus in France, the campus is a 27-acre creative hub at the Parc des Ateliers in the city of Arles.
The Luma Arles campus is privately funded by Swiss art collector, art patron, documentary filmmaker, Maja Hoffmann's Luma Foundation.
Officially opened on January 26, Gehry's project, named The Tower, sits at the heart of the campus with a shimmering skin. The Tower, covering a total of 15,000 square meters, creates a twisting geometric structure clad with 11,000 stainless steel panels.
Image © Adrian Deweerdt
A twinkling tower, designed by Canadian-born American architect Frank Gehry, has been completed as one of the seven industrial buildings.
The former buildings, used as a former manufacturing factory, were converted into performing arts residencies, exhibition spaces, a hotel and a restaurant.
Image © Adrian Deweerdt
In the opening progamme, over 45 artists and designers have been featured with special new commissions for LUMA by major international artists, including Etel Adnan, Ólafur Elíasson, Koo Jeong A, Kapwani Kiwanga, Helen Marten, Pierre Huyghe, Carsten Höller, Philippe Parreno and Rirkrit Tiravanija amongst others.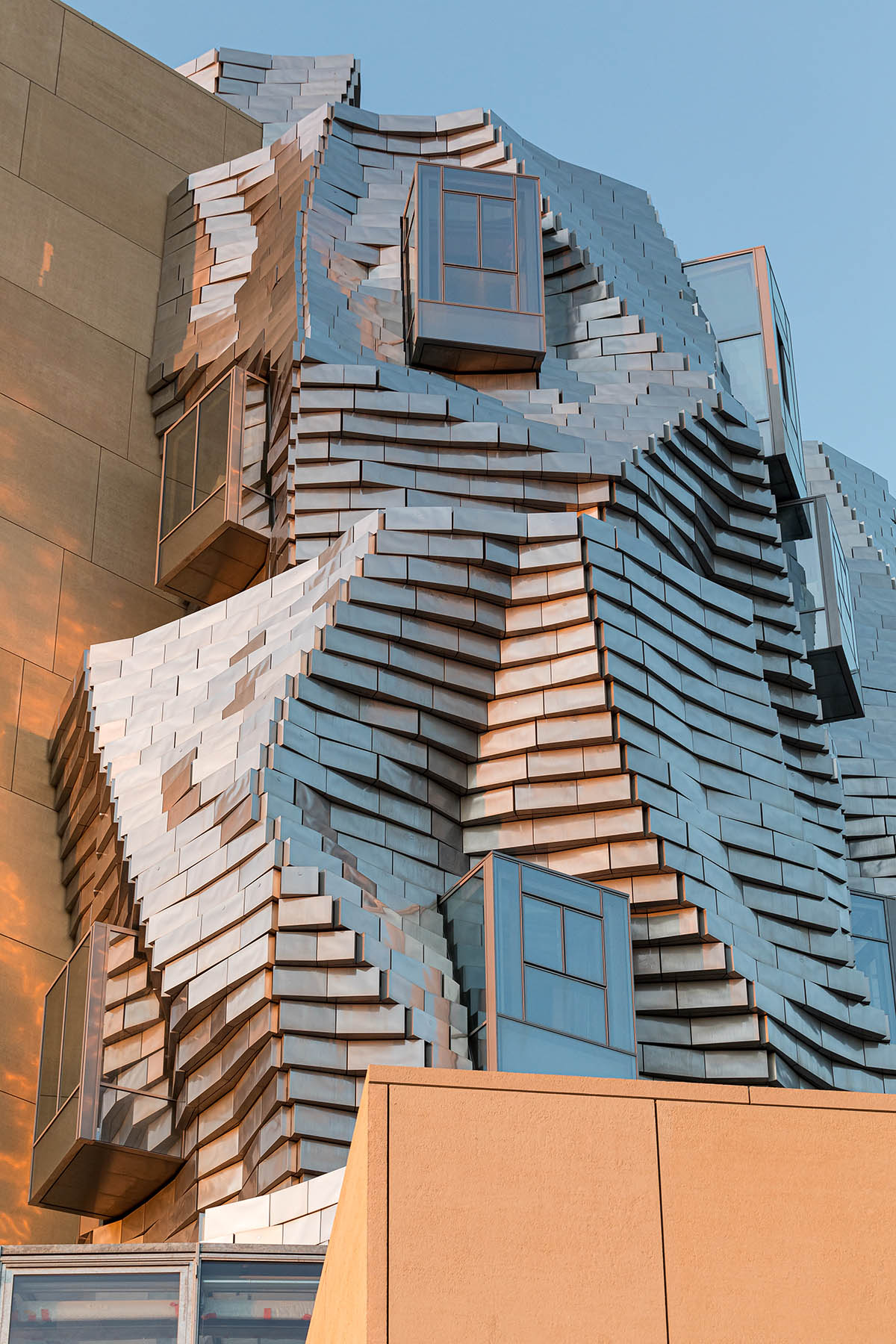 Image © Adrian Deweerdt
Frank Gehry's tower houses exhibition galleries, project spaces which will be used for the LUMA's research and archive facilities, alongside workshop, seminar rooms and a cafe for Luma Arles.
The campus is also home to seven former railway factories, four of which have been renovated by Selldorf Architects as exhibition and performance spaces. The surrounding gardens and public park are designed by landscape architect Bas Smets.
Image © Adrian Deweerdt
"We wanted to evoke the local, from Van Gogh's 'Starry Night' to the soaring rock clusters you find in the region. Its central drum echoes the plan of the Roman amphitheatre," said Frank Gehry.
The campus features major new outdoor artworks including a previously unseen 13-metre-high pink sculpture by Franz West and a full-scale glow in the dark skatepark by Koo Jeong A, which is illuminated at night with fluorescent paint.
Image © Adrian Deweerdt
Carsten Höller's Seven Sliding Doors Corridor, a mirrored and seemingly endless passage which visitors can explore, has been reimagined and installed across the site's pond, whilst Kerstin Brätsch has created a site-specific mosaic floor for the Café du Parc.
Reaching at 56-metre height, The Tower has 12 levels featuring several artist commissions throughout these levels. Philippe Parreno has created Danny, a new permanent immersive artwork using algorithmic technology, a unique ceramic wall mural by Etel Adnan covers the entire back wall of the auditorium, and a new site-specific iteration of Ólafur Elíasson's Take your Time, a circular rotating mirror affixed to the ceiling, is installed above the monumental, double-helix staircase.
Image © Hervé Hôte
Carsten Höller has installed a new iteration of his renowned experimental artwork Isometric Slides in The Tower, which act as one of the building's means of transporting visitors, and Christian Marclay's The Clock, a 24-hour video montage exploring the perception of time, will be shown throughout the summer.
The Arles project was created by an avid Swiss art collector, art patron, documentary filmmaker, impresario, and entrepreneur Maja Hoffmann, who established the Luma Foundation in 2004 as a leading international philanthropic organisation.
Aerial view of La Cour des Forges, renovated by Selldorf Architects in 2014. LUMA Arles, Parc des Ateliers, Arles (France). Image © Victor Picon
The Foundation focuses on the direct relationships between art, culture, environmental issues, human rights, education and research. It is dedicated to providing artists with opportunities to experiment in the production of new work, in close collaboration with other artists from a variety of disciplines, with curators, and diverse audiences.
Since 2008, the development of this creative campus in Arles has been led by Maja Hoffmann working with a small, dedicated team, and the collective input from a core group of advisers including Tom Eccles, Liam Gillick, Hans Ulrich Obrist, Philippe Parreno, and Beatrix Ruf.
Interior view of La Mécanique Générale, renovated by Selldorf Architects in 2016. Image © Hervé Hôte
Luma has already commissioned and presented the work of more than 100 artists and innovators at sites in Arles, including the ancient Roman amphitheatre and the Luma Arles campus.
Image © Remi Benali
"LUMA is the fruit of a number of years of experimentation and of a lifelong commitment to artists and a healthy environment, it's a total immersion in a world, both inside the premises and outside, in which the visitors can engage, as their fancy takes them," said Maja Hoffmann, Founder and President of the LUMA Foundation.
"The different areas of the Parc des Ateliers, thanks to their size and types, will enable us to produce an interdisciplinary programme, adapted to a fluctuating environment that offers new opportunities for artists and thinkers, freeing them up from the constraints inherent to the practices and structures of classical institutions," added Hoffmann.
Image © Remi Benali
The city of Arles is located in the French region of Provence-Alpes-Côte d'Azur in the Mediterranean South of France, between two nature reserves, the Camargue wetlands and the mountain range of Les Alpilles.
Arles became a UNESCO World Heritage Site in 1981, incorporating its Roman and Romanesque legacy which includes the monumental Arles Amphitheatre, the Alyscamps and the antique theatre.
Image © Remi Benali
Aerial view of Luma Arles, Parc des Ateliers, Arles (France)
Parc Luma La Mecanique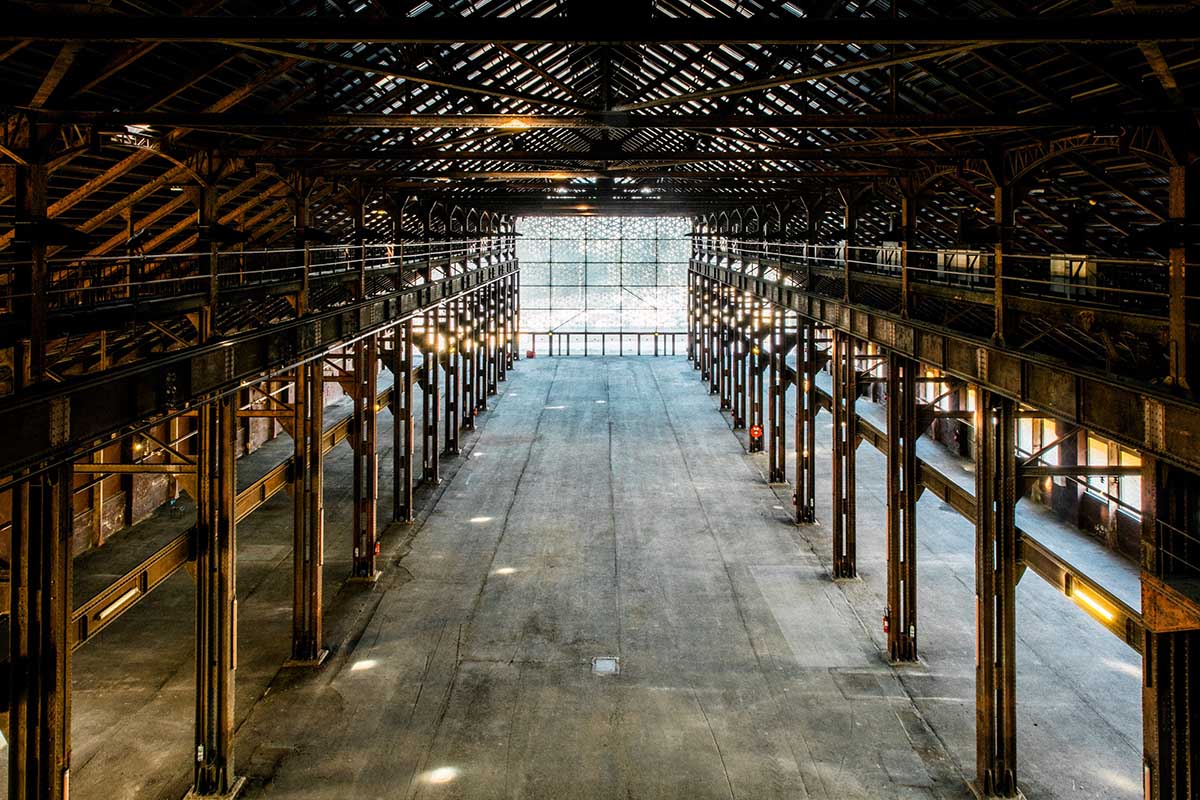 Image © Adrian Deweerdt
Image © Adrian Deweerdt
Top image © Adrian Deweerdt
> via Luma Arles