Perkins&Will proposes to transform disused steel factory into Shanghai Academy of Fine Arts
American architecture firm Perkins&Will has competed against GMP, Ennead Architects and Kengo Kuma and Associates to transform one of the of largest steel factories in the world into the new home for Shanghai Academy of Fine Arts.
Located in Baoshan District, the disused steel factory of University Academy of Fine Arts sits in the former Wusong Steel Industrial Zone in Baoshan District, Shanghai, and will form the anchor development for a wider campus development.
The project for the new Shanghai University Academy of Fine Arts aims to not only create a world leading Academy of Fine Arts representing it's foundation in Baoshan, but also utilize, enhance and celebrate the industrial architecture that has come to define this important district of the city.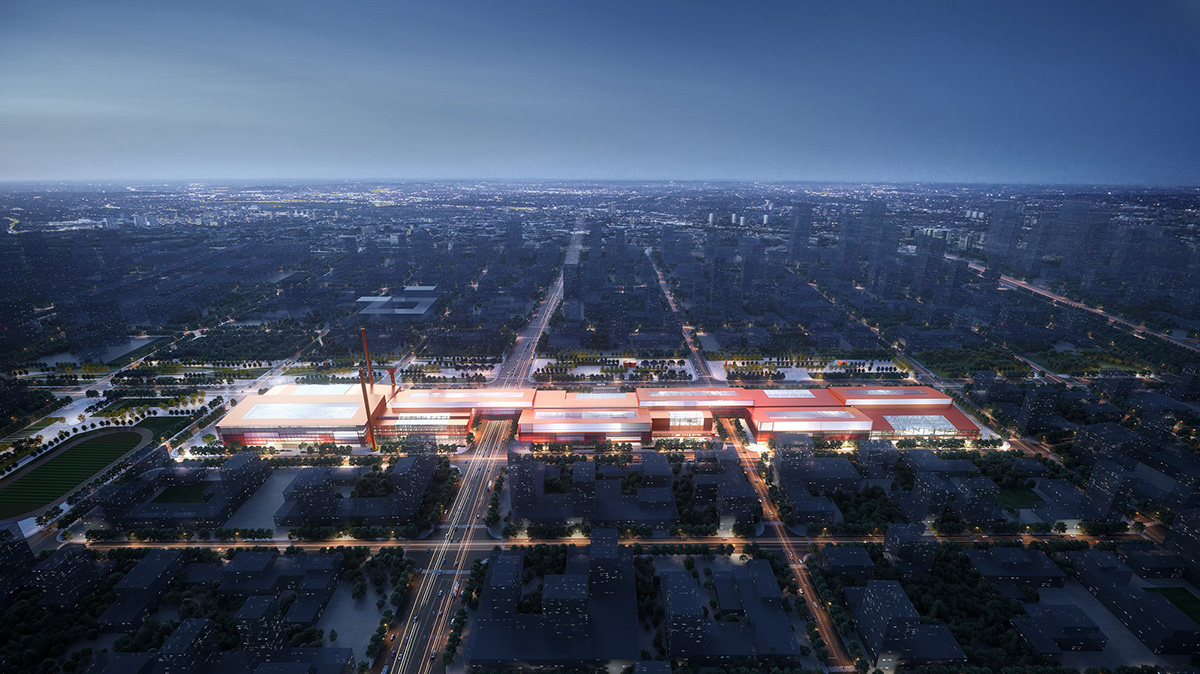 The structure allocated for the project is the impressive steel plant formerly housing the main rolling workshop; measuring 860 meters in length and a width of 50-120 meters, the series of structures cover an area of 76,500 square ­­meters, creating a cathedral like interior that is not only inspiring but also a strong reminder of the magnificent achievement of China's steel industry.
To this end the new Academy will be an impressive fusion of new world class space for education and public engagement in education in the arts with a showcase of the incredible structures created to house the original steel making process. The key strategy for this proposal is to retain as much existing structure as possible, removing six zones of structure within to allow the creation of 6 pockets for new construction.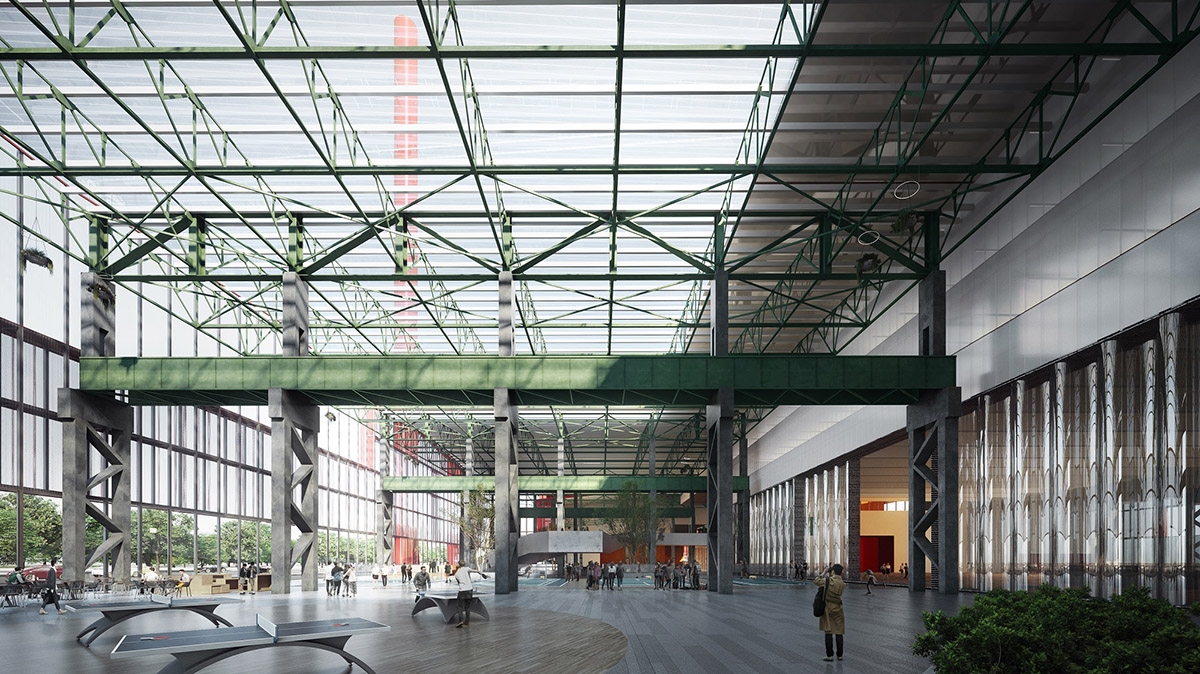 The first challenge this project must address is the planning of a series of new significant scaled elements within the existing structure without loosing the inherent qualities of the original spaces. The four elements include the Academy of Arts itself, the International Communication Center, the Graphic Information Center, and the final element of supporting commercial business.
The Academy of Arts itself housing 4 unique and independent faculties, the Faculty of Art, the Faculty of Design, the Faculty of Architecture, and the Faculty of Humanities. A series of other key functions such as sport, exhibition, museum, library and commercial are scattered throughout creating a journey of discovery and connection across the institution.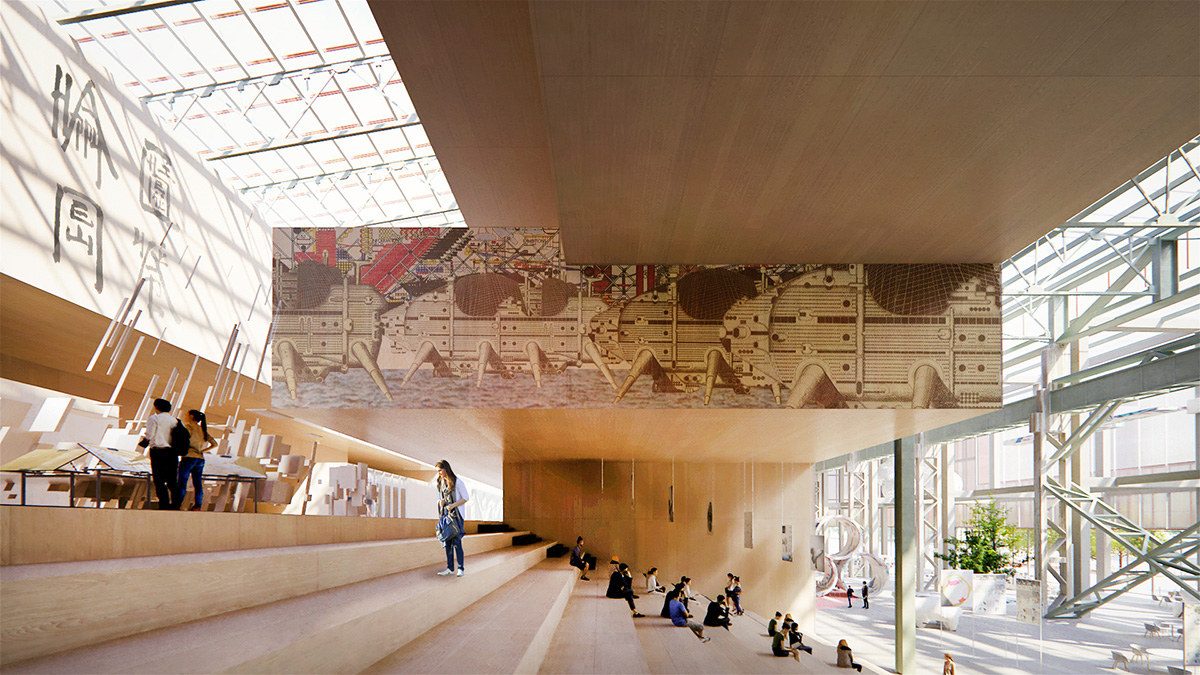 The façade of new Academy of Fine Art is an important signifier for the future of the project. It must represent the new life given to its industrial host, control and deal with the elements and quality of light, but more importantly reflect the cultural heritage and historic memory and importance of the original steel factory.
Inspired by the utilitarian rusting steel sheeting that protected the original factory a new metal façade of large-scale corrugations wraps the original volume creating a protective layer that unifies the volume whilst also filtering and controlling the nature light that enters the space.
Project Data:
Architectural Design: Perkins&Will
Location: Baoshan District, Shanghai, China
Client: Shanghai Bao Steel Ltd
Area: 220,000 ㎡
Programme: Academy, Art Museum, Library and International Graphics Center
Structural Consultant: SBP
All images © B&TB, GIN SUN and Perkins&Will
> via Perkins&Will