MVRDV renovates Shenzhen skyscraper with colorful façade
MVRDV has revealed design for the renovation of Shenzhen Women & Children's Centre, a mixed-use building will host a wide range of facilities for the welfare of women and children - its program will include a library, a theatre and "discovery hall" for children, a women's exhibition hall, a family service hall, and supporting facilities as well as offices and a hotel.
Called Shenzhen Women & Children's Centre, the tower reaching at 100 meters height, MVRDV will design a colourful façade and add green rooftops to refresh its presence in Shenzhen's Futian district in China.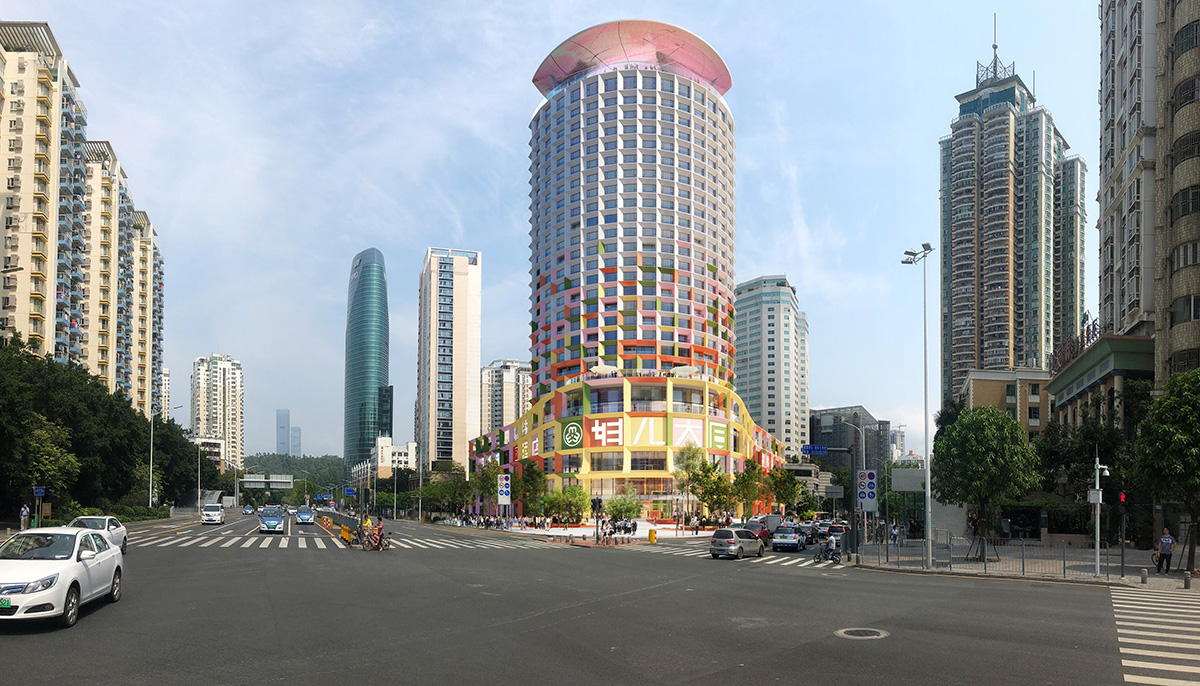 More importantly, the building is aimed to set an important precedent for repurposing buildings in a city that is soon to see a "great wave of adaptive reuse".
"Constructed during the first period of Shenzhen's explosive growth, the building never functioned effectively in its previous form," said MVRDV.
The studio added that the client initially planned only to replace the façade, but eventually appointed MVRDV to create a more comprehensive transformation including a garden on the plinth-level rooftop, new circulation elements, and a redesign of key interiors.
MVRDV's new design scheme adds a grid of multi-coloured exterior frames to the building that will dramatically increase the façade's depth, these frames will also provide extra shading to improve the comfort level inside and the thermal performance of the building.
According to MVRDV, the colours are used to emphasize the building's internal layout. On the street level, the plinth is designed more colourful in order to delight people at street level, and "to reference the building's function as a service centre for mothers and their children."
View from street
On the upper floors, the tower will host a hotel and and its lower levels, offices are designed - and mostly white. As the MVRDV team highlights, colours are also used to highlight features such as entrances, providing a welcoming atmosphere for visitors.
MVRDV transforms the central courtyard of the building, which was previously used for car parking, into a public courtyard with outdoor entertainment facilities for children.
View from courtyard
While the access to this inner courtyard is totally barrier-free, it will make the building a public venue for the city. The roofs of the plinth will feature green outdoor spaces, with one side of the building becoming an event space and the other used as an educational playground for children.
The roofs and courtyard are strongly connected, with new external staircases added to allow easy movement between the two, and even a slide to bring some joy to getting around the building.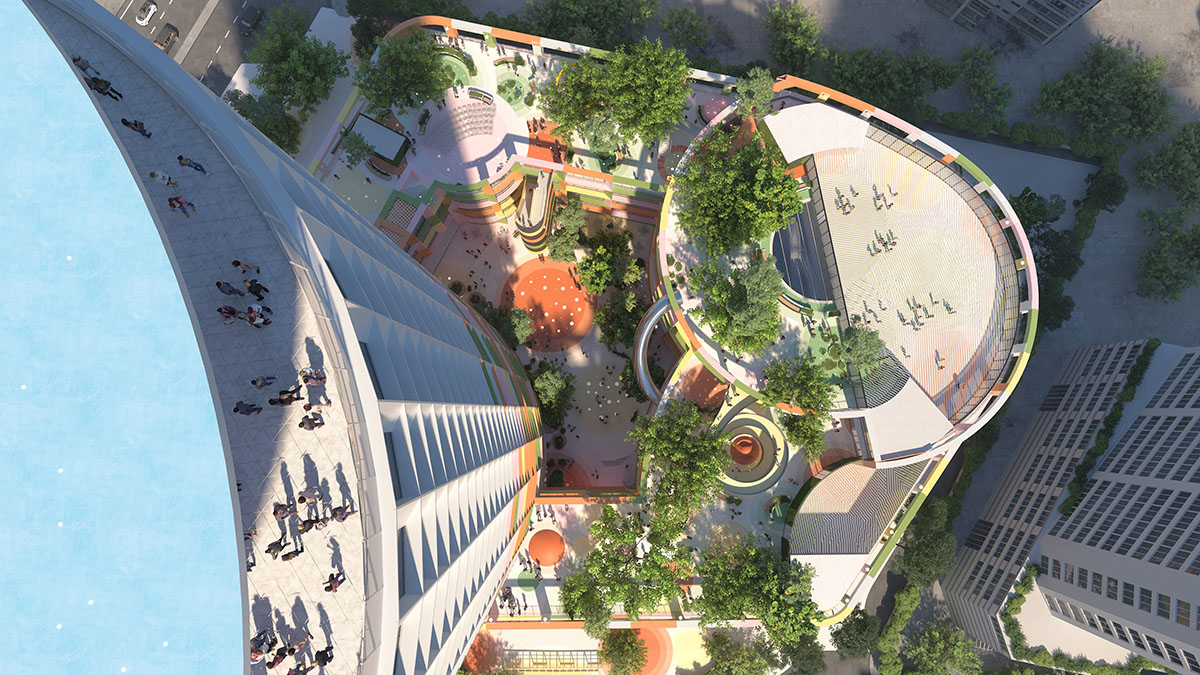 Top view
Inside, the design also transforms the two main lobbies of the building. One of these lobbies is dedicated to the tower, and the other to the women and children's facilities in the plinth.
These interior spaces will bring the colour and liveliness of the building's façade inside. The tower lobby includes a colourful vertical puzzle that houses educational and entertaining activities for the children.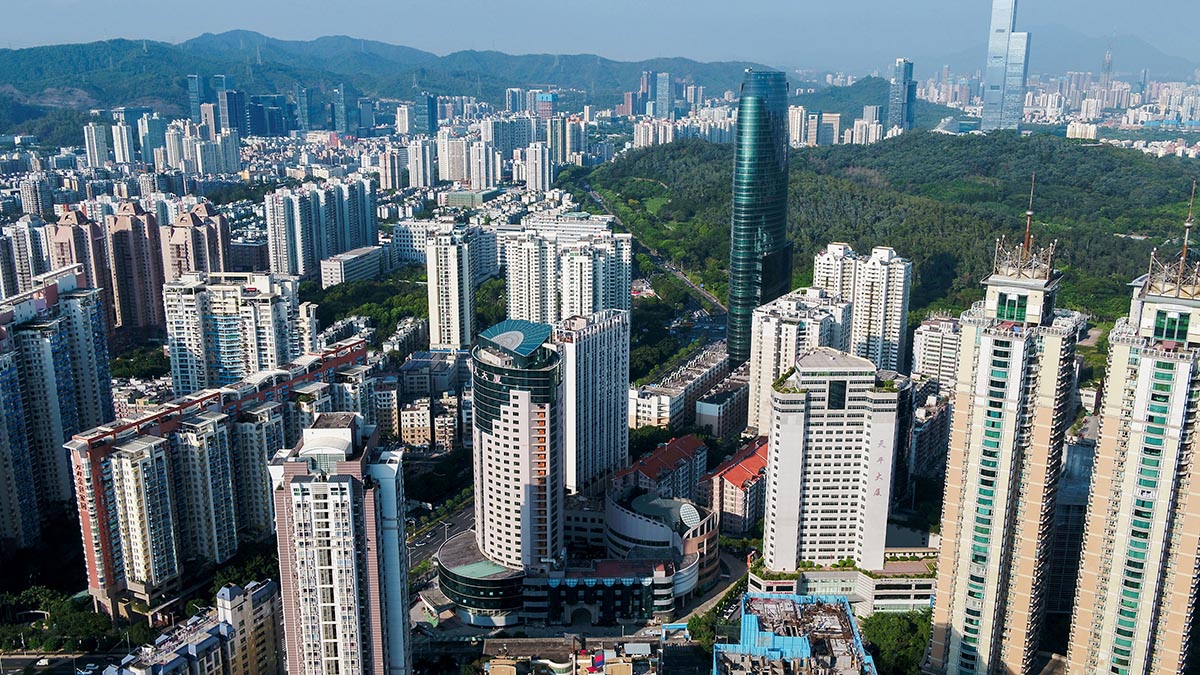 Aerial before
The lobby for the women and children provides a more calming atmosphere with its subdued tones, while openings punched into the shelves display fun features to capture the children's imaginations. Alongside the rooftop event space, the design also adds a 200-seat auditorium to turn the building into a hub for sharing knowledge.
"Our design for the Shenzhen Women & Children's Centre shows what is possible in these buildings that are reaching the end of a fairly short initial lifespan," said MVRDV founding partner Jacob van Rijs.
"Retaining and improving a building is more sustainable than demolishing and building anew, and that is especially true when the building contains as much concrete as this one, a 100-metre tower with a voluminous plinth at its base," added Van Rijs.
A large accessible terrace will offer a 360-degree panorama of the neighbourhood below and crown the tower.
Aerial after
Visitors will be able to appreciate the structure, which stems from the tower core outwards: a vaulted wall featuring the work of a local female artist. Even from afar, the tower crown will become one of the most recognizable icons of Shenzhen.
Since Shenzhen's designation as a Special Economic Zone in the 1980s, the city has experienced a faster growth rate than almost any other city in the world.
Many of the buildings constructed during this expansion prioritised the urgent needs of the time over planning for the future; just a few decades later, they are nearing the end of their initial lifespan.
The Shenzhen Women & Children's Centre is therefore a preview of what could be an emerging trend in the city.
"Considering its development history, Shenzhen could soon see a devastating tsunami of unsustainable demolition – or it could ride a great wave of adaptive reuse," added Van Rijs.
"It's an important time to show how great and joyful this approach can be."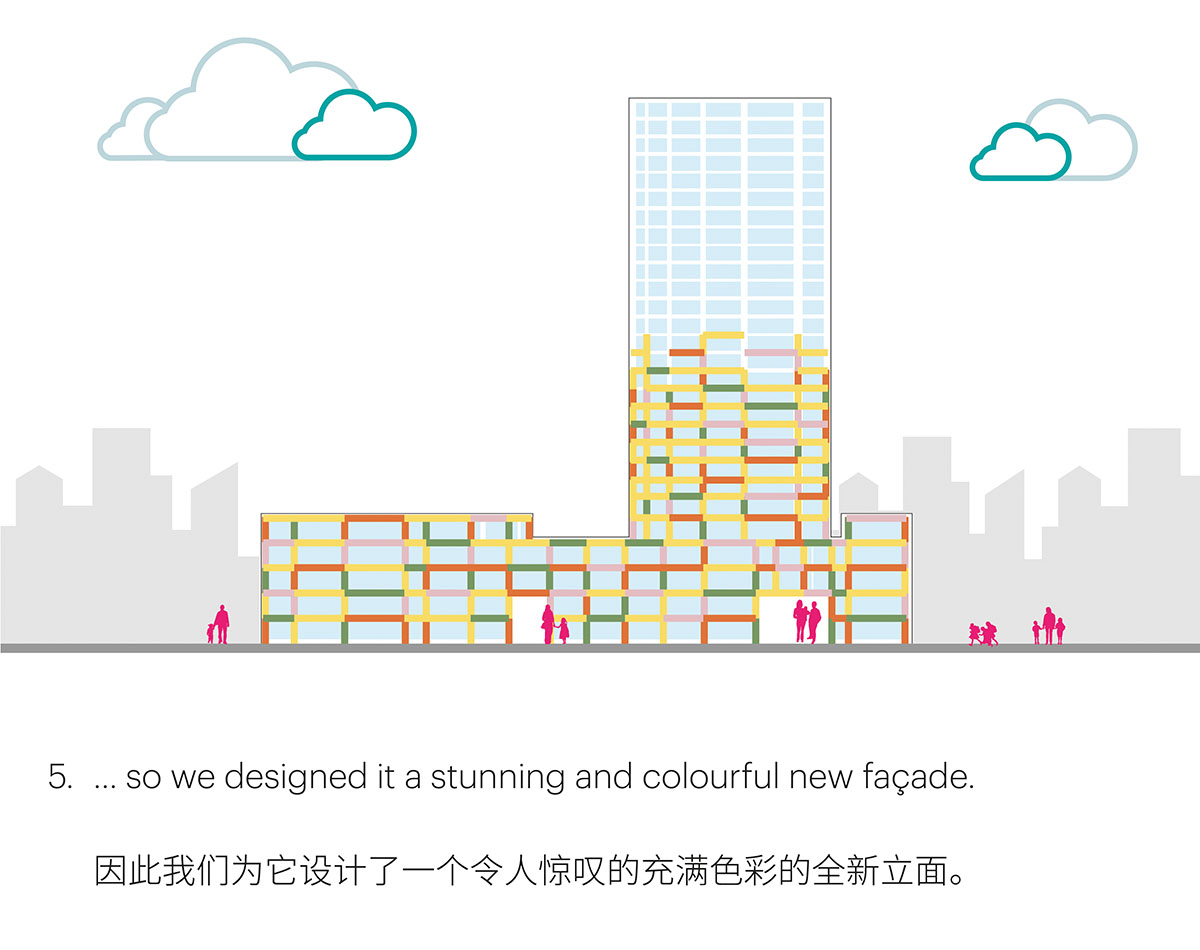 General East elevation
General West elevation
Project facts
Founding Partner in charge: Jacob van Rijs
Partner: Wenchian Shi
Design Team: Jacob van Rijs, Wenchian Shi, Lorenzo Mattozzi, Marco Gazzola, Giuseppe Mazzaglia, Daehee Suk, Sen Yang, Fredy Fortich, Chi Zhang, Siyi Pan, Bertrand Tan, Enrica Perrot, Martina Franco, Fokke Moerel, Pim Bangert, Giovanni Nardi, Jiameng Li, Agnieszka Dabek, Paula Vargas Torres, Peter Chang, Luca Xu, Hong Yang, Echo Zhai, Zhang Ruochen Visualisations: Antonio Luca Coco, Angelo La Delfa, Pavlos Ventouris, Francesco Vitale, Luana La Martina, Jaroslaw Jeda, Emanuele Fortunati.
Director MVRDV Asia: Steven Smit
Project coordination: Jammy Zhu
MVRDV NEXT: Boudewijn Thomas
Co-architect / Landscape architect / MEP: SZAD (Shenzhen General Institute of Architectural Design and Research Co. Ltd.)
Project coordination: Shenzhen Women & Children's Building Operation and Management Co.,Ltd.
Facade Consultant: KGE (King Glass Engineering)
Structural engineer: Yuanlizhu Engineering Consultants (Shenzhen) Co.,Ltd.
Lighting Consultant: BPI (Brandston Partnership Inc.)
Cost calculation: Jinxia Property Cost Consultation Co.,Ltd.
Interior architect: Jiang & Associates
All images © MVRDV
> via MVRDV