Studio Bright extends Ruckers Hill House with inverted Roman aqueduct in Northcote
Melbourne-based architecture firm Studio Bright has extended an old house with new living spaces in a separate rear-garden pavilion that can be accessed with an inverted Roman aqueduct featuring a small pool at the bottom.
Studio Bright, previously known as MAKE Architecture, has restored the Ruckers Hill House on a prominent, corner sited Edwardian on the crest of Ruckers Hill, Northcote, Australia.
A bridge-like, colonnaded addition, made of inverted Roman brick, creates an intimate atmosphere and tranquil spaces on each side of the house: one side has an open, sun-filled pool, other side offer a cozy garden.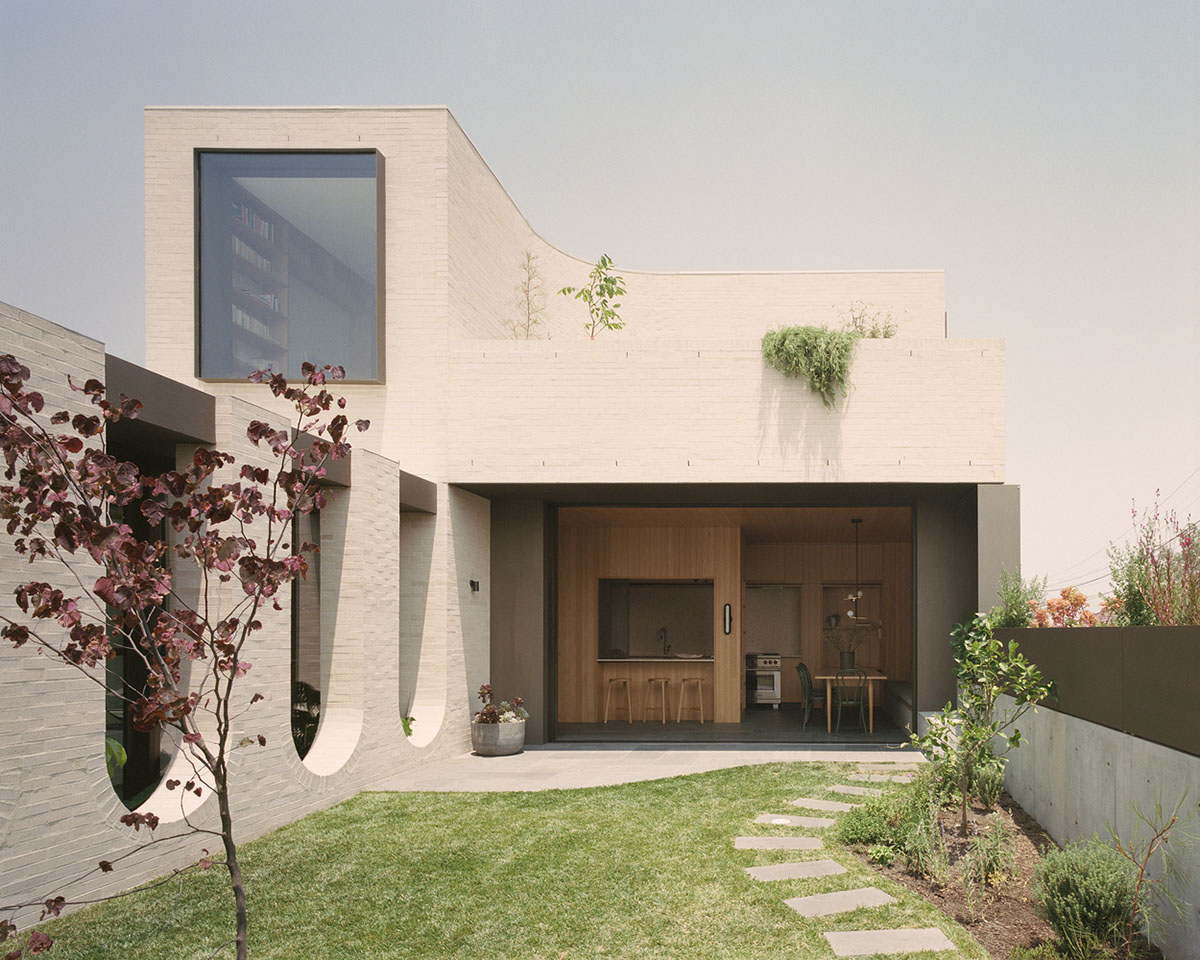 The architects placed a new addition at the back of this site that allows a sun-filled pool and garden, and to form a streetscape expression akin to a garden pavilion. They wanted to create a contemporary and street-tough addition, but evoking a little bit Edwardian spirit.
The studio calls the new addition as "pavilion", and the new pavilion expands the nuanced living possibilities.
They placed all rooms that can be configured for the specialized interests of particular family members, while each room offering possibilities for temporal changes.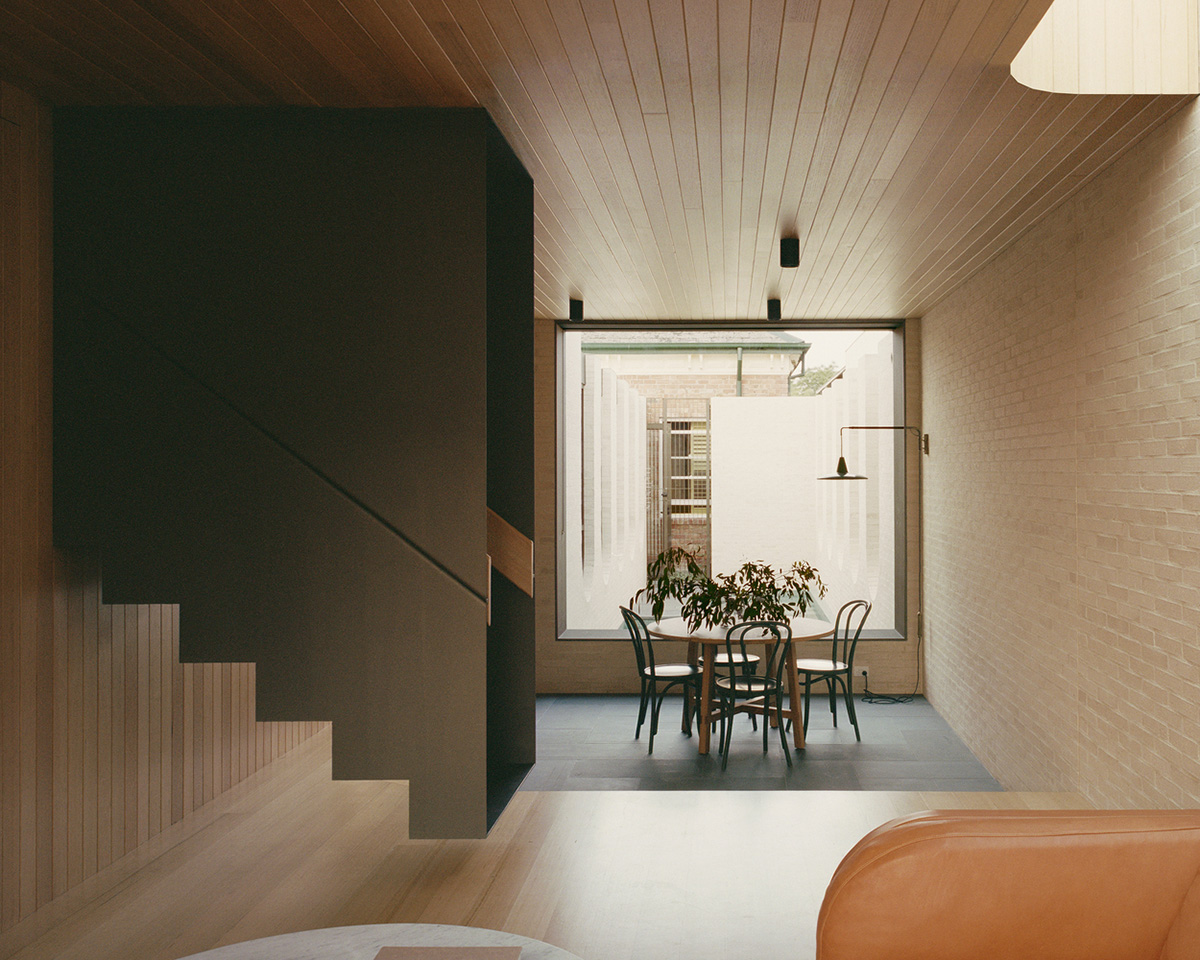 "For example, the living room is a music space with a heavy curtain ready to be drawn across to present impromptu theatre, steps forming the stage edge," said Studio Bright.
"On the upper floor, two multipurpose spaces house a library, lounge, guest room and study."
The link that allows this rearward displacement spans the site bridge-like, almost an inverted Roman aqueduct with its water at the bottom.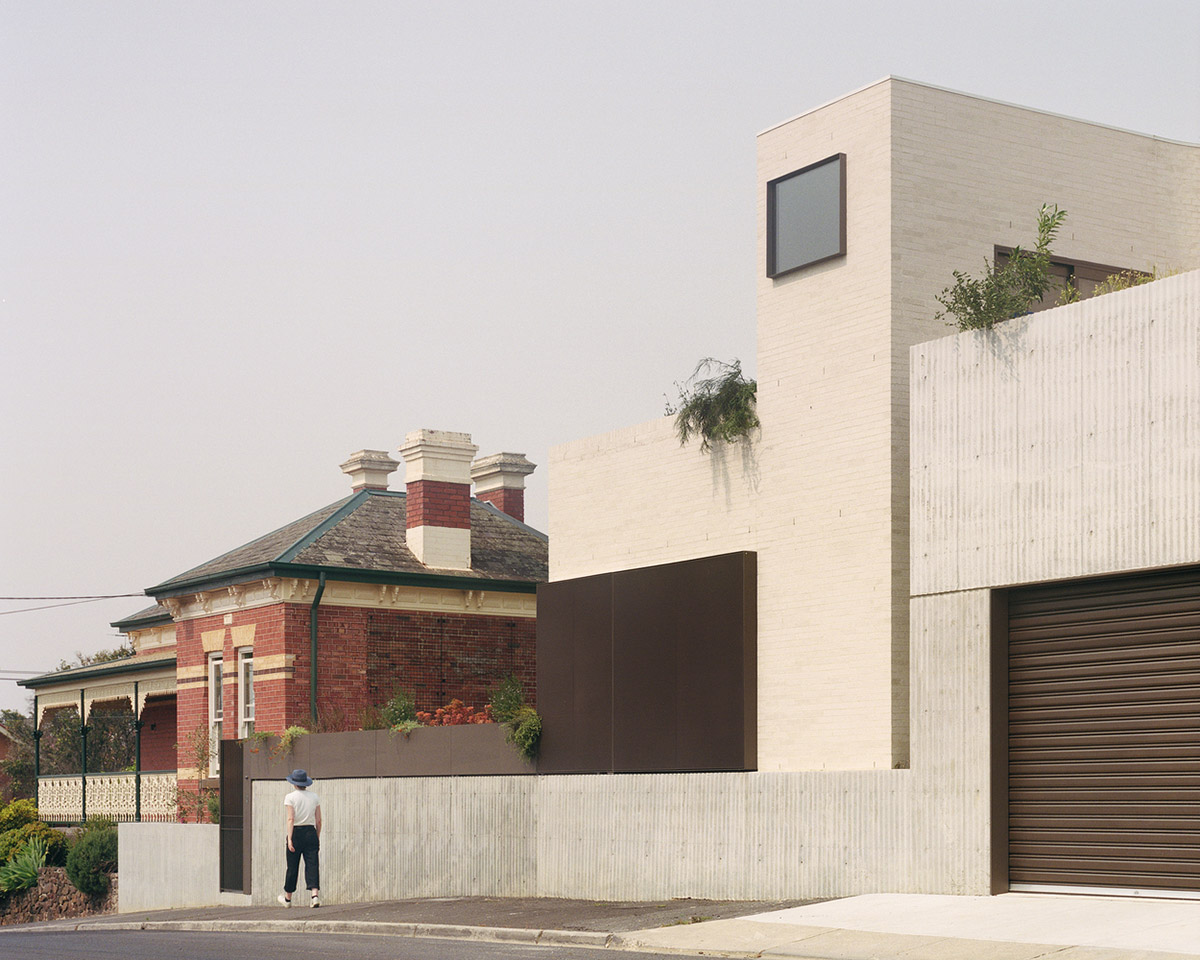 The architects said that "its spatial use is unclear yet full of possibility: poolside chaise, veranda to a garden, even at times an indoor cricket pitch."
As the studio explains, "to the long side-street edge, new stepped levels help mediate the street, working the balance between defending internal privacy and yet sharing inner workings and the pleasures of the spilling over garden."
The architects used powder-colored brick to adapt to the existing houses in the street. Inside, rounded walls and curtains complement the spaces which give a sense of flowing and lightness.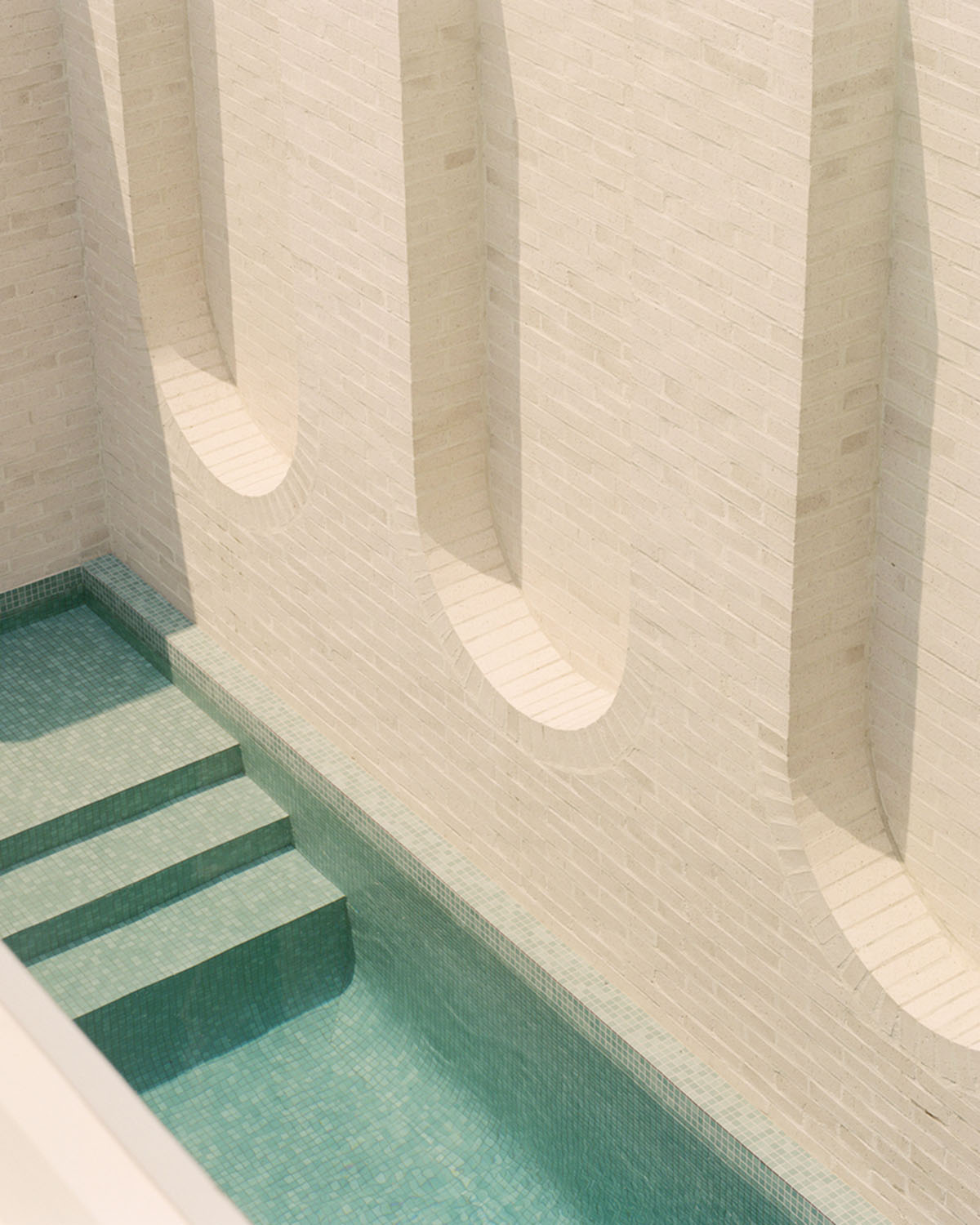 Wooden panels are used in kitchen and dining spaces, while reddish-colored and greenish palette used in bathrooms create a sharp contrast with other materials and textures.
The bridge-like pathway made of inverted Roman brick creates a beautiful play of light and shadow inside.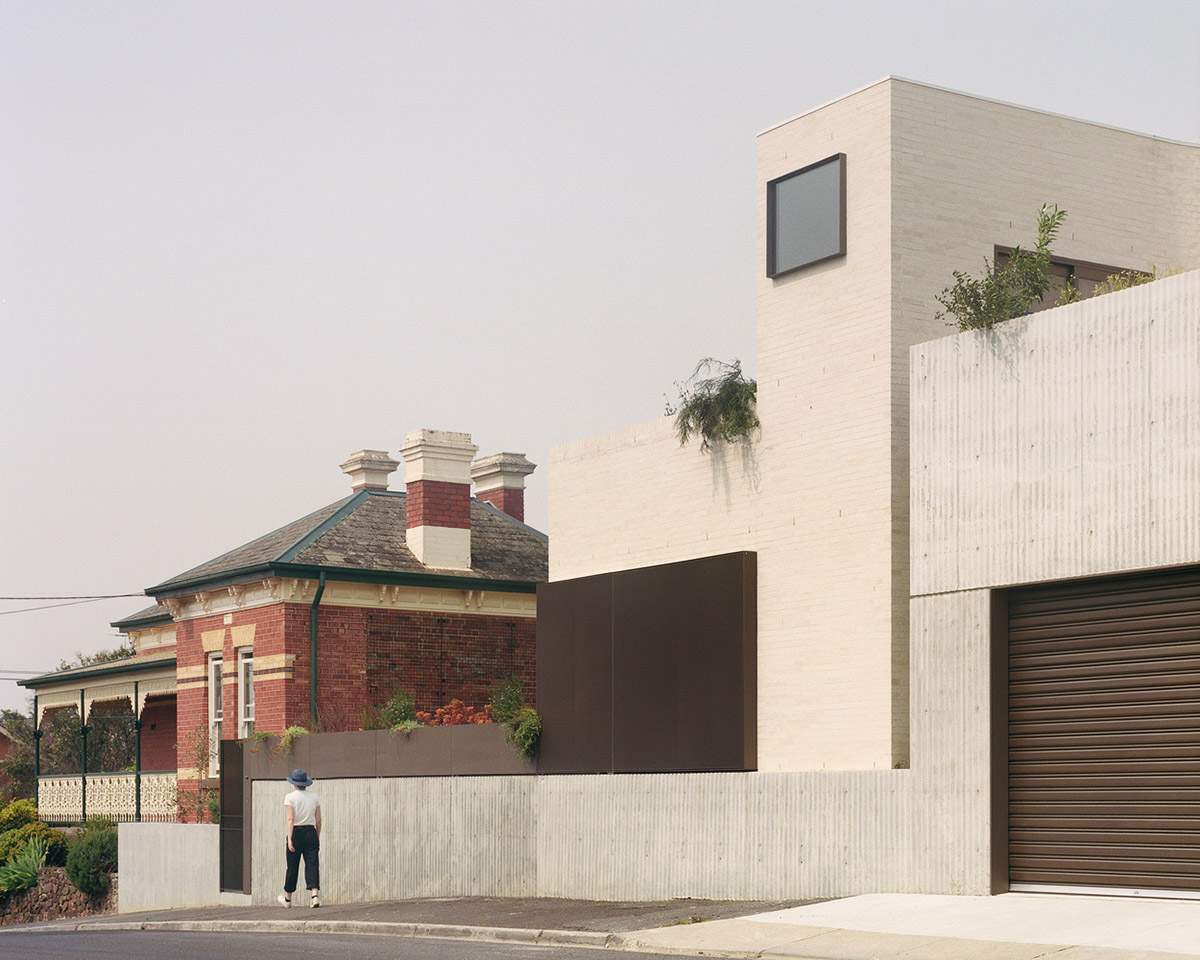 Ground floor plan
First floor plan
North elevation
South elevation
Site elevation
Project facts
Project name: Ruckers Hill House
Architects: Studio Bright
Location: Northcote, Australia.
Date: 2019
All images © Rory Gardiner
All drawings © Studio Bright
> via Studio Bright