Salone del Mobile curator Stefano Boeri announces his plans for rebranded "Supersalone"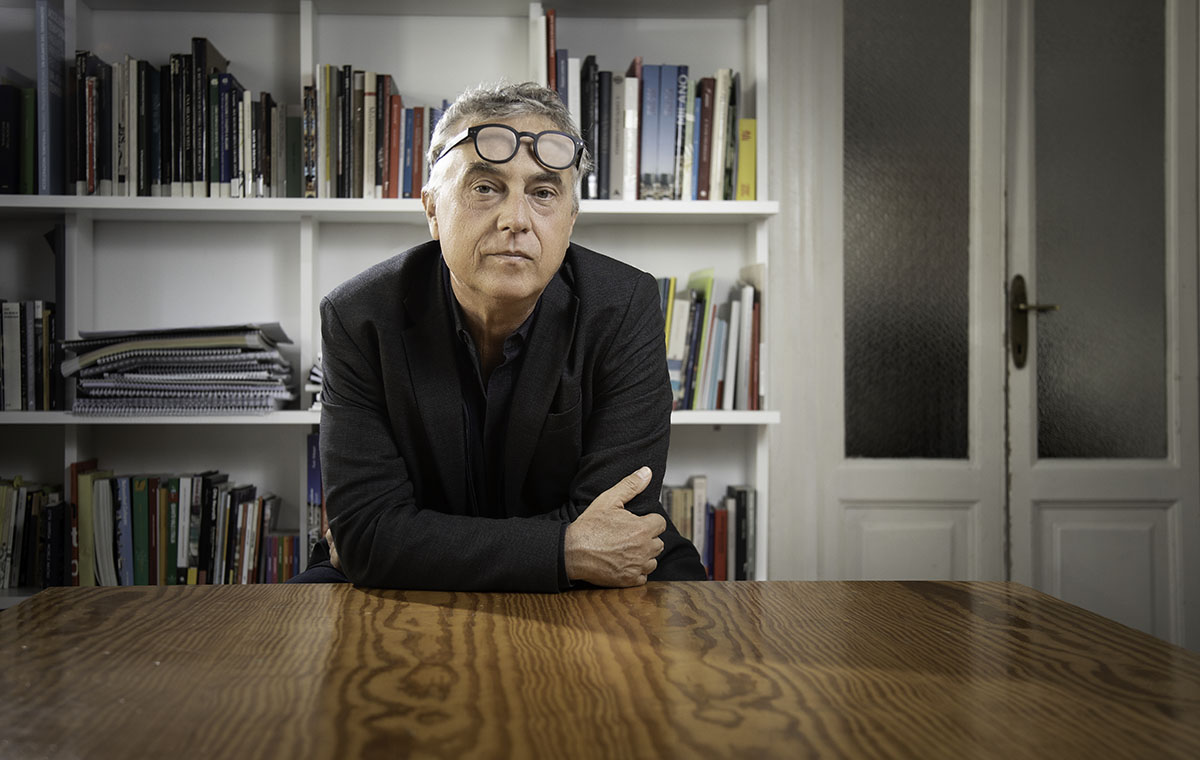 After Salone del Mobile President Claudio Luti resigned from the event in April, Italian architect and urban planner Stefano Boeri will take over this year's event as a new curator.
As announced earlier on WAC, Milan's Salone del Mobile, the world's largest trade and design fair, will go ahead with its new physical event from September 5th to 10th, 2021 in Milan, Italy.
At a press conference yesterday, Stefano Boeri has announced his new plans for this year's fair which "intends to serve as a promoter of and catalyst for activities".
Instead of placing traditional fair booths, the Rho fairground will be designed as "a new medium not just for presenting products, but it will also offer various services."
As preparations are now in progress for the special 2021 Salone del Mobile Milano, the event has also been rebranded with a new name and logo, it is called now "Supersalone".
View from the press conference. Image © Gianluca Di Ioia
With this new format, curator Stefano Boeri is working with five designers, Andrea Caputo - who will design the exhibition area for products, Maria Cristina Didero and Anniina Koivu - who will curate an exhibition for student works and will compose a program of talks, Lukas Wegwerth, and lastly, Marco Ferrari and Elisa Pasqual of Studio Folder - who are designing the logo and graphic identity of the event.
"The Supersalone is the result of the generosity and the creativity of the companies and design professionals at an extremely delicate point in the recovery and relaunch of the economy and culture," said Stefano Boeri, founder of Stefano Boeri Architetti and curator of the 2021 Salone del Mobile.Milano.
"For the first time, the Salone del Mobile.Milano will be open throughout to the great consumer public, allowing them a chance to select and purchase the very best international design products."
Stefano Boeri. Image © Gianluca Di Ioia
"Thanks to the joint efforts of thousands of producers, professionals, retailers, technicians, workmen, display specialists, designers and fans, for six days the Rho Fairgrounds will once again be the epicentre of international design."
"I would like to thank FederlegnoArredo and the Salone del Mobile. Milano for their confidence in me and for their courage in being determined to honour such an important appointment," Boeri said at a press conference.
View from Supersalone", designed by Andrea Caputo. Image courtesy of Andrea Caputo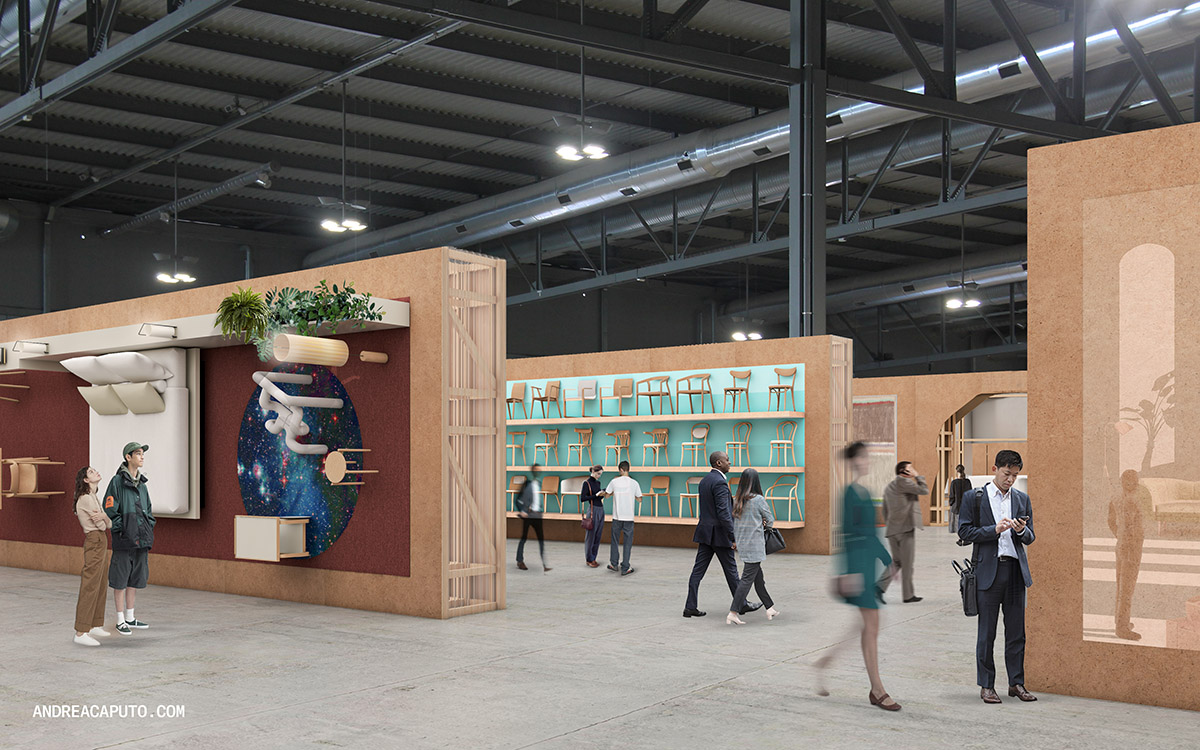 View from Supersalone", designed by Andrea Caputo. Image courtesy of Andrea Caputo
With detailed plans, a set of renderings have also been revealed to show how products and exhibition spaces will be designed in the new format rebranded as "Supersalone", which is designed by Andrea Caputo.
Salone del Mobile stated that "Supersalone is a highly auspicious name and logo, which serves as the manifesto for the event."
"This will be a unique occasion, a one-off event, powerfully and immediately attractive and communicative."
The fair will be open every day, not just to professionals but also to the general public.
According to the organizers, "this year's fair will not be a purely commercial event, but will foster original cross-pollinations, openings up, fusions and extroversions while fully respecting the health regulations and protocols imposed nationally to combat the spread of coronavirus."
View from Supersalone", designed by Andrea Caputo. Image courtesy of Andrea Caputo
The curatorial team will work with Giorgio Donà, co-founder and director of Stefano Boeri Interiors, pooling openness, enthusiasm, awareness and rigour in a bid to come up with innovative itineraries that will valorise projects and products in setting built on proximity, reflection and sharing.
The proposed format will be that of a large design library, which will celebrate the renewed attention and care devoted to contemporary living spaces, designed to valorise and harmonise the new products and creations brought out by the companies over the last 18 months with their traditional products which, thanks to the debut of the Salone del Mobile.Milano digital platform, will be available to purchase at the culmination of a packed and engaging customer journey (part of the profits will go to a charitable cause).
View from Supersalone", designed by Andrea Caputo. Image courtesy of Andrea Caputo
The layout will consist of long parallel sets, designed for the specific goods categories, and will allow the companies to narrate their own identities and their own products on vertical walls and, in some cases, on horizontal surfaces, both of which will be modular.
This fluid and dynamic exhibition set-up will allow visitors to navigate freely inside a huge national and international archive of creativity, excellence and savoir faire.
"Circularity and sustainability are at the core of the event"
The organizers stated that the principles of circularity and sustainability will be at the core of this year's event. All the display materials and components have been designed to be dismantled and reused at later stage.
Furthermore, a new project, called the Forestami, a green welcome area with 200 trees, will be installed at the East Gate of the fairgrounds. The trees will subsequently be relocated to Milan's metropolitan area after the six-day event.
View from the press conference of Supersalone on May 26. Image © Gianluca Di Ioia
The display in the fairgrounds will be cross-pollinated and divided into special themed areas and itineraries devised by Studio Stefano Boeri Architetti and the five co-designers: arenas for talks on knowledge sharing and deepening, dedicated lounges for commercial and business company meetings, areas reserved for young students at design schools and for a display of chairs awarded with the Compasso d'Oro curated by the ADI, food courts conceived and set up in partnership with Identità Golose - The International Chef Congress, and socialising and relaxation areas.
View from the press conference of Supersalone on May 26. Image © Gianluca Di Ioia
The fair will also present a special programme of meetings with some of the leading figures on the contemporary scene and thinkers of tomorrow will alternate with large live music events, in collaboration with the top, most representative sectoral experts.
"A different way of conceiving the exhibition space, allowing it to become a place with multiple opportunities for interface and, simultaneously, an invitation to stop, think and feel and, therefore, an antidote to the hasty trivialisation of so many exhibitions," said the organizers.
"Taking on the challenge of organising aspecial event - a "supersalone" - in such a difficult and complicated year is a tangible sign of the extent to which our entrepreneurs and the Federation have poured their hearts into overcoming the obstacles in order to bring the design community, the national and international buyers, the media and the general public back to the Rho fairgrounds, allowing them to take part in a globally unprecedented event that only the city of Milan is capable of hosting," said Claudio Feltrin, President of FederlegnoArredo.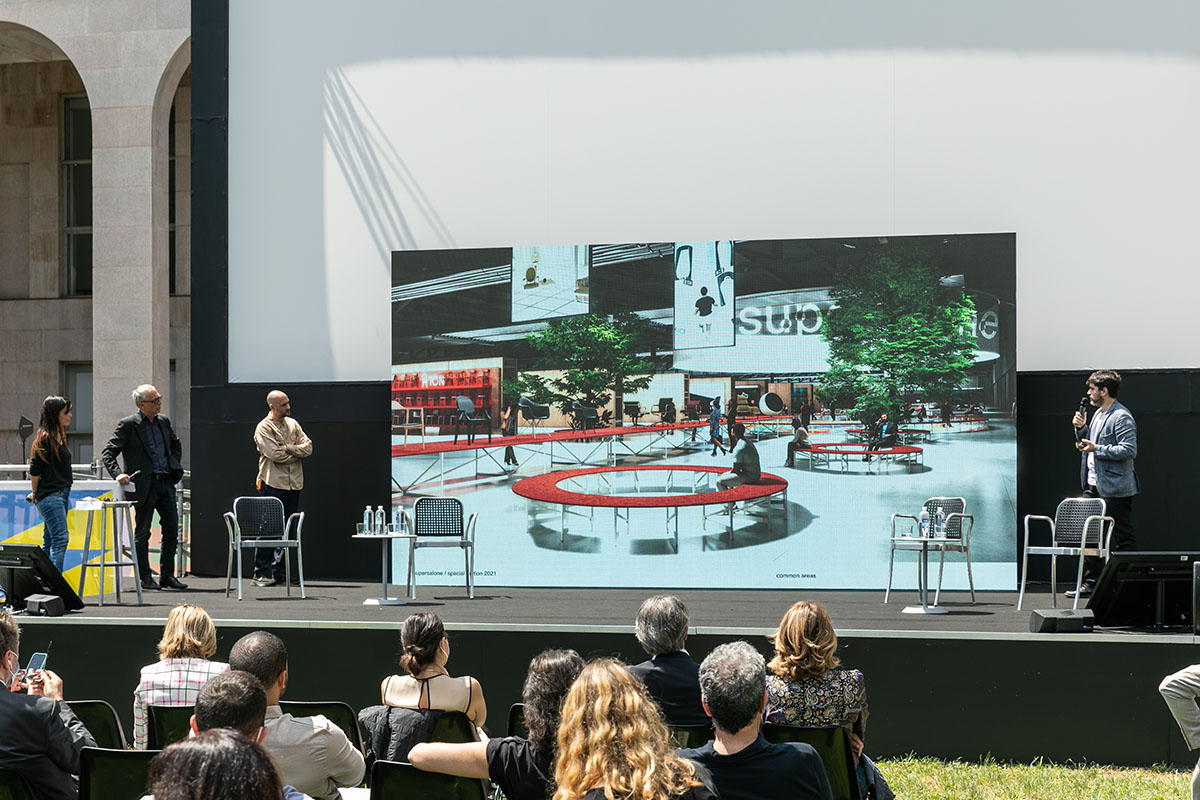 View from the presentation of Supersalone at the press conference. Image © Gianluca Di Ioia
"An extraordinarily different event, suited to a unique period in history in which the leaders find the strongest stimuli to demonstrate their own leadership. Giving up would have been easy, but that's not part of our companies' DNA."
"Any other sort of initiative would just have been a poor imitation and it was our duty to preserve the success story that has seen the wood-furnishing sector, and all its companies, become one of the undisputed standard-bearers of Made in Italy around the world: a one-off built on professionalism, far-sightedness and what I would describe as a sartorial ability to conceive and imagine spaces and furnishing," Feltrin added.
The event highlighted that "Supersalone will be a unique project in line with the exceptional times in which we live, geared not just to sectoral professionals and the international design community, but also to the general public, who will have access to the fairgrounds for the entire duration of the event."
Top image: Stefano Boeri © Laila Pozzo © Michelangelo Foundation
All images courtesy of Salone del Mobile unless otherwise stated.