BIG designs processing plant with underwater robots and surface vessels for The Metals Company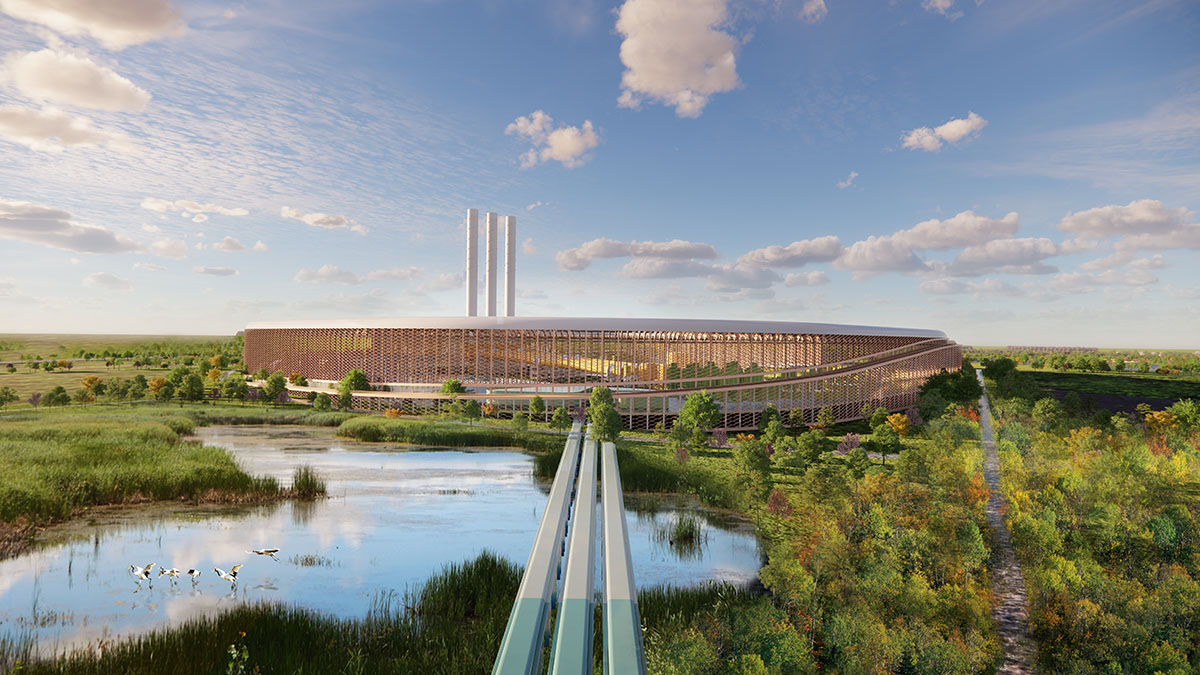 Bjarke Ingels Group (BIG) has released plans to design a processing plant, underwater robots and surface vessels for Vancouver-based The Metals Company, a deep-sea mining company is working to develop sustainable ways of producing metals from polymetallic rocks to power electric vehicles from the depth of the oceans.
BIG's new design scheme, called DEEPGREEN, will comprise the design of an onshore processing facility, alongside the robotic vehicles and surface vessels that will be used to transport these metal nodules to the processing plant.
BIG and The Metals Company's vision will offer the design of a whole system that will extract critical battery metals from polymetallic nodules that are the fist-sized rocks containing battery-grade nickel, cobalt, copper and manganese.
For the whole process, BIG envisioned a masterplan that requires processing facilities to offload nodules near deep-water ports. As the Metals Company explained, these are typically degraded, brownfield sites.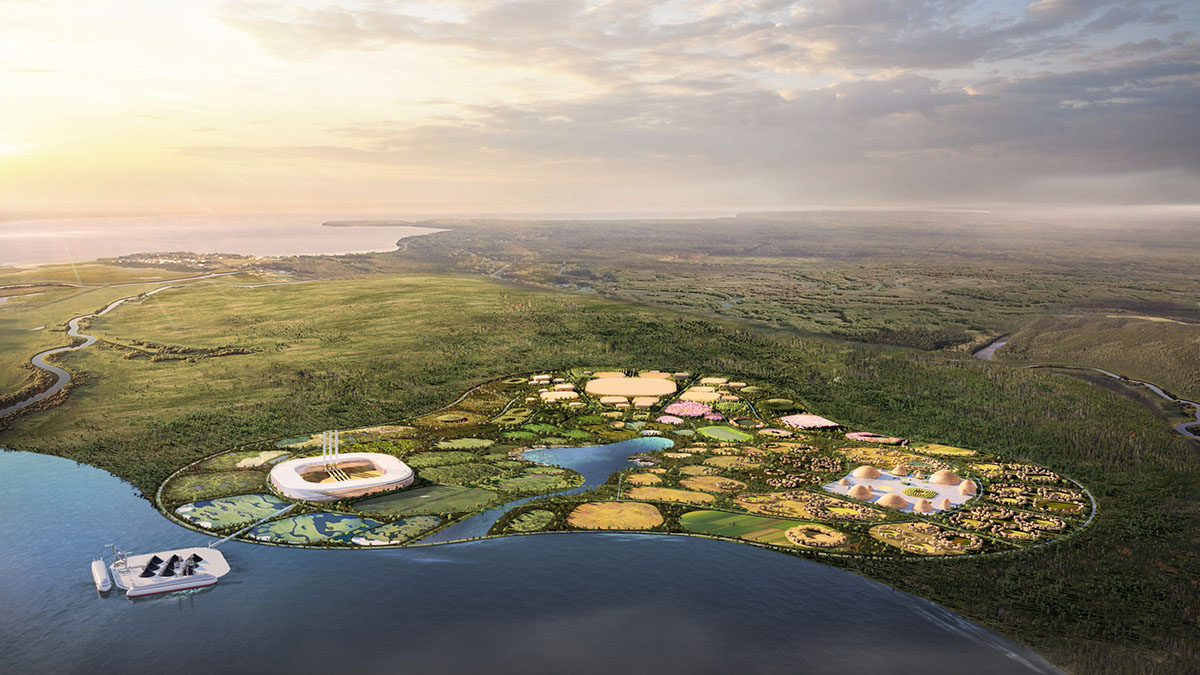 In this regard, BIG's design has been envisioned as "a circular, zero-solid-waste metallurgical plant" which comprises both pyrometallurgical processing and hydrometallurgical refining steps under a single facility.
According to the team, this masterplan will also transform its urban port site into a battery materials innovation and community hub set within a regenerative coastal landscape.
The proposed masterplan is also conceived as "a sustainable, performative and social campus" set in a regenerative landscape that turns conventional metallurgy on its head.
BIG designed our robotic collector to minimize disturbance while gathering polymetallic nodules from the abyssal seafloor. Directing a jet of seawater across the tops of the nodules, the collector gently frees them from sediment and lifts them on compressed air bubbles to a production vessel at the surface.
"The world is characterized by a mindset that divides the world into front of house and back of house," said Bjarke Ingels, founder of BIG.
"The front of house is carefully designed in the form of beautiful facades and lush parks, leaving the back of house as purely utilitarian and logistical leftovers in the form of parking lots and warehouses."
"With The Metals Company, we are designing a human made ecosystem channeling the flow of resources with the care and attention conventionally reserved for the front of house. A next-generation materials industry," Ingels added.
The design is ultimately aimed at circular design principles, described as "waste-free metals processing and recycling plants" so that the plant produces no waste in the end and the whole process becomes entirely recyclable.
Support vessels
"As the world pushes for a sustainable future, energy from natural resources is replacing the use of fossil fuels to power vehicles. Clean technologies are heavily reliant on minerals and metals needed to store energy," said BIG in its project description.
"4000m deep in the Clarion-Clipperton Zone of the Pacific Ocean, a large concentration of polymetallic nodules has been naturally forming on the seabed for millions of years."
"DeepGreen's nodule harvesting operations can dramatically reduce the environmental and social impacts on land while also providing opportunities for further exploration of the seabed," BIG added.
BIG, working together with the DeepGreen experts and top ocean scientists, proposes an innovative and sustainable vision for both onshore and offshore operations. The masterplan will contain the vessels needed to collect nodules- the production vessel, support vessel, and subsea collector.
Support vessels interior
"The purpose-built fleet is streamlined to reduce the impact of waves and increase fuel efficiency," BIG continued.
As the BIG team highlighted, "onshore, the nodules are transported to an immersive, closed-loop neighborhood where nodules are refined and separated into different elements."
On the other hand, the Metallurgical Plant and Port are developed as part of a larger innovation campus. This people-centric, intelligent ecological village is centered around the production of electric cars and their batteries.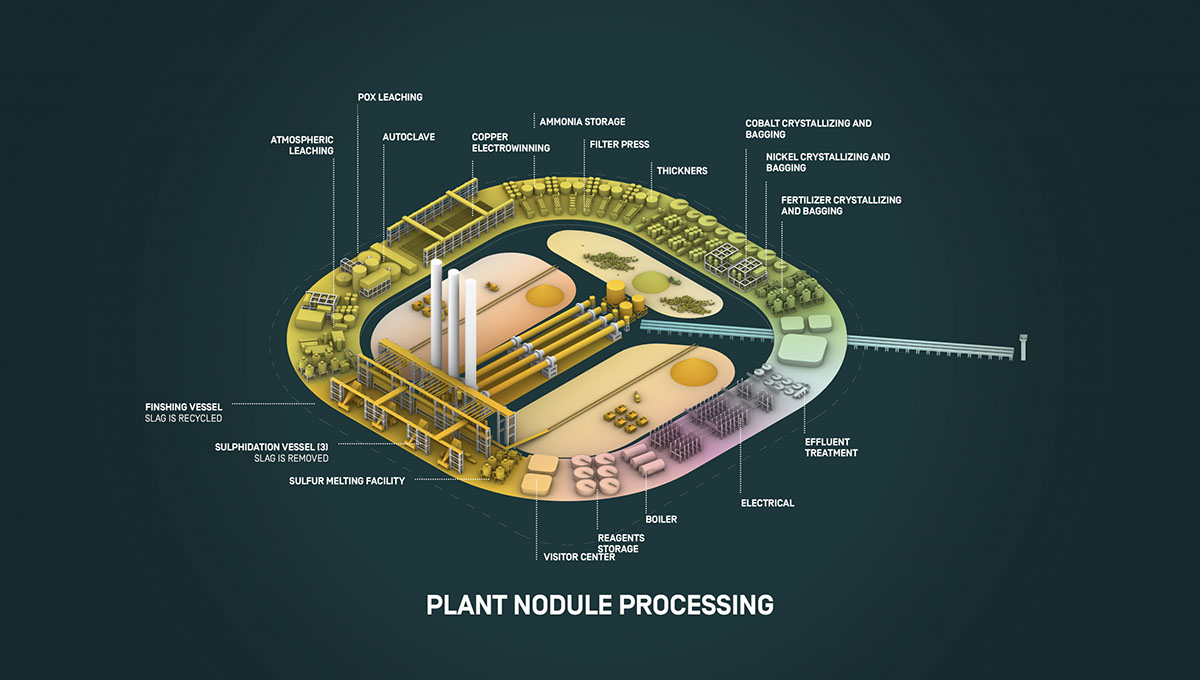 Plant nodule processing diagram
"To collect the nodules, we have designed a light-touch, robotic collector vehicle that aims a jet of seawater across the tops of the rocks to gently pry them from the sediment," said Daniel Sundlin, partner at BIG and partner in charge of the collaboration with The Metals Company.
"Part of our design for future collectors includes a buoyant, hydrodynamic shell with an extended lip to minimize seafloor compaction and reduce and redirect the dust plume kicked up during nodule collection," Sundlin added.
Production vessel
The Metals Company also stated that the company's first-generation collector vehicle has been engineered and the vehicle is currently being built by Allseas in the Netherlands to be deployed for testing early next year.
The company explained the process, and it said: "Nodules are transported through a flexible hose at the top of the collector vehicle to a rigid riser pipe where they are lifted on compressed air bubbles ~4 km up to the surface production vessel, a 216-meter-long ship that runs on carbon-neutral electrofuels, with a sunken deck that is covered with photovoltaic solar panels."
"The streamlined design of the production vessel is driven by functionality. Equipment for nodule collection is strategically packed in the hull to minimize the size of the vessel and maximize operational efficiency."
"At scale, each production vessel would operate multiple collectors with additional maintenance capacity provided by a support vessel with a 'moon pool' for deploying and retrieving collector vehicles," The Metals Company continued.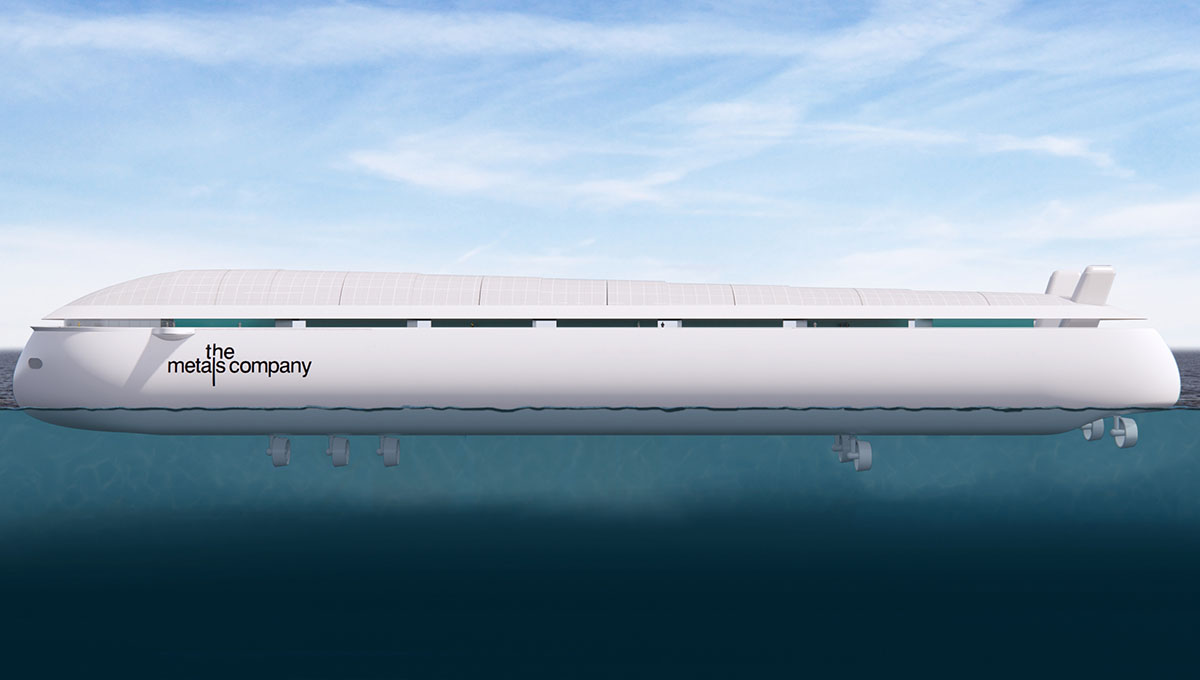 Shuttle carrier at full scale
The company emphasized that "while The Metals Company's first production vessel is a deep-water drillship repurposed by Allseas to enable pilot nodule collection, BIG's next generation vessel design is central to The Metals Company's plans to scale to a fleet of 10 production vessels, enabling the provision of over 40 million tons of battery metals by 2050, enough to produce 280 million electric vehicles – a quarter of the global passenger car fleet."
"At full-scale operations, nodules will be transferred from the production vessels to shuttle carriers, whose X-bow design was chosen by BIG to deliver hyper-efficient, hydrodynamic ships to further assist The Metals Company in lowering the carbon footprint of its battery metals."
Production vessel interior
"Once at port, the nodules are offloaded onto a conveyor and into a portside processing plant – designed by BIG as a sustainable, performative and social campus in a regenerative landscape that turns conventional metallurgy on its head," the company explained.
"Deep-water ports around the world are often degraded ecosystems unwelcoming to local communities. We asked BIG to reimagine what a metals-processing facility could be, to have it integrate with — even remediate — the urban coastal environment," said The Metals Company Chairman and CEO, Gerard Barron.
"The result is a breathtaking innovation complex that will transform an industrial port into a community-based hub for the electric vehicle revolution," added Barron.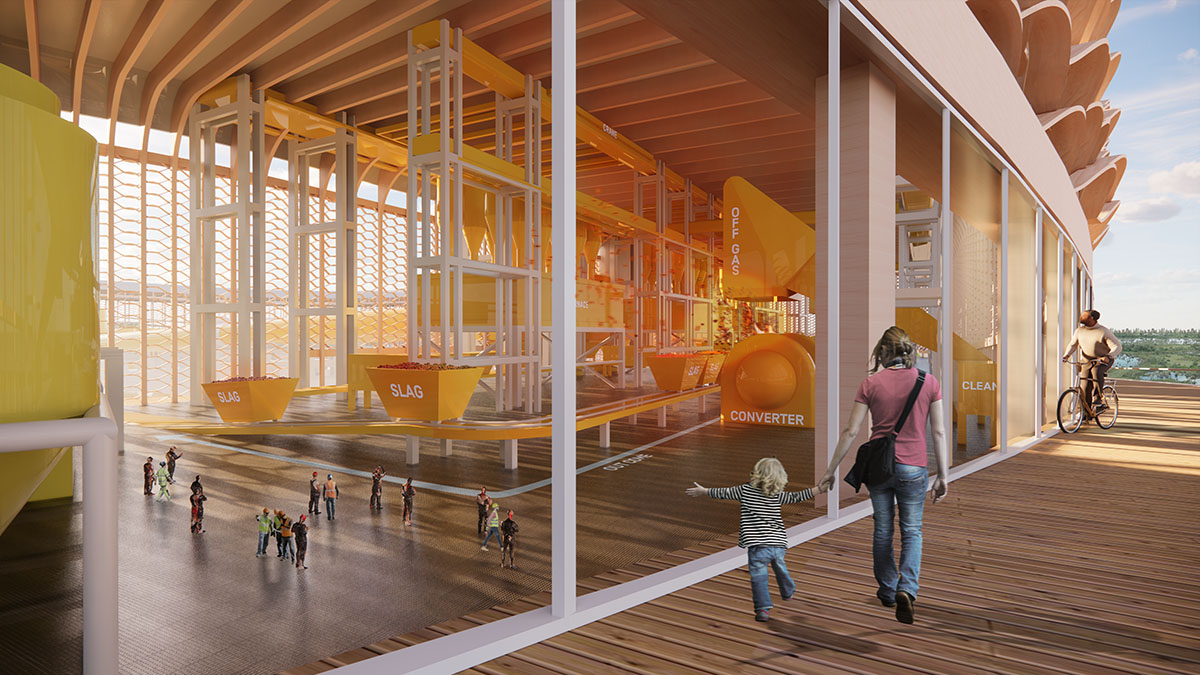 A specific site for the plant has not yet been set, but The Metals Company stated that a number of brownfield sites for possible construction under consideration, and they envision multiple facilities spread across three continents.
It said: "These plants would in time be retooled to recycle battery cathodes at end-of-life, closing the loop on the battery metals supply chain."
Project facts
Name: DEEPGREEN
Code: DEEP
Date: 12/05/2021
Program: Commercial
Status: Idea
Size in m2: 100
Project type: Infrastructure, Housing, Metallurgical Plant, Regenerative Village, Masterplan
Client: DeepGreen Metals Inc
Collaborators: The Metals Company
Location Text: CCZ, Pacific Ocean
Location: (-8.783195,-124.508523)
Project Team
Partner-in-Charge: Bjarke Ingels, Daniel Sundlin
Project Leader: Alana Goldweit
BIG IDEAS: Erik Berg Kreider, Joshua Woo
BIG LANDSCAPE: Jamie Maslyn Larson, Christian Cueva, Yi Lun Yang
Team: Isabella Marcotulli, Isela Liu, Mateo Fernandez, Jennie Peng, Jeffrey Shumaker, Terrence Chew, Bernardo Schuhmacher, Carlos Castillo, Christian Salkeld, Cristina Medina-Gonzalez, Guillaume Evain, Joanne Chen, Kam Chi Cheng, Linqi Dong
All images & video courtesy of BIG.
> via BIG