Leading Brazilian architect Paulo Mendes da Rocha dies at 92
Leading Brazilian architect Paulo Mendes da Rocha has passed away at the age 92, according to the confirmed news by Archdaily, his son told the magazine that "Pedro Mendes da Rocha was hospitalized in São Paulo due to lung cancer and passed away at dawn on Sunday, May 23, 2021."
The Pritzker Prize-winning architect Paulo Mendes da Rocha was fighting with lung cancer for a long time.
Born in Vitória, Espírito Santo in 1928, the architect was one of the significant names of Brazilian and the world architecture and was known for his "timeless", expansive, exposed concrete structures, steel and rough finishes.
He designed numerous notable cultural buildings that draws his particular Brazilian Brutalist style - which are widely credited with transforming the city of São Paulo.
The renovation of Sao Paulo's oldest fine arts museum, the Pinacoteca do Estado, 1990s. Image © Leonardo Finotti
Described as ''Brazil's most celebrated living architect'' and a true architectural legend, his emblematic, modest but sculptural buildings created an ideal harmony exceeding the limits of space with program, place, material, light, history and landscape, which all helped to shape the character of São Paulo.
The Gymnasium in the Paulistano Athletic Club, the renovation of the Pinacoteca do Estado de São Paulo, the Brazilian Museum of Sculpture, and the Patriarch Plaza redevelopment project are among his notable projects that shaped the city of São Paulo.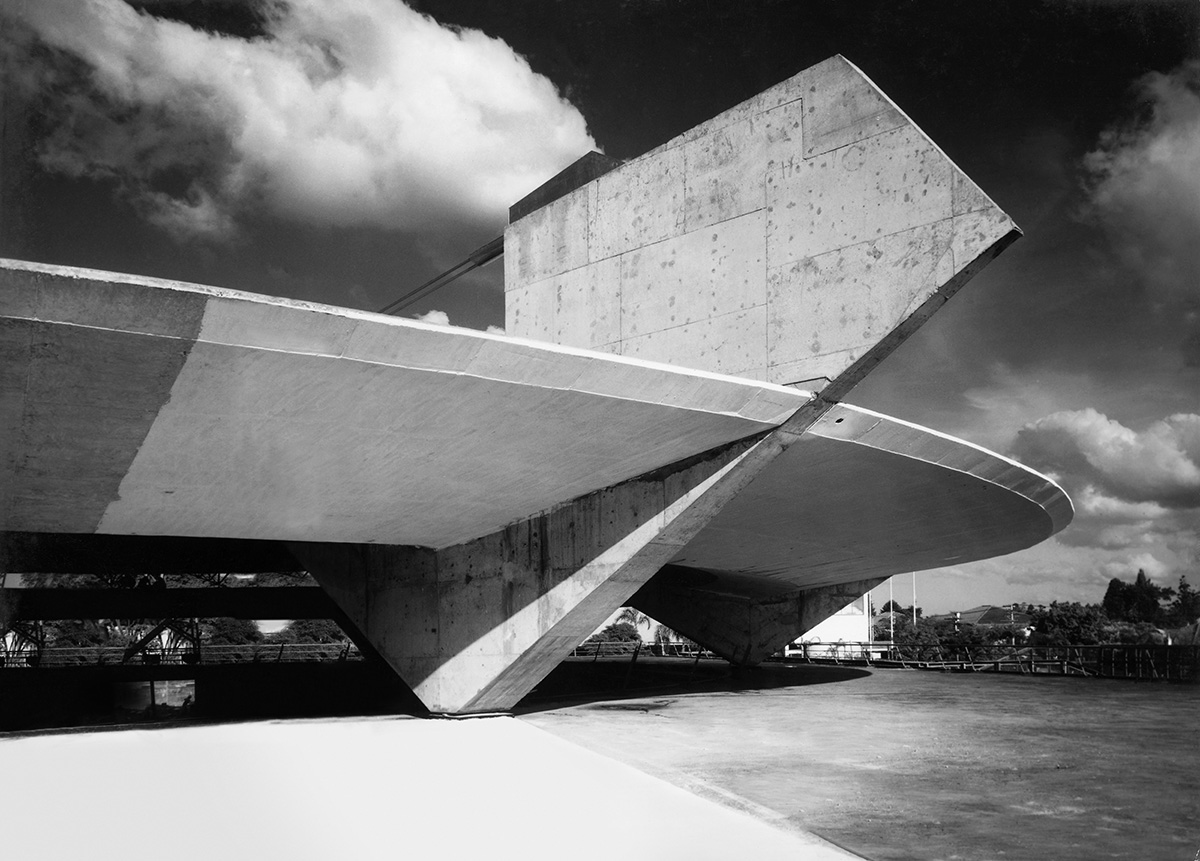 Athletic Club, São Paulo, 1961. Image courtesy of PMDR archive
Paulo Mendes da Rocha studied in architecture at Mackenzie University in São Paulo in 1954, and opened his own office in 1955, soon after he completed his first celebrated building, an early masterpiece, the Athletic Club of São Paulo in 1957.
Most of da Rocha's works commonly concentrated in São Paulo and but in 1970 he also designed the Brazilian Pavilion for the 1970 World Exposition in Osaka, Japan.
Regarding his project, he had said: "It was one of the greatest adventures of my life."
Brazilian Sculpture Museum (MuBE), São Paulo 1988, completed with Burle Marx. Image © Leonardo Finotti
After completing the Athletic Club of São Paulo, he designed a large number of further public buildings in the city including Saint Peter Chapel in 1987, the Brazilian Sculpture Museum MuBE in 1988, Patriach Plaza between 1992-2002, the Pinacoteca do Estado gallery in 1993 and the FIESP Cultural Center in 1997.
Outside São Paulo, his notable buildings include the Serra Dourada football stadium in Goiás in 1973, Lady of the Conception Chapel in Recife in 2006 and Cais das Artes arts centre in Vitória in 2008.
Over the years, Paulo Mendes da Rocha has taught at the University of São Paulo and served as President of the Brazilian Institute of Architects.
The Museum of Contemporary Art in 1975 at the University of São Paulo, the Forma Furniture showroom in 1987 in São Paulo and the Brazilian Sculpture Museum between 1987-1992 are also among his widely known built works.
Forma Furniture Showroom, São Paulo. Image © Leo Finotti
"The transformation of nature, a total fusion of science, art and technology in a sublime statement of human dignity and intelligence through the settlements we build for ourselves," said da Rocha with his own definition about architecture.
"All space is public," Paulo Mendes da Rocha told The Guardian in 2017. "The only private space that you can imagine is in the human mind."
As The Guardian reported, his office was occupying a modest room in São Paulo's 1940s headquarters of the Institute of Brazilian Architects, and the office's walls were covered by blackboards where he drew his initial sketches and drawings onto them.
"I don't have any desire to manage a business," he told The Guardian. "There is so much administration in the world these days, and I am delighted my colleagues are willing to do it. Not having my own office gives me the greatest freedom – to do nothing if I want to!."
Casa Butanta in São Paolo, 1964. Image (via tiaint.blogspot.com)
He received prestigious awards, including the II Mies van der Rohe Award for Latin American architecture in 2000, was his first international recognition for his respectful renovation of the Pinacoteca do Estado, Sao Paulo's oldest fine arts museum.
In 2006, Paulo Mendes da Rocha received the Pritzker Prize for his "deep understanding of the poetics of space" and an "architecture of profound social engagement."
In 2016, he received Golden Lion for Lifetime Achievement in Venice Architecture Biennale and the Praemium Imperiale Prize by Japan Art Association.
In 2017, he was awarded the 2017 RIBA Royal Gold Medal, and in 2021 he was awarded the UIA Gold Medal by the International Union of Architects.
Today, the Casa da Arquitectura, a Portuguese Centre for Architecture, houses the collection of Paulo Mendes da Rocha, in its archive including nearly 8.800 items, relating to more than 320 projects and comprises: approximately 6.300 analogue drawings, approximately 3.000 photographs and slides, a set of models made by the architect himself and approximately 300 publications.
Top image: Paulo Mendes da Rocha, Courtesy of Japan Art Association.
> via Archdaily