APROP temporary homes: Barcelona's response to gentrification
Access to safe, secure, habitable and affordable home, free from forced eviction is a fundamental human right. However, in the midst of economic obstacles such as unemployment and job insecurity alongside factors that put upward stress on commodity prices including rent, this fundamental right deems a challenge. In addition, as cities continue to grow, the demand for housing grow similarly. With this trend, it has become more difficult to secure access to housing. Consequently, those who are unable to do so are pushed away by higher income households or by outsiders, increasing the risks of gentrification and exclusion. Currently, Barcelona has a social rental housing (HPO) stock of about 70,000 flats or approximately 10% of the total housing stock. Of this total housing stock, 30% are empty rental properties, making it one of the Spanish cities with the most number of unoccupied property. Despite so, the property sector noted this rental stock does not cover the demand. At the same time, average lease in 2017 increased by 9.48% according to the Cambra de la Propietat Urbana de Barcelona.
Drawn out of this dilemma is the "Allotjaments de Proximitat Provisionals" (APROP) as an agile response designed to strengthen the city's Right to Housing Plan 2016-2015, augment the public housing pool and prevent gentrification. APROP is a new model of interim flats intended to accommodate residents waiting for permanent housing. These flats are to be built on empty plots where future permanent housing projects are allocated for. Once the permanent housing construction is about to be undertaken, the APROP will be dismantled and re-assembled to another site. Thus, APROP design is characterized by modularity and portability. It involves the use of quality materials and modular segments that are easily joined to form compact units. This also allows for rapid construction of about 9 months thereby expediting the access to housing.
Three APROP buildings will rise in three different sites in the city: Ciutat Vella (Gòtic Sud), Sants-Montjuïc (La Bordeta) and Sant Martí (Glòries), areas where gentrification is identified.
APROP Ciutat Vella Aerial perspective © Ajuntament de Barcelona
APROP Ciutat Vella view of the entourage © Ajuntament de Barcelona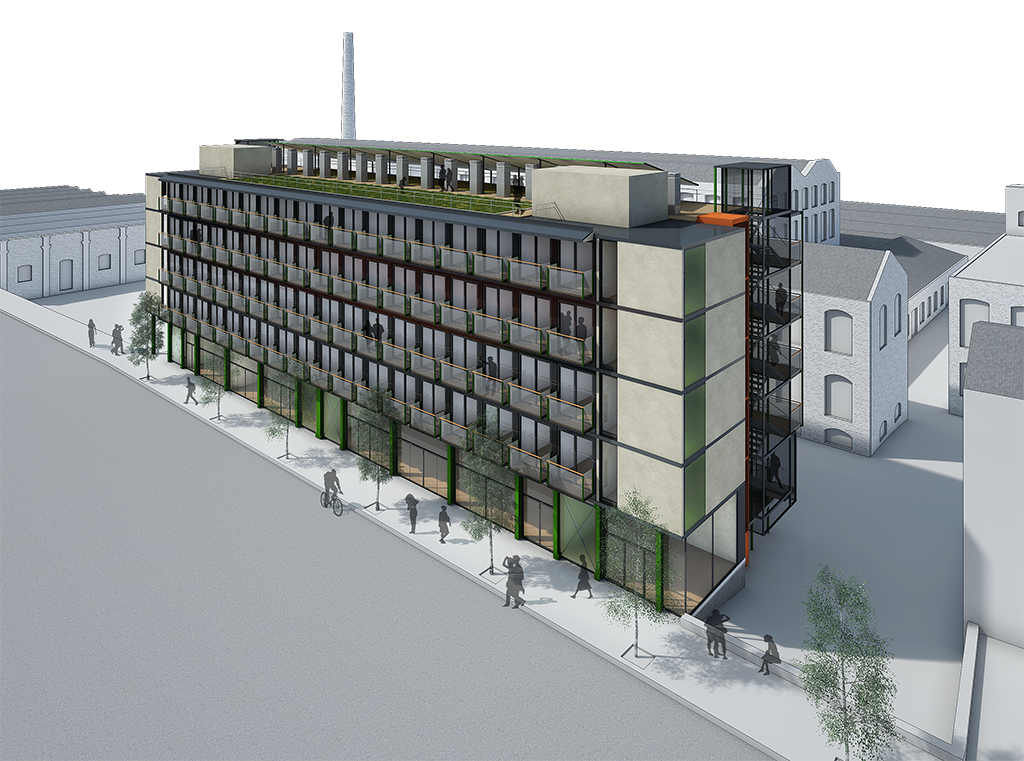 APROP La Bordeta Aerial perspective © Lacol Architects and Ricard Campeny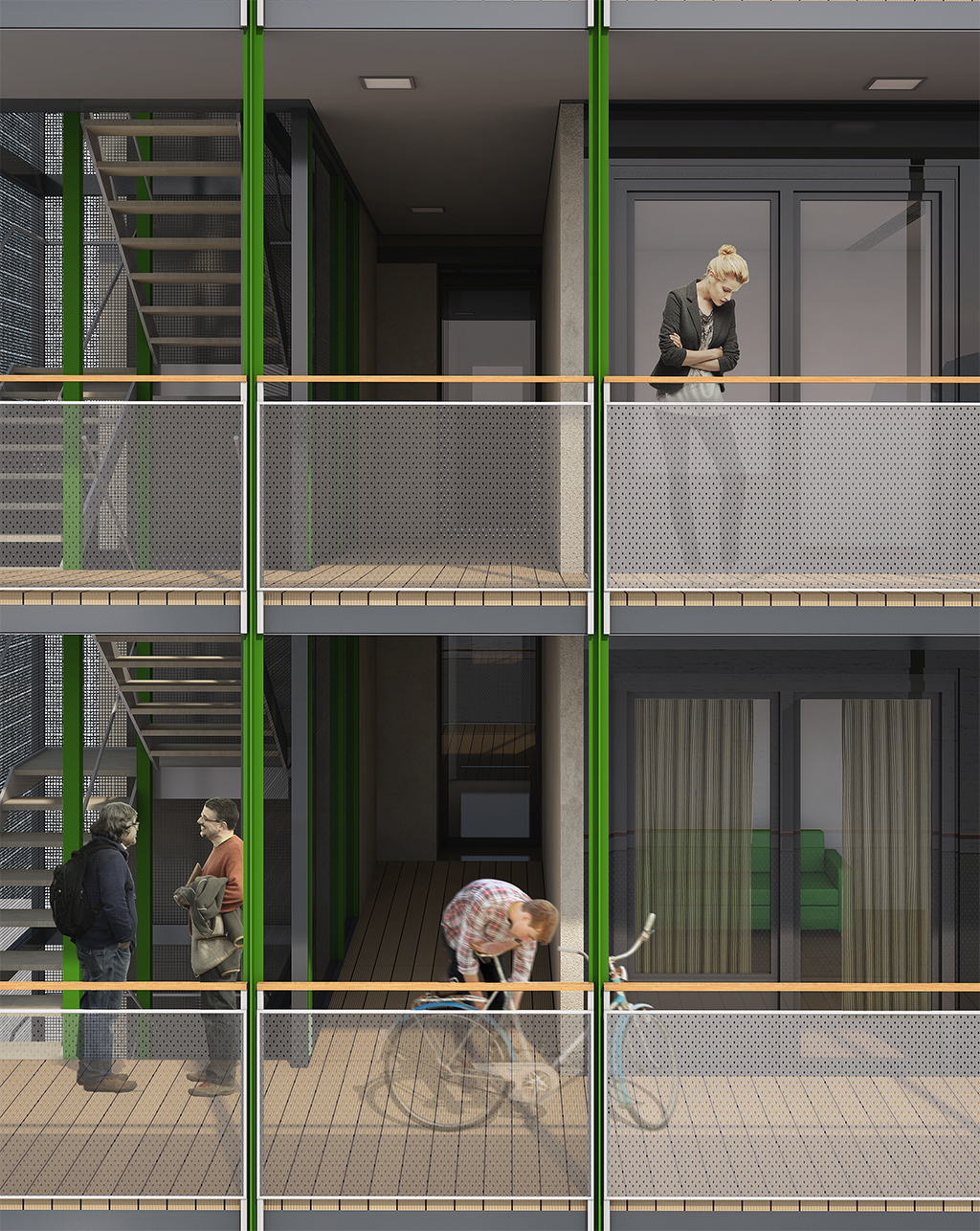 APROP La Bordeta facade © Lacol Architects and Ricar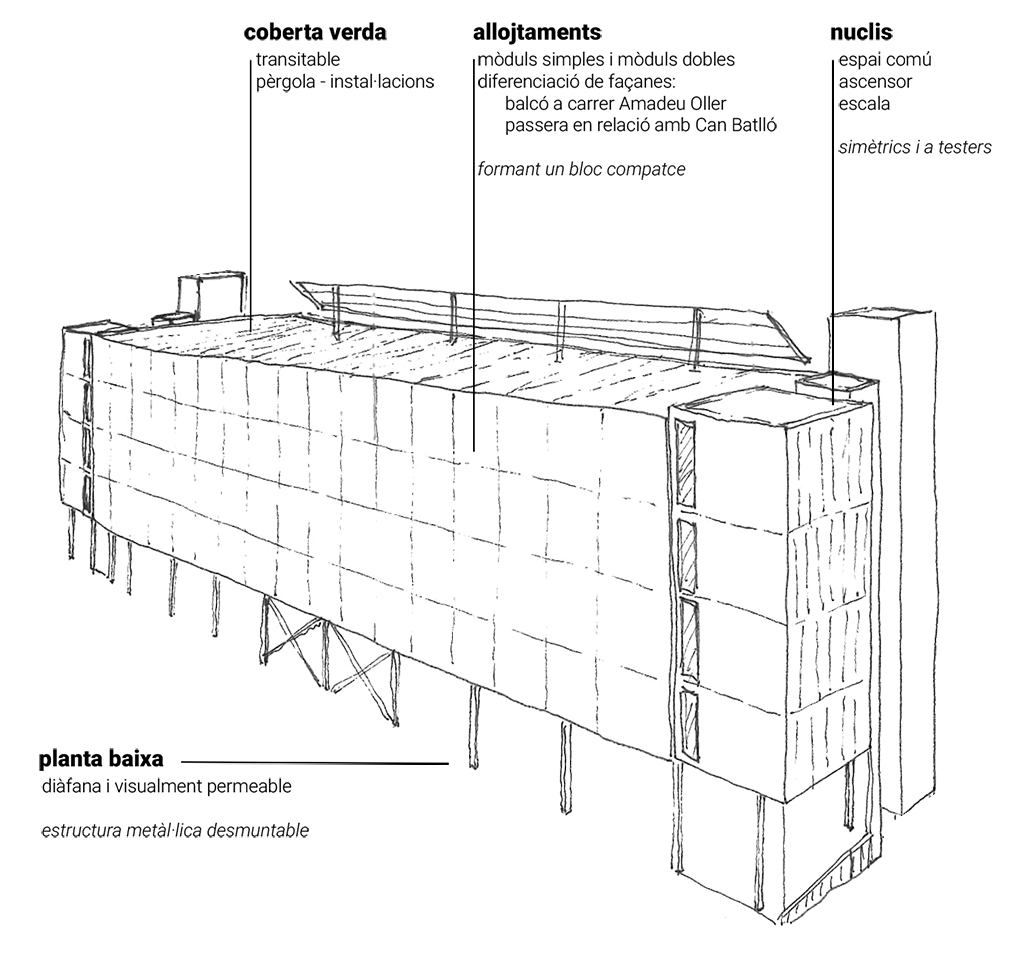 Featuring the four main parts © Lacol Architects and Ricard Campeny
In particular, APROP La Bordeta, designed by Lacol Architects, will sit in a 682 square meter-plot within the Can Batlló factory site. The building, with a total floor area of 3,231.37 square meters, will have four main parts: the ground floor with the community facilities and shared laundry, four main floors allotted for the 40 apartment units, the nuclei for the common area, elevator and staircase; and the rooftop with an extensive green roof. Due to the site topography, a sub-subterranean space is utilized as a storage. Footpaths are also provided to ensure overall circulation within the site as well as connection to the neighborhood.
Two types of housing units are incorporated: the single and the double-type units. Of the 40 total units in La Bordeta, 32 are doubles and 8 single units. The double-type is a 58 square meter-unit which features two bedrooms with balcony, toilet and bath, a living room, open kitchen, dining room and storage, ideal for families or group of students. The single-type is a 29 square meter-unit with one bedroom with balcony, toilet and bath, living room, dining room and open kitchen, intended for single dwellers or couples. Both unit types are designed according to accessibility law that considers the needs of persons-with-disability. At the same time, according to sustainability strategies such as passive cooling through large windows that permit natural ventilation. The units also include floor system that heats up in winter and cools in the summer.

Floor Plan © Lacol Architects and Ricard Campeny
Single-type unit floor plan © Ajuntament de Barcelona
Double-type unit floor plan © Ajuntament de Barcelona
The APROP program is inspired by the housing policies of cities such as Vancouver, Amsterdam and Copenhagen. This project, intended to complement and not substitute the long-term housing projects, is expected to complete in 2019.
Cover image © Jeancyn Alforque
> via Barcelona Housing